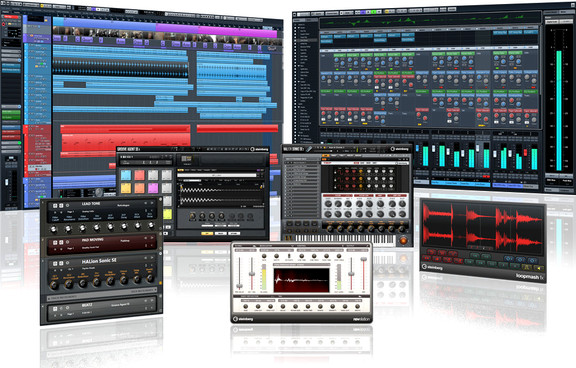 Steinberg has announced version 7.5 of its Cubase and Cubase Artist music production systems, a considerable update with many workflow enhancements, new instruments and new effects.
Version 7.5 incorporates important workflow enhancements, version updates to its instruments and new effects to further the impressive feature set of Cubase and increase professionals' productivity when producing music.
"The mix of highly effective editing and workflow enhancements, new instruments and studio-grade effects makes 7.5 one of the most beneficial Cubase releases since SX 1. I'm confident that this version will boost the creative output of our users and underline its position as DAW of choice for the most renowned producers today," comments Helge Vogt, product marketing lead at Steinberg.
Changes in Cubase 7.5
TrackVersions: Playlists for creating, renaming and managing parallel variations of tracks.
Track visibility: Shows only the tracks you want to see in the Project window.
Instrument (t)rack 2.0: Supports multi-outputs and multi-inputs, and merges instrument tracks with the Instrument Rack.
HALion Sonic SE 2: Giving you tons of fresh new sounds plus a totally new synth.
Groove Agent SE 4: With over 120 drum kits and smart user interface for creating beats and hits in no time.
New construction kits: Adding flavor to your productions and giving you new song ideas.
LoopMash FX: For real-time modern-style breaks, tape-stops, stutters and more.
REVelation: Super-smooth and silky-sounding algorithmic reverb that brings back the memories of those old fancy hardware units.
Magneto 2: Adding warmth to your tracks.
VST Connect SE 2 (available in Cubase 7.5 only): Unique remote recording plug-in now with MIDI data transmission.
Transient navigation: Tab to transients on audio events in the Project window thanks to the new instant hitpoint navigation.
Cubase 7.5 and Cubase Artist 7.5 full versions will be available from December 4, 2013, priced at MSRP 599 EUR and 299 EUR respectively. Prices including German VAT.
Customers who have activated previous Cubase 7 and Cubase Artist 7 versions since October 15, 2013, are eligible for a free, downloadable Grace Period update to version 7.5.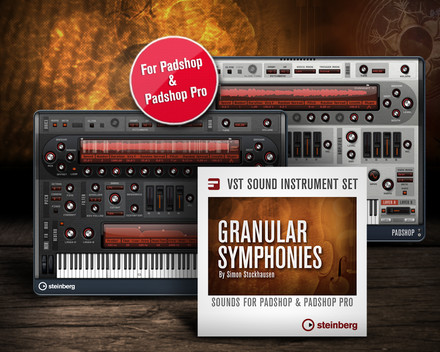 Steinberg has released Granular Symphonies, an expansion pack for Padshop/Padshop Pro, created by the acclaimed composer and sound designer Simon Stockhausen.
Here's what they have to say about it:
With beautifully intricate textures, pads and leads, Granular Symphonies spans 2 GB of exquisite content, featuring instrumental and vocal samples recorded and edited by the man himself plus 260 supplementary presets.
Simon Stockhausen said he hopes that "this library will inspire many composers around the world and expand their sonic palette to paint beautiful, haunting, wondrous and enchanting musical pictures."
Features:
260 new presets with sounds designed by sound designer, composer and multi-instrumentalist Simon Stockhausen
2 GB of exclusively recorded samples including strings, brass, mallets, vocals and experimental content
Available as download only
Windows and Mac installer included
Granular Symphonies is priced at $29.99 and is available as download through the Steinberg Online Shop.
A simple live session with the Roland SH-101 Vs TR-909 recorded from the output of an Soundcraft 200sr mixer through a Steinberg MR816x interface. No additional editing, EQ, effects or compression has been added. Just the boxes, unmixed, into a laptop.
My apologies for the Ken Burns effect, I recorded the video stream seperately and ran out of space and hence lost the video.
Just a simple 1 bar sequence with the sequencer of the 101 triggered from the rimshot of the 909.
The latest version of Steinberg's HALion VST sampler adds new features that extend the boundaries of virtual sampling and sound design software. New instruments and sound sources, new effects, and much more combine to form a powerfully inspirational instrument that forms the heart of modern sound creation or production environments.
For more information please visit www.steinberg.net/halion
HALion Sonic 2 is a unique software workstation that breaks new ground in terms of instrument quality, versatility and ease of use. Comprising 2,500 first-class instruments in almost every conceivable style, this multi-faceted instrument has the power to captivate and inspire you, and become the heart of your creative process.
Steinberg product specialist Sebastian Mönch continues to show you how to work with the Chord Track.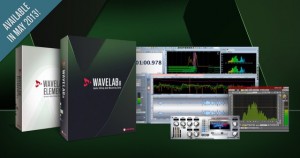 Steinberg has introduced WaveLab 8, the latest version of its  mastering solution, with 150+ new features
Key Features:
Speaker management system, featuring management of up to eight loudspeaker setups with zero latency
Advanced EBU-compliant loudness metering and processing, including measurement in EBU R128 loudness scale and dedicated loudness graph
Mastering-grade tools and plug-ins, featuring iZotope MBIT+TM high-end master dither, Voxengo CurveEQ, Steinberg Brickwall Limiter and TubeCompressor
Improved user interface: Master Transport Panel and single-window plug-in management for quick and easy project navigation and plug-in handing
150+ professional editing and workflow features, including auto-replay function, SuperClip concept, meta-data support and user interface enhancements
In addition, Steinberg announced WaveLab Elements 8, a streamlined WaveLab version that is geared towards hobby producers, musicians and radio freelancers.
WaveLab 8 is the first choice for high-profile mastering engineers, musicians and hobby producers alike. With the new speaker management system, EBU-compliant loudness processing and a selection of mastering-grade plug-ins alongside 150+ further enhancements, WaveLab 8 is taking audio to perfection.
Two more videos are available on their Youtube channel
WaveLab 8 and WaveLab Elements 8 will be available in May 2013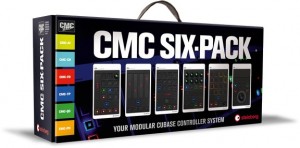 Steinberg has announced the release of the CMC Six-Pack, a new bundle deal comprising the award-winning CMC line-up of USB controllers.
"The CMC Six-Pack is the most flexible controller setup ever made for Cubase: it's a touch-based mixer; it's a handy pad controller; it's a transport control you won't want to miss after the first try," comments Stefan Schreiber, product marketing manager at Steinberg.

The CMC Six-Pack is made up of all six controllers designed to offer users a modular controller experience. Arranging the units in a way that best suits the personal needs when using Cubase makes the CMC series a very customizable hardware control system. Each of the six slim-sized USB controllers provides tactile control over Cubase features.
CMC Six-Pack features
Six unique micro controllers designed to take control of dedicated Cubase areas — faster and more convenient than with any other solution.
Modular system: combine multiple units to form an eminently powerful Cubase control station that exactly fits your needs; joint plate included for quick and easy connection.
Fully mirrored Cubase functionality: intuitive operation due to the adoption of the Cubase color scheme and icons.
Perfect ergonomics guarantee a unique level of handling quality — created to make your recording and live performance workflow more musical than ever.
Brings innovative technologies to your fingertips: illuminated, high-resolution touch controls and rotary encoders for detailed visual feedback.
Portable and compact: small enough to fit in your pocket, on a master keyboard or wherever desired
User-assignable functions for even more flexibility and tweaking options.
USB-powered: no additional power supply required.
Cross-platform compatible: OS X and Windows support.
Cubase AI download version included to start recording your music straight away.
The CMC Six-Pack is available from selected resellers and through the Steinberg Online Shop as long as stocks last, with a suggested retail price of 299 EUR including German VAT.
Producers around the world talk about Cubase 7.
M-Phazes, Peter Frampton, Gabry Ponte, Oleg Chechik, Karim Sebastian Elias, Antoine Clamaran, Nick Blagona, Dong Dongdong, Stefano Ritteri, Buraka Som Sistema, Lotek, Allen Morgan.
In this video we are showing all the effects that come with Cubasis for iPad.
Download Cubasis from the AppStore – goo.gl/p25xN
Portable Music Production System
Cubasis is Steinberg's streamlined, multitouch sequencer for the iPad. Specially designed for quick and easy operation, Cubasis makes recording, editing and mixing a breeze. Record tracks in CD audio quality, and edit your music with the Key and Sample Editors, while the included mixer and audio effects polish your song to perfection. Cubasis comes loaded with dozens of virtual instrument sounds which can be played in real time using the virtual keyboard and drum pads. Cubasis' projects can be even opened in Cubase under Windows and OS X! Cubasis places touch-intuitive production tools in your hands, opening up a new world of possibilities for your creativity.
Key features
• Unlimited audio and MIDI tracks (depends on the device used)
• Over 70 virtual instrument sounds based on HALion Sonic
• MixConsole with over 10 effect processors
• Over 300 MIDI and audio loops
• Virtual keyboard and virtual drum pads
• Sample Editor and Key Editor
• Export projects to Cubase, Dropbox, SoundCloud, AudioCopy and email
• Core Audio and Core MIDI compatible hardware supported
• Sequence other CoreMIDI apps (MIDI recording only) and run Cubasis simultaneously via background audio
• Audio import from iTunes music library, AudioPaste, Wi-Fi server and iTunes file sharing
• Audio mixdown and MIDI export
Get it now! https://itunes.apple.com/us/app/cubasis/id583976519
More information: http://www.steinberg.net/cubasis
Cubasis is Steinberg's streamlined, multitouch sequencer for the iPad. Specially designed for quick and easy operation, Cubasis makes recording, editing and mixing a breeze. You can also open your Cubasis projects in Cubase under Windows and OS X! Cubasis places touch-intuitive production tools in your hands, opening up a new world of possibilities for your creativity.
Unlimited audio and MIDI tracks (depending on the device used)
Over 70 virtual instrument sounds based on HALion Sonic
Mixer with over 10 effect processors (insert and send effects)
Over 300 MIDI and audio loops
Virtual keyboard and virtual drum pads
Sample Editor and Key Editor
Export to Cubase, Dropbox, SoundCloud, AudioCopy & email
Core Audio and Core MIDI compatible hardware supported
Sequence other Core MIDI apps (MIDI recording only) and run Cubasis simultaneously via background audio
Import audio from your iTunes music library or using iTunes filesharing, use AudioPaste or set up a Wi-Fi server in Cubasis