KDJ-ONE Official Website: http://www.kdj-one.com/
The features and abilities of KDJ-ONE – Portable Music Studio will be demonstrated in this video.
Converting a garage into a usable studio for home mastering. Is it possible ?
Shepherd shows you the 'before' look at his space and talks about room shape, soundproofing, electrics, floating floors and more.
http://productionadvice.co.uk/buildin…
A sneak peek at what C3 E3 can do for your Caustic 3 tracks….. this one is HOT.
Caustic 3 gives you a much-expanded selection of devices to work with, including a total of ten synth machines, two mixers, a new master rack and enhanced master reverb and delay.
The old Caustic 2 is a rack-mount simulation that combines synthesizers and samplers to create music.
Everything is optimized for real-time performance, no internet connection required.
Create your rack by adding any 6 of these machines:
Virtual analog subtractive synthesizer
PCM synthesizer
BassLine synthesizer (303-like synth)
Sampling drum machine
The app also includes:
Effects rack supporting 2 effects per machine. (8 effect types)
Mixer desk with global Delay/Reverb
Song Sequencer
All files are stored on the SDCard, and users can supply their own WAV files for use in the PCMSynths and BeatBox.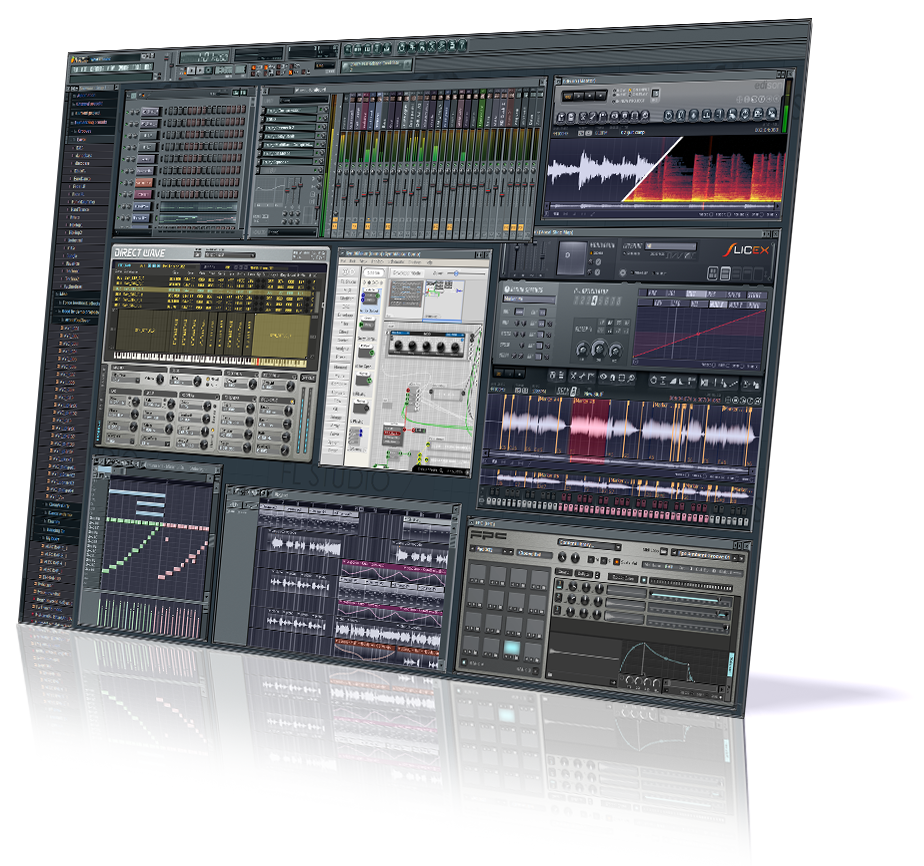 Having a hard time deciding which DAW to choose? Then there is a good article out that may help you decide. Read the intro below and click your way through to the full report at the end.
Erik Hawkins (a.k.a. Erik Hawk) of Berklee Online shows you how easy it is to convert an audio loop into a REX loop directly in Reason 7. You no longer need ReCycle to author REX loops!
Erik Hawkins (a.k.a. Erik Hawk) of Berklee Online shows you how easy it is to set up sub mixes, using bus paths, in the Main Mixer of Reason 7.
Erik Hawkins (a.k.a. Erik Hawk) of Berklee Online shows you how easy it is to work with parallel channel effects in the Main Mixer of Reason 7, and how this type of processing can fatten up your tracks.
Background information:
I've got to say, the new features in Reason 7 are killer!  I'm having a whole lot of fun working with everything from the new Spectrum EQ Window, to the buses and parallel channels on the Main Mixer.  And of course all the rocking Rack Extension devices, especially the Korg Polysix and Propellerhead PX7 instruments, and the Pef Buffre and FXPansion Etch Red Filter effects, and iZotope Ozone for mastering.  Way too much fun and not enough time in a day to play with all these new shiny toys!
Igor Vasiliev has released Master Record, a recording application for iPad.
Master Record can use any external audio source for record or used as Effect or Output in Audiobus. Also the user can upload audio files to this application for final processing or before mixing.
After recording the user can cut any part of track, make fade-in and fade-out and dubbing track by applying built-in effects. Tracks can be sent to other audio applications thru "Open in" option or using AudioCopy / AudioPaste. Built-in web access service allows files to be shared on a WiFi network.
Audio processing features:
Tape recorder effect with three types of frequency response and controlled wow / flutter.
Classic High / Low shelf EQ for accurate input signal correction.
Tape saturation effect with three types similar to the different equipment modes.
Noise effect with four types of noise for more natural sounds.
Separate level control for each channel with link option and channel selection.
High quality limiter prevents clipping.
Highly visible level meters, time counter, free space and battery meters.
More features:
Includes predefined presets – ability to create user presets.
Compare two different preset or effects settings in real time.
All effects settings are stored for each file and recording mode.
Dubbing recorded or uploaded tracks using effects.
Cut part of track and make Fade In and Fade Out with three types of envelope.
Supports Audiobus in Effect or Output position.
Compatible with AudioCopy / AudioPaste.
Option "Open in" sends file to another audio application.
Supports sharing files thru internal Web service in WiFi network.
Supports iTunes file share.
Price: $9.99.
The latest version of Steinberg's HALion VST sampler adds new features that extend the boundaries of virtual sampling and sound design software. New instruments and sound sources, new effects, and much more combine to form a powerfully inspirational instrument that forms the heart of modern sound creation or production environments.
For more information please visit www.steinberg.net/halion
HALion Sonic 2 is a unique software workstation that breaks new ground in terms of instrument quality, versatility and ease of use. Comprising 2,500 first-class instruments in almost every conceivable style, this multi-faceted instrument has the power to captivate and inspire you, and become the heart of your creative process.
EM Technical Editor Gino Robair gives us his initial impressions of aspects of Apple's new release, Logic Pro X, including a run through of the Drummer Track, Drum Kit Designer, MIDI Plug-Ins, Logic Remote for the iPad, and more.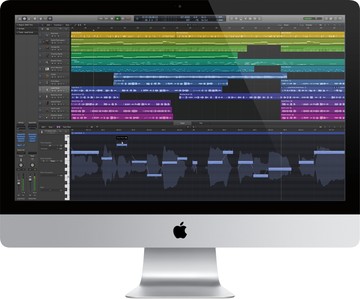 Apple has announced the release of Logic Pro X, featuring a new interface designed for pros, powerful new creative tools for musicians, and an expanded collection of instruments and effects.
Logic Pro X includes Drummer, a revolutionary new feature that provides a virtual session player that automatically plays along with your song in a wide variety of drumming styles and techniques, and Flex Pitch, which provides integrated pitch editing for audio recordings. Apple also introduced Logic Remote, an innovative new way to play and control Logic Pro X from your iPad®, giving musicians the flexibility to create and mix their music from anywhere in the room.
"Logic Pro X is our most powerful version yet, with advanced tools and a modern new interface designed to streamline the process of creating professional quality music," said Philip Schiller, Apple's senior vice president of Worldwide Marketing. "Musicians are going to love creative new features like Drummer, Flex Pitch, Track Stacks and the Arpeggiator."

"Logic Pro was critical to writing and recording our debut album Night Visions, so we couldn't wait to get our hands on Logic Pro X," said Wayne Sermon, guitarist of the Platinum-selling band Imagine Dragons. "We love the new design, and the creative features of Logic Pro X have already been inspiring us to write new material while we're on tour."
Logic Pro X has been designed with a modern new look while preserving and expanding the power and features that professional users rely on. The streamlined interface provides access to advanced tools and functionality for more technical tasks, or can be hidden to allow musicians to focus on being creative. Flex Pitch helps users fix out-of-tune vocals and even change the melodies of recorded audio by manipulating individual notes within an audio waveform. Track Stacks lets you organize and collapse multiple tracks into one, or can be used to create rich, layered instruments. Smart Controls allow you to manipulate multiple plug-ins and parameters with a single move for quick and powerful sound design. An improved Mixer helps manage mix sessions more efficiently, with increased visibility into signal flow and dynamics and faster ways to manipulate channel inserts.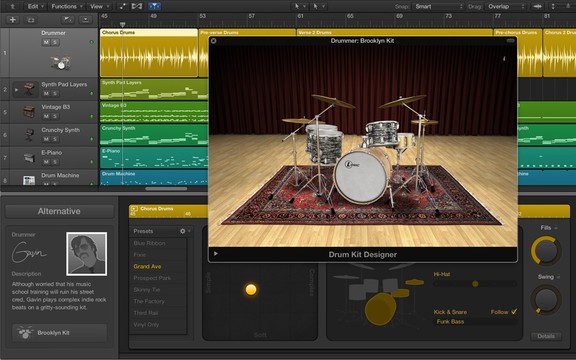 Logic Pro X provides a collection of new creative tools for songwriting and music production. Drummer delivers professionally produced, realistic drum tracks that respond to your direction and can perform millions of unique grooves in rock, alternative, songwriter and R&B genres. Drummer is powered by the performances and sounds of some of the industry's top session players and recording engineers, including legendary mixer/producer Bob Clearmountain, who has worked with the Rolling Stones, Bruce Springsteen and David Bowie. Designed to work with Drummer, the new Drum Kit Designer plug-in lets you build your own custom kit using a diverse collection of professionally recorded snare drums, toms, hi-hats and cymbals that you can mix, match and fine tune to get the right drum sound for your song.
Logic Pro X expands Logic Pro's rich collection of synthesizers and keyboards with more new instruments. The Arpeggiator is one of nine new MIDI plug-ins and can transform a simple keyboard chord into an elaborate performance. The new Retro Synth emulates some of the most popular classic synthesizer tones from the 70s and 80s, and Vintage Keyboards offer realistic models of electric pianos, B3 organs and clavs, with sophisticated tone-shaping controls. Bass Amp Designer allows bass players to play and record using vintage and modern bass amps, with cabinets and microphones that can be configured to build a custom bass rig. Logic Pro X also features an entirely new Sound Library with an updated loop collection and over 1,500 instrument and effect Patches that make creative use of Track Stacks, Smart Controls, the Arpeggiator and other new plug-ins.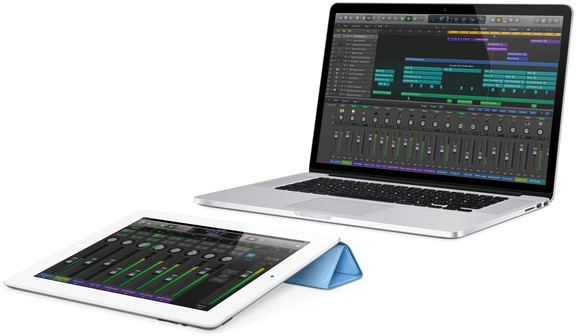 Logic Remote is an innovative new way to extend the creative power of Logic by using your iPad. Designed to take full advantage of the iPad Multi-Touch™ display, Logic Remote gives users new ways to record, mix and even perform instruments in Logic Pro X from anywhere in the room, turning their iPad into a keyboard, drum pad, guitar fretboard, mixing board or transport control.
MainStage® 3, a major update to MainStage, is the live performance companion app for Logic Pro X, turning the Mac® into a live rig that makes it easy to bring sounds from the studio to the concert stage. MainStage 3 features a new user interface and maintains compatibility with the new Logic Pro X plug-ins, Patches and Smart Controls.
Logic Pro X and MainStage 3 are available to purchase for $199.99 USD and $29.99 USD, respectively. Logic Remote is available as a free download from the App Store.