Wavemachine Labs has announced that it has submitted Auria, a new 48-track recorder for the iPad, to Apple for approval.
Here's what they have to say about it: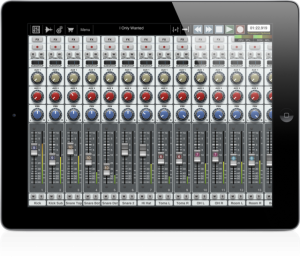 With the ability to play 48 mono or stereo 24bit/44.1 kHz (higher sample rates possible!) tracks simultaneously, record up to 24 of those tracks simultaneously (through any supported USB multichannel audio interface), and edit and mix with familiar tools and full parameter automation, it's clear Auria sets a new standard for iPad multitracking.
What's more, Auria's 64-bit Double Precision architecture ensures ample headroom for plug-in processing and mix summing, transforming your iPad into a recording and mixing system with sound quality that rivals most DAWs.
The depth is in the details. Like customizable pan laws. Like meters that are selectable between peak and RMS. Like full delay compensation for all tracks, including aux sends and sub-groups. Complete with a vintage-inspired channel strip on every channel, a dedicated master channel strip, VST effects engineered by renowned makers such as PSPaudioware, Overloud, Fab Filter and Drumagog, and support for Dropbox, Soundcloud, AAF, and MP3, Auria truly raises the bar for recording and mixing on the iPad.
The introductory price for Auria will be $49.99.
http://youtu.be/vFARY-BN72c
Here's a quick demo of a how to record peer to peer using albeton as our software. We then use google+ and other google products to communicate, organize and essentially recreate the studio environment but from anywhere in the world. Welcome to the future friends, this is just the beginning
Here's a new app that sounds/looks pretty interesting:
Sonified translates what your video camera sees into sound in real time. Record onto QuickTime movies. The sonifying video camera for the iPhone and iPad.
Hear what your video camera sees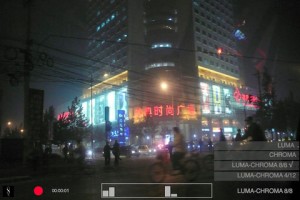 Sonified takes real time visual information from your iPhone/iPad video camera and uses it to mix 16 stereo tracks of CD quality music in real time, translating what your video camera sees into sound. A real time instrument, Sonified uses your iPhone/iPad's video camera to translate qualities of light and color into music, a process called "sonification". Using Sonified allows the iPhone and iPad user to connect vision and sound in new ways, creating video and soundtrack at the same time. Record Sonified QuickTime movies with CD quality audio and share with friends and other Sonified users.
Specifications:
Real time mixing of audio based off of brightness and or color values.
16 different ways to combine sounds and visual response.
4 Sonified "instruments", each with its own unique way of mixing sound based off of visual information: mixing sound based off of brightness, based off of color, based off of both brightness and color simultaneously, or based off of brightness and color proportioned towards color.
A total of 64 stereo tracks of sound in four separate Sonified "scenes" all in 44.1 kHz 16-bit CD quality audio.
Extremely responsive, with close to zero-latency between what your camera sees and what you hear.
Record video and CD quality sound simultaneously onto QuickTime movies and save on your iPhone or iPad.
Intuitive, with an easy to use interface.
Designed for use with headphones.
Here's a new video showing how to create a mix group. Promoted as the DAW for musicians, Propellerhead Record nevertheless features some of the most sophisticated (and intimidating) mix routing of any multi-track recording software. While this opens the opportunity to do some very creative things in the mix interface, it also makes certain basic functions — like creating mixing sub groups — a little confusing.
That's why we've put together this step-by-step video on how to create submixes in Record. It may require a few more steps than creating subgroups in other DAWs, but the visual routing component presented by the virtual rack view (ported from Reason) aides the process. As does Owen's patient, guiding voice.
Via GW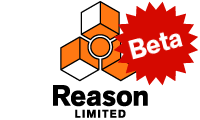 Remember Reason Adapted, Reason's smaller sibling that used to be included with various products? We'd like to introduce a new, tiny family member who's getting ready to step into those shoes: Reason Limited. This is a compact version of the Reason+Record Duo, that will eventually be included free with products from other manufacturers. Can you help us beta test it?
New tutorial from Propellerhead
This week I'm going to show you one of the most tried and true methods we have to add stereo width and depth to our mixes: The Haas Affect.
Named after Dr. Helmut Haas for his early research into the effect, the Haas Effect essentially uses short delays to fool your brain into perceiving a stereo sound from a mono source. In mixing we can exploit your brain's gullibility to carve out wide stereo fields and provide our mixes enough room for center elements like lead vocals or bass guitar.
I've made a combinator patch that accompanies this tutorial and it can be downloaded here:
http://www.propellerheads.se/stuff/JB…
It's time to take a look at some ways to work creatively with REX files in Record. Record allows you to work with REX files in new, cool ways – in this tutorial, we learn a few of them.
Well I guess it was just a matter of time since this would appear, especially considering the KONG entering the Reason suite of apps
Retouch Control offers TouchOSC templates to control Propellerhead's Record and Reason.
Sneak peek preview at Retouch's iPad templates for controlling Propellerhead's Record and Reason via TouchOSC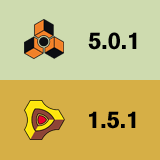 Propellerhead Software has released updates for Record and Reason, its music production applications for Windows and Mac.
We are happy to announce the immediate release of Record 1.5.1 and Reason 5.0.1 — free maintenance updates that resolve several minor issues in Reason and Record.
Changes in Record v1.5.1 / Reason v5.0.1
Record

CodeMeter has been updated to version 4.20b. This version provides better handling of various installation issues.
The MClass Mastering Suite Combinator appeared on the Create menu when the Japanese language was selected in Record. It has been removed (the way to use mastering combi patches in Record is to load them as Master Insert FX).
The EQ, Filter and Input Gain settings in the main mixer were not chased properly. This could cause clicks or slight fades in the beginning of bounced or played back tracks.
There was an audible hiccup (a small pause in the audio) whenever an effect (Wah or Compressor) was switched on or off on a Line 6 Amp device. The Line 6 components have been updated to fix this.
An interpolation issue could cause a very slight loss of high frequency content when processing audio in Neptune.
The size of Kong devices in the Record rack navigator was slightly incorrect.
In rare cases users had to authenticate twice when starting Record.
Normalize Clip did not work on clips with extremely long audio recordings.

Reason & Record

The handling of bad sound drivers has been improved, lessening the risk of a crash due to faulty drivers.
Added Remote support for M-Audio Oxygen 88.
Added localized help and documentation in German, Japanese and French. Note: The localized help and documentation files are automatically included when Reason or Record are installed from the DVD. When downloading Reason or Record, you need to download and install localized help and documentation separately.
During certain circumstances, if a MIDI control surface was locked to a device and the user deleted any device from that song, the program could crash. This would happen if there was another song open and that song was playing back in the background.
The "Arpeggio Notes to Track" function on the RPG-8 could cause the program to crash if some of the RPG-8 parameters had been automated.
Saving a patch could in rare cases cause the program to crash. This happened if the user loaded a patch from a folder containing a huge number of patches, then moved the patch file to another folder and finally attempted to resave the patch by Alt-clicking the Save Patch button on the device.
In some cases, after copying and pasting a sample-based device from one song to another, the pasted device could refer to the wrong samples if the samples were self-contained.
Cable drawing has been slightly improved.
Thor's step sequencer in random mode triggered two voices. This could happen when the "Step" run mode was selected and the direction was set to "Random".
The program will occasionally check the available hard disk space. On some systems, these checks could make the user interface temporarily unresponsive.
Duplicating devices a large number of times could cause a graphical bug in the rack.
A number of localized (translated) text strings were cut off.
Voice handling for the NN-XT has been optimized slightly.
Dr. OctoRex slice numbers were not shown correctly in Edit mode when using the application in German.
If a song used SoundFonts under Windows Vista or Windows 7, the program could store the wrong path to the referenced samples. As a result, there would be missing sounds next time the song was opened.
Switching from MIDI sync to internal sync could result in an "Unknown Exception" alert.
The program could become very unresponsive when working with songs with a large number of self-contained samples.
Songs or combi patches could load with incorrect settings. This happened if a Combi rotary or button had been programmed to control a certain device parameter, and this parameter had been changed "manually" so that its state conflicted with the Combi rotary/button. After saving and loading, the setting of the device parameter was reset to match the Combi settings.
When stopping after recording in ReWire mode, the program could freeze for a few seconds.
Updated some Japanese translations.
The program could assert when changing to virtual MIDI input settings.
Kong's Nurse Rex in Slice Trig mode within a Mute Group would not mute the voice when another pad was triggered.
A crash could be caused by dragging one or more half width devices and hovering over a Disk Channel device that doesn't show inserts.
The function of bouncing several audio clips to new samples or to a new recording could take longer than expected.
The remote override mode was not completely blocked while the program tried to quit.
Muted audio clips in Blocks while adjusting the Block Clip offset could look a bit peculiar.
Sample Editor now handles samples with a sampling frequency below 8000 HZ correctly.
Names of Mix Channels could become blank in certain cases.
Bug in the Mix/Disk-channel, which could occur whenever a device was added or removed in the combi of a channel device (insert effects). This bug might show itself by some short clicking sound, artifact or short freeze when adding or removing devices in a channel device. The Combinator was not affected, and also not the master section.
There was a bug when the user tried to move the notes that were being recorded either by scaling the tempo in the tool window or nudging them with Ctrl-left/right.
Handling of ReGrooved blocks has been improved.
NN-Nano now uses High Quality Interpolation when pitching samples.
Converting pattern automation to notes disregarded pattern offsets incorrectly.
Automation of aftertouch, expression and breath are now smoothed in Thor.

ReFill Packer

ReFill Packer will now preserve tempo maps in AIFF and WAV files.
The previous version of ReFill Packer didn't handle files with leading and trailing spaces in their names properly.
Better handling of how ReFill Packer works when invoked using non privileged accounts.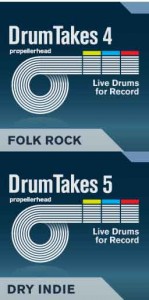 Propellerhead Software has announced the immediate availability of volumes 4 and 5 of their Record Drum Takes ReFill series: Folk Rock Brushes and Dry Indie. Here's what they have to say about them…
Record Drum Takes brings big league rock and pop multitrack drums played by skilled session drummers to Propellerhead Record. Record Drum Takes builds a steady foundation for any rock or pop creation.
Vol.4 Folk Rock Brushes comes as two complete folk rock-sounding drum backing tracks played with brushes. Both have plenty of warmth and character. The track Pite plays along at 80 relaxed beats per minute while Simris plays at 120 bpm.
Vol. 5 Dry Indie offers two tracks that owe plenty to 70s production aesthetics. Their dry sound and tight playing style make these drums perfect for songs in a wide range of Indie related styles. Emmaboda plays at 90 bpm while Lund chugs along in 6/8 beat at 85 bpm.
The differently styled tracks in the Record Drum Takes ReFills all come as multitrack recordings, allowing users to freely shape the drum sound by adjusting the levels of the independent kick, snare, hihat, room, ambient and other microphones. Cut across all eight drum tracks to arrange and rearrange once the drum sound has been mixed to perfection. Play along to the RDT drum arrangements, or paste them into an existing song. The entire drum mix will follow right along, and utilizing Record's automatic time-stretch, Drum Takes instantly adapts to the song's tempo.
Included with the ReFills are also multisampled versions of the kits, for adding that extra snare or crash cymbal right where it's needed.
Although recorded using state of the art technology in a professional recording facility and performed by an experienced drummer with an unmistakable feel–the playing in these ReFills is sparse and to the point: a perfect foundation for any alternative, pop or rock production.
Pricing and Availability:
All five Record Drum Takes ReFills are available exclusively for download through Propellerhead's web shop today, at EUR €29 / USD $29 each.
More information: