For more info:
Learn more mixing techniques on our diploma courses :: http://ow.ly/Qie8z
Point Blank is The Global Music School, with courses in London, Los Angeles and Online. Voted 'Best Electronic Music School' by DJ Mag, learn Ableton or Logic via our online courses or in our state-of-the-art studios in London or LA :: http://www.pointblanklondon.com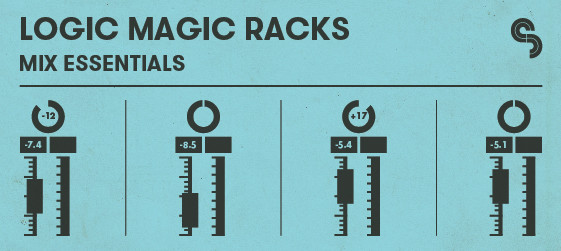 Sample Magic has announced the release of a collection of Logic racks for mixing and a new sample pack by Radio Slave.
Compiled by Logic expert and long-time SM sound designer Sami Liuski,Magic Logic Racks: Mix Essentials is the ultimate pairing of workflow optimiser and creative mix tool, allowing you to make intuitive production tweaks to the pivotal components of a track faster than ever before.
Want to take your tracks to the next level and make the most of Logic's powerful tools – all with simple and intuitive macro controls?

Fire up Logic Magic Racks: Mix Essentials – five powerful Logic Smart Control channel strip chains designed for intuitive and precision sculpting of any track's key elements.
The Logic pack costs £9.90 GBP.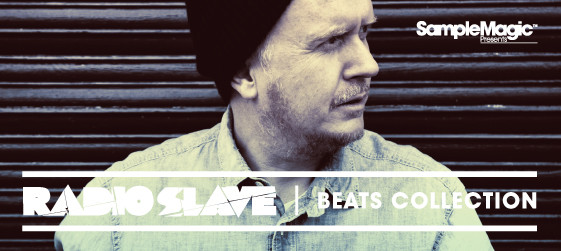 From his marathon DJ sets through to his epic elongated productions, Matt Edwards' Radio Slave moniker is all about the groove. With the Beats Collection pack he hones in on the beat, exclusively serving up stacks of raw rhythms, warehouse grooves and jack-hammer drum hits.
After his best-selling debut, Radio Slave returns with a fresh collection of hypnotic grooves, tribal-infused rhythms and driving beats synonymous with his revered releases for the likes of Rekids, NonPlus and Perlon.

The groove master serves up raw rhythms, warehouse workouts and exclusive drum kits direct from his unreleased Radio Slave archives.
The sample pack is available for £14.90 GBP.
TimeFlux, the ultimate time stretching, morphing, and spectral effects processing software.
TimeFlux takes your sound to a whole new level of control and sonic manipulation. Just like time is endless, the possibilities in
TimeFlux are endless as you can Morph between 8 snapshots using our custom Orb controller area. Control TimeFlux with your
mouse, or as an added bonus control it with an optional Leap Motion controller and harness the powers of time in your hand!
You can load up to 4 sounds and up to 4 VSTs in TimeFlux, record your performance and export it as a .WAV file, or record straight into your DAW. Time and space will never be the same!
TimeFlux also contains 3.6Gb of custom made sound design revolving around the theme of time manipulation. All sounds included were carefully crafted by SoundMorph and Ivo Ivonav of Glitchmachines. Both experimental and practical, the included sound design complements the TimeFlux software, and also is quite usable on it's own.
FEATURES:
– Load up to 4 sound files
– Load up to 4 VST plugins within TimeFlux
– 8 snapshot Orb Controller
– Optional Leap Motion controller. Leap Motion sold separately here: https://www.leapmotion.com/
– 2 time stretchers
– 1 morphers
– 4 filters
– Record and Export your performance in wave files
– 3.6Gb TimeFlux sound design soundpack included made by SoundMorph and Ivo Ivanov
– Compatible with Mac and PC (32 bit and 64 bit)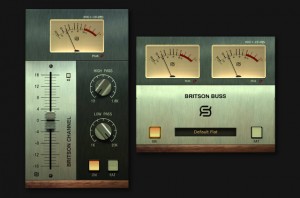 Britson is designed to emulate both the workflow and sonic character of analog mixing consoles. While inspired by a classic British 8014 console, Britson has a personality all of its own and was modelled to impart that classic warm, open, three-dimensional sound. Details below:
One of the most difficult tasks, in my humble opinion, is to recreate the saturation characteristic of analog equipment.
Copying the harmonic content of a particular piece of equipment is not enough to generate a nice, convincing, analog-like saturation. Many other factors have a far more influential impact on the final sound.
We at Sonimus believe that the key is to analyze – analyzea thousand times – the behavior of the equipment to be modeled (for harmonic contentat different levels; transfer function and dc offset, depending on amplitude and frequency; dynamic content; etc.). Finally, much listening is required — which is definitely the most important factor.
Britson, besides being a subtle saturator, can be very aggressive if volume is increased from the input. Just like with a real unit, THD (total harmonic distortion) is low at normal levels, but can easily reach the clipping point without loss of dynamics at normal levels.Britson's sound can be very aggressive without the need for a specific switch dedicated to that purpose.
We truly believe we have accomplished our goal of creating a product that will not only improve the sound of your mixes, but will also optimize and expedite your workflow, thanks to the "suitable" volume-leveling of your tracks possible throughBritson.
For this purpose, Britsonfeatures a carefully modeled VU Meter which behaves like a real VU Meter (It is fairly well known that VU Metering is much more useful than Peak Metering for the mixing process, since VU Meters behave in a fashion more similar to human hearing).
Britson features:
Flexibility to be used subtly or aggressively (to overdrive virtual or real instruments, for example)
Two Saturation Modes: Normal (subtle distortion, high dynamic range) and Fat (hotter signal, lower dynamic range)
Optional Stereo Crosstalk which lends a sense of depth and three-dimensionality to your mixes
Filters (both low and high pass). Britson's filters are tuned to sound sweet and pleasant to the ear
Saturation which can be disabled (when using Britson for trim and metering purposes exclusively)
Three EQ Color Mode options(on Britson Buss instance) for use on your master track: Default (no color), Master Loudness, and Master Bright
Zero latency and no group delay
Carefully optimized algorithm for low CPU consumption. Britson allows for a remarkably high number of instances per session.
Internal 64-bit floating point double-precision
Hassle-free installation. No activation or serial. Each buyer receives a personalized copy for use in the studio, on the laptop, etc.
Pricing and Availability:
$39
Flexible and Creative Music Mixing Interface – implementing stage metaphor on the iPad, details below:
This video shows the newest version where we explore how different challenges can be re-solved when trying to implement the stage metaphor for controlling many audio channels. Challenges include: providing effects controls, avoiding clutter, enhancing creative exploration, etc…
See more here:
http://media.aau.dk/~stg/tangibleMixS…
Version 2 of the DJ mixing application works either as a standalone program or as a VSTi inside your favourite host. Deckadance can also host any VST compliant softsynth or effect. Control Deckadance using MIDI controllers, timecoded vinyl and CD systems. Choose 2 OR 4 decks. Smart knobs link many interface targets to one knob. GrossBeat automated glitch, stutter & scratch functions. Isolator FX chain up to three FX per deck and apply to Low/Mid/High or all bands. Customizable interface and Smart panels select Cue, Grid, DVS, Key, Smart Knob and Tempo controls.
MIDI Script Here: http://support.image-line.com/redirec…
Deckadance 2: http://www.image-line.com/documents/d…
Music Credits:
Deck A1: Toby Emerson – http://www.image-line.com/documents/p…
Deck B: Christoph Maitland, Toby Emerson Feat: Veela – http://www.image-line.com/documents/p…
Deck A2: Seamless – http://www.youtube.com/user/SeamlessR
In this Logic Pro X video tutorial, Bill Lee explores Logic's new Track Stacks function for mixing a song.
In this video we will explore the use of Track Stacks in the Logic X mixing workflow. Mixing a song with many instruments can get complicated and sometimes hard to manage. Track Stacks can help simplify the mix process by grouping, submixing and simplifying the visual representation of your musical parts. This is especially useful when you have many tracks of a similar type, like percussion and background vocals. This is also useful on software instrument tracks as you can see in Matt Shadetek's latest video tutorial, Using Track Stacks for Big Layered Synths. Once you have combined multiple tracks into a Track Stack, you can then process or automate the Stack as a submix. This feature is one for every Logic user to be familiar with. Check it out! – Bill Lee
Mark Mosher looks at the Mixtape Alpha – here's what he has to say about it:
The goal of this jam for me was to experiment with using the Octatrack to 1) act as a mixer and process output from a variety of Rick's collection of of noise and music making gadgets 2) To sample Rick's performance on the fly into multiple tracks on the Ocatatrack then contribute to the jam by playing, effecting and doing live sequencing using only these samples are audio sources.  I really love the Octatrack for this sort of thing, as it allows me to organically jam using the palette made from the jam itself.
While this video shows the Octatrack with the Mixtape Alpha, we used a lot of other fun stuff throughout the jam like Korg Monotrons, Korg Monotribe,  Beep-It and more. You can see some of the gadgets in a bin at the 0:17 mark.
http://www.t-racks.com for more information
The Bus Compressor is based on the mix bus VCA compressor of a worldwide known and acknowledged British mixing console from the 80's. This legendary processor has been painstakingly analyzed and measured down to the very single active and passive component to obtain a dead on behavior that will impart that famous "glue" effect on mix tracks without any compromise.
In this tutorial we look at several applications of the plug-in: The subtle yet effective "glue effect", compressing a drum bus from subtle to slamming or squashed, and all of the components of this plug-in including the great GRIT switch. Learn about the dual functionality of the RESET button, sidechain hi pass, and mid-side processing.
"Bus Compressor is one of the 20 professional mixing and mastering processors available in the T-RackS Custom Shop. Download the free T-RackS Custom Shop software, which comes with the Classic T-RackS Equalizer and a full metering suite, and you'll have access to the Custom Shop, where you can try our processors before you buy."
http://audio-mastering-ipad.com
The first fully functional audio mastering application for iPad. For everyone who wants to make own music tracks excellent quality. Based on the same algorithms which used in professional plug-ins this application turns your iPad into a real mastering studio.
This all-in-one tool lets you process sound, convert audio formats, change sample rate, convert bit depth, cut part of track for preview and make fade-in and fade-out.
With very easy and clear interface you can tweak all controls in real time and listening to the final result right away.
Audio processing features:
Linear phase 10-bands graphic Equalizer based on phase shifting.
Three bands Stereo Imaging with common Stereo Width level.
Harmonic Saturator with three sets of harmonics.
Loudness Maximizer with adjustable response speed and ceiling.
Sample rate converter from 96, 88.2, 48 to 44.1 kHz.
Bit depth converter supported 16, 24, 32 bits.
Dithering with noise shaping.
Supports .wav, .aif, .mp3 audio file formats.
Application features:
Predefined preset hotkeys, ability to create own presets.
All processing settings are stored for each file.
Processing group of selected files.
Exchange files thru internal Web service.
Compatible with AudioCopy / AudioPaste.
Supports iTunes file share.
Compatible:
iPad 2 and higher is recommended. Generally this application can be run with iPad 1 but there is possibility of dropping the signal out when playback, especially at frequencies above 44.1 kHz. Offline processing can be done with any iPads quite well.
Please note: This application is audio processing tool only. It does not have audio editor functions.
The app is priced at $9.99.