IK Multimedia has announced the Lurssen Mastering Console, a totally new mastering tool developed in collaboration with multi-Grammy Award winning world-renowned mastering engineer Gavin Lurssen, Reuben Cohen and the team at Lurssen Mastering in Los Angeles, CA.
Designed to be an effortless mastering tool for musicians and producers of all skill levels, it faithfully digitally recreates the unique "whole is greater than its parts" approach used in the studio.

It provides a top of the line mastering processor chain with parameters that can be recalled as 20 different "Styles" that have been created by Gavin, Reuben and the team to reflect the settings they've developed in their decades of combined experience mastering hip-hop, rock, pop, Americana, country and more.

Now, with Lurssen Mastering Console, musicians can make great sounding masters both at home and on the go when a trip to Lurssen Mastering just isn't in the budget.
Lurssen Mastering Console features
Created with Grammy Award winning Mastering Engineer Engineers Gavin Lurssen and Reuben Cohen.
Accurately reproduces Lurssen Mastering's unique philosophy, studio workflow and signal chain.
iPad, Mac & PC versions available.
Mac/PC version works as a standalone application or as a plug-in for your DAW.
20 pre-made "Styles" created by Gavin Lurssen and team that reproduce the settings and gear used to master pop, hip-hop, rock and more.
3 easy-to-navigate displays: A Studio view with controls, a Wave waveform view and a Chain view for individual processors.
Input Drive knob.
5 band EQ with fixed frequency.
"PUSH" Knob to subtly enhance selected song passages via uniform EQ adjustment.
Full automation of audio content adjustment.
Linkable Input Drive control for stereo balance tweaks.
Input/Process assignable VU metering.
Stereo/Mono monitoring capability.
88.2/96kHz DSP processing.
Audio import from iPad music library.
Lurssen Mastering Console for iPad is available now as a free app with a functional demo mode. All content can be unlocked via a one-time in-app purchase of 99.99 EUR/USD.
A standalone and plug-in version for Windows and Mac is available for preorder for 199.99 EUR/USD. Lurssen Mastering Console for Windows and Mac will be available in February, 2016 for 299.99 EUR/USD. Prices excluding taxes.
Have your mix mastered live at NAMM by Lurssen Mastering! Details at http://www.ikmultimedia.com/news/news…
More info at http://www.ikmultimedia.com/news/news…
What do you get when a multi-Grammy award winning mastering studio teams up with the global leader in music creation and production tools?
At NAMM 2016, Lurssen Mastering and IK Multimedia will unveil a totally unique mastering product that brings the finesse, expertise and creative insight of the award winning mastering studio and innovative technological leadership of IK to musicians, producers and engineers around the globe. Read more at http://www.ikmultimedia.com/news/news…
Coming soon – http://www.ikmultimedia.com/gmandroid for more information
Remixing Reinvented – Loop remixing taken to a whole new dimension
GrooveMaker® 2 is the revolutionary Android app that lets you to create non-stop electronic, dance and hip-hop tracks, in real-time, anywhere, with results that sound like they were produced by a professional DJ.
Making music with loops will never be the same.
Learn about IK Multimedia's mobile music creation line of apps and accessories at http://www.ikmultimedia.com/products/…
Join us while Meghan Toohey of The Cold & Lovely gives you a tour of her process making great music using IK Multimedia apps, accessories, and more.
Get music and more information about The Cold & Lovely on iTunes at https://itunes.apple.com/artist/the-c…
IK Multimedia has introduced SampleTank 3 Free, the free version of their SampleTank sound and groove workstation for Mac and PC.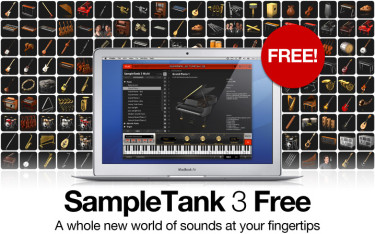 SampleTank 3 Free is essentially a fully functioning version of SampleTank 3: The only difference is that SampleTank 3 Free includes a small portion of the sounds featured in the full version.
The library is expandable; IK plans to add instruments to SampleTank 3 Free until a total of 22 instruments are available.
SampleTank 3 Free is available now as a free download, for Mac & Windows.
New studio section turns VocaLive into a full-fledged DAW! More information at http://www.ikmultimedia.com/vocalive
VocaLive is now the digital audio workstation for singers and songwriters
What's new in VocaLive 2.0 –
• Studio section* (available via in-app purchase) offers DAW-style features: waveform visualization and editing, touch-and-drag looping, normalization, punch-in/punch-out recording, per-channel FX on/off button and full access to all mixing and recording controls
• AutoFreeze (allows each track to have its own full effects chain)
* requires iPhone 4, iPod touch (5th generation), iPad 2 or later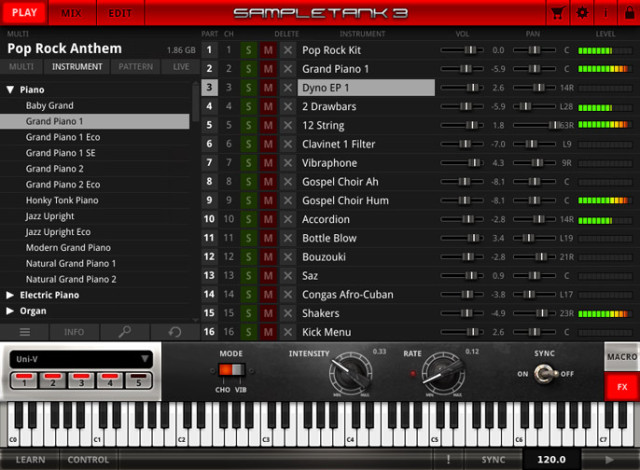 IK Multimedia has announced SampleTank 3 – an updated version of their software sound module.
According to the company, SampleTank 3 has been rebuilt 'from the ground up', offering 33 GB of sounds, over 4,000 instruments, over 2,000 MIDI files and 2,500 loops. 
Key Features:
33 GB of professionally recorded and painstakingly hand-crafted samples
Over 4,000 instruments in 22 instrument categories
Over 2,500 drum, percussion and complete groove loops, and over 2,000 MIDI patterns
Updated interface
New sounds with "round robin" and multiple articulations
New patterns player with MIDI patterns
55 effects, with 22 new effects derived from the analog-modeled algorithms and convolution technology found in AmpliTube and T-RackS
New loop management feature
New filters, a new Live mode and more.
SampleTank 3 will be available for download in July. From now until its release, it can be purchased at discounted pre-order prices.

See VocaLive (with iRig MIC for vocal input) and AmpliTube (with iRig HD as input for guitar and bass) with great apps like Audiobus (of course) and GarageBand in this great video. See how easy it is to connect VocaLive with other apps that are compatible with Audiobus.
Audiobus (from Audiobus Pty Ltd) allows the processing and output of audio apps to be used in real time with other apps, thus "connecting" them much like audio cables connect pieces of gear. Singers can now use VocaLive to add stunning vocal effects to their recordings in other apps like AmpliTube or GarageBand, or add instrumentation from other apps to their recordings in VocaLive.
VocaLive for iPhone, iPad and iPod touch and AmpliTube for iPhone, iPad and iPod touch are now Audiobus compatible. Audiobus is a groundbreaking new app (developed by A Tasty Pixel in cooperation with Audanika) that allows users to connect the audio of multiple apps, opening up countless new sonic possibilities. For example Audiobus lets users send audio out of one app, filter it through the next one in the chain, and receive it in the third. Vocals can be run through a filter or multifx; or a synth could be looped by a looper and its output sent to a recorder; or an electric piano could be run through a guitar multi-FX app and then into a sampler — all in real time.
For more info:
http://www.ikmultimedia.com/news/?ite… for more information – VocaLive: http://ikmultimedia.com/vocalive – iRig MIC: http://www.irigmic.com iRig HD: http://www.irighd.com – AmpliTube: http://www.amplitube.com/ios
http://www.t-racks.com for more information
The Bus Compressor is based on the mix bus VCA compressor of a worldwide known and acknowledged British mixing console from the 80's. This legendary processor has been painstakingly analyzed and measured down to the very single active and passive component to obtain a dead on behavior that will impart that famous "glue" effect on mix tracks without any compromise.
In this tutorial we look at several applications of the plug-in: The subtle yet effective "glue effect", compressing a drum bus from subtle to slamming or squashed, and all of the components of this plug-in including the great GRIT switch. Learn about the dual functionality of the RESET button, sidechain hi pass, and mid-side processing.
"Bus Compressor is one of the 20 professional mixing and mastering processors available in the T-RackS Custom Shop. Download the free T-RackS Custom Shop software, which comes with the Classic T-RackS Equalizer and a full metering suite, and you'll have access to the Custom Shop, where you can try our processors before you buy."
IK Multimedia has something up there sleeves, stay tuned to this channel for updates
http://www.ikmultimedia.com for more information. AmpliTube: http://www.amplitube.com/ios – iRig: http://www.ikmultimedia.com/irig
The #1 mobile rig system, 500,000 iRig installations, 10 million AmpliTube downloads, 2 new products will rock your mobile world again May 30, 2013. Stay tuned.