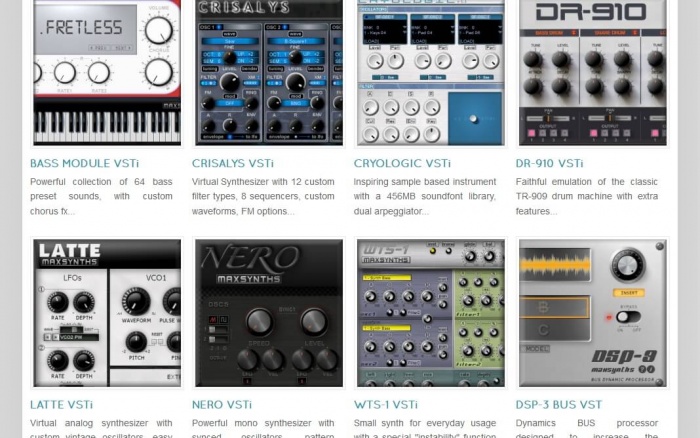 MaxSynths has announced that its Bass Module, Crisalys, Cryologic, DR-910, Latte, Nero, and WTS-1 instrument plugins and DSP-3 Bus, DSP-2 Vocal, and DSP-1 Drums effect plugins are now available as freeware.
I want to say thanks to all customers which supported me over the years. By the way currently I'm having some personal problems which prevents me to be active as in the past.

This makes impossible for me to provide further support and updates on these products so I think it's time to make them available as freeware.

By the way if you like these plugins and want to offer me a coffee this is really appreciated!
The plugins are available for download for Windows (32-bit VST).
More information: MaxSynths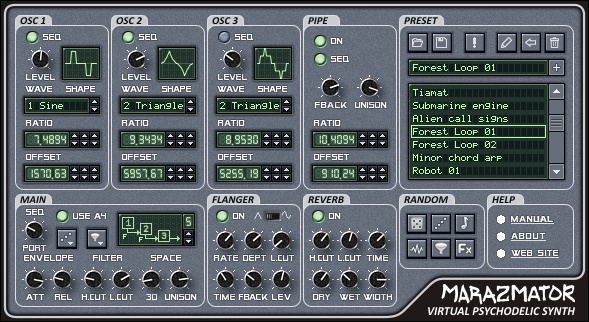 Vasily Makarov has released Marazmator, a free synthesizer instrument for Windows
The VSTi plug-in "Marazmator" will please you with unusual space sounding.

I very much hope that by means of this plug-in you will be able to bring new sound forms which will surprise listeners to this world, will make your music more various and more interesting!
The plugin is available as a free download for Windows (32-bit VST).
Aegean Music has released Doppler Dome a free audio plug-in, for Mac & WIndows, based on the Doppler effect.
Explained simply, the Doppler effect is something that happens to sound when the listener and the sound source are getting closer together or farther appart. For example, a car sound when you are in the car might have a particular frequency, but the frequency will be lower if the car is moving away from you, and will be like a record played at a lower speed. If the car passes right by you it will be high as it gets closer and then low as it gets farther. Doppler dome lets you adjust the amount of the pitch effect as well as pan and volume based on distance.
In Doppler Dome, the center is the listener and the sound source moves along a path. Drag the dots to adjust the path's bezier curves. The path can act like an LFO, or a loop. A midi note in message sent to the plugin will reset the path position to sync it with the project.
The Blend will mix the pitch effect with the dry signal, this is a bit like a chorus or modulated delay. The Pitch Scale knob determines how much pitch is affected, it can be turned off by setting it to zero. The Volume Scale Scale knob determines how much volume affected, based on distance. The Pan Scale Scale knob determines how much L/R position is affected, based on left and right position.
The buttons and switches can be used to set up curves and lines for the path (mouse over them to see their description).
Doppler Dome is a free download from the Aegean Music site.
beatassist.eu says that Mantra Evo is a high capable synthesizer, combining FM and Phase Dist synthesis, all in one. Here's what they have to say about it…
Mantra Evo is based on an FM synth and a Phase Dist synth. Both of these synths are gifted with a morphing system that will morph the basic waves into some more complex ones. Each of these synths are also gifted with 5 envelopes (amp, pitch, filter, modulation and morphing). The modulation of these synths is based on FM modulation system using kbd and depth.
On the filter envelope you can tweak just cutoff, resonance or both. Each of these synths are gifted of an LFO with two targets, dedicated filter, free speed knob, sync option and waveform choice. There is a Chorus for each synth too, making your sounds phater.
The effects you can use for Mantra are Octave Stepper, Distortion, Reverb, EQ, Stereo Delay and Trancegate.
Each of the synths can be individually connected to any of these effects leaving the other off.
Mono Mode can be used with a high gliding range.
Mantra Evo runs on Windows XP/Vista/Win7/Win8 32-bits and 64-bits when bridged.
Modern beat making without distraction
Download free from the App Store: http://appstore.com/auxy
Let us know what you think: feedback@auxy.co or https://twitter.com/auxyco
Introducing a new way to make electronic music. Create your own drums, bass lines, and synth melodies. Auxy is modern beat making without distractions.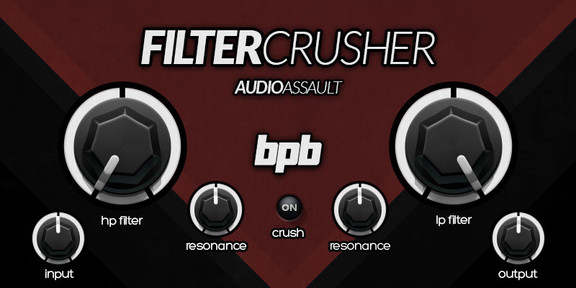 Bedroom Producers Blog has launched FilterCrusher, a free filter effect plug-in for Windows and Mac.
FilterCrusher is a free dual filter effect built around a tube simulation circuit which is based on Audio Assault's superb commercial tube amplifier plugin GrindMachine.

FilterCrusher was developed by Audio Assault and it is available for free download exclusively on Bedroom Producers Blog. The plugin is released as a 32-bit and 64-bit VST/AU plugin for Windows and Mac.
FilterCrusher features
Adjustable 12 dB high and low pass resonant filters.
Modeled tube circuit.
Subtle and "crush" modes.
Zero latency.
Optimized for low CPU usage.
FilterCrusher is available to download from Bedroom Producers Blog at no charge.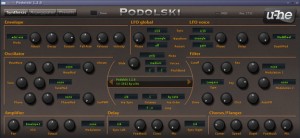 u-he has announced a Linux version of Podolski, a free synthesizer instrument previously released for Windows and Mac.
Thanks to the enthusiasm of KVR member abique, we now have *native* Linux VST2 x64-bit builds of our plug-ins.

Needless to say, this is first steps. Hence, we figured we'd throw out a nice freebee to get as much feedback as we possibly can from the Linux audio community.
The plug-in is available for download from the u-he forum at KVR Audio.

WOK has released MiniStepper, a free MIDI Step Sequencer Plug-in for Windows. Ministepper is designed to be easy to use.
There are 8 steps, each with velocity, gate length and mute. Several play directions, start- and end-step selectable on the fly. Sequence can be transposed by incoming MIDI notes (polyphonic). Host sync with dottet and triplet speed selection, swing, run on key press, MIDI-channels selectable for combined use, clear layout, free.
Price: Free.
IK Multimedia has introduced SampleTank 3 Free, the free version of their SampleTank sound and groove workstation for Mac and PC.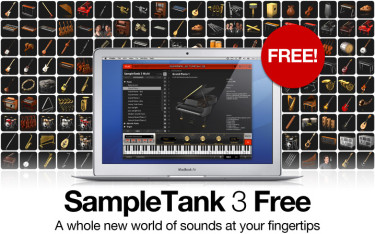 SampleTank 3 Free is essentially a fully functioning version of SampleTank 3: The only difference is that SampleTank 3 Free includes a small portion of the sounds featured in the full version.
The library is expandable; IK plans to add instruments to SampleTank 3 Free until a total of 22 instruments are available.
SampleTank 3 Free is available now as a free download, for Mac & Windows.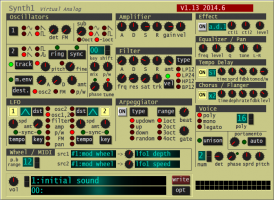 Ichiro Toda has released new beta versions of the freeware Synth1 plug-in for Windows and Mac OS X.
The Windows v1.13 Beta 1 release adds a 64-bit VST version whilst the Mac v1.13 Beta 7 release adds an Audio Unit version (32-bit only for now).
Changes in Windows v1.13 beta1:
64-bit version is available.
VST version up to 2.4 (both 32-bit & 64-bit). There is no change to the previous version in functionality.
Bug Fix: Fixed a problem that occurred is petit noise on MusicMaker.