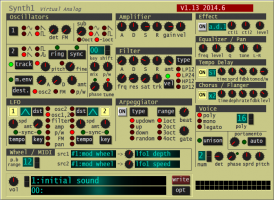 Ichiro Toda has released new beta versions of the freeware Synth1 plug-in for Windows and Mac OS X.
The Windows v1.13 Beta 1 release adds a 64-bit VST version whilst the Mac v1.13 Beta 7 release adds an Audio Unit version (32-bit only for now).
Changes in Windows v1.13 beta1:
64-bit version is available.
VST version up to 2.4 (both 32-bit & 64-bit). There is no change to the previous version in functionality.
Bug Fix: Fixed a problem that occurred is petit noise on MusicMaker.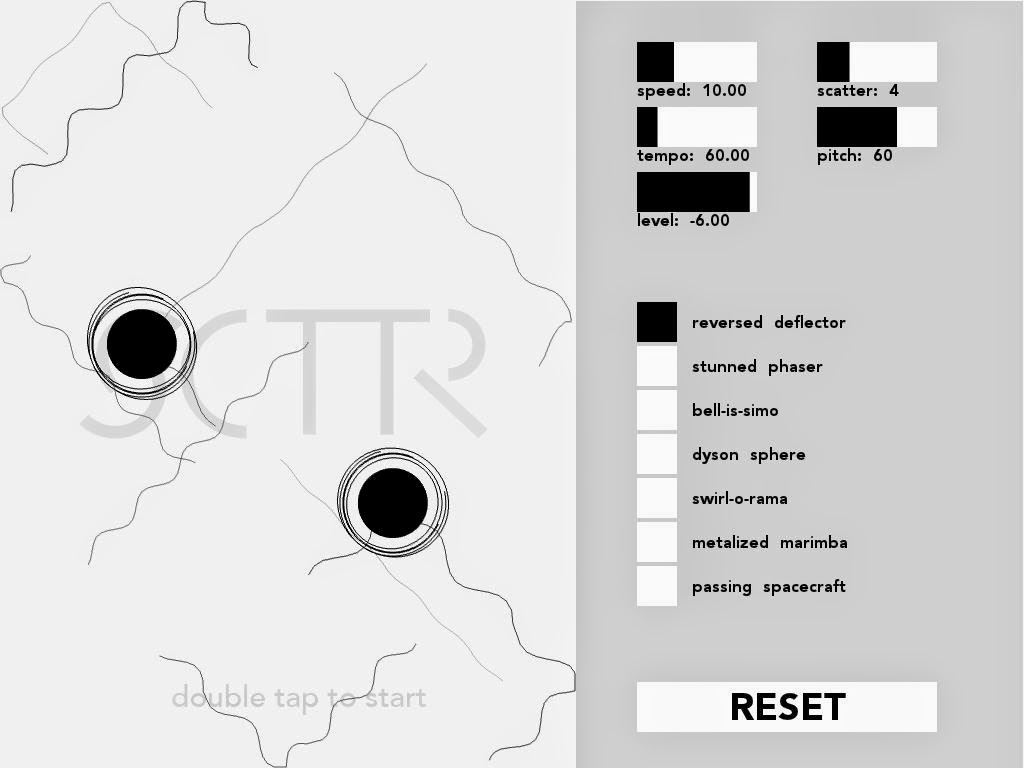 scttr is a collision-based arpeggiator. Placing pulse emitters in a 2D plane enables you to intuitively create and manipulate rhythmic structures, ranging from simple patterns to polyrhythmic mayhem. Subtle parameter changes can result in startling, sometimes unpredictable results, while always maintaining sonic coherence.

It was designed as a creative software instrument/sound generator for live performances and improvisational modular setups.

The PRO version will feature MIDI support, control over sound parameters and advanced particle control parameters.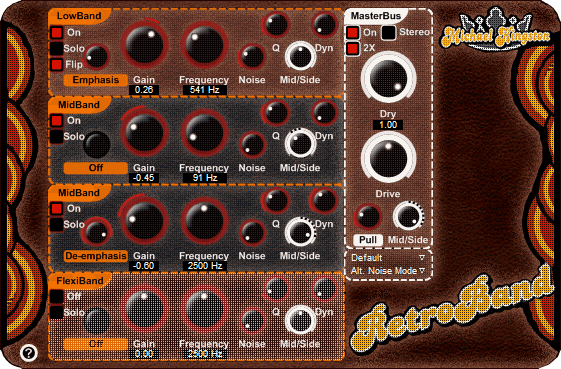 Michael Kingston is now offering his RetroBand effect plug-in for Windows and Mac as freeware.
RetroBand models several interaction aspects of gain stages and transformers. It generates IMD and crossover distortions present especially in Class A/B gain stages. RetroBand also features several forms of transient shaping.
RetroBand features
Digital model of interaction between gain stages and transformers.
Three flexible distortion models with noise modulation.
Transient shaping within the distortion models.
Mid-side stereo image controls.
Advanced noise modes to imprint effects of noise on signal without the hiss and rumble.
64-bit signal path with highly optimised algorithms.
RetroBand is available for Windows and Mac (VST).
Horus is something between a string-machine and a poly synth.
It can generate impressive and inspirative pads.
Full MIDI learn
64 voices polyphonic
FREE
Download link: http://bserrano.free.fr/vsti/Horus.zip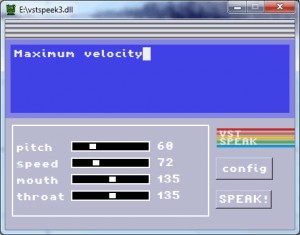 VST Speek is a free vocal synthesis VST plug-in for recreating the old skool robotic text to speech. You simply choose a preset, type any text and get the speech.
VST Speek - http://www.vstplanet.com/News/2014/Wa…
Developer: Wavosaur
Official audio demo!
- you can trigger the speech with MIDI keyboard (velocity sensitive)
- you can use MIDI pitchbend
- you can change original pitch or mouth/throat parameters while it's speaking
This is not a vocal synth like "Vocaloïd", it's intended to do crunchy robotic lofi techno voices! It's not intended for good quality speech synthesis too, better speech synthesis softwares exist now.
- 64 bit version
- MAC version
- ability to assign different text to MIDI notes
- ability to read longer text (and / or read from text file)
- assign pitchbend or midi CC to voice parameters.
- Android version ?
- more parameters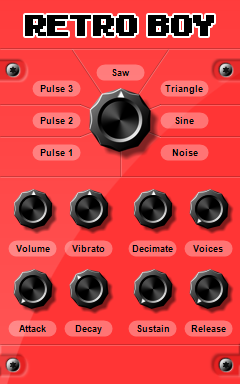 Sound-Base Audio has released Retro Boy, a free chiptune synthesizer instrument for Windows.
Retro Boy is a virtual analog chiptune synthesizer/emulator. It does not specifically emulate a single device or sound chip, but it was made with a certain handheld gaming system in mind.

The goal was to make a simple, minimal, synth that could create "8-bit music" without being overly complicated or requiring much knowledge from the end-user.
Retro Boy features
Single oscillator with seven different waveforms: Pulse 1 (12.5% duty cycle), Pulse 2 (25% duty cycle), Pulse 3 (50% duty cycle), Saw, Triangle, Sine, Noise.
Volume, vibrato, decimation, ADSR envelope, and voice control (adjustable from 1 to 4 voices).
Low CPU usage, <1% on an i5 processor.
Retro Boy for Windows (VST) is available to download as freeware.

Prysm Audio has released Monosc, a free VST synth for Windows.
FEATURES:
One oscillator (Sine, Saw, Triangle, Square).
Unison, from 1 to 16 voices.
Unique filter with 4 filter types.
Polyphony (Monophonic Portamento)
Easy-to-use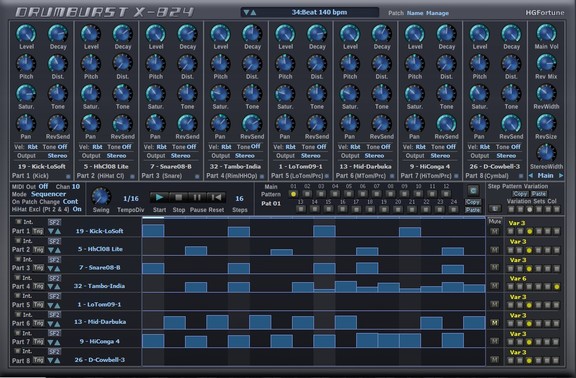 H.G. Fortune has announced the releases of DrumBurst X-824, a free drum machine plug-in for Windows.
Finally here it is: DrumBurst X-824, and the good news is it is free. The bad news, well, not really bad as only temporary this is my last Synthedit based plugin. Thus it marks the end of a 10 years era. Now I'm looking for new tools to create plugins in future, but this may take some time.

DrumBurst is an 8 parts drum machine with 64 waves at each slot making 512 waves in total: not too much for a quick selection but a good variety to work with.

The inbuilt sequencer features 24 Main Pattern each based on the combination of a dedicated wave, Mute status and 1 out of 6 Step Pattern variations per part. This provides a lot of variation and less of programming effort as pattern can be re-used with a different instrument.
DrumBurst X-824 for Windows (VST) is available to download here.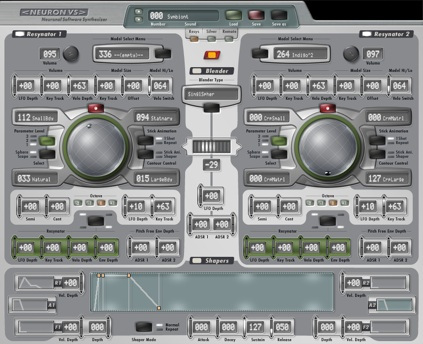 The Hartmann Neuron synthesizer is rare, the company that released it out of business, and the software version discontinued – until now. Developer Stephan Bernsee has released Neuron VS – the software version of the Neuron – as a free app for Intel Macs. Neuron VS was US $899 when it was originally released.
More information on the Neuron VS:
In 2000, Axel Hartmann and I, Stephan Bernsee, set out to designing a novel synthesizer based on artificial neural networks used for sound synthesis, the <NEURON> synthesizer. We were able to get support from a lot of people, including well known artists such as Hans Zimmer, and Hartmann Music as a company won several awards for innovation in synthesis technology.
Unfortunately and despite the huge interest in our products, due to some issues with distribution and our hardware manufacturer Hartmann was driven out of business in 2004. With the company dead there was no chance for <NEURON> owners to get tech support or updates.
Just recently, a Facebook group came into existence that managed to attract many knowledgeable and skilled Neuron owners who provide support and advice to each other in their spare time. To aid them in the process of keeping the Neuron alive I have dusted off the old NeuronVS sources in order to revive the NeuronVS VST plug-in, a software-only version of the Neuron synth that came with a powerful hardware controller, the <NUKE>. Thanks to the generosity of former Hartmann CEO Stefan Rapp and Neuron designer Axel Hartmann I am now able to provide an updated version of the original <NeuronVS> software here free of charge, (hopefully) free of bugs – and with no warranties of any kind.
Note: Their are some notable limitations about the current version of Neuron VS:
The project is a labor of love by Bernsee, and he notes, "This is a free and unsupported product and we don't have the resources to develop for Windows."
It's also based on an older version of the VST standard, VST SDK 2.1. Because of this, the current version will not be compatible with some DAWs.
It's designed to work with the Hartmann Nuke controller, and some features are unavailable without it.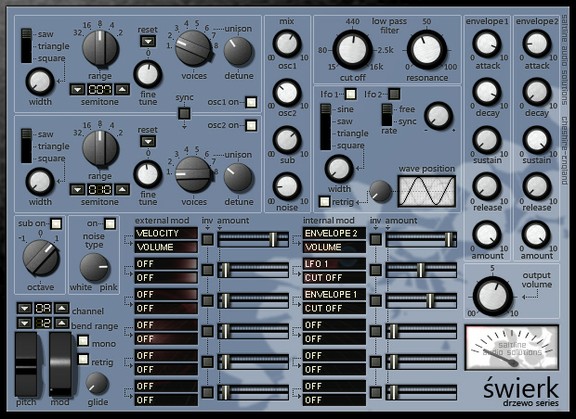 Saltline has released Świerk, a free synthesizer plug-in for Windows.
Świerk is a simple VA subtractive synthesizer. It's layout and signal path allows the user to create sounds quickly and with ease.
Świerk is available to download as a freeware VST instrument plug-in for Windows.
Features:
-2 Oscillators (each consists of the following)
-3 waveforms (Saw, Triangle and Square)
-Width (Square waveform)
- Octave range (32, 16, 8, 4, 2)
-Semitone (-12 to +12)
-Fine tune (-1 to +1 semitone)
-Unison/detune (up to 8 voices per oscillator)
-Sync (Oscillator 1 master, Oscillator 2 slave)
-1 Sub Oscillator
-Sine wave
-Octave range (-1 to +1 octaves)
-1 Noise Generator
-Noise type (White/Pink)
-Mixer
-Volume for each sound generator (oscillators 1+2, Sub and Noise)
-Low Pass Filter
-Frequency cut off
-Cut off point resonance
-Envelopes
-2 ADSR envelopes (Attack, decay, sustain, release)
-Envelope amount
-2 Low Frequency Oscillators (LFO) (each consists of the following)
-4 waveforms (Sine, Saw, Triangle and Square)
-Width (Square waveform)
-LFO rate (user defined/sync to host)
-Wave cycle re-trigger
-Re-trigger wave position
-Master Volume
-Midi Control
-Pitch bend wheel
-Pitch bend range (1 to 12 semitones)
Modulation wheel
-Midi channel (All, 1 to 16)
-Re-trigger
-Mono mode
-Left click controls for midi learn, unlearn and edit
-Internal Modulation Matrix
-8 Modulation slots (with invert source signal and source to amount control)
-4 Sources
-Envelope 1
-Envelope 2
-LFO1
-LFO2
-12 Destinations
-Oscillator 1 pitch
-Oscillator 1 width
-Oscillator 1 mix
-Oscillator 2 pitch
-Oscillator 2 width
-Oscillator 2 mix
-Sub pitch
-Sub mix
-Noise type
-Noise mix
-Filter cut off
-Master volume
-External Modulation Matrix
-8 Modulation slots (with invert source signal and source to amount control)
-5 Sources
-Pitch wheel
-Mod wheel
-Velocity
-Aftertouch
-Kef follow
-24 Destinations
-Oscillator 1 pitch
-Oscillator 1 width
-Oscillator 1 mix
-Oscillator 2 pitch
-Oscillator 2 width
-Oscillator 2 mix
-Sub pitch
-Sub mix
-Noise type
-Noise mix
-Filter cut off
-Master volume
-LFO1 rate
-LFO1 width (Square waveform)
-LFO2 rate
-LFO2 width (Square waveform)
-IM amount 1 (This sends the chosen source signal to the amount of internal modulation
matrix slot 1 e.g. You select "MOD WHEEL" as your source, you select "IM AMOUNT 1"
as your destination. The mod wheel will now control the signal amount of Internal modulation
Slot 1)
-IM amount 2
-IM amount 3
-IM amount 4
-IM amount 6
-IM amount 7
-IM amount 8