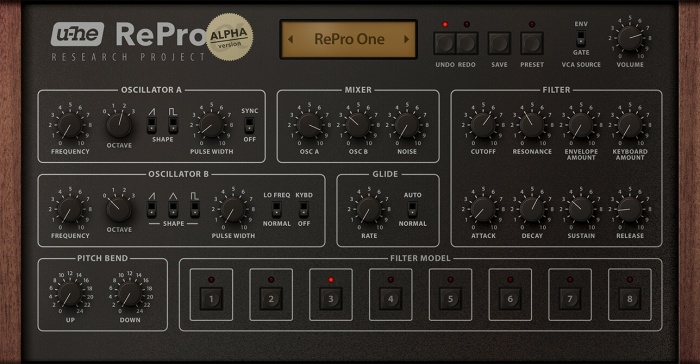 u-he has announced RePro-1, a monophonic synthesizer instrument for Windows and Mac.
The alpha version is going to be research ware, i.e. free like Protoverb. Hence "RePro-1 – Research Project One". It'll be a CPU hog because we want you guys to compare the unoptimised filter algorithms. We expect to release the alpha version shortly after the Superbooth in early April 2016.
The final version will be souped up with some extra features (the screenshot may make the guess easy) and it will be released for AAX/AU/VST with highly optimised filters by the end of 2016.
This is a monophonic synth. The final version will be an exceptionally close emulation of some nifty little vintage synth, with some nifty little extras added (but still not polyphonic).
In short: This is *not* coming soon! – But it'll sound great, and you're hereby prepared for some participation to happen!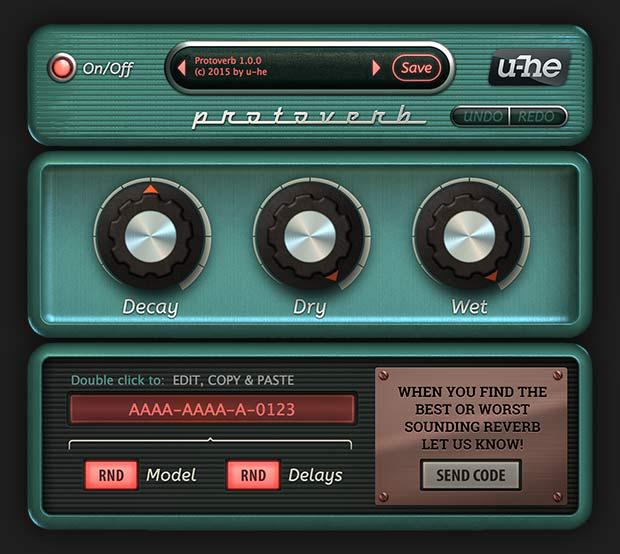 u-he has released Protoverb – an 'experimental reverb', based on the idea of a "room simulator".
Most algorithmic reverbs try to avoid resonances or model the reflections of sound from a rooms walls. Protoverb does the opposite. It builds up as many room resonances as possible, modeling the body of air in the room. It therefore does not need to modulate or colour the signal.
The result is a very natural sounding reverbration with some interesting features: Long standing frequencies resonate louder, as if the air takes some time to get excited. Multiple instruments don't mash into a diffuse mud, they stay distinct. If you play a short melody, the room seems to repeat a ghost echo of that melody. Those properties are indeed found in churches and large halls, but they're rarely found in conventional algorithmic reverbs.
To achieve this kind of stuff, Protoverb works with loads and loads of parallel, serial and networked delays. By all means, there is no mathematical formula that makes such a structure sound "just right". As with all delay based reverbs, it's down to trial and error, and maybe a lot of luck with random values. Therefore we designed Protoverb to present you with delay lines of random lengths and a random assembly of networking and feedback strategies. Which, if you're lucky and you come across a great setting, you can submit to our website, along with a few details
The small text box at the bottom contains two random entries. The first part depicts the network structure, strategies for a spatial layout and distribution of delay taps, strategies for finding useful delay lengths and so on. The second part is a seed for a pseudo-random number generator which is used to find various parameters, such as average delay length, which prime number to chose (if any) and so on. This text can either be edited by double click, or both parts can be independently randomized with the two random buttons below.
Protoverb is a free download, for Linux, OS X & Windows, from the u-he site.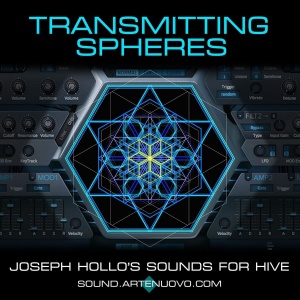 Arte Nuovo has announced the release of Transmitting Spheres, a soundset by Joseph Hollo featuring 165 presets for the Hive synthesizer instrument by u-he.
Since creating the factory patches in 2015 for the new HIVE synth from U-he, Joseph Hollo had some time to look deep inside the synth's engine and explore new possibilities, new ideas.

After months of intimate and lovely work, let us to introduce our first commercial soundset for HIVE: Transmitting Spheres

It became a huge all-rounder soundset, containing 165 patches from heavy hitting Drums, Plucks, Leads, Fx to soft, warm analogue, airy, bright digital and ethereal, emotional, evolving pads, textures. Exploring Hive's great arpeggiator there are many BPM synced animated pads, punchy Basslines, lyrical arpeggios and sequencers. You can find Bread and Butter E-Pianos, Organs, Synth Brasses and Synth keys as well.

Tons of inspirational and useful tools for creative Pop-Rock, Chillout, Ambient and Filmscore arrangements.
The soundset is available for the introductory price of $23 USD until November 12th, 2015 (regular $28 USD).
by synthesist Mark Mosher, Boulder, CO. MarkMosherMusic.com
In this video I'm using Percussa's wireless AudioCubes change the cable patching of the U-HE ACE virtual analog synthesizer on-the-fly with no mouse. The U-HE ACE synthesizer allows you to use MIDI CCs to map the source for any cable. Percussa MIDIBridge 3 for Wireless AudioCubes has a new "Topology" mode that allows you to send MIDI note trigger information as well as distance data (MIDI CCs) at the same time for up to 16 cubes simultaneously! This video shows some of my early tests and ideas for leveraging these features by pairing AudioCubes with ACE. Of course these are baby steps for what is possible and these same techniques could be applied to other instruments – and even hardware instruments via MIDI or MIDI-to-CV.
Links:
– percussa.com
– u-he.com/cms/ace
A quick demonstration video we put together to show off Hive at the 2015 Frankfurt Musikmesse.
Watch the track come together in 2 minutes.
Find more information about Hive, and download the demo at: http://www.u-he.com/hive
Music by Michael Dühr.
Features:
Single page user interface
2,700 presets
UI resize, from 70% to 200% in 10% steps
3 synth engine characters (Normal, Dirty, Clean)
2 main oscillators, 2 sub-oscillators
Up to 16x unison per oscillator
2 multimode filters (LP, HP, BP, BR or Peak)
Flexible oscillator and filter routing
Solo buttons for individual oscillators and filters
Arpeggiator, step sequencer
12-slot modulation matrix, 2 targets per slot
Drag & drop modulation assignment
Create, save and load individual panel presets
7 quality effects, rearrange in any order
Global configuration overlays, including MIDI learn
In this 10 part series, Ronan Macdonald introduces the basic features and functions in Hive.
Also, if you haven't made up your mind yet and if you might change it, or if you just want to benefit from the introduction offer, or if you haven't received our newsletter of if you for what ever missed it but you didn't want to miss it, Hive for 99$ ends in about 18 hours, then becomes 149$ – because Hive will be officially released tomorrow noon Berlin time also through our resellers.
Part 1 is all about the control bar and preset browser.
The fully working demo is available at http://www.u-he.com/hive
Part 1: https://www.youtube.com/watch?v=fFRnw…
Part 2: https://www.youtube.com/watch?v=Sm9g0…
Part 3: https://www.youtube.com/watch?v=nbjH6…
Part 4: https://www.youtube.com/watch?v=CI6tE…
Part 5: https://www.youtube.com/watch?v=4x-lJ…
Part 6: https://www.youtube.com/watch?v=mt6nC…
Part 7: https://www.youtube.com/watch?v=uE5LM…
Part 8: https://www.youtube.com/watch?v=R0_ph…
Part 9: https://www.youtube.com/watch?v=jN4Hn…
Part 10: https://www.youtube.com/watch?v=B0CDV…
Music by Ronan Macdonald
u-he presents HIVE: a powerful but CPU-friendly synthesizer.
Available as VST, AU, AAX plug-in.
More information and demo download: http://www.u-he.com/hive
A streamlined single screen UI lets you dive into sound creation immediately. The fluid workflow lets you tweak away until your sound is just right (or wrong in just the right way). HIVE was engineered to be light on CPU – it won't slow you down while you work. HIVE: A lightweight synth that delivers a heavyweight sound!
Credits: Video by Michael Pettit, music by Michael Dühr, 3D by Sebastian Greger
Features:
Very low CPU usage
Switchable audio characteristics (normal, dirty, clean)
2 main oscillators, 2 sub-oscillators
Up to 16x unison for each of the 4 oscillators for "super" sounds
2 multimode filters
Step sequencer and arpeggiator
12 slot modulation matrix with 2 targets per slot, 4 envelopes (ADSR), 2 LFOs
7 built in effects
Single screen interface
u-he presented on Musikmesse the Supersaw Synthesizer Hive. But the supersaw is only one feature of many others
Edd Butterworth talks with U-He's Urs Heckmann about the origin of the company, their awesome synth collection and more.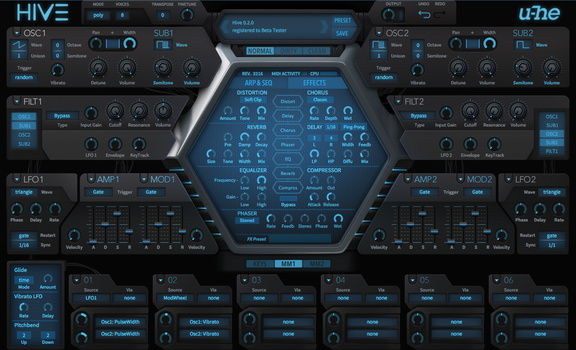 Urs Heckmann of u-he has posted a screenshot of the upcoming Hive synthesizer instrument for Windows and Mac.
While all of u-he previous synths found homes working in the world of dance music production, Hive was created specifically with dance music producers in mind.

The single page streamlined interface is packed with features and options to help you get your sound just right (or wrong in just the right way). Best of all, Hive uses very little CPU.
Hive is currently in private beta.