u-he presents HIVE: a powerful but CPU-friendly synthesizer.
Available as VST, AU, AAX plug-in.
More information and demo download: http://www.u-he.com/hive
A streamlined single screen UI lets you dive into sound creation immediately. The fluid workflow lets you tweak away until your sound is just right (or wrong in just the right way). HIVE was engineered to be light on CPU – it won't slow you down while you work. HIVE: A lightweight synth that delivers a heavyweight sound!
Credits: Video by Michael Pettit, music by Michael Dühr, 3D by Sebastian Greger
Features:
Very low CPU usage
Switchable audio characteristics (normal, dirty, clean)
2 main oscillators, 2 sub-oscillators
Up to 16x unison for each of the 4 oscillators for "super" sounds
2 multimode filters
Step sequencer and arpeggiator
12 slot modulation matrix with 2 targets per slot, 4 envelopes (ADSR), 2 LFOs
7 built in effects
Single screen interface
u-he presented on Musikmesse the Supersaw Synthesizer Hive. But the supersaw is only one feature of many others
Edd Butterworth talks with U-He's Urs Heckmann about the origin of the company, their awesome synth collection and more.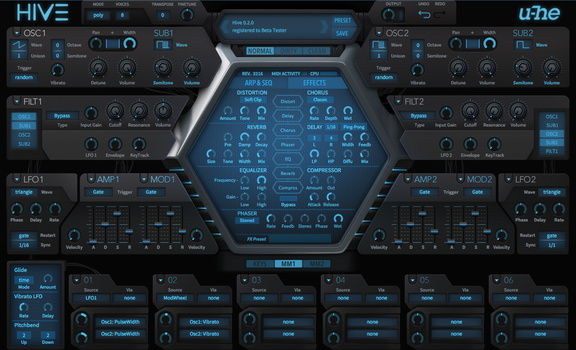 Urs Heckmann of u-he has posted a screenshot of the upcoming Hive synthesizer instrument for Windows and Mac.
While all of u-he previous synths found homes working in the world of dance music production, Hive was created specifically with dance music producers in mind.

The single page streamlined interface is packed with features and options to help you get your sound just right (or wrong in just the right way). Best of all, Hive uses very little CPU.
Hive is currently in private beta.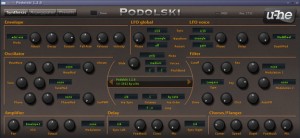 u-he has announced a Linux version of Podolski, a free synthesizer instrument previously released for Windows and Mac.
Thanks to the enthusiasm of KVR member abique, we now have *native* Linux VST2 x64-bit builds of our plug-ins.

Needless to say, this is first steps. Hence, we figured we'd throw out a nice freebee to get as much feedback as we possibly can from the Linux audio community.
The plug-in is available for download from the u-he forum at KVR Audio.
Trance Techno Soundbanks has announced the release of DIVA U-HE Classic Electronica, a soundset for the DIVA synthesizer instrument from u-he.
This is special soundbank created only for Classic Electronic Dance Music styles like: Electro, Deep House, Classic Trance, Classic Techno. Soundbank is inspired by:Westbam traxxes ala Beatbox Rocker, Hard Times, – Members of Mayday-10 in 01 or Save the Robots,- classic trance traxxes from Frankfurt city scene and some Berlin MFS influences. Plus lot of oldschool classic house and classic techno.

There are only quality sounds for good price!!! Pack have full construction kits (Midi),automation screens for every DAW and flp files for Fl Studio. Kick Hi Hat and Clap generally are just for addition-They are not in the pack.
DIVA U-HE Classic Electronica features
100 hi-quality presets for DIVA.
Includes 1 acid, 15 arp, 16 bass, 8 fx, 7 gate, 23 lead, 13 pad, 14 percussion, 3 pluck.
13 demo kits in MIDI and 13 FLP files (FL Studio) format and 13 Automation screens JPG's for every demo.
The soundset is available for purchase for 12 EUR.
Trance Techno Soundbanks has also launched two promotions.
Customers who purchase DIVA U-HE Classic Electronica get a 50% discount coupon for any other product in the TTS shop.
Buy a bundled "ALL PACK" and get a free single soundbank as a bonus (ALL PACKS excluded).
These offers are valid through June, 2014.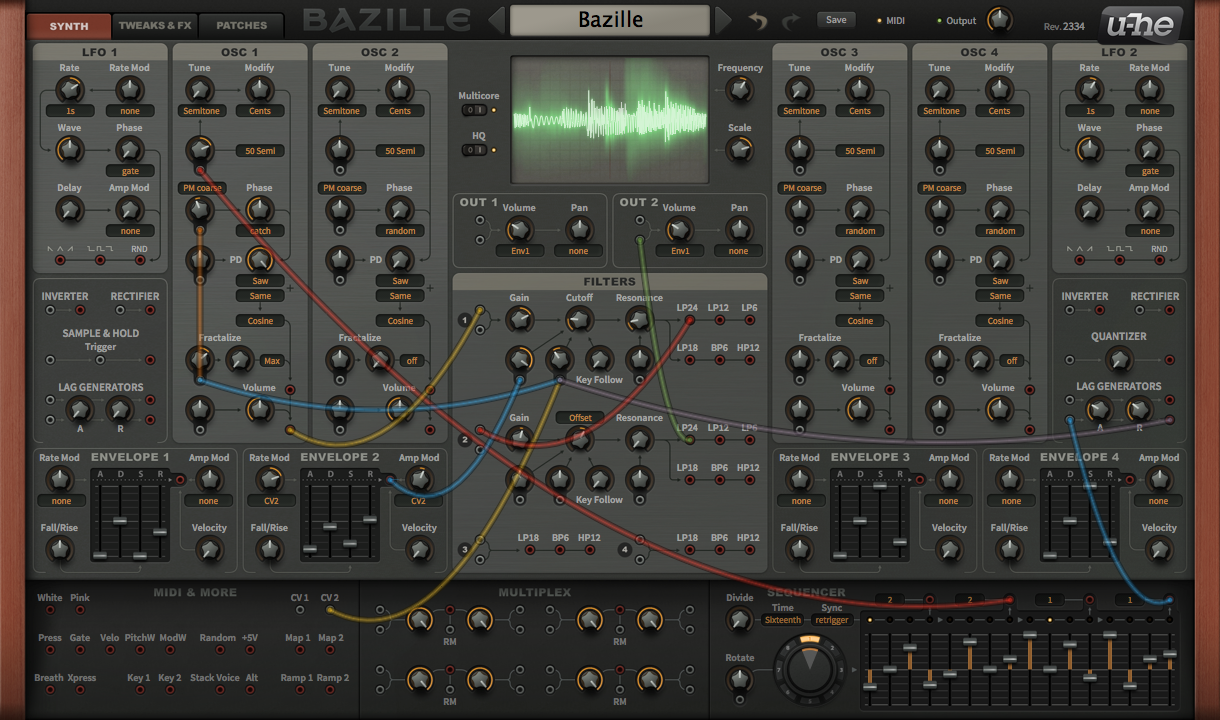 Bazille is a modular FM and Phase Distortion Synthesizer. It's modular engine allows for patching of any signal output into any signal input, regardless of signal type. This makes Bazille a sibling of ACE, but it caters for a digital synthesis paradigm rather than for subtractive (virtual analogue) synthesis.

hybrid modular system: digital oscillators, analogue filters – unlimited patching capabilities.
4 oscillators with simultaneous FM (phase modulation, linear / exponential / relative FM), PD (phase distortion) and FR (fractal resonance).
4 multimode analogue type filters, 2 of which have 6 parallel outputs.
4 ADSR envelopes, 2 LFOs with multiple outputs, 2 ramp generators.
2 modulation maps (can be used as oscillator waveforms), lag processors, quantizer, inverters, rectifiers, sample&hold.
morphing snapshot sequencer: 8 slots of 16 steps each (splittable into 4, 8 or 12-step units).
The product page http://www.u-he.com/cms/bazille has been updated as well…
BAZILLE, the modular monster. After ACE, the second spawn of our ongoing 'Berlin Modular' project, this one is a very different, much larger beast…
This is an old teaser movie:
Here's a sneak preview of the first synth inside the upcoming Berlin Modular System. This synth combines FM-Synthesis, Phase Distortion and subtractive in a rack-like appearance. In this video I'm showing teh layout and the basic oscillator functions.
The first in Dan Worrall's 4-part series about u-he's ACE modular synthesizer.
Best viewed at 720p (HD) resolution
u-he: www.u-he.com
Dan: www.platinumears.com
Ace is a semi-modular software synthesizer, with default routing like ARP 2600.
Features:
25 signal sources, 30+ signal targets
up to 8 times unison with +/-2 octave detune range each
exceptional filters, can self-oscillate
LFOs can be used as VCOs and vice versa
sync, FM, cross modulation
use multiples for inversion, amp / ring modulation etc.
custom LFO waveform "tap map"
microtuning (Scala .tun standard)
Phil Johnston takes a quick look at U-He's Tape Emulation software 'Satin'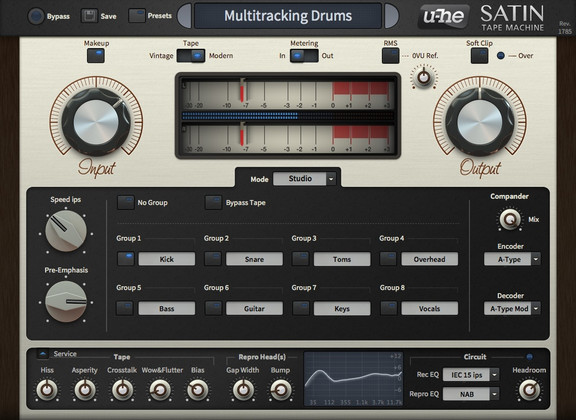 u-he has announced the release of its Satin Tape Machine effect plugin for Windows and Mac.
With its three operation modes, SATIN is an all-rounder: Studio mode is predestined for multichannel tape saturation effects, all optionally controlled from a single instance. Delay mode offers complex multitap tape delays, and Flange does true through-zero tape flanging (think Small Faces "Itchycoo Park" or Hendrix "Bold as Love"). In all modes, the tape speed is continuously variable from 7.5 to 30 inches per second.

While aiming for a complete simulation of classic tape machines, u-he also decided to include the noise reduction circuits. This is not spurious whimsy: the classic compander models can be used for decoding old tape recordings, or for dynamic processing and colouration effects such as – a known trick amongst seasoned tape-ops – enhancing background vocals and e.g. acoustic guitars.
Satin features
Mix-and-match emulation spans all major historical developments in tape technology.
Control multiple instances from one panel – 'glue' multiple tracks together.
High-quality: internal sample rate up to 384kHz, continuous tape speed control.
All the 'goodness' of tape (saturation, transient-smoothing, HF compression etc.).
Full control over the 'badness' (head-bump, wow&flutter, asperity noise, hiss etc.).
Record / repro EQ standards (separately selectable), classic NR compander standards.
Extra FX modes: through-zero tape flanging, host-synchronizable 4-tap stereo delay.
Satin for Windows and Mac (VST/AU) is available to purchase for the introductory price of $89 USD until October 7th, 2013 (regular $129 USD). AAX is in development.