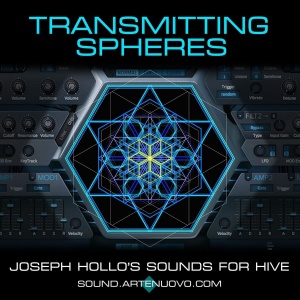 Arte Nuovo has announced the release of Transmitting Spheres, a soundset by Joseph Hollo featuring 165 presets for the Hive synthesizer instrument by u-he.
Since creating the factory patches in 2015 for the new HIVE synth from U-he, Joseph Hollo had some time to look deep inside the synth's engine and explore new possibilities, new ideas.

After months of intimate and lovely work, let us to introduce our first commercial soundset for HIVE: Transmitting Spheres

It became a huge all-rounder soundset, containing 165 patches from heavy hitting Drums, Plucks, Leads, Fx to soft, warm analogue, airy, bright digital and ethereal, emotional, evolving pads, textures. Exploring Hive's great arpeggiator there are many BPM synced animated pads, punchy Basslines, lyrical arpeggios and sequencers. You can find Bread and Butter E-Pianos, Organs, Synth Brasses and Synth keys as well.

Tons of inspirational and useful tools for creative Pop-Rock, Chillout, Ambient and Filmscore arrangements.
The soundset is available for the introductory price of $23 USD until November 12th, 2015 (regular $28 USD).
by synthesist Mark Mosher, Boulder, CO. MarkMosherMusic.com
In this video I'm using Percussa's wireless AudioCubes change the cable patching of the U-HE ACE virtual analog synthesizer on-the-fly with no mouse. The U-HE ACE synthesizer allows you to use MIDI CCs to map the source for any cable. Percussa MIDIBridge 3 for Wireless AudioCubes has a new "Topology" mode that allows you to send MIDI note trigger information as well as distance data (MIDI CCs) at the same time for up to 16 cubes simultaneously! This video shows some of my early tests and ideas for leveraging these features by pairing AudioCubes with ACE. Of course these are baby steps for what is possible and these same techniques could be applied to other instruments – and even hardware instruments via MIDI or MIDI-to-CV.
Links:
– percussa.com
– u-he.com/cms/ace
A quick demonstration video we put together to show off Hive at the 2015 Frankfurt Musikmesse.
Watch the track come together in 2 minutes.
Find more information about Hive, and download the demo at: http://www.u-he.com/hive
Music by Michael Dühr.
Features:
Single page user interface
2,700 presets
UI resize, from 70% to 200% in 10% steps
3 synth engine characters (Normal, Dirty, Clean)
2 main oscillators, 2 sub-oscillators
Up to 16x unison per oscillator
2 multimode filters (LP, HP, BP, BR or Peak)
Flexible oscillator and filter routing
Solo buttons for individual oscillators and filters
Arpeggiator, step sequencer
12-slot modulation matrix, 2 targets per slot
Drag & drop modulation assignment
Create, save and load individual panel presets
7 quality effects, rearrange in any order
Global configuration overlays, including MIDI learn
In this 10 part series, Ronan Macdonald introduces the basic features and functions in Hive.
Also, if you haven't made up your mind yet and if you might change it, or if you just want to benefit from the introduction offer, or if you haven't received our newsletter of if you for what ever missed it but you didn't want to miss it, Hive for 99$ ends in about 18 hours, then becomes 149$ – because Hive will be officially released tomorrow noon Berlin time also through our resellers.
Part 1 is all about the control bar and preset browser.
The fully working demo is available at http://www.u-he.com/hive
Part 1: https://www.youtube.com/watch?v=fFRnw…
Part 2: https://www.youtube.com/watch?v=Sm9g0…
Part 3: https://www.youtube.com/watch?v=nbjH6…
Part 4: https://www.youtube.com/watch?v=CI6tE…
Part 5: https://www.youtube.com/watch?v=4x-lJ…
Part 6: https://www.youtube.com/watch?v=mt6nC…
Part 7: https://www.youtube.com/watch?v=uE5LM…
Part 8: https://www.youtube.com/watch?v=R0_ph…
Part 9: https://www.youtube.com/watch?v=jN4Hn…
Part 10: https://www.youtube.com/watch?v=B0CDV…
Music by Ronan Macdonald
u-he presents HIVE: a powerful but CPU-friendly synthesizer.
Available as VST, AU, AAX plug-in.
More information and demo download: http://www.u-he.com/hive
A streamlined single screen UI lets you dive into sound creation immediately. The fluid workflow lets you tweak away until your sound is just right (or wrong in just the right way). HIVE was engineered to be light on CPU – it won't slow you down while you work. HIVE: A lightweight synth that delivers a heavyweight sound!
Credits: Video by Michael Pettit, music by Michael Dühr, 3D by Sebastian Greger
Features:
Very low CPU usage
Switchable audio characteristics (normal, dirty, clean)
2 main oscillators, 2 sub-oscillators
Up to 16x unison for each of the 4 oscillators for "super" sounds
2 multimode filters
Step sequencer and arpeggiator
12 slot modulation matrix with 2 targets per slot, 4 envelopes (ADSR), 2 LFOs
7 built in effects
Single screen interface
u-he presented on Musikmesse the Supersaw Synthesizer Hive. But the supersaw is only one feature of many others
Edd Butterworth talks with U-He's Urs Heckmann about the origin of the company, their awesome synth collection and more.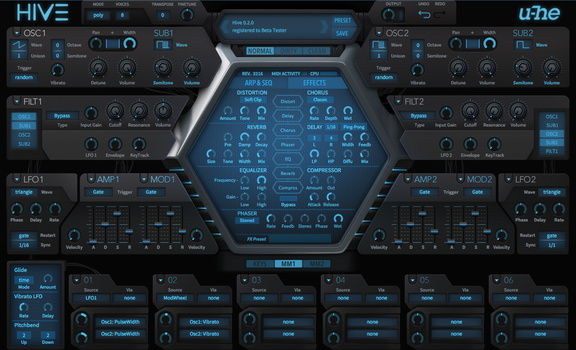 Urs Heckmann of u-he has posted a screenshot of the upcoming Hive synthesizer instrument for Windows and Mac.
While all of u-he previous synths found homes working in the world of dance music production, Hive was created specifically with dance music producers in mind.

The single page streamlined interface is packed with features and options to help you get your sound just right (or wrong in just the right way). Best of all, Hive uses very little CPU.
Hive is currently in private beta.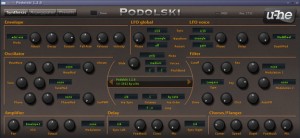 u-he has announced a Linux version of Podolski, a free synthesizer instrument previously released for Windows and Mac.
Thanks to the enthusiasm of KVR member abique, we now have *native* Linux VST2 x64-bit builds of our plug-ins.

Needless to say, this is first steps. Hence, we figured we'd throw out a nice freebee to get as much feedback as we possibly can from the Linux audio community.
The plug-in is available for download from the u-he forum at KVR Audio.
Trance Techno Soundbanks has announced the release of DIVA U-HE Classic Electronica, a soundset for the DIVA synthesizer instrument from u-he.
This is special soundbank created only for Classic Electronic Dance Music styles like: Electro, Deep House, Classic Trance, Classic Techno. Soundbank is inspired by:Westbam traxxes ala Beatbox Rocker, Hard Times, – Members of Mayday-10 in 01 or Save the Robots,- classic trance traxxes from Frankfurt city scene and some Berlin MFS influences. Plus lot of oldschool classic house and classic techno.

There are only quality sounds for good price!!! Pack have full construction kits (Midi),automation screens for every DAW and flp files for Fl Studio. Kick Hi Hat and Clap generally are just for addition-They are not in the pack.
DIVA U-HE Classic Electronica features
100 hi-quality presets for DIVA.
Includes 1 acid, 15 arp, 16 bass, 8 fx, 7 gate, 23 lead, 13 pad, 14 percussion, 3 pluck.
13 demo kits in MIDI and 13 FLP files (FL Studio) format and 13 Automation screens JPG's for every demo.
The soundset is available for purchase for 12 EUR.
Trance Techno Soundbanks has also launched two promotions.
Customers who purchase DIVA U-HE Classic Electronica get a 50% discount coupon for any other product in the TTS shop.
Buy a bundled "ALL PACK" and get a free single soundbank as a bonus (ALL PACKS excluded).
These offers are valid through June, 2014.