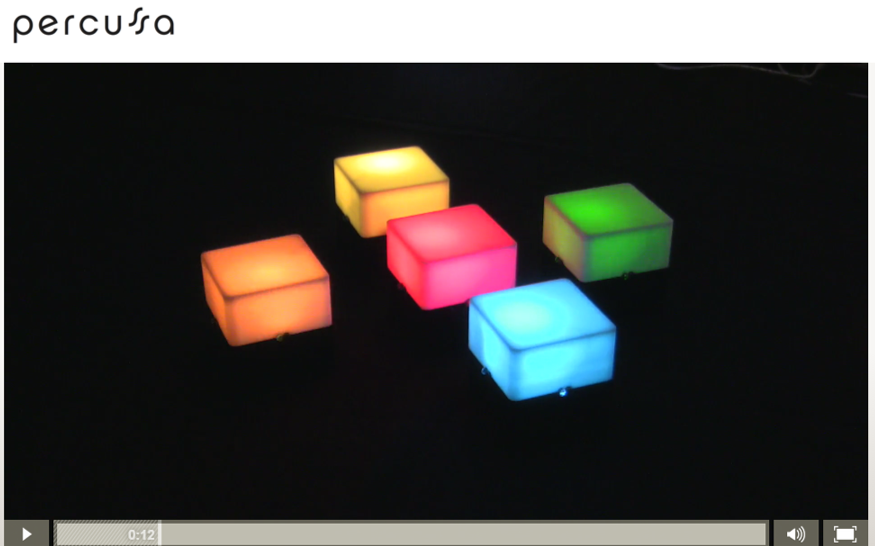 Click the image above to view the video
Quick demo of the new Synthor digital modular synth for the Percussa AudioCubes. Synthor runs on Macs and PCs as a standalone audio application and communicates wirelessly with the AudioCubes hardware interface. When cubes are placed next to each other, new patch connections are created, and moving cubes closer and further away change parameters such as modulation depth. Synthor is a free download for all AudioCubes users! Learn more at http://www.percussa.com/
Here's what Percussa's lead developer let's know:
AudioCubes started as an advanced live performance / MIDI controller
but with the synthesizer I'm developing you can use them 100%
standalone without needing other software.

Meanwhile we also updated the housing of the AudioCubes to a high end
material and added a high performance wireless module. The result is
the Pro AudioCubes.
by synthesist Mark Mosher, Boulder, CO. MarkMosherMusic.com
In this video I'm using Percussa's wireless AudioCubes change the cable patching of the U-HE ACE virtual analog synthesizer on-the-fly with no mouse. The U-HE ACE synthesizer allows you to use MIDI CCs to map the source for any cable. Percussa MIDIBridge 3 for Wireless AudioCubes has a new "Topology" mode that allows you to send MIDI note trigger information as well as distance data (MIDI CCs) at the same time for up to 16 cubes simultaneously! This video shows some of my early tests and ideas for leveraging these features by pairing AudioCubes with ACE. Of course these are baby steps for what is possible and these same techniques could be applied to other instruments – and even hardware instruments via MIDI or MIDI-to-CV.
Links:
– percussa.com
– u-he.com/cms/ace
In this video Salamanderanagram explains how he's using topology mode of the Percussa Wireless AudioCubes together with Reaktor.
More about Sacco here – http://www.youtube.com/user/Spyrofunk
and here – https://soundcloud.com/sacco-vanzetti-duo
Synthor is a hardware and software synth consisting of 8 audiocubes and software for mac and PC
4 Green cubes: sine, triangle and saw oscillators with frequency and duty cycle/sync inputs
2 Purple cubes: state variable filters with HP/LP and BP/NT outputs and cutoff frequency inputs
1 Blue cube: pink/white noise with sample and hold and state variable filters (LP) outputs, SAH control signal and filter cutoff inputs
1 Red cube: stereo output
The two other videos can be found here >>
Synthor is a new app made in Max/Max for 8 AudioCubes. Synthor is a modular synthesizer application for 8 AudioCubes made in Max/Msp. Percussa is developing the synth in Max, but will very likely build a VST version once they're happy with thier Max patch. In their modular synthesizer application they're using 2 sides of the audiocube as an input and 2 sides of the audiocubes as an output. To make it more easy to remember which side of the cube is the input and which one is the output, they've put stickers on top of every cube. The black lines indicate the 2 outputs, and the other sides of the cubes are the inputs.
Buy the Modular Synth package for AudioCubes including the free Synthor app directly at the Percussa website. More info at www.percussa.com
New JM Jarre cover from Percussa AudioCubes, details below:
Jean Michel Jarre's Rendez Vous II Laser Harp Theme played on Percussa AudioCubes using Xils Synthix VST synth (hosted in Ableton Live) and Percussa MIDIBridge – learn more at http://www.percussa.com/
Check out our blog post to learn more about the setup: http://www.percussa.com/2012/10/11/jean-michel-jarres-rendez-vous-ii-on-xils-…
"Hat's off to Geert Bevin for creating a new agent inside EigenD, allowing direct control of Percussa AudioCubes.
More info www.eigenzone.org"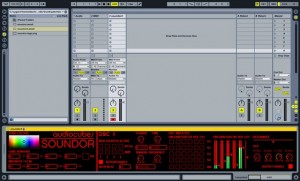 Percussa has announced the release of SOUNDOR, a free and open source FM Synthesizer for Max for Live, the visual programming environment in Ableton Live based on Cycling 74′s Max/MSP.
SOUNDOR features 4 oscillators each with their own waveform mixers, allowing the user to mix sine, square, sawtooth, triangle and noise waveforms to create totally new kinds of waveforms. Each oscillator section also features a state variable filter (SVF), and can modulate any other oscillator in pitch and/or amplitude. Each oscillator's output can also be sent via its own ADSR to a master out, for lots of sound possibilities. Oscillators can overdrive each other through the built in waveform mixer, and can be controlled through the MIDI Keyboard as well as manual settings.

SOUNDOR integrates seamlessly with AudioCubes: rather than having to MIDI map the AudioCubes onto parameters in SOUNDOR, the moment an AudioCube is plugged in, it is automatically connected to any of the waveform mixer parameters and filter sections, through an easy to use connection matrix in the synthesizer. The 4 high speed low latency sensors of AudioCubes can control multiple parameters simultaneously and can even be inverted. A pedal input allows the user to keep the sensors values in place, while the hands are near the sensor, allowing exploration of the parameter space of the FM synthesizer while at the same time allowing rigid locking of parameters to keep the sound steady once an interesting combination of parameters has been found. SOUNDOR supports the well known preset system of Ableton Live and Max4Live, so presets can be saved and recalled just as for other Max4Live devices.
SOUNDOR is available as a free download from Percussa.
A quick demo of SOUNDOR, a free and open source Max4Live FM Synth for AudioCubes by Percussa, smart cubes for sound, music and visuals. In this video, you can see how you can easily create wind and bubbling water sounds using an AudioCube, the free SOUNDOR application and a simple foot pedal. Press the pedal down to enable control of the synthesizer using the AudioCube, and release the foot pedal if you want to "lock" the sound where it is or stop controlling the sound using the AudioCube. One AudioCube can control up to 4 parameters simultaneously, using your fingers and hands. The sensors are high speed and resolution (1kHz and 10 bit). Learn more at http://www.percussa.com/soundor/