Shock-HRz, captures a live performance, Tactical Shadow. 
Technical details below. 
Simone Ciacci a.k.a. "Storm 3003″:
Access Virus TI
Elektron Analog Four
Korg Kaoss Pad 3
Korg Kaossilator Pro
Gabriele Marini a.k.a. "ReD":
Akai Miniak
Yamaha RM1X
Korg Volca Bass
Francesco Salvatici a.k.a. "4TeK":
Korg Electribe MX
Korg Mini-KP
Korg Monotron
Korg Monotron Duo
A one hour live performance with Analog Rytm, Analog Four, Analog Keys and Octatrack.
This is my first attempt at performing live with the Elektron boxes for an audience. It was at a friends party inside a very nice smiths workshop (perfect industrial setting!). Almost everything that is played is new material that I prepared for this night. I will try to record some of the top tracks into a new EP soon.
All synths sounds played by Analog Four/Keys, all drums played by Analog Rytm (except for some layered loops here and there). The Octatrack does the mixing and acts as a loop-recorder for all the cross-fades and transitions.
Too little practice equals many mistakes, but its worth the fun when some of the mistakes turn out to be happy mistakes =)
Rubens' Tube is an awesome demo and here we take it to the next level with a two-dimensional 'Pyro Board'. This shows unique standing wave patters of sound in the box.
The pressure variations due to the sound waves affect the flow rate of flammable gas from the holes in the Pyro Board and therefore affect the height and colour of flames. This is interesting for visualizing standing wave patterns and simply awesome to watch when put to music. Thank you to Sune Nielsen and everyone at Aarhus for sharing this demonstration with me! And thanks for having me at your conference.
Music by Kevin MacLeod, www.Incompetech.com "Ice Flow"
The Flux Link is an expressive performance control in iMPC Pro that lets you glitch and drop the beat of your Sequences.
iMPC Pro Log showcases the latest features from the freshest development build of iMPC Pro, the upcoming beat production iPad app from Akai Professional and Retronyms. A new video drops every week until we launch!
[Note: iMPC Pro is currently in development. All features are subject to change]
Follow Retronyms
http://www.facebook.com/retronyms
http://twitter.com/retronyms
Join the conversation with Akai Professional!http://www.facebook.com/akaipro
http://www.twitter.com/akai_pro
Clavia have released a new official video demonstrating the capabilities of the Nord Lead 4 Performance Synthesizer, details below:
We invited the talented Italian keyboard player and producer Federico Solazzo over to our factory in Stockholm to demo some of the powerful new features in the Nord Lead 4! Everything recorded live, with no overdubbing.

For detailed product information and specifications, visit http://www.nordlead4.com
Background video description:
Almost finished setting up my "electro rig" which features these classic, but inexpensive effect units from Electrix. One fun thing to do with the MoFX is turning the delay feedback to 100% and "sampling" a measure of a beat and manipulating that sample with the delay time. Be sure to listen with headphones if you've got them handy and hear the "ping pong" delay!
nucleon & sacco do some impromptu jamming at the 2013 Image-Line developers meet.
sacco – http://www.image-line.com/documents/p…
nucleon – https://www.youtube.com/user/Electroc…
The Clipper is a compact, portable and programmable LED-lit fingerboard that can remotely run an Ableton Live session. With 144 touch-sensitive buttons you can record and play a Live set in one area and perform guitar, bass, drums, add Live beat-repeats, whatever, in another area of the Lightboard. You can now record and play clips into the Live Session View interface and control Live at the tips of your fingers while you're moving across the stage or interacting with your audience. The Clipper's Lightboard offers 32,000 colors and can match the colors from the Live session running in your computer, and completely wirelessly when the AirPower option is installed.
This full-color LED fingerboard controller is also very versatile and can easily be programmed to display text messages, JPEGs, and animations. In addition to that, you can set up separate colored zones on the fingerboard to play bass, drums, piano, or any sounds using Live while connecting to hardware synths via MIDI.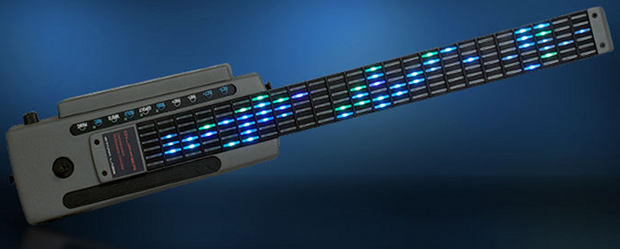 Gaining more popularity in the electronic music genre, Ztar fingerboard controllers are a welcome alternative for Electronic Music performers who want to interact with their audience. Noteworthy clientele include Pendulum and Excision as well as the Chemical Brothers, Linkin Park, Maroon5, Vernon Reid, Bob Weir, Lou Reed and many others. Electronic musicians and DJs can now better express themselves and interact with the audience with this advancement in MIDI controllers.
In addition to portability and convenience, the Clipper's LED fingerboard can be programmed to display text messages, JPEG images, animations and lighting FX in response to your touch or streamed in from an external computer. The fingerboard offers 32,000 colors that can be matched to your computer's Ableton Live session. Separate colored zones can also be set up on the fingerboard to play clips, bass, drums, piano, or any other sounds by using Live or connecting to hardware synths with MIDI. With 144 touch-sensitive keys, a live set can be recorded in one zone while solo performances can be played in another.
Ableton Live Portable Control Surface
At the core of the Clipper's lighting control is a library of lighting commands that can be programmed on the Clipper and performed directly by playing the Clipper's fretboard, drumpads, ribbon, knobs, joystick, and pedals. By connecting the Clipper's USB port to a computer, you can stream live lighting FX from Max-for-Live, any sequencer, or create your own software.
Now you can control all your sounds with animated colors at the tips of your fingers, and all while moving across the stage. This Ztar Clipper LightBoard Controller is unlike any other and offers an entirely new experience to electronic musicians everywhere.
The Clipper has a full complement of hardware and software features:
144 velocity-sensitive RGB LED keys with over 32,000 colors
6 programmable Knobs
6 Programmable touchpads for Notes, Chords, Loops, MIDI CC's, Lighting EFX
Embedded bi-directional MIDI Wireless capability as an option. Be completely cable-free!
Multi-purpose programmable Slider
4 way programmable joystick
Sustain and Volume Pedal inputs
MIDI I/O and USB2.
Onboard Programming interface
Easy user command set for controlling the LED lighting with any external MIDI sequencer or computer. Display and scroll text, images, and lighting effects. Get creative with Max for Live.
Embedded step sequencer and arpeggiator
Clipper – Clip-based Live Interactive Performance Controller
Price for the basic Clipper: $1695 MSRP, $1995 MSRP for the Clipper with bi-directional MIDI Wireless and Battery Pack
For more info:
Jay Gilligan: fourthshape.com + EKO: EinarKlingOdencrants.com
Here is a demonstration of the sound and functionality of some of the performance aspects of the Korg Volca Beats.