Live Session, playing with some easy synth patches of the sound collection "Basic Tones", 128 presets for NanoStudio by Blip Interactive.
More infos: www.app-sound.com
Arturia MiniBrute (not shown in the video) is running its arpeggiator and sending its notes as gate pulses to Korg Monotribe (Sync in). Monotribe plays the drum sequence and also the bass notes with some Sample & Hold modulation on the filter. The lead is a custom preset for the Novation MiniNova.
Live recorded jam session; mainly to demonstrate some analog/hybrid synths.
"Unfortunately since I had only 1 hand free I couldn't tweak that much realtime and also had to move fast on switching between synths, so there might be some delays. Only pre-recorded tracks were the drums and the synth midi tracks, which was basically 1 loop. This is not a worked-out track, but maybe I will do so one day

No effects used, only some minor mastering/compression on the total mix."
Made using Vidrhythm for iOS
Background video description:
Four years ago somebody suggested that I should do "Milkway Promenade" by Milkways.
Well, better late than never!
Anyways – not milkways – I play it on a small collection of small Yamaha keyboards. Most of them works with FM synthesis except the PSS-12 that uses Advanced Wave Memory.
Clavia's product specialist Tomas Johansson demonstrating an awesome patch with multiple layers of Arpeggiators using two Nord Lead 4′s (6 slots used in total / 1,5 Nord Lead 4:-)).
All elements (3 percussion sounds and 3 synthesizer sounds) are triggered live (no external sequencers).
Some of the brightest minds in the world gathered at Smithsonian's "The Future is Here" conference to discuss the great triumphs and future innovations in science and technology
http://www.smithsonianmag.com/ideas-i…
Here is an interesting Performance Synth, an app that turns your iPad into a real time performance instrument. This $5 app allows you to carry a complete, full featured, real time synthesizer around with you and have it available for whenever the need arises. Performance Synth uses a subtractive architecture so if you like the MiniMoog you will love Performance Synth.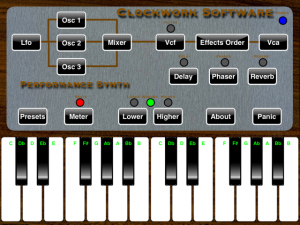 Product description:
Performance Synth is Clockwork Software's amazing synthesizer for the iPad. Performance Synth can express an almost infinite variety of unique sounds using its subtractive synthesis architecture. While Performance Synth doesn't have every feature a stand alone synthesizer has, you have in your hand an amazingly powerful tool in a portable, use anywhere format. As the name implies, Performance Synth is meant to be played in real time. If you are a guitar or bass player you can carry around a complete musical synthesizer in your guitar case and use it where ever you need it. Performance Synth's architecture and capabilities are similar to that of a Mini-Moog or a Roland Juno synthesizer. Many of the synthesizer sounds heard in todays contemporary music and movies can be reproduced with Performance Synth. Unlike old analog synthesizers, Performance Synth is implemented entirely in software which means all timing is rock solid and Performance Synth will never, ever go out of tune. Performance Synth turns your iPad into a complex musical instrument which will take time to completely master. In experienced hands, Performance Synth is a serious musical instrument. For all users, Performance Synth can be a source of wonder and delight with the multitude of sounds and sonic textures it can create.
Performance Synth has the following features:
- Three voice polyphony
- Three independent, configurable oscillators
- An LFO (Low Frequency Oscillator) for AM/FM modulation of the other oscillators
- Oscillators have six octave range
- Oscillators have four selectable waveshapes: Sin, Triangle, Square and Sawtooth
- Oscillators can run in tracking mode or polyphony mode
- Oscillators can be detuned in relation to each other
- Oscillators can be amplitude or frequency modulated to a user selected level
- Built in metronome with tappable tempo and selectable beats per measure
- 24 db/octave variable resonance Low Pass sweepable filter
- Pink noise generator
- Two Attack, Decay, Sustain, Release (ADSR) type envelope generators for driving filter (Vcf) and amplitude (Vca) envelopes
- Effects infrastructure which allows audio effects to be applied in any order.
- On board effects include Delay, Phaser and Reverb
- Ability to save and load presets. This allows you to save your important sound setups and recall them in real time during a performance.
- All aspects of Performance Synth run in real time
Pre-order the album at http://www.smarturl.it/ConradTaoVoyages
For more info visit http://www.conradtao.com/
This ground-breaking composition, from 18-year-old American pianist/composer Conrad Tao' debut full-length album Voyages, features Conrad using the Reactable Mobile app on his Apple iPad, incorporating both synth lines and real-time processing of his piano playing, via the iPad microphone. Conrad describes the piece as being inspired by the phenomenon of "fractured light, that appears differently depending on what angle you look at it from," while also incorporating the concept of modern technology and its ever-changing development.
Conrad was listed in Forbes' 30 under 30 list of noteworthy musicians in 2011 (the only classical musician featured), and hailed by renowned music critic Harris Goldsmith as "the most exciting prodigy to ever come my way" (Musical America).
"Conrad is the kind of musician who is shaping the future of classical music"
-New York Magazine
Live session in Arjen Schat's living room with Elektron Analog Four, Moog Slim Phatty + CP-251 and Waldorf Blofeld.
Elektron Analog Four and Octatrack