Kickstarter coming 9.29.15.
The first dedicated arpeggiator and sequencer in one portable device. A simple instrument for composing, saving, and performing melodies.
Features:
Create and save sequences seamlessly during play.
Classic up, up-down, down, down-up, & random arpeggiator modes.
Chain together up to 512 user created arpeggio patterns.
Internal 2-oscillator virtual analog monophonic synth.
Adjust note lengths and add rests into your sequence.
USB, 1/4″ & 1/8″ audio out, MIDI in/out, CV/gate out.
Gate in/out for syncing to analog gear.
Control external hardware and software synths.
High quality internal speaker.
AC & battery powered. Make melodies anywhere!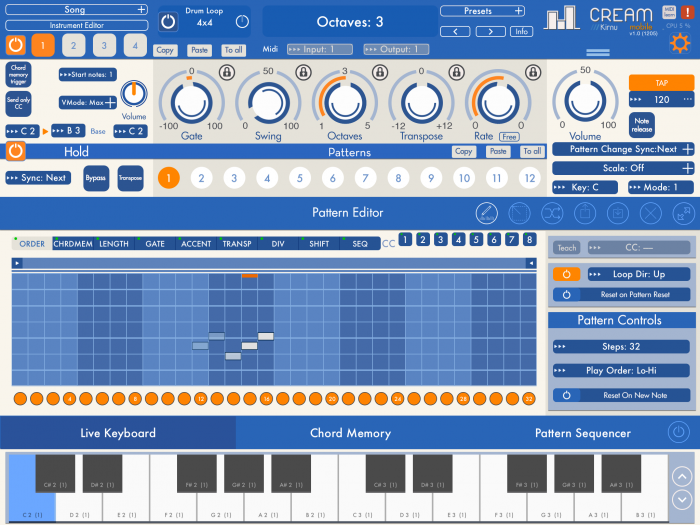 Kirnu has announced Cream Mobile, a new arpeggiator application for iPad devices.
Cream Mobile is an arpeggiator intended to be used with external keyboards or sequencers to control its internal synth or external synths.

Cream Mobile can also be used as a scratch pad for creating new songs using arpeggios and phrases.

It is described as a very powerful application with very precise audio/MIDI engine. It includes all necessary technologies every music app should have these days: Audiobus (generator), network, virtual MIDI ports, MIDI sync with host and slave mode, MIDI learn.
Cream Mobile features
4 independent tracks which can be assigned to different key range and MIDI in/out.
12 patterns per track.
Drum track with 50 high quality drum loops from Sample Magic.
Very powerful internal 2 OSC synthesizer for every 4 tracks.
Two different views: Classic and quick edit view.
Control Zone for changing most important parameters via external keyboard or MIDI events.
Many different scales to choose from. When scale is chosen every note played belongs to that scale.
Free rate tweaking. Now rate can be changed also in hertz.
Chord memory with 16 independent memory slots.
Pattern sequencer for automated sequencing.
Sample accurate MIDI engine.
MIDI learn for all knob controls.
Note release functionality which enables more smooth live playing.
Copy/paste functionality.
Easy to use note hold mode.
Presets are compatible with the plugin version.
Pattern step data section:
Tool section enables easy data editing.
All data sections are independent from each other.
Data sections can be looped with several different loop modes.
Chord memory section enables different chords to be used in every step.
Sequencer section enables sequencing the notes.
Accent, order, gate, accent, transposition, note divide, note shift.
8 CC controls in each pattern.
And lots of more…
The app is scheduled for release in Q3 2015, priced at $10.99 USD / 10.99 EUR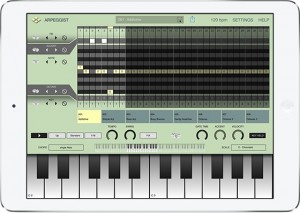 VirSyn has announced the release of Arpeggist, a universal MIDI arpeggiator for iPad.
Arpeggist is a MIDI Note arpeggiator with a very flexible step matrix editor for programming and a unique "rolling dice" random arpeggio generator.

You can build arpeggios from scratch or use one of the factory arpeggios as foundation. You can also create an unlimited number of user arpeggio presets.
 Just play a chord or a single note and it gets transformed into a grooving monophonic synth line or a rhythmical chord pattern.
Arpeggist features
Full featured programmable Arpeggiator

Uses programmable sequences with up to 32 steps.
Can trigger single notes and chords.
Unique randomizer generates Arpeggios with 100% usability.
40 Arpeggios included, unlimited user arpeggios possible.
For each step you can program tie, accent, transposition and note order.

Live

Play trigger notes live with the onscreen keyboard.
Optionally use CoreMIDI compatible hardware keyboard.
Chord generator plays complex chords on one finger playing.
Internal sound generator.
Dozens of scales selectable.
Selectable Arpeggiator MIDI Output port.
Variable Keyboard layout for scale optimized playing.

Global

Audiobus 2 compatible (Input slot).
Inter App Audio.
Exchange user presets with File Sharing in iTunes.
Support for virtual MIDI input/output connections.
Arpeggist is available for purchase for $4.99 USD.
Moot Booxlé presents "Arprider". A Synthesizers.com Electro Jam. This video demonstrates how the Synthesizers.com Q175 Arpeggiator syncs perfectly with a computer DAW environment. Logic Pro 9 is sending a pulse of 16th notes from a software synth which is being fed to the Q118 Instrument Interface module, which then feeds the Q175's Clock Input. It syncs perfectly to the computer's tempo as Moot grooves along to a sampled Oberheim DMX drum machine.
Detailed patch demonstration follows the performance.
Enjoy!
Copyright 2015 Moot Booxle Studios. All Rights Reserved.
Drew Neumann (www.drewneumann.com/DN_Bio.php) took 002's arpegiator out for a trip, and ended up producing this wonderful seven and a half minute demo! In Drew's words, "This was just messing around with the 002 in real time to a Sound Devices 702T, then reassembled in 4 tracks in Digital Performer. A light dusting of FX here and there, but it's JUST 002." Enjoy.
(c) 2014 Drew Neumann /Droomusic ASCAP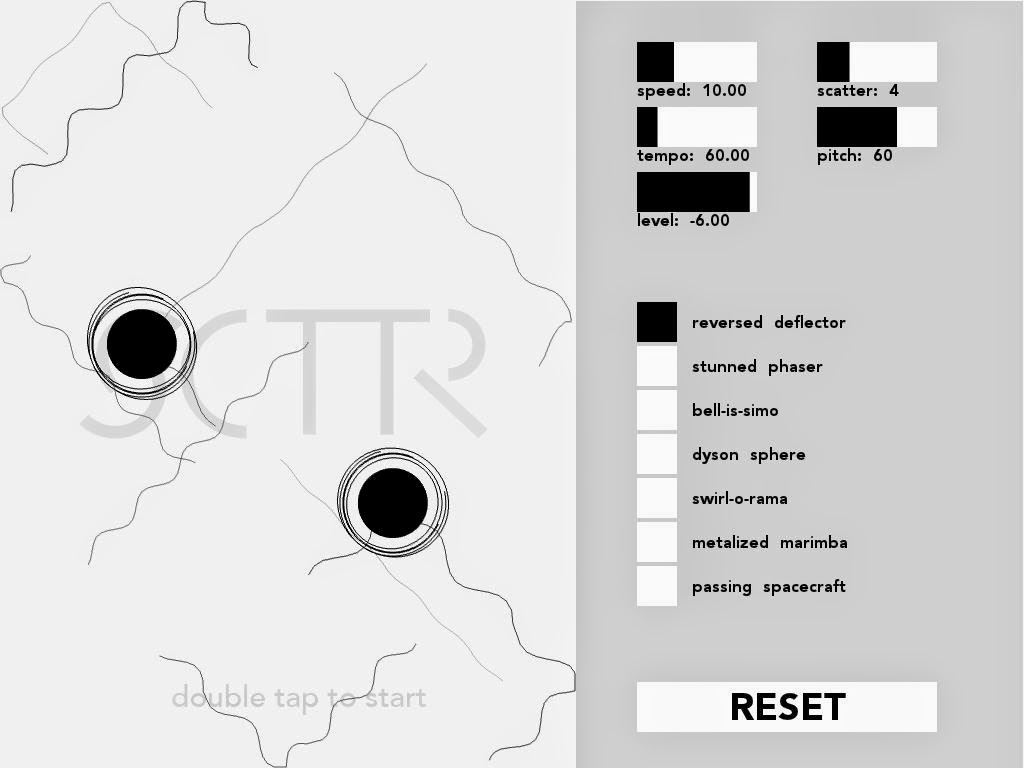 scttr is a collision-based arpeggiator. Placing pulse emitters in a 2D plane enables you to intuitively create and manipulate rhythmic structures, ranging from simple patterns to polyrhythmic mayhem. Subtle parameter changes can result in startling, sometimes unpredictable results, while always maintaining sonic coherence.

It was designed as a creative software instrument/sound generator for live performances and improvisational modular setups.

The PRO version will feature MIDI support, control over sound parameters and advanced particle control parameters.
Google Play: https://play.google.com/store/apps/de…
ARPIO is a new musical instrument designed to play arpeggios*. Move up-and-down the matrix to set the pattern's speed, or left-and-right to set its pitch. Tilt the device to control volume and pitchbend, or shake for vibrato.
A similar version of ARPIO is available on iOS devices, under the name Arpeggionome (http://arpeggionomepro.com)
*An arpeggio is a musical technique where notes in a chord are played in sequence, rather than ringing out simultaneously.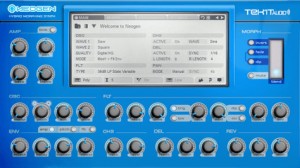 Tek'it Audio lets us know that Neogen is a hybrid (phase distortion/subtractive) polyphonic synthesizer with sound morphing capabilities.
Feature highlights
Phase distortion oscillators.
56 variation of waveform shapes.
5 oscillator quality modes, HQ, Digitized, Sampler Computer, 8bit, 8bit Glitch.
4 modulation types.
1 square wave sub-oscillator.
Monophonic Glide.
11 Filter types from low-pass with an analog tone to variants that sounds digital.
Filter drive control.
Filter modulation with rate and depth control.
Filter modulation rate can be sync on the beat.
Triggering, Dip wave and Invert modulation controls.
ADSR amp and filter envelope, AD pitch envelope with depth control.
2 voices chorus, sync delay, reverb and auto-pan effects.
Bass and treble tone control.
Switchable output soft limiter.
Sound morphing with depth control on any parameters.
Visual feedback of the amount of morphing effect.
Morphing fade with 2 envelopes modes.
8 voices arpeggiator sequencer.
8 pattern by presets.
Save, Load pattern and patterns bank.
Support MTS (MIDI Tuning Standard) file.
Velocity amount control on 12 parameters.
10 Velocity curves.
Full MIDI automation support.
Easy MIDI learn on all parameters.
Use 7-bit MIDI Continuous Controller or High resolution 14-bit MIDI NRPN and RPN.
Selectable Maximum MIDI pitch bend range.
Four note playback priority mode.
Selectable envelope re-trigger mode.
Preset manager, rename, copy, save, load…
Undo your changes to initial preset value.
One click randomize for all parameters.
326 Factory presets.
Up to 128 user presets per bank.
Easy installer.
Pricing and Availability:
Introductory price: €39 / $55 (normal price will be €49 / $69)
Arpanoid – the EarthQuacker Device
The first dedicated compact polyphonic pitch arpeggiator effect pedal for electrical guitar! What does the Arpanoid do? The Arpanoid takes whatever you play and transforms it into an adjustable ascending or descending scale. It features 8 intuitive and expandable modes and will work on complex chords as well as single notes in any key. The Arpanoid has an all analog dry signal, all digital wet signal and true bypass switching.
BRANDNEW WALDORF PULSE 2
1st Encounter Session Outtake
ARPEGGIO
Pulse 2 Analog Synthesizer is proof positive that good things can come to those who wait. For ever since this high-quality synthesizer developer discontinued its original rack-mountable Pulse and Pulse+ programmable analogue monosynths boasting ballsy bass tones and legendary leads beyond compare, those Nineties electronic music dominating sounds have been severely sought-after by those in the know. Which was exactly what drove us into development overdrive to produce an all-new Pulse fit for the 21st Century.
As an all-new, all-analogue synthesizer design, Pulse 2 flawlessly delivers exactly what synth connoisseurs around the world have been truly craving for quite some time — three analogue oscillators living in perfect harmony with a VCF (VoltageControlled Filter), yet we did not stop there: the fresh filter circuits in the Pulse 2 now offer 12dB Highpass and Bandpass modes in addition to 24dB/12dB Lowpass for strengthened sound-sculpting flexibility, while we added analogue Filter FM, two Overdrive circuits, and Ring Modulation from OSC 3, together with Paraphonic and Unison modes allowing up to eight-voice chords — a fantastic feature found on our recently-released Rocket Synthesizer.
Analog Monophonic Synthesizer
3 analog oscillators + 1 noise generator
Pulse width modulation
Hard sync
Filter FM from Oscillator 3
Ring Modulation from Oscillator 3
XOR Osc Mode
8/4 Voice Paraphonic modes
Cascade Filter
24dB/12db Lowpass, 12db Highpass/Bandpass filter modes
Powerful Arpeggiator
8-slot Modulation Matrix
USB
MIDI
External analog signal input
Stereo line out
Headphone out
Backwards compatible with classic Pulse
128×64 character backlit LCD
8 stainless steel knobs
500 Sound Programs
Electron-absorbing black case