Virtual Analog Polyphonic Synthesizer with Resonator.
https://itunes.apple.com/app/id101605…
http://ios.icegear.net/lorentz/
* Oscillators : Saw, Pulse, Sub, Noise
* High Pass Filter
* Low Pass Filter
* Resonator
* AMP
* Envelope Generator
* LFO
* Effects
* Chorus
* Delay
* Programmable Arpeggiator
* Inter-App Audio
* Audiobus
* MIDI
* CoreMIDI / Virtual MIDI Input
* MIDI Controller Mapping with MIDI Learn mode
* External MIDI sync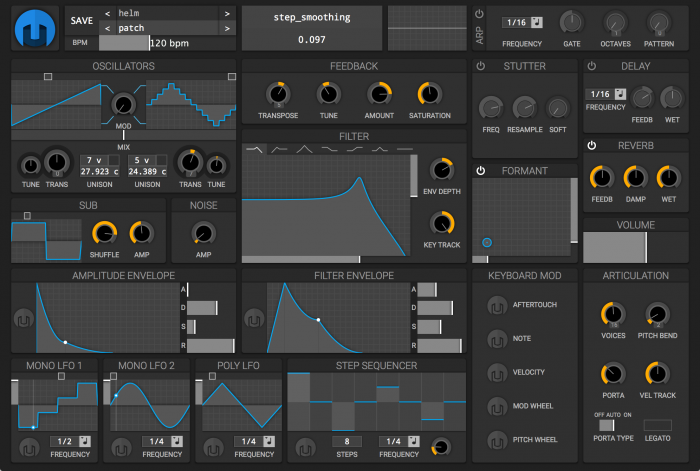 Matt Tytel has released a beta version of Helm, a free cross-platform synthesizer instrument.
Helm is a free, cross-platform, polyphonic synthesizer that runs on GNU/Linux, Mac, and Windows as a standalone program and as a LV2/VST/AU/AAX plugin.
Helm features
32 voice polyphony.
Interactive visual interface.
Powerful modulation system with live visual feedback.
Dual oscillators with cross modulation and up to 15 oscillators each.
Unison and Harmony mode for oscillators.
Oscillator feedback and saturation for waveshaping.
12 different waveforms.
7 filter types with keytracking.
2 monophonic and 1 polyphonic LFO.
Step sequencer.
Lots of modulation sources including polyphonic aftertouch.
Simple arpeggiator.
Effects: Formant filter, stutter, delay.
Helm is a free download for Windows, Mac, and Linux. A debian package download, and source code for mac/pc is also available from Github.
by Anna-Maria Hefele | http://www.anna-maria-hefele.com/ Video: Jo Zapf | http://www.invisual.de
my EP "SWEVEN" is ready, get it here!
https://itunes.apple.com/be/album/swe…
http://www.amazon.de/Sweven-Anna-Mari…
http://www.shazam.com/track/228445432…
http://www.mixrad.io/at/de/products/a…
https://play.google.com/store/music/a…
http://www.anna-maria-hefele.com/
https://www.facebook.com/amoberton
https://twitter.com/AnnaMariaHefele
my ensemble! http://www.supersonus.eu
http://youtu.be/s4BJ3wng6Mk
http://youtu.be/ysSLfwEk5l4
overtone singing is a voice technique where it seems like one person sings two notes at the same time.
You can sing the overtone scale on one fundamental. Another fundamental has its own overtone scale, so in order to have more overtones to sing nice melodies, you can use different fundamentals and change them while singing.
the video is live, and every human being is able learn overtone singing 😉 ….well…not starting directly with polyphonic overtone singing…. but singing overtones on one fundamental isn't too hard.
Futursonus has launched a Kickstarter project to fund production of Parva – a new polyphonic analog synthesizer that combines an all-analog signal chain with the modern convenience of digital control.
The Parva can be configured as a monosynth all the way up to an 8-voice poly synth. Each synth voice offers three analog oscillators, dual multi-mode filters, four 4-stage envelopes, 4 LFOs, sample and hold and 40+ modulation destinations.
Features:
ANALOG – From the oscillators and wave-shapers to the voltage-controlled filters (VCF) and snappy OTA-based voltage-controlled amplifiers (VCA), Parva's signal path is 100% analog. There's no DSP here.
DIGITAL – Parva's digital controls enable you to save and recall patches instantaneously, change parameters via MIDI, and route LFOs and envelopes to more than 40 destinations in the modulation matrix.
POLYPHONY – Parva can be configured for up to eight note polyphony. Extremely flexible voice assignment allows you to stack as many voices as you like for more complex sounds, split the keyboard up to eight ways, or both in any combination.
CONTROL – With its smooth analog potentiometers, Parva gives you direct access to all of the most commonly used parameters. Plus, each section of the synth has additional settings displayed on a high-visibility OLED, so the perfect patch is never more than a click away.
CONNECTIVITY – Parva is the first analog synthesizer to feature a USB Master port, which allows you to connect any class-compliant USB MIDI keyboard — or other controller — directly, without the need for a computer. Of course, standard MIDI DIN in and out connections and a "normal" USB port are also included, as well as individual outputs for each voice, and a stereo headphone jack.
CONSTRUCTION – Parva was designed with working musicians in mind, and features an aluminum enclosure, custom-machined aluminum knobs & sturdy panel-mounted pots,
Specifications
Parva can be configured as an expandable monophonic synthesizer, or as an eight-note polyphonic, eight-voice multi-timbral synth.
Each voice contains the following:
OSCILLATORS
3 Digitally-controlled analog oscillators
Sawtooth, triangle, and PWM waveforms
New Feature: Variable-width saw waves
Tunable +/- 5 octaves
Hard Syncable
Independent level controls
FILTERS
2 serial-connected multi-mode filters
24db or 12db low-pass or high-pass modes
12db bandpass mode
Self-oscillating
Filter FM
ENVELOPES
4 4-stage (ADSR) envelopes
Exponential curves for punchy attack and natural decay
Linear mode also available
New Feature: Loopable envelopes
Routable to >40 destinations
MODULATION
4 LFOs
Sine, sawtooth, triangle, and square waveforms
Random sample-and-hold
New Feature: Stepped LFOs
Free-running or key-synced
Routable to >40 destinations
Connectivity
New Feature: Individual 1/4″ stereo line-level outputs for each voice
1/4″ left and right main outputs
Stereo 1/4″ headphone jack
MIDI DIN input and output
USB MIDI port
USB Master port for direct connection of USB MIDI controllers
The Parva is available to project backers, starting at $499 for the monosynth and $999 for an 8-voice version. See the project site for details.
The Synthino XM is completely new polyphonic synthesizer with unique features running on a powerful hardware platform. It is compact, well-constructed, open source, and absolutely beautiful. Most importantly, it is really fun to play whether you are a musician or you just want to make some noise.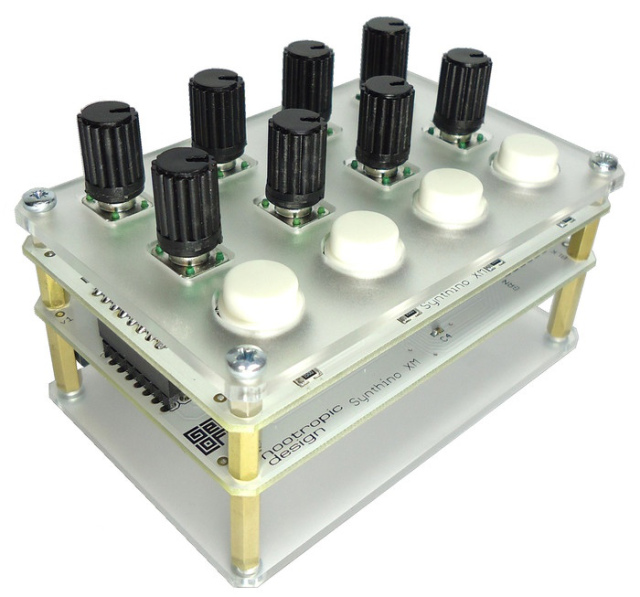 Synthino XM is a polyphonic, multitimbral synthesizer with many features:
5-note polyphony for superb playability
12 waveforms, 4 drum samples
12-bit audio at 25KHz output rate
4 MIDI channels, each with separate waveform and ADSR envelope
low pass filter with cutoff frequency and resonance controls
2 independent low frequency oscillators (LFOs): pitch and filter
selectable waveform for LFOs
1V p-p audio output voltage with enough current to drive headphones
arpeggiator mode, up to 16 notes
4 arpeggiator patterns: up, down, up-down, random
4 built-in arpeggiator chords or use MIDI to specify up to 16 notes
arpeggiator pitch transposition control
tempo control with MIDI clock input
16-step live performance "groovebox" sequencer
pitch fine-tuning adjustment
programmable/upgradable over USB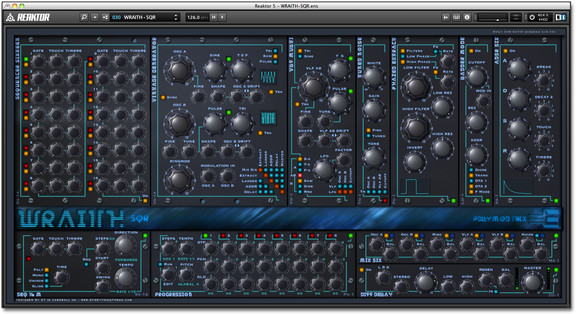 EverythingTurns has announced the release of Wraith, a PolyMod Rack series polyphonic modular analog synthesizer instrument for Native Instruments Reaktor.
Wraith is available in two form factors, the larger Wraith SQR has two built-in sequencers that can run independently to each other, Wraith Mini has all the same synthesis capabilities and is better suited for smaller screens.
PolyMod features
PolyMod is more of a template than an ensemble and has features built-in that will make the whole process of building new ensembles at ET better in so many ways.
All PolyMod ensembles have a consistent user interface making the learning curve for new designs greatly reduced.
PolyMod has skins built in – 22 to choose from and they are saved with each snapshot, having different colours for different tracks in a sequencer makes a lot of sense, red for bass and blue for pads, etc.
All PolyMod ensembles are pre-order only, this means no instant downloads, when an order is placed the instrument will be sent to you within a day or so and you will have the only copy, the original encrypted version is kept on the server as a backup if needed.
Each Ensemble is Unique to you.
Wraith is available for purchase for £18 GBP (SQR)/£14 GBP (Mini), or £28 GBP for a bundle of both. Requires Reaktor version 5.8+.
This is a demonstration of the Oberheim Two Voice vintage analog synthesizer!
Oberheim's first synthesizer was a single-voice mini-module called a SEM (Synthesizer Expander Module). However, in 1975, Oberheim created their first compact, programmable and polyphonic synthesizer by coupling two SEM modules to a 37-note keyboard and a simple analog sequencer. This was what became the Two Voice. Oberheim achieved a polyphonic sound not yet seen in ARP and Moog gear at the time by hard-wiring the two monophonic SEMs into the compact keyboard design.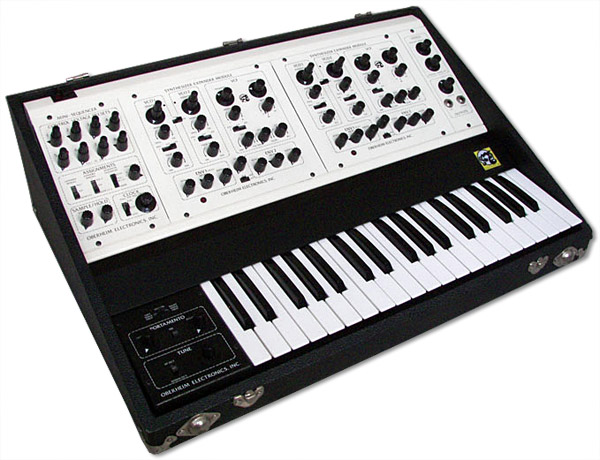 In 1976 Oberheim came out with another module, the Polyphonic Synthesizer Programmer. This could memorize the control voltages of many parameters for up to eight SEM modules. When these were added to the Two Voice, Oberheim finally had one of the earliest programmable and polyphonic instruments! Released alongside the Two Voice also came the Four Voice which had four SEMs installed, and a larger 49-note keyboard. And later, in 1977, a second tier was added above the four SEMs on the Four Voice to add yet another four SEMS, making the Eight Voice.
Two voices was great in 1975, and eight voices was pretty monstrous in the later seventies. But, a major drawback to these first Oberheim synths was that polyphony was achieved by having multiple modules. This meant that each voice had to be independently programmed. This also means that each voice has its own filter, making real-time filter sweeps of all your voices more than a handful! Fortunately the sequencer comes in handy for controlling each voice/module independently.
Despite its innovative features, the Two Voice was soon blown out of the water by the popular monophonic and truly polyphonic synths like the OSCar, ARP Odyssey and SH-101.
Multivox MX-65 Polyphonic Synthesizer. It is an analog poly keyboard that was made in Japan from 1977 to 1980. Very very rare.
It has six voices. Piano, strings, clavichord, honky-tonk, piano and organ. The voices them selves are just different combinations of the filter and envelope positions that you can switch between. The filter is interfaced with the envelope with 3 modes. A fast attack/fast decay mode, an 'expand' mode with resonance emphasis, and a fast attack/slow decay mode..
Excuse the poor playing! I am trying to focus on the controls and just show a quick demo of the sound. Reverb in Ableton.
RSF Polykobol 2 demo. 
All tracks are made with the Polykobol, except drums.
Cubase Vst used for the record, and synchronised with Polykobol arpeggiator
About RSF and the Kobol line:
The RSF Kobol was the French synth company's first compact keyboard synthesizer, certainly inspired by the Minimoog. It is a much more compact instrument than the Modular Model 11 series of synthesizers they had been making thus far. It is a monophonic analog synthesizer with traditional controls, knobs, switches and two oscillators for a good solid analog synth sound. Initally released as a keyboard in 1978, a 3-unit rack-mount system was later released in 1979.
Although it is mostly a traditional analog synth with stable oscillators and lots of knobs that allow you to control the ADS envelope, the filter section and the nice LFO, it did offer some unique features for its time. Most notably, the oscillator waveforms can be continuously swept across for a very cool morph from square to saw to pulse, etc. This, as well as note on/off and other parameters can be controlled via CV/gate. External sounds can be processed through the Kobol filter and envelope sections too.
The rack version came in four different components. The Kobol Rack (Expander I) was essentially only the VCO/VCF/VCA/LFO sections of the Kobol in a rack module. The Expander 2 was an add-on to the Kobol that added some new processing modules such as ring modulation, sample-hold, and envelope followers as well as extra VCA and LFO modules. The Programmer rack module contained the memory circuits for storing patches and sequencing. And the KM8 was an 8-channel rack-mount mixer. The connections between modules were normalized but could be bypassed by external patches, similar to other semi-modulars like the ARP 2600 and Korg MS-20.
The Kobol looked and sounded great, and was quickly snapped up by the big names in synthesizers of the time. But being a small French company, RSF were never able to truly mass produce these on the same sort of scale that Moog, Arp, Roland or Korg could. Less than 200 Kobol keyboards were made, around 800 Kobol Racks, 200 Expander 2's, 200 Programmer's and only a handful of the KM8's. This makes them quite rare and quite pricey too!
PollySynth, a 'multiplayer polyphonic synth' that combines elements of gaming with synthesis, is now available as a public beta. It is designed for browser-based use with mobile devices. 
Synthesizer voices are visualized as members of the 'PollySynth gang'. Players fly these characters around and create audio havoc by loading a website on their mobile and playing with the controls. Spatial audio effects add to the fun as characters zoom by.