RSF Polykobol 2 demo. 
All tracks are made with the Polykobol, except drums.
Cubase Vst used for the record, and synchronised with Polykobol arpeggiator
About RSF and the Kobol line:
The RSF Kobol was the French synth company's first compact keyboard synthesizer, certainly inspired by the Minimoog. It is a much more compact instrument than the Modular Model 11 series of synthesizers they had been making thus far. It is a monophonic analog synthesizer with traditional controls, knobs, switches and two oscillators for a good solid analog synth sound. Initally released as a keyboard in 1978, a 3-unit rack-mount system was later released in 1979.
Although it is mostly a traditional analog synth with stable oscillators and lots of knobs that allow you to control the ADS envelope, the filter section and the nice LFO, it did offer some unique features for its time. Most notably, the oscillator waveforms can be continuously swept across for a very cool morph from square to saw to pulse, etc. This, as well as note on/off and other parameters can be controlled via CV/gate. External sounds can be processed through the Kobol filter and envelope sections too.
The rack version came in four different components. The Kobol Rack (Expander I) was essentially only the VCO/VCF/VCA/LFO sections of the Kobol in a rack module. The Expander 2 was an add-on to the Kobol that added some new processing modules such as ring modulation, sample-hold, and envelope followers as well as extra VCA and LFO modules. The Programmer rack module contained the memory circuits for storing patches and sequencing. And the KM8 was an 8-channel rack-mount mixer. The connections between modules were normalized but could be bypassed by external patches, similar to other semi-modulars like the ARP 2600 and Korg MS-20.
The Kobol looked and sounded great, and was quickly snapped up by the big names in synthesizers of the time. But being a small French company, RSF were never able to truly mass produce these on the same sort of scale that Moog, Arp, Roland or Korg could. Less than 200 Kobol keyboards were made, around 800 Kobol Racks, 200 Expander 2′s, 200 Programmer's and only a handful of the KM8′s. This makes them quite rare and quite pricey too!
PollySynth, a 'multiplayer polyphonic synth' that combines elements of gaming with synthesis, is now available as a public beta. It is designed for browser-based use with mobile devices. 
Synthesizer voices are visualized as members of the 'PollySynth gang'. Players fly these characters around and create audio havoc by loading a website on their mobile and playing with the controls. Spatial audio effects add to the fun as characters zoom by.
Horus is something between a string-machine and a poly synth.
It can generate impressive and inspirative pads.
Full MIDI learn
64 voices polyphonic
FREE
Download link: http://bserrano.free.fr/vsti/Horus.zip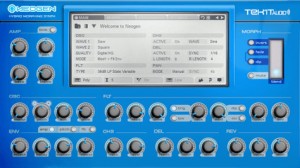 Tek'it Audio lets us know that Neogen is a hybrid (phase distortion/subtractive) polyphonic synthesizer with sound morphing capabilities.
Feature highlights
Phase distortion oscillators.
56 variation of waveform shapes.
5 oscillator quality modes, HQ, Digitized, Sampler Computer, 8bit, 8bit Glitch.
4 modulation types.
1 square wave sub-oscillator.
Monophonic Glide.
11 Filter types from low-pass with an analog tone to variants that sounds digital.
Filter drive control.
Filter modulation with rate and depth control.
Filter modulation rate can be sync on the beat.
Triggering, Dip wave and Invert modulation controls.
ADSR amp and filter envelope, AD pitch envelope with depth control.
2 voices chorus, sync delay, reverb and auto-pan effects.
Bass and treble tone control.
Switchable output soft limiter.
Sound morphing with depth control on any parameters.
Visual feedback of the amount of morphing effect.
Morphing fade with 2 envelopes modes.
8 voices arpeggiator sequencer.
8 pattern by presets.
Save, Load pattern and patterns bank.
Support MTS (MIDI Tuning Standard) file.
Velocity amount control on 12 parameters.
10 Velocity curves.
Full MIDI automation support.
Easy MIDI learn on all parameters.
Use 7-bit MIDI Continuous Controller or High resolution 14-bit MIDI NRPN and RPN.
Selectable Maximum MIDI pitch bend range.
Four note playback priority mode.
Selectable envelope re-trigger mode.
Preset manager, rename, copy, save, load…
Undo your changes to initial preset value.
One click randomize for all parameters.
326 Factory presets.
Up to 128 user presets per bank.
Easy installer.
Pricing and Availability:
Introductory price: €39 / $55 (normal price will be €49 / $69)
All sounds from the 1978 Roland Jupiter-4 analog synthesizer. One of the best sounding analog poly synths ever built.
The first Jupiter synth. It was among one of the first poly synthesizers (4 individual voices which could be synced together for one fat monophonic lead), it had a pitch wheel that could be assigned to the VCA, VCF, VCO or all together, there are 8 memory locations and a cool arpeggiator – the arpeggiator can be heard in the Duran Duran classic, "Rio". It also has a very slow LFO for those ever-so-long filter sweeps. Pretty good for 1978!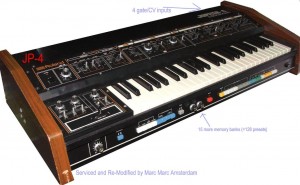 Not so cool however, are the 10 preset sounds which sound nothing like the piano, brass or strings they claim to be. The placement of all the preset buttons below the keyboard can be inconvenient, especially while playing it. And as with most old analog synths, the Jupiter-4′s tuning can go out often. Still it is a nice analog synth for creating weird trippy analog sounds.
Honestly not sure if this is something we'll ever 'stock' or be able to sell you, but it was too cool not to post! The second part of this video features direct stereo sound in from the 8 Voice.
ReDominator is an emulation of the classic Alpha Juno 1/2 (JU-1/2), a polyphonic DCO (digitally controlled oscillator) based synth from 1986. The JU-1/2 became popular in the early 90′s techno and rave scene particularly by the classic Hoover sound (which ReDominator attempts to emulate accurately). But beyond those niche sounds there lays a versatile synthesizer that does bass, pads, leads, organs and a lot of other sounds waiting to be discovered!
Available at the Prop Shop:
https://shop.propellerheads.se/produc…
Soundtrack composed 100% with Prophet 12!
Introducing the Prophet 12 Module, the same great sound engine of the Prophet 12 keyboard with enough portability to fit in a backpack! At twelve voices, the Prophet 12 boasts the greatest polyphony of any instrument designed by Dave Smith. Each voice features four oscillators capable of generating classic and complex waveforms, a sub-oscillator, resonant analog low-pass and high-pass filters, and analog VCAs. The new Character section adds a variety of wave shaping and sound sculpting options, like Drive, Hack, Decimation, Girth, and Air. Additional features include a tuned feedback path, a four-tap stereo delay per voice, expanded arpeggiator functionality, deep modulation capabilities, and bi-timbral operation. The LFOs, delay, and arpeggiator can all be synced, either to the internal clock or an external MIDI clock.
All sounds from the Roland Juno 60, no midi.
The Roland Juno-60 is a popular analogue 61-key polyphonic synthesizer introduced by Roland Corporation in 1982 and a successor to the slightly earlier Juno-6. Like its predecessor, the Juno-60 has some digital enhancements, used only for clocking the oscillators and for saving and loading patches. This instrument was succeeded by the Roland Juno-106 in 1984. Roland was losing market share with the Juno-6 in competition against the Korg Polysix. Related in features and price-class, the Polysix featured external control and patch memory, which the Juno-6 lacked. These features were quickly added to the Juno-6′s design, which sonically and architecturally did not change notably between the two versions, and then released as the Juno-60.
The Juno-60 synthesizer is a six-voice polyphonic synthesizer. The single digitally controlled oscillator (or DCO for short) per voice gave the Juno-60 a high degree of stability in maintaining tune; most analogue voltage-controlled oscillators (VCOs) of the time would tend to drift in pitch and require re-tuning of the oscillator. The DCO provides sawtooth and square/pulse waveforms as a sound source, in addition to white noise and a square-wave suboscillator pitched one octave beneath the key played. Both of these additional sources can be mixed in with dedicated sliders.
The filters and envelope on the Juno-60 rely on control voltages sent by depressing the keys on the keyboard and were thus analogue. The Juno-60 features a rather distinctive-sounding 24 dB/octave lowpass filter with resonance. Unlike other VCF's of the day, the Juno-60′s is capable of self-oscillation and thus could be used to some degree as a tone generator in and of itself. The filter section also features controls for envelope amount and polarity, LFO modulation, and keyboard tracking. In addition, a three-position non-resonant highpass filter is provided to thin out lower frequencies.
The signal is then sent through a voltage-controlled amplifier (or VCA) and a simple four-stage ADSR filter envelope.
The Juno-60 provides limited options for modulating the audio signal. A single triangle-wave variable-rate LFO is provided as a modulation source; this can be mixed into the DCO to create vibrato or into the lowpass filter to generate a tremolo effect. The LFO can either be triggered manually by the left hand using a large button above the pitch bend lever or set to engage automatically whenever a key was pressed.
How to play with Polyphonic Aftertouch on Channel Pressure "only" synths. You need a synth with multi patch support like the Oberheim Xpander, Studio Electronics Code 8 and Alesis Andromeda.