NAMM2016 Exclusive Interview With Tom Oberheim About the OB-6 Collaboration with Dave Smith
Oberheim products, including their latest eurorack modules will be available soon from
http://analoguezone.com/tom-oberheim-…
http://analoguezone.com/Tom-Oberheim/…
The OB-6 is the brainchild of a historic collaboration between analog synthesizer pioneers Tom Oberheim and Dave Smith. More info here:
http://www.davesmithinstruments.com/p…
Tom Oberheim and Dave Smith Unveil OB-6 Analog Synthesizer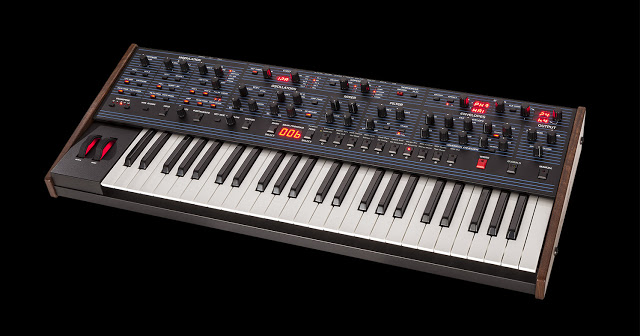 Legendary Poly Synth Creators Team Up on New Instrument with Discrete VCOs and Filters
Anaheim, CA—January 21, 2016—Dave Smith Instruments today announced the OB-6, a new 6-voice synthesizer with an all-analog signal path and discrete VCOs and filters developed in collaboration with Tom Oberheim. Boasting a sound engine inspired by Oberheim's original SEM (the core of his acclaimed 4-voice and 8-voice synthesizers), the new instrument is designed to provide true, vintage SEM tone with the stability and exibility of modern technology.
Said Smith: 'Tom and I have been friends and friendly competitors since the late 1970's. Back in the day, people were typically in either the Prophet or the Oberheim camp. Now, with the Prophet-6 out and doing so well, we thought it would be fun to combine our strengths and bring back Tom's classic polyphonic sound, too — in a modern format.' Added Oberheim: 'A lot of people, myself included, have always felt that the SEMs had a certain uniquely big, organic sound unlike anything else. Working with Dave to make that sound widely available again with some modern touches and full programmability has been real a pleasure.'
The OB-6 features two discrete voltage-controlled oscillators (plus sub-oscillator) per voice, with continuously variable waveshapes (sawtooth and variable-width pulse, with triangle on oscillator 2). There is a classic SEM- inspired state-variable lter (low-pass, high-pass, band-pass, and notch) per voice. Voltage-controlled ampli ers complete the all-analog signal path. 'The classic, bold SEM sound is all there,' said Oberheim.
Present also is X-Mod, with lter envelope and oscillator 2 as modulation sources (with bi-polar control). Destinations include oscillator 1 frequency, oscillator 1 shape, oscillator 1 pulse width, lter cutoff, and lter mode. The knob-per-function front panel puts virtually all parameters at a user's ngertips. Toggling on the Manual switch enables live panel mode, in which the OB-6 switches to the current settings of its knobs and switches.
A dual effects section provides studio-quality reverbs, delays (including standard and BBD), chorus, and faithful recreations of Tom Oberheim's acclaimed phase shifter and ring modulator. The effects are digital, with 24-bit, 48 kHz resolution, but a true bypass maintains a full analog signal path. Additionally, the OB-6 features a multimode arpeggiator and a polyphonic step sequencer with up to 64 steps (and up to 6 notes per step) plus rests. It allows polyphonic keyboard input and can sync to external MIDI clock.
The full-size, four-octave, semi-weighted keyboard is velocity and aftertouch sensitive. Said Dave Smith, 'As with the Prophet-6, we made size a primary concern on the OB-6. It's the right mix of power and portability and it ts right in on-stage or in the studio.' Added Oberheim, 'And of course, it's got that unmistakable SEM sound that's going to turn a lot of heads. '
The OB-6 is manufactured and sold by Dave Smith Instruments. It will be available in March, with a projected MAP of $2,999.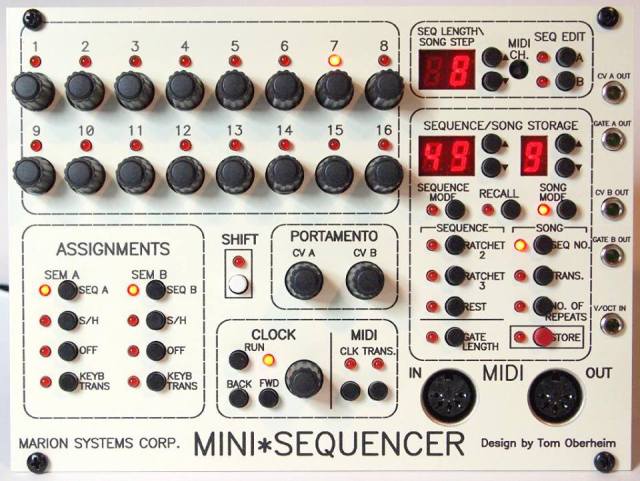 Marion Systems Corporation will be introducing the Oberheim Mini Sequencer at the2016 NAMM Show. 
The Mini Sequencer is designed by Tom Oberheim and is a Eurorack format module.
Details, pricing and availability are to be announced. The 2016 NAMM Show is scheduled for later this week, Jan 21-24, 2016.
The Simple Minds' "Don't You (Forget About Me)" Oberheim synth stab
Synthmania has introduced an Oberheim Matrix 6 Editor, for Mac & Windows. It's compatible with the Oberheim Matrix 6 and 6R and lets you directly edit more than 90 patch parameters, details below:
Introduction of my new Oberheim Matrix 6 Editor. This app is compatible with your Matrix 6 and 6R and runs under Windows and Apple Mac. The firmware of your Matrix 6 must be 2.13.
Some people say the Oberheim Matrix 6 is a very underrated synthesizer. It is not very comfortable to edit its very versatile synthesis and the powerfull matrix. But remember the Oberheim Matrix is a powerfull 6 voice analog synthesizer.
I love my mashine because of its typical Oberheim sound quality, but I hate it to edit some programs.
Now you have access to more than 90 parameters directly…with my new Oberheim Matrix 6 Editor.
For more information take a look at my website https://synthmania.de/2015/10/oberhei…
If you like this app, you can buy it for only 15,- Euros.
Oberheim OB-X (1979) 8-voice vs. Oberheim OB-Xa (1981) 8-voice Analog Synthesizer with identical self-programmed sound programs.
This video shows the different sound character. The OB-X is discrete analog like the SEM modul and sounds very raw and wild.
The OB-Xa based on Curtis CEM ICs and sounds more smooth.
Both are great synths and I love both a lot. The king class of polyphonic analog synthesizers.
Synthesizer demo of the OBERHEIM MATRIX-1000 (1988) and MATRIX-6/R (1986). What you actually hear in this demo is a single Matrix-6R, but the Matrix-1000 has the same sound engine, it sounds the same. My Oberheims are in original state with the original firmware.
In this movie I play my own sounds – on some sounds I used a little amount of reverb from a Lexicon MPX-500 or a delay effect from a Korg SDD-3000 (right channel only), but no further effects. Drums and bass sequencing by Akai MPC 1000 (but no multitrack recordings, no eq, no compression).
The Oberheim Matrix-1000 and Matrix-6/R produce a a high quality analog synthesizer sound and have a huge sound potential. 2 oscillators per voice, 24 dB lowpass filters, modulation of filters by oscillator (similar to Micromoog, SCI Prophets or even Six-Trak, here called FM), osc. sync, 2 VCAs, 3 envelopes, 2 ramp generators, 2 LFOs – and the best of all – MATRIX MODULATION. A lot of parameters can be assigned to each other.
The Oberheim Matrix-1000 is a single rack version of the Matrix-6 and can be edited via MIDI sysex.
SonicProjects has launched Mac and x64 version of OP-X PRO-II, a virtual Oberheim OB-X synthesizer instrument.
We are very proud to announce that after two years of development work we now finally can offer our flagship synth OP-X PRO-II with full native Mac and 64bit support to you! It offers future proof support for the newest VST3 interface and too for the established VST2 and AU interfaces and full native 64bit compatibility on both platforms.

The new x64 and Mac versions offer all of the synth's unique features and furthermore include the complete so far available sound library offering more than 2'500 awesome sounds!
The OP-X PRO-II is on sale for 85 EUR until October 4th, 2015.
Mitch Gallagher sits down with synthesizer legend Tom Oberheim for a special interview at Sweetwater's GearFest 2015. A pioneer of the synth and MIDI world, Tom Oberheim co-designed the Synthesizer Expansion Module (SEM), a device that allowed musicians to simultaneously combine live playing and sequenced playback – a concept that pre-dated the MIDI revolution. In 1981, he, along with Roland's Ikutaro Kakehashi and Sequential's Dave Smith, developed the MIDI spec, which changed the course of modern music. Tom recently re-released his famed Two Voice synth.
A track made with sounds from the vintage Oberheim OB-X analog synthesizer from 1979 but now in a more modern production… Also the Yamaha CP-80 is used for piano sounds.Drum samples from Vengeance.
This is a re-upload of a previous video , now with a better audio mix.
Track is also known as Eldhjärta.