Vintage synthesizer track featuring the Oberheim OB-Xa
all sounds: Oberheim OB-Xa Analog Synthesizer (1981)
drums: LinnDrum (1982)
recording: multi-track
fx: a bite reverb and delay
This is a demonstration of the Oberheim Two Voice vintage analog synthesizer!
Oberheim's first synthesizer was a single-voice mini-module called a SEM (Synthesizer Expander Module). However, in 1975, Oberheim created their first compact, programmable and polyphonic synthesizer by coupling two SEM modules to a 37-note keyboard and a simple analog sequencer. This was what became the Two Voice. Oberheim achieved a polyphonic sound not yet seen in ARP and Moog gear at the time by hard-wiring the two monophonic SEMs into the compact keyboard design.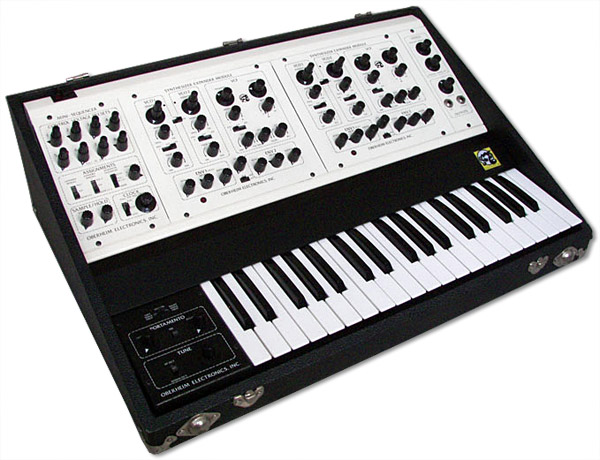 In 1976 Oberheim came out with another module, the Polyphonic Synthesizer Programmer. This could memorize the control voltages of many parameters for up to eight SEM modules. When these were added to the Two Voice, Oberheim finally had one of the earliest programmable and polyphonic instruments! Released alongside the Two Voice also came the Four Voice which had four SEMs installed, and a larger 49-note keyboard. And later, in 1977, a second tier was added above the four SEMs on the Four Voice to add yet another four SEMS, making the Eight Voice.
Two voices was great in 1975, and eight voices was pretty monstrous in the later seventies. But, a major drawback to these first Oberheim synths was that polyphony was achieved by having multiple modules. This meant that each voice had to be independently programmed. This also means that each voice has its own filter, making real-time filter sweeps of all your voices more than a handful! Fortunately the sequencer comes in handy for controlling each voice/module independently.
Despite its innovative features, the Two Voice was soon blown out of the water by the popular monophonic and truly polyphonic synths like the OSCar, ARP Odyssey and SH-101.
Vintage gear demo featuring the Oberheim Xk
Oberheim Xk keyboard controller from the year 1986
The OB-Xk is a midi keyboard controller with a complex arpeggiator, chord memory functions and a lot more
used synth: Oberheim Matrix-1000 analog synthesizer module

The Oberheim OB-Xk is a MIDI keyboard controller from the mid-eighties. Originally designed to control the Matrix and Xpander modules, it uses MIDI and works fine as a controller for any MIDI gear. It's got 61 keys that respond to velocity and aftertouch, two OB-style Pitch/Mod controllers, and one assignable continuous control slider. From the front panel you can directly access the first 100 single patches and/or 100 multi patches of your MIDI module. Any additional patches must be selected by another MIDI controller.
Other features include the ability to transpose up or down by up to 2 octaves or by half steps. The keyboard can be split into 3 zones. There are basic Hold and Chord memory functions and an Arpeggiator section with pretty decent features (it can use internal or external clock). The OB-Xk can also send a sequencer Song Select, Start and Stop commands. It's built with Oberheim's classic & vintage look: solid black metal case with wood end-cheeks. Definitely a unique controller to have around, although severely limited by today's standards.
Tom Oberheim drops by the home of SF Bay area musician Mikael Johnston to deliver Mikael's brand new Two-Voice synthesizer, and gives us a tour of the synth and his design philosophy in the process.
Vintage synthesizer sound tutorial featuring the Oberheim OB-Xa
part one: the haunting pad sound in Foreigners "Waiting For A Girl Like You"
the sound in the original song is made with the huge Oberheim OB-Xa Analog Synthesizer (1981) and layered with a simple OB sweep pad sound.
very important is the filter resonance (12dB/oct) and the pitch modulation.
Sounds in the series include:
The Oberheim pad sound from Foreigner's Waiting for a Girl Like You;
Ultravox ARP Odyssey lead sound;
Oberheim OB-X pad sound from Killing Joke's Love Like Blood; and
The classic Rush Tom Sawyer Moog Taurus bass sound.
Vintage synthesizer demo track by RetroSound
all sounds: Oberheim OB-X Analog Synthesizer (1979)
drums: LinnDrum
recording: multi-track without midi
fx: delay and reverb
Youtune persona 'popitem' shared this OB-MX exploration:
Modular noise with my 2 voices OB-MX, notice the nice knobs, I try some differents types as the original ones are blank (no lines), these ones are a bit loose that's why one stays in my hand.
The BeatStep is much more than a pad controller–it's a groove sequencer that features analog CV-gate as well as MIDI out. We saw one driving a vintage Oberheim SEM and grooving hard!
Enjoy
Vintage synthesizer track featuring the classic Oberheim OB-X
all synthesizer sounds: Oberheim OB-X Analog Synthesizer (1979)
drums: LinnDrum
recording: multi-tracking without midi
fx: reverb and delay
All synthesizer sounds: Oberheim OB-Xa Analog Synthesizer (1981)
drums: Roland TR-808
recording: multi-tracking
fx: reverb and delay
The Oberheim OB-Xa was Oberheim's overhaul of their first compact synthesizer, the OB-X. The OB-Xa was released in December 1980, a year after the OB-X was released. Instead of discrete circuits for oscillators and filters, the OB-Xa (and the Oberheim synths to follow) switched to Curtis integrated circuits. This made the inside of the synth less cluttered, reducing the labor required to replace bad parts, and reducing the cost of manufacture. However, today it's much easier to fix an OB-X than an OB-Xa, as Curtis parts are getting scarcer, whereas discrete parts used in the OB-X are almost always readily available.
Aside from hardware changes, the OB-Xa had better interface features than the OB-X. These included being able to split the keyboard into two halves with different voices and the ability to layer voices to create thicker sound (essentially making two notes sound for every key pressed). Polyphony stayed the same – again 4,6 and 8-voice models were offered.
One function that did disappear from the OB-X voice architecture was cross modulation, or frequency modulation of the first VCO with the second VCO. When done with analogue circuits, it's a unique sound made famous by the Sequential Circuits Prophet 5 and its poly-mod section. The lack of this feature somewhat reduced the range of sounds possible on the OB-Xa.