This video is an example of how to chain effects in the FX Manager, sequencing the DSI Mopho x4.
Each track can handle up to four chained up effects. As all effects are real-time processed, the recorded events will not be affected but the sound will change on the fly. In this video only one track is used, in LIVE mode exclusively (CHORD sub-mode). Its effect section contains two arpeggiators, one humanizer and one randomizer.
0:10 keypad used to play simple notes, an external keyboard controler could be used instead of the integrated pads
0:14 octave is set down to access lower notes
0:15 use of the smartpads in chord mode
0:21 tonality changed from Cmaj to Cmin and back to Cmaj
…
0:34 first arpeggiator added
0:38 octave set to -1
0:59 exit from the first arpeggiator with the following settings:
style = up/down
gate = 200%
rate = 1/1 (slow)
octave = -2
…
1:03 harmonizer added and set with +5 and -4 to create chords from the first arpeggiator outputed notes.
…
1:24 second arpeggiator added, playing around and finally setting a very high rate
…
2:54 second arpeggiator style set to "random"
3:05 second arpeggiator is bypassed
…
3:11 randomizer added, with param set to "velocity"
More information on :
http://squarp.net/overview.html#Quick… "Effect Manager"
http://squarp.net/overview.html#LIVE_… "Chord smartpads"
Mode Machines have some exciting new instruments and a new hands-on MIDI sequencer at Musikmesse 2015. Julian also shows me a new USB-to-MIDI interface, a MIDI Arpeggiator and a standalone VST Host box.
Some close up features of the upcoming KOMA Elektronik Komplex Quad Sequencer right before Musikmesse! Now, the sequencer length is displayed by the LEDs beneath each step as it is changed momentarily. The Komplex Sequencer is driving the pitch and filter cutoff of the Korg MS10 while the Volca Beats provides a rhythm. The KOMA Elektronik RH301 provides the master clock.
For more info and preorders visit: http://www.koma-elektronik.com
Parameter Locking is Elektron's name for their approach to step sequencing parameter automation. Parameter locks give you the ability to do per-step parameter changes on your sounds.
Pyramid is a 100% standalone polyphonic MIDI & CV/Gate sequencer.
Easily produce your tracks from scratch thanks to powerful creative tools, such as a smart chord harmonizer, scales, beat repeat, hold and relatch, groundbreaking step sequencer, Euclidean sequencer, polyrhythms, polymetry and real-time effects.
Video: Théodore Sanchez – Les Films du Périscope – theodoresanchez@gmail.com
Music: Fabien Gaubert – http://www.shapingsounds.com/
The Pyramid lets you directly sequencer a large range of electronic instruments.
It includes two MIDI outputs to connect your hardware ger.
You can also use the USB MIDI out to control your virtual instruments on your computer.
Pyramid embeds a DIN sync output (configurable to Sync48, Sync24,…) that lets you synchronise your vintage instruments.
For modular synth lovers, Pyramid can be a complete sequencing solution thanks to the full CV/Gate + ENV interface.
Here is an introduction to an exploration of the Dave Smith Instruments Pro 2 Sequencer.
This is the Beat707 XXL LE – Limited Edition – no LCD and no SD Card, less components, minimal interface.
For more details, visit our Facebook Page
https://www.facebook.com/beat707
Beat707 XXL LE has only MIDI output, no LCD and no SD Card. Uses the ATmega328 EEPROM to store data. This unit can handle 8 drum tracks, 2 accent tracks and 6 patterns. Each pattern is actually a combi of 4 x 16 steps plus extra double steps. So in total we have 128 steps per pattern. We have setup a very easy way to edit all those steps. We have steps A, B, C, D for each set of 16 steps. Also, you can set a set to "double-step" and it will blink instead of light-up. All options are set into the program itself which can be altered and uploaded using the Arduino IDE.
– Uses only Two ATmega328 Chips and basic components.
– Work with a 500mA 5V power supply.
– Can use 4 pin mic left and right connectors, instead of 6 pin mic connectors.
– Settings such as track drum notes and midi channels are set in code, while BPM and Steps# can be changed in the interface itself and is saved along the other data into the internal EEPROM.
– Multiple units can be side-chained.
Watch the Sushi Sequencer Episodes with Just Blaze and TOKIMONSTA here: http://www.redbullmusicacademy.com/ma…
Subscribe to our YouTube Channel: http://bit.ly/10OyDHc
Visit our official website: http://www.redbullmusicacademy.com
Follow us on Twitter: https://twitter.com/RBMA
Like us on Facebook: https://www.facebook.com/RedBullMusic…
Visit our Japanese website: http://www.redbullmusicacademy.jp
As part of the 2014 Red Bull Music Academy in Tokyo, we're celebrating Japan's many artistic practices. The Sushi Sequencer brings together two of them: Sushi and music technology. The idea was to make a sushi conveyor belt a playable sequencer. While the results in the video are tongue-in-cheek, the technology behind it is anything but: Helped along by a team from Native Instruments, both Just Blaze and TOKiMONSTA synced music to colored plates on the conveyor belt, making for one of the world's most delicious music-making machines ever created.
The SparkPunk Sequencer is a musical control voltage sequencer designed to control the SparkPunk Sound Kit. With the pair, you can create ten-step musical motifs, but there are hidden opportunities in the sequencer: it can be modified and connected to external hardware in clever and interesting ways. The SparkPunk Sequencer cycles among ten steps, reading the slider and switch for each, producing corresponding analog voltages on the output pins. It offers hands-on control, with its array of knobs, sliders, and switches while seamlessly integrating with the SparkPunk Sound Generator for your creative musical enjoyment.
SparkPunk Sequencer Kit: https://www.sparkfun.com/products/12707
SparkPunk Sound Kit: https://www.sparkfun.com/products/11177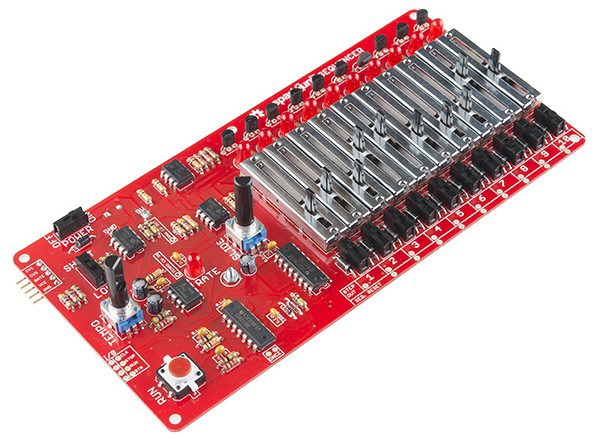 Sparkfun has published a Theory and Applications Guide for the Sequencer Kit that explains how the sequencer works and also details several useful mods. Mods include adjustable sequence length, CV out for standard analog gear, synchronizing sequencers and more.
Note: The Sparkfun Sequencer is a solderable kit with lots of parts.
The Sparkfun Sequencer Kit is available for US $59.95.