This improvisation is meant to demonstrate the ability of the Prophet '08 to imitate the sound of a drawbar organ. The pulse width modulation patch solo was played on a second P'08.
Background video description:
I've never been a fan of the Hammond Organ. I've owned several – most recently an XK 3c – and don't regret selling them a bit. There are only a few drawbar settings that I like, and this patch is an imitation of one of them. However, the classic Hammond/drawbar organ sound positively requires a Leslie effect, or at least a Leslie simulator. Mere detuning is a lame substitute. This patch would greatly benefit from such a simulator.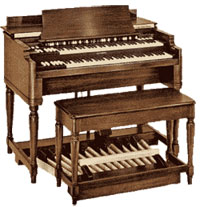 Good organ playing requires an exacting technique. Because of the nature of the instrument's envelope – having a sharp attack and an immediate release – it's essential that notes played together be struck exactly at the same instant. Sad to say, I find that synthesizer keyboards do not meet the quality necessary so that such a precise attack can always be made. This is true for the Prophet '08 and Poly Evolver Keyboard as well. I've noticed many times, especially when playing hymns or Bach chorales, that it's nearly impossible to get the attacks of the notes to be crisp and clean, even with repeated tries of the same passages. The same is true for this piece. There are many instances when the strikes of simultaneous notes are not together, creating a smearing effect. That's my disclaimer. There are many imperfections in this improvisation.
Here's a bit of trivia. Although the Hammond Organ is now most widely used for rock and jazz, as well as Gospel music, its inventor, Laurens Hammond, in no way intended it to be so. He actually designed it to be used in churches as an inexpensive substitute for the pipe organ. It was meat to be used for traditional liturgical music, hymns, preludes, interludes, postludes, and so on. It has been used in many small churches, and I've had the misfortune of having to play a CV at a country parish, but I can say that…A HAMMOND IS NO SUBSTITUTE FOR A PIPE ORGAN!
Instrumentation:
DSI Prophet '08 Keyboard (2)
DSI Prophet '08 Module
DSI Evolver Desktop
Hammond XPK 200L
Effects:
Lexicon MX300
Alesis Nanoverb 2
The weird and wonderful world of the beautiful Prophet 6. Arpeggiated patch at very slow intervals and bpm with the occasional knob-twiddle for good measure. Recorded live in 1 take and the only effects are a touch of built-in chorus and BBD. Video shot separately just after the audio had been recorded, then spliced together.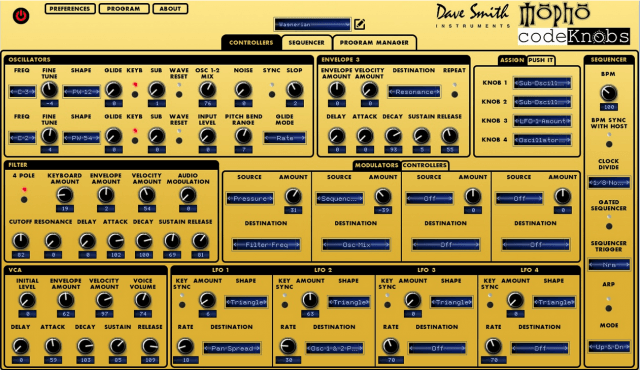 CodeKnobs has introduced an unofficial patch editor for the Dave Smith Instruments Mopho synthesizer, for both Mac & Windows. 
Features:
Full Mopho Parameter Control: This editor offers complete control over all of the Mopho's parameters.
Real Time Editing And Automation: You can make all your edits and adjustments in real time, and create automation sequences.
Simple Saving: Programs can also be stored automatically within your DAW sequence. All you have to do is save your sequence, and all your programs, in all of your instances will be saved.
Program Manager: This allows you to collect all of your Mopho programs into one place, and manage them. You can import, and export syx files, and use Prophet 8 and Mopho program files as well. You can also use the tagging feature to categorize, and sort your programs.
Multiple Instances: You can add multiple instances of this editor within your DAW, allowing you to have multiple programs available at the same time. You can choose which instance is active, by pressing the power button located on the instance window. Once activated, the Mopho will take on the program of the active instance. This will allow you to swap between programs on the fly.
Note: CodeKnobs Mopho Editor 1.0 is for the Mopho Desktop only.
The Mopho Editor is available for US $39 from the CodeKnobs site. A demo version is also available.
Mitch Gallagher sits down with synth pioneer Dave Smith here at Sweetwater Sound. Dave was visiting Sweetwater for GearFest '15, featuring a special panel discussion between Dave Smith, Roger Linn, and Tom Oberheim.
Legendary synth designer and Grammy-winner Dave Smith was the founder of Sequential Circuits in the mid-'70s. His Prophet-5, the world's first fully programmable polyphonic synth, was the first musical instrument with an embedded microprocessor. Dave is also known as the driving force behind the development of the MIDI specification. He has continued to innovate, and recently unveiled his latest synth creation, the Sequential Prophet-6.
In 2005 Dave Smith Instruments released their third Evolver – The Poly Evolver. Their flagship instrument, it's a four-voice synthesizer (essentially four complete Evolvers) with a 5-octave keyboard, pitch and mod wheels, and a ton of knobs and switches in a clean, clear, easy-to-navigate layout. It can be a four-voice poly synth, four mono synths (each with its own sequencer), or any combination in between. The Evolverseries resurrects some of the oscillator, filter and other component technologies from the classic Sequential Circuits Prophet-VS and Pro-One synths. The Evolver was a huge hit the moment it appeared and this is the super-hands-on-real-time-programmable-polyphonic version of the little beast.
Each voice is a complete Evolver with four oscillators per voice: two analog and two digital – it's a true analog/digital hybrid synth. The analog oscillators feature multiple classic waveforms plus pulse-width modulation and hard sync, and they sound really nice and big. The digital oscillators feature FM synthesis, Ring Modulation and 96 Prophet VS wavetables plus 32 user wavetables (loaded via MIDI only). Each voice also features two Curtis voltage-controlled analog low-pass filters which are fully resonant and switchable for two- or four-pole operation, two digital highpass filters and real analog VCAs. Modulation capabilities are handled by four LFOs and three ADSR envelope generators (for the filter, the amp, and one is user assignable). There are dedicated onboard effects (feedback, delay, distortion, glide, etc.). One of its best features is the MIDI-syncable 16-step 4-parameter analog-style sequencer (with each patch having its own sequence) which really brings things to life with evolving sounds. The LFOs, step sequencer, and three separate delays can all be synced for massive, rhythmic, time-based effects in stereo. A major unique feature of the Evolver is its true stereo signal path. For each Evolver voice, the left and right channels get their own independent analog oscillator, lowpass filter, highpass filter, VCA and effects. This allows for pretty nice stereo imaging effects.
The Poly Evolver essentially quadruples all those Evolver specs! In Program mode, all four voices play the same sound. In Combo mode, voices can be allocated however desired: stack all 4 for a huge unison sound, split or layer the keyboard in any configuration, and/or play one or all sequences at the same time. Each voice can also respond to a different MIDI channel. Each voice has its own stereo output jacks in addition to the mix output. Stereo audio input can be routed to any or all of the voices, enabling parallel audio processing of external stereo or mono signals. The output of one voice can be routed to the input of another for interesting double-processing effects. And multiple Poly Evolvers can be daisy-chained for increased polyphony!
Full of hundreds of jaw-dropping preset patches, the Poly Evolver offers four times the punch of the original Evolver. The Poly Evolver finally answered prayers for a truly hands-on, programmable synthesizer version of the Evolver, and Dave Smith went all out on this one. The keyboard is semi-weighted with velocity and aftertouch, the wood end caps and overall design make for a great, classic look. The Pitch/Mod wheels are back-lit. With 77 endless-turn knobs and 59 switches, pretty much all parameters are within easy reach. There is a Poly Evolver Rack version of this keyboard, but where is the fun in that? Unless, of course, you "Poly Chain" one or more Poly Evolver Rack models to a master Poly Evolver keyboard for tons more polyphony and Evolver madness! The Poly Evolver would soon be followed up by the much less expensiveMono Evolver, a monophonic keyboard version of the original Evolver.
The Prophet 6 is Dave Smith's tribute to the poly synth Sequential Prophet-5. The Prophet-6 takes the best qualities of the original Prophet-5—true voltage-controlled oscillators, filters, and amplifiers—and adds enhancements such as studio-quality effects, a polyphonic step sequencer, an arpeggiator, and more. The result is 'pure, unadulterated analog tone', with the stability and reliability of a state-of-the-art modern synth.
Background video description:
Rate! Subscribe! Comment! (if you're polite and cool). Sonic tour of the not-yet-released Dave Smith Instruments Prophet 6! This was sent to me to do some factory patches and I got the official Okay to create a video. So here it is – enjoy! This is one really SWEET sounding analog synthesizer.
Dave Smith Instruments 'Tetra', details below:
This is a version of a composition by Arvo Pärt, which I've recorded a couple of times over the past few years. I only acquired this synth yesterday, so I thought I'd figure it out a little by making my own patch in 'program mode', then recording it in 'combo mode' (4 independently sequenced voices) using the 'quad' output option, so that I could record the 4 voices separately and give them their own panning positions in Reaper (DAW). Pantheon reverb was also added.
I did an earlier version with a Doepfer Dark Energy multi-tracked 8 times, which I think I still prefer, but it's really nice being able to do something like this on one instrument and in one take.
Earlier versions here:
https://www.youtube.com/watch?v=O2bFF… – Dark Energy
https://www.youtube.com/watch?v=iu_XU… – First recording
Keyboard magazine visits Dave Smith for an extended demo of the new all-discrete analog Prophet-6 synthesizer.
The Prophet-6 is Dave Smith's tribute to the classic sequential polysynth, the Prophet 5. But it's not simply a reissue of a classic. Rather, as Dave puts it, "It's the result of our effort to build the most awesome-sounding, modern analog poly synth possible."
The Prophet-6 takes the best qualities of the original Prophet-5—true voltage-controlled oscillators, filters, and amplifiers—and adds enhancements such as studio-quality effects, a polyphonic step sequencer, an arpeggiator, and more. The result is 'pure, unadulterated analog tone', with the stability and reliability of a state-of-the-art modern synth.
Details on the Prophet 6 are available at the DSI site.
Dave Smith Instruments / DSI POLY EVOLVER (12 voices) synth demo. Playing melodic chiptunes-style improvisation music on 12-voice DSI POLY EVOLVER digital/analog synthesizer keyboard + 2 racks.
Headphones recommended!
Six-Voice Polyphonic Analogue Synthesizer
The Dave Smith Instruments Sequential Prophet 6 is expected to ship in May, priced at about $2,800. See the DSI site for more info.