Dave Smith Instruments Prophet '08: Drawbar Organ
This improvisation is meant to demonstrate the ability of the Prophet '08 to imitate the sound of a drawbar organ. The pulse width modulation patch solo was played on a second P'08.
Background video description:
I've never been a fan of the Hammond Organ. I've owned several – most recently an XK 3c – and don't regret selling them a bit. There are only a few drawbar settings that I like, and this patch is an imitation of one of them. However, the classic Hammond/drawbar organ sound positively requires a Leslie effect, or at least a Leslie simulator. Mere detuning is a lame substitute. This patch would greatly benefit from such a simulator.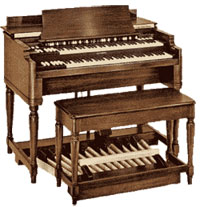 Good organ playing requires an exacting technique. Because of the nature of the instrument's envelope – having a sharp attack and an immediate release – it's essential that notes played together be struck exactly at the same instant. Sad to say, I find that synthesizer keyboards do not meet the quality necessary so that such a precise attack can always be made. This is true for the Prophet '08 and Poly Evolver Keyboard as well. I've noticed many times, especially when playing hymns or Bach chorales, that it's nearly impossible to get the attacks of the notes to be crisp and clean, even with repeated tries of the same passages. The same is true for this piece. There are many instances when the strikes of simultaneous notes are not together, creating a smearing effect. That's my disclaimer. There are many imperfections in this improvisation.
Here's a bit of trivia. Although the Hammond Organ is now most widely used for rock and jazz, as well as Gospel music, its inventor, Laurens Hammond, in no way intended it to be so. He actually designed it to be used in churches as an inexpensive substitute for the pipe organ. It was meat to be used for traditional liturgical music, hymns, preludes, interludes, postludes, and so on. It has been used in many small churches, and I've had the misfortune of having to play a CV at a country parish, but I can say that…A HAMMOND IS NO SUBSTITUTE FOR A PIPE ORGAN!
Instrumentation:
DSI Prophet '08 Keyboard (2)
DSI Prophet '08 Module
DSI Evolver Desktop
Hammond XPK 200L
Effects:
Lexicon MX300
Alesis Nanoverb 2
Comments