Background video description:
A song I did by Multitracking a DSi Mopho. All sounds from the Mopho. I also used the Mopho as carrier signal on my Vocoder Syntovox 222 & on my Banshee Rocktron Talk Box. Long Live the Mopho!!!
Music & lyrics composed by Val Solo 2014
Live improv/mix with Nord Lead 3 and Analog Keys. Berlin School style electronic music.
Ryoichi Kurokawa: Ground
Audiovisual Installation (2011)
3 HD Displays | 3.1ch Multi Sound
All rights reserved © Ryoichi Kurokawa
http://www.ryoichikurokawa.com/
watch in hd (720p or 1080p) for better audio/video quality
uploaded with kind permission
A little cute demo for the brand new Fairlight NNXT refill (2014) which is a fantastic 120 Mb sound bank for Reason 7.
http://bitley.laconicsounds.net
There has been a request for a more simple, scaled down and refined version, and this has now been produced. Fairlight NNXT builds upon the original Fairlight CMI documentation for revision 1.3 from Fairlight Instruments (included) which describes the 32 factory disks. All disks are included here and the refill contains 350 Fairlight CMI NNXT sounds for Reason 7. The refill also contains all of the Subtractor, Thor and Malström sounds from the bigger versions, as well as a couple of bonus "disks" with Bitley sounds, Art Of Noise sounds and Vince Clarke sounds. The sounds are sorted and named exactly as on the 32 original Fairlight CMI disks. The file size is just below 120 Mb.
brief demo of first contact with the SH-101 plug out.
"If you are someone who doesnt have software that uses VST plugs like me I found the easiest way around this to download the trial version of Cubase Elements free. I definitely have the feeling that they just want to sell you stuff…."
DE/VISION ON TOUR 2014/2015
10.08.2014 – Hildesheim (GER), Flugplatz (Mera Luna Festival)
29.11.2014 – Krefeld (GER), Kulturfabrik (Pluswelt Festival)
28.03.2015 – Oberhausen (GER), Turbinenhalle (E-Tropolis)
29.03.2015 – Dresden (GER), Eventwerk (E-Werk Ost Festival)
to be continued….
In this radio commentary, Bill discusses the theremin, and how it lead to one the music industry's most fundamental assets, the electronic synthesizer.
This was originally broadcast on December 26, 2000. Visit this link to view complete list of media attributions http://goo.gl/fmGESM.
Trying to emulate a Roland TB 303 with a Juno 106. It sounds pretty convincing (except the absence of slide and accent feature). The first part is clean and the second part is with overdrive (Danelectro Daddy-O).
Off course this is an emulation and with the absence of a decent sequencer, slide and accent feature it won't sound exactly like the real deal. Anyways it was fun trying.
Teenage Engineering PO-12 unveiling at Norbergfestivalen 2014.
The creators of OP-1 finally reveal the sound of their upcoming $50 drum machine. There is a slight delay in development, but they're confident that it'll be released in 2015.
Stay tuned for more details.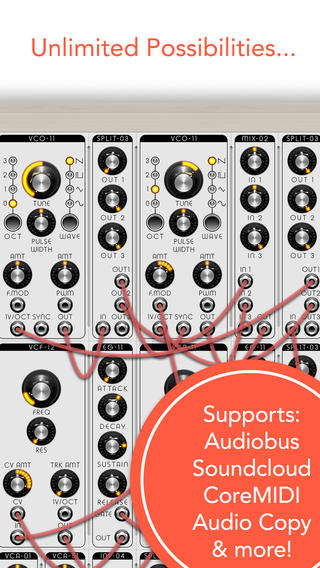 What's New in Version 1.05
This update requires iOS 7 for Audiobus 2.1 Compatibility

New Modules:

VCO-12
Analog Modeling Oscillator
Variable waveform which morphs from triangle, saw, square, and pulse
Analog circuit characteristics from minimal to extreme
Sweepable frequency modulation over the entire oscillator frequency range

VCO-13
Super Wave Oscillator
7 simultaneous oscillators which have been slightly detuned from each other to create a huge sound
Choose from Super Sine, Super Triangle, and Super Saw
Detune and mix controls
Sweepable frequency modulation over the entire oscillator frequency range

Improvements:

Audiobus 2.1 compatible

MIDI event handling vastly improved. Fast playing legato should work perfectly now.

Misc. bug fixes