Mellisonic has released Polyphylla, an additive synthesizer instrument for Ableton Live and Max/MSP.
Polyphylla utilizes a unique approach to sound generation which is normally hard to achieve with digital synthesizers. By employing mathematical models which are based on shapes and phenomena in nature, it is easy to bring sounds to life and create many unique subtleties that change organically over time.

The interface is engaging and uncomplicated, thanks to its visual approach to sound manipulation. It allows users to draw a simple shape which then controls a huge set of parameters simultaneously. This innovative approach has multiple benefits: it makes additive synthesis no longer clumsy and laborious, it excels as an educational tool and it stimulates the imagination.

Polyphylla excels at evocative ambiences, moving pads, rich textures and experimental noises – although it's also perfectly capable of generating rich basses and punchy leads.
Polyphylla is available for purchase from Ableton for 39 EUR.
HALO EFFECT – MY MISTAKES
(from the album "Life is Perfect" – label Space Race Records)
Directed and Edited by Paolo Scirè
DoP: Andrea Martella, Paolo Scirè
Camera operator: Andrea Martella
Assistant director: Chiara Buzzone
Starring: Federica Eve
Halo Effect are: Marco Cattani, John Andrew Peverieri, Alessandro Polinori, Federico Rosi
Song written by Halo Effect
Recorded at Soundmakers Studio (Rome)
Produced by Rob Early (USA) and Halo Effect
Mixed by Rob Early (USA)
Contact:
www.facebook.com/haloeffectband
www.haloeffectofficial.bandcamp.com
www.youtube.com/haloeffectofficial
www.spaceracerecords.com
Moog Prodigy DIY clone, 100% original schematic, original sound. With integrated MIDI to CV/GATE convertor.
through Lexicon MPX 1 and Glensound vintage mixing console.
Picking the right microphone can make or break a voice over. In this tutorial, I'll show you how to pick the right microphone for the sound that you're wanting to achieve.
Chamaeleon will be launching its second full-length album "Evil Is Good" on December 13th. The new 13 track LP has 11 original songs next to 2 remixes from the Latin-American aggrotech bands Amduscia and C-Lekktor. Mastered at Lunatech Sounds Studio (Cygnosic, Siva Six, Iambia, Technolorgy, Preemptive Strike 0.1) you can order this new album right here straight from the band's label Insane Records.
To be released on Insane Records it will come as a 6 panel digipack with slipcase and a 16 page booklet. The album will also be available digitally through Insane Records official website and via all major digital distributors like iTunes, Bandcamp, Spotify, Google Play and more than 25 other websites.
Now you can pre-order the digital or the CD edition (limited to 500 copies only) on the label's official label webpage and Bandcamp page.
The Poly Evolver Keyboard is certainly not known for its vintage sounds or overall tone. I've heard it criticized as falling short in the strings department, and even Dave Smith himself has said this. Well, I would respectfully disagree; I think the PEK can make gorgeous string sounds, but strings of the Evolver sort. So, in the tradition of those bright and buzzy string synthesizers – the ARP Omni, Elka Rhapsody, and a dozen others – I decided to offer an Evolver's version of vintage strings. However, I didn't try to strictly "emulate" the sound – as awful as it is! – but to offer something certainly reminiscent of it but hopefully a little better. The PEK can produce a more accurate imitation than this, but I chose to record something only similar.
A few sound design notes. There are two ways of producing decent strings on the Poly Evolver Keyboard: using only the analog oscillators, or else, using the analog and the digital oscillators together. The first way seems more logical if one is imitating an old string synthesizer, but in order to increase the oscillator beating you have to partially or entirely eliminate the stereo field with the Output Pan parameter. But this eliminates a very desirable depth. The other way of combining both the analog and digital oscillators provides decent oscillator beating and maintains the stereo depth, but it unfortunately adds digital aliasing as well – especially on such a bright sound with which you're prone to play a lot on the upper end of the keyboard. The best solution was to set the analog oscillators at 100 and the digital oscillators at 30. And I used one oscillator of pulse width modulation. This offered the best combination of old school effects and timbre and avoided unmusical aliasing.
Many years ago, I had a tan Elka Rhapsody 490. It was an ugly crackly shrill old thing that could be made to sound fair in a mix. But In my opinion, the Poly Evolver Keyboard sounds a thousands times better – even at the one and only sound the Elka made. But that's not to deny that I'd be thrilled to see a re-issue of one of those vintage string machine classics.
Instrumentation:
DSI Poly Evolver Keyboard
DSI Poly Evolver Rack
DSI Evolver Desktop
Hammond XPK 200L
Effects:
Lexicon MX300
Performed live and recorded directly to CD.
All music property of Sacred Synthesis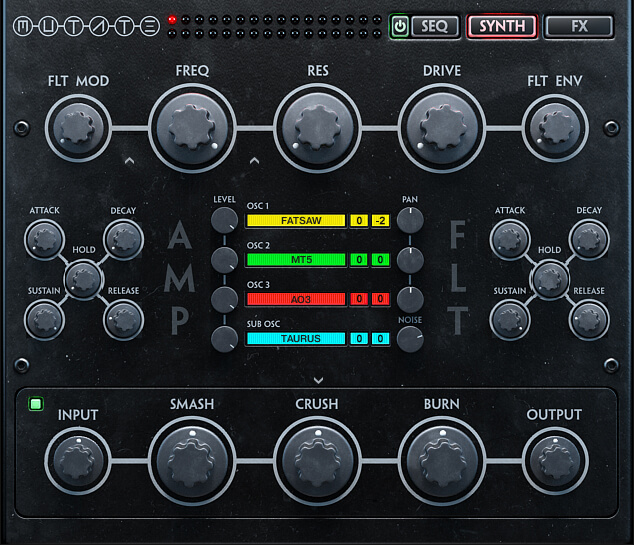 Wave Alchemy has announced the release of Mutate, a virtual hybrid synthesizer instrument for Native Instruments Kontakt 5.
Twist, mangle and transform unique multi-sampled waveforms to create powerful abstract Dubstep bass, twisted Techno sequences, morphing growls, Mainroom EDM bass / leads, cone-melting subs, lush chords, warm analogue bass and everything in-between…

Mutate is powered by a 3.7GB core library of unique raw waveforms and pre-designed preset multi-samples, synthesized from the ground up, and recorded directly from a huge hybrid analogue / digital Eurorack modular synth system.
Mutate features
3.7GB core waveform library consisting of 9,035 multi-sampled 24-bit WAV samples. Heavily scripted Kontakt 5 instrument and intuitive graphical interface (requires full version of Kontakt 5.2.1, or above).
'Designed Presets' instrument featuring 142 creatively synthesized, cutting-edge multi-sampled patches recorded and designed with a high-end Eurorack modular synth set-up.
'Raw Waveforms' instrument featuring 4 programmable oscillators (+ 1 noise osc), each with 46 selectable 'waveforms' – designed individually using a mixture of analogue and digital oscillators from the Eurorack modular.
151 'Designed Presets Instrument' presets.
20 'Raw Waveforms Instrument' presets.
Multiple filter types, custom on-board effects and impulse responses, extensive modulation routings and 3 LFOs .
Sequence pitch, volume, note length, sample start point, filter cut-off, filter resonance, filter LFO depth, Filter LFO rate, stereo spread, distortion levels, reverb send and delay sends individually, PER STEP!
Switchable mono, legato and polyphonic keyboard modes. Unison and stereo width effects.
Saturation and bit-crusher effects
Mutate is available for purchase for £49.95 GBP.
This video demonstrates the sound of the Roland Jupiter-6.
The Jupiter-6 is an incredible analog synth. All of the Jupiters have a sound that was unlike any other synthesizer and the Jup 6 is no exception. This sound is due in part to classic analog Roland technology in its filters, modulation capabilities and a thick cluster of 12 analog oscillators at 2 per voice. Easy and intuitive programming via front panel sliders, knobs and buttons for all your tweaking needs.
The Jup 6 is a scaled down version of the Jup 8 in terms of programming and polyphony. However the Jup 6 has some major improvements of its own such as newly added MIDI control and better tuning stability! While the Jup 6 does have MIDI, the implementation is very rudimentary and hard to control. The Jup 6 was one of the very first (along with the Sequential Prophet 600) synths to use the then new MIDI protocol, and the implementation on the Jup 6 is far from complete.
Synthcom Systems, Inc. offers the Europa firmware upgrade for the Jupiter-6 which gives it an up-to-date and comprehensive MIDI implementation. All parameters are controllable via Continuous Controller or SysEx. Europa also features an extensive arpeggiator which will sync to MIDI clock with programmable clock divisors and rhythms, and has about 50 more playback variations than the JP-6's original Up, Down, Up/Down, and Down/Up. A Europacized Jupiter-6 is a thoroughly modern synth with a classic sound.
The Jupiter-6 is an excellent for ambient drones, pads, blips, buzzes and leads. The Jupiter-6 is known for being a very reliable, programmable, polyphonic, analog monster of a synthesizer!
On October 27, 2015, Native Sessions visited Prince Charles Berlin for an evening of REAKTOR – Native Instruments' modular DSP environment. More on REAKTOR 6: http://www.native-instruments.com/rea…
The evening featured Tim Exile, Jan St. Werner (Mouse on Mars), Errorsmith, Deadbeat, and Peter Kirn. This video features insights into building your own instruments from leading creators, developers, and artists. You'll also learn about performing with REAKTOR and explore how Blocks brings the experience of patching on an analog modular synth to REAKTOR 6. Presented in collaboration with Electronic Beats.