'Europa Hymn' is the first taste of 'MG' – Martin Gore's upcoming 16-track electronic instrumental album.
Out on April 28th via Mute is the new solo album by Martin Gore, songwriter and founding member of Depeche Mode. Titled "MG" it holds 16 electronic instrumental tracks. Written and produced by Martin Gore, "MG" was recorded following the final dates of Depeche Mode's Delta Machine tour in March 2013 at Gore's home studio in Santa Barbara. After finishing recording "MG", Martin asked Q to mix it. Q previously mixed VCMG's (Martin Gore and Vince Clarke) 2012 album, "SSSS".
Directed by: M-I-E
PRE-ORDER MG:
Digital – http://po.st/MGiTunes
CD – http://po.st/MGCD
2LP + CD – http://po.st/MGLP
MG ONLINE:
http://www.martingore.com
http://www.facebook.com/MartinGore
'MG' TRACKLISTING
Pinking
Swanning
Exalt
Elk
Brink
Europa Hymn
Creeper
Spiral
Stealth
Hum
Islet
Crowly
Trysting
Southerly
Featherlight
Blade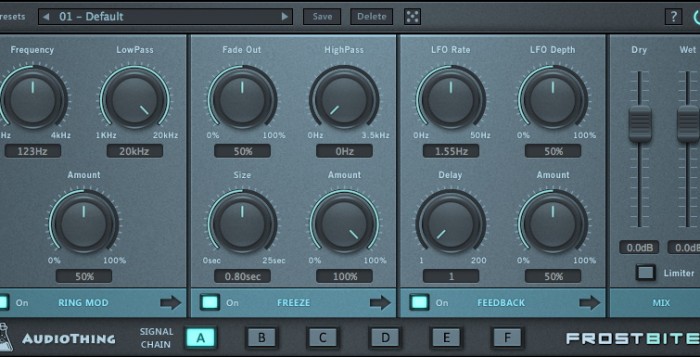 AudioThing has released Frostbite, a multi-effect plug-in featuring Ring Modulator, Feedback, and Freeze effects.
Frostbite is aimed at ambience and cinematic music, but can also be used for extreme sonic experiments.The Signal Flow is flexible with 6 different combinations.

The Ring Modulator multiplies the input signal with a Sine wave (with frequency up to 4kHz). It is also possible to reduce the high-end with the Low Pass filter.

The Feedback module features a delay function (up to 200 samples) which can be modulated by an LFO.

The Freeze module features a Freeze effect that can hold the input up to 25 seconds. The Fade Out and High Pass controls can additionally shape the behaviour of the freezed sound.
FrostBite features
Ring Modulator.
Feedback.
Freeze.
Preset system with randomizer.
Formats: VST, AU, and AAX (32/64-bit).
Platforms: OS X, Windows.
The plugin is available for purchase for the introductory price of 29 EUR/$34 USD until April 8th, 2015 (regular 36 EUR/$42 USD).
Playing with synth under development.
Music video for the Jack Dangers/Wolfgang Flür collaboration 'Staying In The Shadow', exclusive limited edition clear vinyl seven-inch, only available via the Electronic Sound Music Club.
Details here: www.kickstarter.com/projects/147541…lect­ronic-sound
Make sure to Like and Follow to make sure to be updated as new material is added
Discover what the AudioFuse, the Next generation audio interface has underhood!!
More info:
http://www.arturia.com/audiofuse/over…
Features
14 Input, 14 Output channels
4 analog inputs: 2 x Mic/Instrument/Line, 2 x Phono/Line
4 analog outputs; 2 analog inserts
ADAT I/O, SPDIF I/O; Word Clock I/O
MIDI I/O; 3-port USB hub
2 microphone preamps with DiscretePRO technology
2 RIAA phono preamps
Latest generation 24-bit AD/DA converters at up to 192kHz sampling rate
Option for analog soft-clipping
Talkback feature with a dedicated built-in microphone
A/B speaker switching Direct monitoring
Separate Master and Monitor mix channels
USB interface with PC, Mac, iOS, Android, and Linux compatibility
Aluminum chassis, leather-covered top
Official music video of the song "Timelessness", taken from the album "Memories" released in March 2015.
Order the album "Memories" at:
[Europe] http://thyxmusic.com/store/en/mindina…
[World] http://www.metropolis-mailorder.com/p…
Credits:
Music Video produced by Dogfella Studio
https://www.facebook.com/dogfellastudio
twitter.com/dogfella_studio
Instagram.com/dogfella_studio
www.dogfella.co.uk
Director: Paris Seawell
Girl: Dandan Liu
Man: Hugo Nicolau
So, I got hold of stems for some obscure Wulfband song.
I tried to make the video in their usual style (basically just remove colors and lower brightness?). Hope you like it!
New track from The Operating Tracks
Berlin's Schneidersladen aren't quite like other music gear stores, starting with their hidden location above a grocery store.
And then there's their incredible rotating rack of modular gear. We sped it up so we can stare dizzingly and watch. Guessing this doesn't exactly work as aversion therapy.