'Thievery' is taken from the forthcoming Arca album 'Xen' available November 3rd (4th in US) on Mute.
Video directed by Jesse Kanda
jessekanda.com
Pre-order 'Xen' now:
CD: smarturl.it/XenCD

LP: smarturl.it/XenLP
DLD: smarturl.it/XenDigital
LTD LP: smarturl.it/XenLtdLP
Arca European tour dates
w/ Jesse Kanda (Visuals)
27th November ICA, London (Tickets on sale 1st October)
28th November Rotonde, Brussels (bit.ly/arca-brussels)
1st December Point Ephemere, Paris (bit.ly/arca-paris)
4th December OT301, Amsterdam (bit.ly/arca-amsterdam)
5th December Kantine/Berghain, Berlin (bit.ly/arca-berlin
Arca Online
Website: arca1000000.com
Facebook: facebook.com/arca1000000
Twitter: twitter.com/arca1000000
Instagram: instagram.com/arca1000000
Soundcloud: soundcloud.com/arca1000000
YouTube: youtube.com/user/arca1000000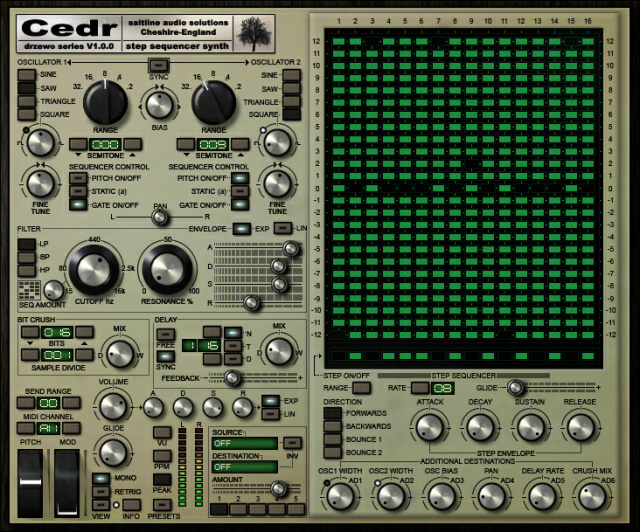 Saltline has released Drzewo Cedr – a free 2 oscillator subtractive synthesizer for Windows. with a 16-step pitch sequencer. Cedr was created with chip tunes in mind.
Features:
The sequencer can also be fed to several other of the synthesizer's controls.
The pitch sequencer can be turned on or off for each oscillator allowing for greater flexibility in sound creation
Bit crush and delay effects also add to the degraded yesteryear quality of Cedr.
Other controls include a step sequencer 'step envelope' giving the user the ability to create a range of sounds from choppy arps to strange pads and textures.
5 modulation slots also allow midi control routing, such as, key follow, velocity and aftertouch.
The Swedish electropop band Futuro is back with a new trackafter the single "Automaton" which was released in Spring this year. Their new single "Some Boys" is out now together with a video.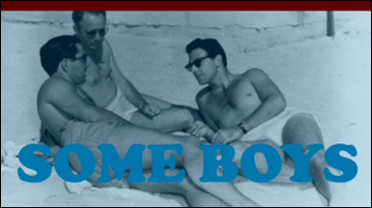 Futuro is an electropop band formed in Stockholm, Sweden. Members of Futuro are Daniel Ahlgren, Marcus Dennerstedt and Andreas Säfström. The band has released a number of EP's and singles, and are frequent performers on the Swedish electropop scene.
www.futuromusic.com — visit us, and please share. "Some Boys 2014″ is a track by electropop band Futuro from Sweden, released in September 2014. This is the official full-length version of the video.
Electric Youth – "Runaway" from the new album 'Innerworld' out now on Secretly Canadian / Last Gang Records
Pre-order – CD, Vinyl & Deluxe Bundle: http://smarturl.it/electricyouth?iQid… // iTunes: http://smarturl.it/electricyouth_itun… // Amazon:http://smarturl.it/electricyouth_amaz… // Indies: http://smarturl.it/electricyouth_indi…
Watch Part 1 of the SC Live Session for "A Real Hero": http://bit.ly/sclive_realhero_yt
Watch the video for Electric Youth's "Innocence" here: http://bit.ly/ey_innocence_yt
ELECTRIC YOUTH LINKS
Artist Page http://secretlycanadian.com/artist.ph…
Website – http://www.electricyouthmusic.com/
Facebook – https://www.facebook.com/electricyout…
Twitter – https://twitter.com/_electricyouth
YouTube – https://www.youtube.com/user/electric…
Director: Noel Paul
Producer: George Rouhana
Starring: Saro Hara, Khodor Ellaik, ft. Bronwyn Griffin
Assistant Director: Daniel Balabane
Assistant Camera: Nabil Assaf
Art Director: Sabine Sabbagh
Stylist: Pascale Chnaiss
Assistant Production: Marc Nassif
Sound Recordist: Joe Salloum
Colorist: Belal Hibri
Police Officer: Dany Ghanem
Bartender: Elie Derian (Didi)
Taxi Driver: Ziad Kobeissi
Kids: Elia Hasan, Hassan, & Kotaiba Kenno
Special Thanks:
Andreas Boulos, Marc Ghazo Hanna, Chahid Rached, Pip Usher & Lenny, Ivan Grbovic, Ingrid Naccour, Jean Makhoul, Rabih Ali, George Bou Aoun, Bilal Hasan, Media Square, Youssef Assal, Karam Jakob Al-Ghossein, Rabih Salloum, Bashir Wardini, Serge Festekjian, Municipality of Beirut, Municipality of Batroun, Batroun Fishing Port Community, Internal Security Forces
Electric Youth – "Runaway" from the new album 'Innerworld' out now on Secretly Canadian / Last Gang Records
Alex takes us throught the features and functions of the WMD Geiger Counter Eurorack Module.
Propellerhead Software has announced the release of Reason 8, a major new version of the award-winning Reason music production software which introduces a completely redesigned user interface and streamlined new workflow.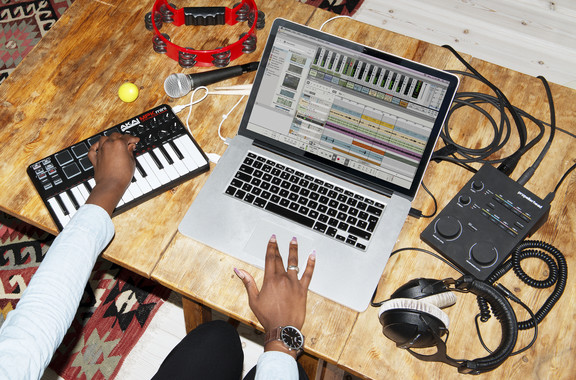 "Musicians and producers love Reason because it's both fun and inspiring," said Leo Nathorst-Böös, Propellerhead Product Marketing Manager. "For Reason 8, we've introduced a new creative flow that feels second nature to exploring sounds and developing songs. Whether you have lots of experience or just starting out, Reason is the fastest way to develop musical ideas and capture your inspiration."

Reason 8 introduces a redesigned user interface, fresh new look and even smoother creative flow. Quickly and easily access your sounds, loops and patches whenever you need them using a new browser and search window—a one-stop-shop for creative inspiration. Dial-in incredible guitar and bass tones with a collection of new amps from legendary circuit modeler Softube—simply plug in your instrument, crank up the volume and experience the uncompromising tone, response and dynamics of the world's finest classic amplifiers.

Reason 8 also features countless usability improvements that put the flow back in workflow. Drag-and-drop from anywhere to anything and work faster with fewer clicks. Edit your tracks quickly with more powerful sequence note editing. Reason 8 lets you flow seamlessly from initial idea to completed song. And, with an ever-expanding selection of Rack Extension plug-ins available in the Propellerhead shop, you can easily expand your rack to include everything your music needs—now and in the future.
Reason 8 is available for purchase for 405 EUR/$449 USD, Reason Essentials 8 is 120 EUR/$129 USD, and the Reason 8 Upgrade (from any previous Reason version) costs 129 EUR/$129 USD. Propellerhead is also offering a grace period for customers who purchased Reason 7 on or after July 1, 2014
A tutorial on how to use the Elektron Analog 4 and using it to program "Photographic" by Depeche Mode – from the perspective of a seven-year-old kid. In Swedish, filmed in one go. English subtitles are available as well.
00:00:00 Introduction, overview of main functions
00:02:17 Sound selection
00:02:20 Track 1 – Lead
00:02:44 Track 2 – Kick
00:03:04 Track 3 – Bass
00:03:20 Track 4 – Secondary melody
00:03:38 Programming "Photographic"
00:03:34 Track 1
00:05:40 Track 2
00:05:59 Track 3
00:07:19 Track 4
00:08:13 Track 4, again
00:09:05 Song complete!
My 7-year old son started to learn my Elekron Analog Four, and actually got pretty good at it. Since he loves "Photographic" by Depeche Mode (and had been playing it on the piano) he taught himself to program it into the A4.

One day I thought I should just capture what he's doing on video to keep as a memory, and a the same time learn a two-cam setup. This is the result – all filmed in one go. There are English subtitles available in the video as well.
Oskar Novak demonstrates his Moog XL and Moog Subphatty synthesizers and plays original compositions utilizing these two amazing instruments. He begins playing at 43 seconds.
Aphex Twin – Fenix Funk [early Mix] – unreleased version of the classic Analord track. From the forthcoming exclusive Aphex Twin interview with Dave Noyze at Noyzelab :
noyzelab.blogspot.com/2014/09/aphex-…y-mixdown.html
noyzelab.blogspot.com.au/2014/09/unre…arclays.html
Apple Store link:https://itunes.apple.com/us/app/egdr9…
ElliottGarage presents EGDR909, a drum machine that emulates the vintage hardware from the 80's with all the facilities of modern software.
Its realistic and clear interface recalls the analog machine from the past, for all the vintage fanatics.
You can play with the groove presets included or you can create your own beat to play along your favorite song via InterApp, Audiobus, Core MIDI and clock MIDI.
You can also share your drum patterns with iTunes filse sharing or Audio Copy.
Features:
– Interface like the real drum machine from the 80's
– 16 steps sequencer, with variable lenght
– 48 programmable rythm patterns
– Save the pattern you've created and play your songs
– Manual Play, Pattern Write and Pattern Clear mode
– Drumkit pieces parameters control (tuning, decay and snappy)
– Song Mode page (swipe to left to open) with loop option
– Swing and tap tempo
– Core MIDI & clock MIDI (network session, external controller, inter app midi)
– Audiobus
– Interapp (generator)
– Export with iTunes, mail or Audio Copy
– Korg Wist sync
Check the videos on http://www.youtube.com/ElliottGarage
support: info@elliottgarage.com