Music video by David Bowie performing I'd Rather Be High. (C) 2013 ISO Records, under exclusive license to Columbia Records, a Division of Sony Music Entertainment
How to make drum sounds with the Arturia MicroBrute, including a kick/bass drum, high hats and a sort of "hand clap". Pause the video on the stills to check out the positions of all the controls required to recreate these sounds.
This a test to show the functionality of the Octave-Plateau VPK-5 Keyboard and the Voyetra 8 Synthesizer Module working.
We used a XLR cable as needed for the keyboard controller input. For audio output we used a dual mono TS to single TRS cable going through a mixer and amplifier. And also used the mono output through a powered monitor.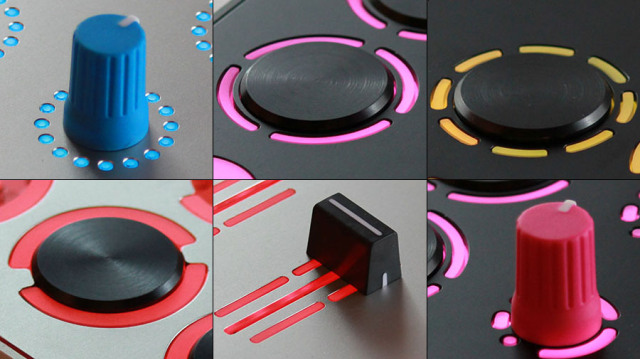 umidi – a new MIDI controller that's completely customizable.
Using a web-based interface, you can change the types of knobs, lights, switches and sliders on the controller, customize the colors and add designs. The components are high-end, and the case is CNC'd from a solid block of aluminum, which is then bead blasted and anodized. You can even customize the shapes and colors of the lighting around your controls.
Our goal is not to compete with mass produced products, We designed the umidi with no compromises on quality, structure of materials and components. That's why each controller is made from a single block of aluminum, less than 1 inch thick and uses only the best components. Each controller is unique, and hand built/tested by us.
Each umidi can have the up to 36 components, which include:
Knobs
Faders
Encoders
Jog Wheels
Aluminum Push Buttons
Drum Pads
Silicon Buttons
At the heart of umidi are 288 RGB LED's, which can be controlled to do whatever you want. This allows for music-driven lighting, button effects, visualizing mixing, millions of colors and other lighting effects.
When you've created your ideal layout, you can get your custom controller built to order.
For more information:
http://twinfigure.com
http://soundcloud.com/twinfigure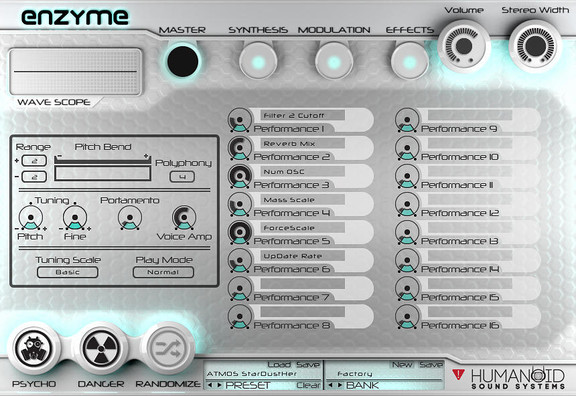 Humanoid Sound Systems has released a public beta of Enzyme, a "scanned synthesis" instrument for Windows and Mac.
Enzyme incorporates all the popular features of our Scanned Synth Pro, but takes its scanning synthesis in several new directions simultaneously.

Sample import is now available so you can resynthesise existing sounds with automatic pitch detection and click-free looping, while Hybrid Scanned/FM synthesis is also on offer for even more sonic possibilities.
Enzyme features
Next generation Scanned Synthesis Engine with Sample import function & Hybrid Scanned/FM synthesis options.
Multiple scanner options for fatter 'Unison Mode', brighter 'Harmonic', or imported 'Explorer Mode' with imported samples.
New Effects Rack, allowing practically unlimited layering of effects such as analog modelled filters, reverb, chorus, flanger, and destortion.
Automatable performance controls, allowing control of important parameters from a single location and multiple parameters to be controlled using a single control.
Alternative tunings.
VST 2.4, Audio Units (AAX Support coming soon).
Support for both 32 and 64 bit architectures under both Windows and OS X.
As with SSP, each Enzyme voice includes a complex Scanning Oscillator with hammer, wave, mass and connection matrix controls, a 7-mode resonant filter, three ADSR envelopes and two LFOs, and a separate Multi-Effects section featuring reverb, tempo-synced echo, chorus, flanger and 7-mode resonant filter.
Enzyme for Windows and Mac (VST/AU) is available to purchase for $49.99 USD. Note: This is still officially a beta version of Enzyme but it is totally safe to run on your computer.
Vangelis And The Journey to Ithaka is a new documentary on the Greek composer. Here we get a look at the custom set up that Vangelis uses and how he uses it to create improvised symphonic electronic compositions.
Background description:
The two-hour documentary includes interviews with Vangelis and many of his friends and colleagues, including Sean Connery, Hugh Hudson, Jessye Norman, Oliver Stone, Akiko Ebi, Julian Rachlin and many others. It also includes rare, historical footage, most of which has never been seen before. Another highlight includes recent footage of Vangelis improvising new music!
Vangelis, a composer of electronic, ambient, jazz, pop/rock and orchestral music, is best known for his Academy Award winning score for the film Chariots Of Fire, and composing scores for the films Antartica, Blade Runner, 1492: Conquest Of Paradise and Alexander, as well as the use of his music in the PBS documentary Cosmos: A Personal Voyage by Carl Sagan.
Vangelis began his professional music career working with several popular Greek bands in the '60s such as The Forminx and most notably Aphrodite's Child. Throughout the 1970s Vangelis composed music scores for several animal documentaries; the success of these scores brought him into the film scoring mainstream.
In the early '80s, Vangelis teamed up with YES vocalist/songwriter Jon Anderson. The duo recorded a series of successful and critically acclaimed albums under the name Jon & Vangelis. In 1981 Vangelis composed the score for the Oscar-winning film Chariots Of Fire, which won him an Academy Award for Best Original Music Score. The soundtrack's single 'Titles' reached the top of the American Billboard Hot 100 chart and was most recently used as theme music at the London 2012 Olympics.
In a career spanning over 50 years, writing and composing over 50 albums, Vangelis is regarded as one of the greatest composers of electronic music of all time. And now, the new documentary 'Vangelis And The Journey To Ithaka' celebrates the music legend's illustrious and fascinating career!
This video illustrates the Star Trek™ Vulcan Harp features.
Fans of Star Trek™ can now play Mr. Spock's Vulcan harp on their iPad! Replicating the alien instrument from the classic Star Trek™ series, the app is fully functional and features multi‐level sounds, cool effects, and the iconic design of the original harp. Use the sleekly styled controls to compose spacey music or play fascinating songs.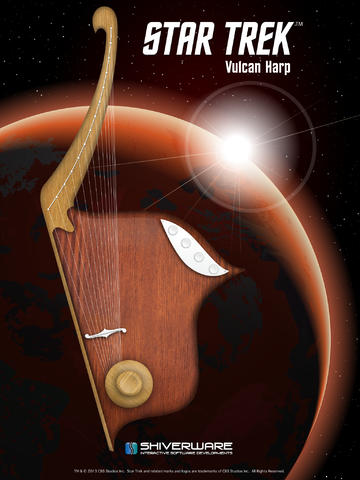 Whether you're a Trek fan, musician, or just interested in playing a unique instrument, the app's richly detailed appearance and wide‐ranging musical abilities make for an instrument unlike any other!
Features:
——-
• 15 vibrating strings – each identified, making it easy to play songs
• Distinct pluck dynamic where the sound occurs on release of a touch similar to a harp
• 5 instrument sounds from futuristic to the classic harp
• Large 6-and-a-half octave range in 5 octave banks
• Custom multi-level distortion and reverberation controls give you a wide range to experiment with
• Ability to select pentatonic scale (five notes per octave)
• One button background arpeggio (sequence chords)
• Rich, inlaid wood detail appearance on the harp and moving starfield background
• SoundCloud recording to share your creations
• Concise tutorial to locate controls
Looking for more information about the Vulcan harp app?
————————————————
Visit us online: startrekvulcanharp.com
Follow us on Twitter: @StarTrekHarp
YouTube video: youtube.startrekvulcanharp.com
Join us on Facebook: fb.startrekvulcanharp.com
Questions or suggestions? Email us at vulcanharp@shiverware.com
Vulcan Harp Background:
———————
The Vulcan harp is also called a Vulcan lyre, lute, lyrette, and lytherette.
The Vulcan harp is played in four episodes in Star Trek™: The Original Series: "Charlie X", "Amok Time", "The Way to Eden" and "The Conscience of the King".
Spock and Uhura both play the Vulcan harp. Tuvok owns one in Star Trek: Voyager™, Melian owns one in Star Trek: The Next Generation™, and (mirror universe) Kira Nerys owns one in Star Trek: Deep Space Nine™.
Spock plays "Row-Row-Row Your Boat" on the Vulcan harp in the film "Star Trek: The Final Frontier™".
C7: C-shaped cabinet – first try out just after finishing this eurorack enclosure
more info at: http://www.creativegallery.nl/
Vintage analog Beat Box
Handy: works with 9-V-battery!
MADE IN KOREA