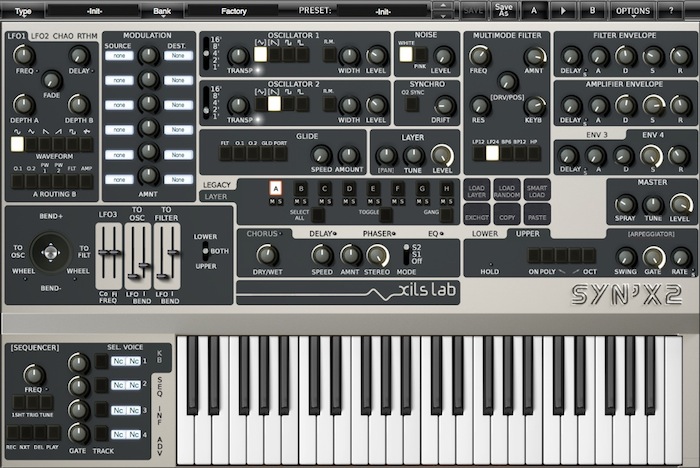 XILS-lab has released Syn'X 2 for Mac OS X and Windows (VST, AU, RTAS & AAX) with an introductory offer until July 21st.
Syn'X 2 offers a combination of clear and punchy DCOs (Digital Controlled Oscillators) with cutting multimode analog modelled filters.
It's multitimbral; you can use up to 8 different synthesizers, 16 oscillators, 8 0df Analog Filters, 32 DADSR envelopes and Modulation Matrix addressing any of the 132 possible destinations to create your own patches.
Features:
Oscillators with cumulative waveforms (Up to 40 per patch).
New 0DF PWM/Hard Sync Oscillators Algorithm.
Unique (ChaoX, Rythm) LFOs with cumulative waveforms (Up to 50 per patch).
Additional D-ADSR envelopes and Modulation Matrixes (Per Layer).
Unison, 2 arpeggiators, 2 Keyboards zones, Guitar Multitimbral mode.
A Plethora of monophonic and polyphonic Play Modes.
PolySequencer (Also acting as a modulation source).
Easy Sound Creation with our unique Smart Load Technology.
Vintage sounding effects: Chorus, Phaser, Delay, Analog EQ. True Stereo Technology.
300 presets created by professional Sound Designers.
And a dual programming environment which offers you two different edit mode (Easy and Advanced):

Easy Mode gives you the benefit of a powerful and intuitive streamlined programming environment, similar to the miniSyn'X duotimbral synthesizer, but with the extra power of additional envelopes, LFOs, etc.
Advanced mode unleashes the total power of the Syn'X 2 where you can create thick, complex, and never before heard patches, with a totally revamped workflow.
Pricing & Availability
Until July 21st Syn'X 2 is 119€ instead of 169€. It's free for Syn'X owners. An upgrade path is available for miniSyn'X owners.
More information on the Xils-lab website.
An official video of the Miranda Cartel song "The way to follow" has been launched now.
Miranda Cartel "The way to follow (tape mix)" first single from upcoming Miranda's album available on Side-line "Face the beat: Session 2″ compilation released on 06.06.2015http://sidelinemag.bandcamp.com/album…
https://www.facebook.com/mirandacartel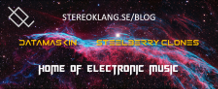 Alkemic Generator – Inner Duality-
Mechanical Reflections 2015
https://www.facebook.com/alkemic.gene…
http://www.scent-air.com
https://soundcloud.com/alkemic-generator
http://www.reverbnation.com/AlkemicGe…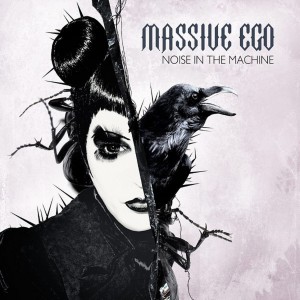 The Ex-stage dancer for Boy George and ex-model, Marc Massive, has landed a new EP for his Massive Ego project. The album also features Empire State Human on the track "Low Life" and remixes fromAesthetic Perfection and Leaether Strip next to alternative versions. You can order the EP right here!
I Idolize You (Modification Edit) Massive Ego
Produced and Directed by Bambi Fantastic & Massive Ego
Edited by Nu:Gen
www.facebook.com/massiveego
www.massiveego.co.uk
Checking out some the latest Koushion update. You can now turn off MIDI CC smoothing. This lets you get some do some really nice rhythmic parameter changes. Great when used by itself, or in a clock-synced production environment.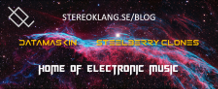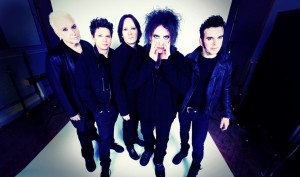 The Cure frontman Robert Smith has announced that a new The Cure album is in the pipeline. It will hold several tracks from the canceled 2CD record they had planned to release earlier but which remained unreleased. Something that really pissed of Robert Smith because The Cure had cancelled their upcoming North American tour so they could polish off their new double album.
Robert Smith: "I was so fucking angry that they wouldn't release a double album that I wouldn't give them the other songs."
More info as it leaks out.
Background video description:
MOOG LITTLE PHATTY "Toxic" GREEN Edition
ROLAND JUNO-106 "The HOLY SYNTH"
THRU KORG KRONOS Insert Effects Delay & Reverb
***Watch in HD***
First we have the Moog Little Phatty TOXIC thru
the Korg Kronos insert effects….
I use the JUNO-106 as a midi controller in this part.
Then we layer the two analog synths via MIDI thru
the Korg Kronos insert effects!!! Sa-WEEEEET!
I also am controlling the Moog with the JUNO-106.
Keeping the pad sound "Moogy" with the JUNO-106,
the layer is totally Wakeman… I LOVE it!!
Not trying to show off any playing skills,
just having fun on a rainy day!
Always a good thing to do on a rainy day!!!
Thanks for watching!!
Please subscribe!
More synthesizer videos coming soon!
Rik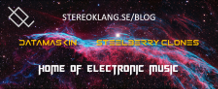 Mitch Gallagher sits down with synthesizer legend Tom Oberheim for a special interview at Sweetwater's GearFest 2015. A pioneer of the synth and MIDI world, Tom Oberheim co-designed the Synthesizer Expansion Module (SEM), a device that allowed musicians to simultaneously combine live playing and sequenced playback – a concept that pre-dated the MIDI revolution. In 1981, he, along with Roland's Ikutaro Kakehashi and Sequential's Dave Smith, developed the MIDI spec, which changed the course of modern music. Tom recently re-released his famed Two Voice synth.
A series dedicated to exploring the Roland System 100m modular synthesizer, the most elegantly designed modular in history.
Background video description:
Just a Bit of fun, I decided to remake an old favourite on my synthesisers. in the hall of the mountain king by Edvard Grieg. recorded using Moog Theremini, Moog Phatty, Moog Sub 37, roland TR-8 & TB-3, & the Maplin 5600s, Maplin Spectrum Synth & a Bass guitar. Uploaded June 27th 2015. The Original music from Grieg has expired its copyright. This is my Synthesiser interpretation Based on this piece. also in WAV format on soundcloud (markusfuller)