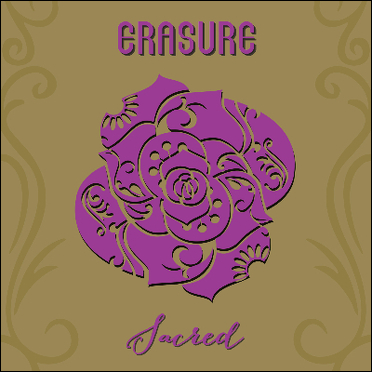 Out on March 17th is a brand new single for Erasure, called "Sacred". The single is the latest to be taken from their Richard X produced album, "The Violet Flame". The tracklisting featuresthe single mix and a live rehearsal version of "Sacred" (taken from rehearsals from the band's recent tour) alongside remixes from the likes of Chris Cox, Phil Marriott & Rich B, Black Light Odyssey (who have previously remixed Depeche Mode and Yazoo), Vibrora Park and 88Ninety. Also to be added is the winning remix of the recent 'Blend Remix Competition' remix contest.
The complete track listing:
Sacred – Single Mix
Sacred – Chris Cox Remix
Sacred – Vibora Park Remix
Sacred – Black Light Odyssey Remix
Sacred – Phil Marriott & Rich B Remix
Sacred – Chris Cox DUB
Sacred – 88Ninety's StellarMix8 Vox Remix
Sacred – Blend Remix Competition Winner
Sacred – Live Rehearsal Version
Japanese trio  unleash first taste of upcoming live EP ahead of European tour dates
The EP's four tracks were all recorded at Hamburg's Clouds Hill Recordings studio in June 2013 in front of a small, invited audience and we are excited to offer you an exclusive stream of opening track, 'A', above. The track showcases what Nisennenmondai do best, its 12 minutes driven by Yuri Zaikawa's bass and smatterings of bleak guitar.
Demo of the classic Juno 60. No other instruments used. External delay and reverb added.
In this video, electronic music and sound design pioneer Suzanne Ciani explores the Moog modular System 55 for the first time in decades. Ciani came to the Moog factory in Asheville, NC to play the first System 55 newly handcrafted by Moog in over thirty years. The patch, created and performed live, was shot in one take and features a sequence designed on the 960 Sequential Controller that's driving three 921B oscillators into a 904B High Pass filter whose cutoff is being modulated by a 921 oscillator. A second set of 921B oscillators is also being played manually into a 904A Low Pass filter whose cutoff knob is also being modulated by the 921 oscillator. The resulting sound of each is then sent through its own dedicated MF-104M analog delay for ambience. The audio has been captured directly with no eq, compression, or editing applied.
To learn more about Moog modular synthesizers: http://www.moogmusic.com/content/moog…
To lear more about Suzanne Ciani: http://www.sevwave.com/
http://www.ravethereqviem.com
https://www.facebook.com/ravethereqviem
(p) + (c) 2014, 2015 Digital World Audio
Taken from the DWA album "Rave The Reqviem" (DWA316/DWD317) and single "Aeon(s)" (DWD350)
Get the album (CD with bonus tracks, or digitally) from DWA's online store here:
http://dwa-digital.com/album/rave-the…
and (digital only) single here:
http://dwa-digital.com/album/aeon-s
Or digitally on iTunes:
"Rave The Reqviem" –
http://itunes.apple.com/album/id82056…
"Aeon(s)" –
http://itunes.apple.com/album/id94728…
Video produced by UCMO
Filmed by Daniel "Yor" Lindgren and Petter Perseius
Post-production by Vita Pictura
Edited by Georgius Misjura
Color grading and effects by Aleksei Kulikov
Written by Filip Lönnqvist
[http://www.ravethereqviem.com]
Mixed and mastered by X-Fusion Music Production
[http://www.x-m-p.de]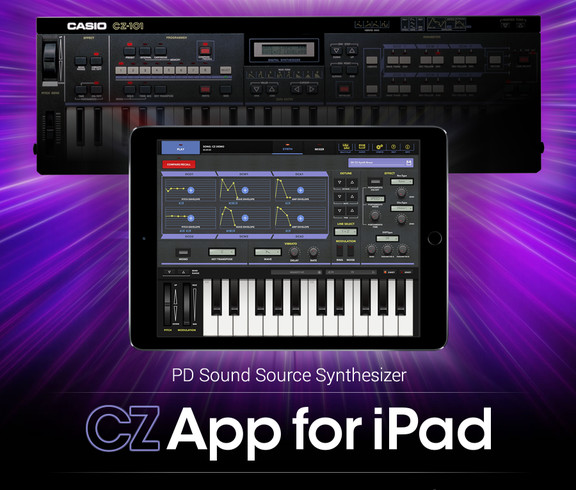 Casio has released CZ App for iPad, a virtual synthesizer app based on Casio's best-selling CZ series of synthesizers, including the CZ-101 model released in 1984.
Along with its electronic musical instruments, Casio has been developing musical apps with the goal of providing the joy of playing music to more and more people. To date, Casio has released several apps that have become widely popular: Chordana Viewer and Chordana Tap, which automatically detect the chord progressions of songs; as well as Musical Practice Tool, a useful app for practicing a musical instrument or singing.

Now Casio has released the CZ App for iPad, an iPad app that recreates its best-selling CZ series of classic synthesizers and includes several all-new functions. CZ App for iPad allows up to four separate parts to be played using the original Phase Distortion sound source by Casio, and features 36 types of waveforms for producing a wide range of sounds.
The app is available for purchase for $19.99 USD.
NAMM 2015! Rosser Douglas from Moog music explains to me the beautiful new Model 15 modular system.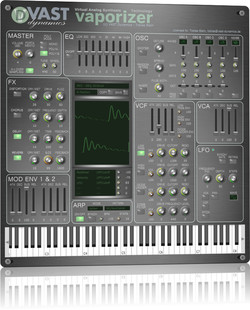 VAST Dynamics has launched Vaporizer, an analogue/subtractive synthesizer plug-in for Windows and Mac.
The intention of this development is to combine a fat virtual analog sound with low system CPU resource usage. And all this with an unbeatably low pice (factor 10 lower than usual synths in that category).

Even though this synth basically follows a traditional subtractive analog synthesis model, we believe that is has it's own character and sound that needs to be explored. A main focus was laid on modelling fat supersaw-like sounds with various unison and detune models. VAPORIZER does not want to be smooth and gentle. It has sharp edges and can also be brutal. Check it out.
Vaporizer features
Innovative virtual analog synthesis model that allows an almost unlimited number of oscillators per voice (e.g. 96 saw-tooth oscillators).
Three modes – 16 and 4 voice polyphony plus monophonic mode.
Full stereo – all generators, effects and chains.
Full effect bank with high quality oversampling effects (distortion, chorus, delay, reverb, comb filter and parametric EQ).
Old school UI with real analog feeling.
Everything at sight – no hidden tabs or menus.
Eye-catching retro-style oscilloscope for immediate visual feedback.
Monophonic and polyphonic portamento in all modes including ARP.
More than 50 presets with many different styles.
Completely alias free oscillators (6 different waveforms).
Up to 97 parallel oscillators per voice (4 unison / detune banks with max 24 plus 1 noise oscillator).
16 voice polyphony with a maximum number of 1552 oscillators per plug-in at a time.
Vaporizer for Windows and Mac (VST/AU) is available for purchase for 24.90 EUR (+VAT within EU).
A demo video displaying some of the capabilities of Yamaha's DX9. The only external effect used is reverb.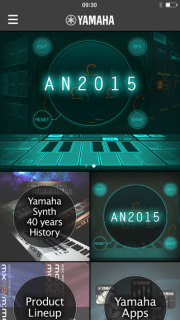 This app features a complete history of Yamaha Synthesizers, an integrated virtual analog soft synth, and serves as a portal to Yamaha's online synth communities.
The app is being released as part of Yamaha's celebration of its 40 year history of makin
The history features detailed, "behind the scenes" information about the 40-year design and development history of Yamaha synthesizers. It covers the technological breakthroughs behind key Yamaha synthesizers, from teh CS-80 to the DX-7, and some fantastic vintage synth rarities, too.
The app also includes a software synthesizer. .
AN2015 features virtual analog modeling like the AN1x. It also features a drum part that you can use for backing.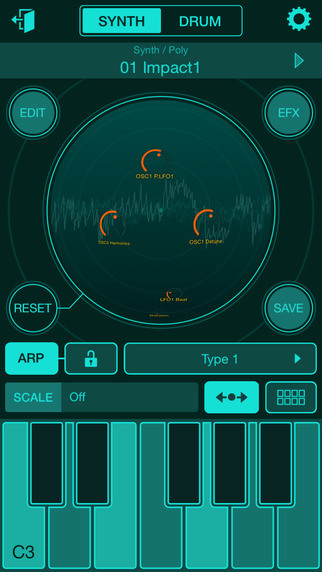 Yamaha highlights two ways to use the synth:
As standalone iOS app – There are 2 modes available, SYNTH mode and Drum mode that work at the same time, e.g. when drum phrase is playing, Analog sound can be selectable and playable with the drum phrase, and vice versa without stopping ongoing music
Use it with a MOXF as an external tone generator – When connected to the Yamaha MOXF Music Production Synthesizer (OS version 1.10) using the Lightning to USB Camera Adapter by Apple, the MOXF becomes the MIDI/Audio interface for the iOS app creating a very powerful music production system.
Specifications
'Analogue' Synth

Tone Generator: Virtual Analogue Modelling
Polyphony: 8
Preset voice: 64
Arpeggiator: 1-Scale: 1
Polyphonic Pad

Drum Part

Tone Generator: Audio (Drum loop and time stretch function included)
Part: 1
Polyphony: 1
Drum Pad: 16
Drum Pad Set: 5
Other features include a portal to Yamaha's social media forums and a catalog of the company's current synth lineup.
Yamaha Synth Book is a free download from the App Store.