Vintage synthesizer demo track by RetroSound
all synthesizer sounds self programmed: Roland Jupiter-4 Analog Synthesizer from the year 1978
drums: Roland TR-808
recording: multi-tracking without midi, the TR-808 is triggered the JP-4 arpeggiator in random mode
fx: a bit reverb and delay
For me has the Jupiter-4 the best sound from the Jupiter family. Very raw and powerfull.
more info: http://www.retrosound.de
The first Jupiter synth. It was among one of the first poly synthesizers (4 individual voices which could be synced together for one fat monophonic lead), it had a pitch wheel that could be assigned to the VCA, VCF, VCO or all together, there are 8 memory locations and a cool arpeggiator – the arpeggiator can be heard in the Duran Duran classic, "Rio". It also has a very slow LFO for those ever-so-long filter sweeps. Pretty good for 1978!

Not so cool however, are the 10 preset sounds which sound nothing like the piano, brass or strings they claim to be. The placement of all the preset buttons below the keyboard can be inconvenient, especially while playing it. And as with most old analog synths, the Jupiter-4′s tuning can go out often. Still it is a nice analog synth for creating weird trippy analog sounds.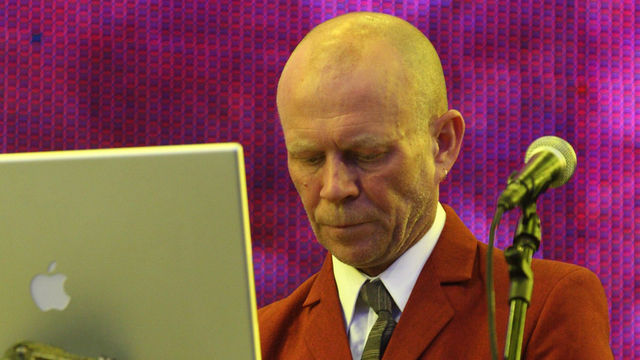 Historical interviews with the most famous electro musicians in the world have appeared in a new eBook.
The Electro Legend Interviews features interviews conducted over the past 20 years and taken from the archives of Computer Music and Future Music magazine.
Revealing their music-making techniques and inspirations are: Aphex Twin, Gary Numan, The Prodigy's Liam Howlett, Vince Clarke, Kraftwerk's Wolfgang Flür, Moby, Hot Chip, Alec Empire and Ultravox's Midge Ure.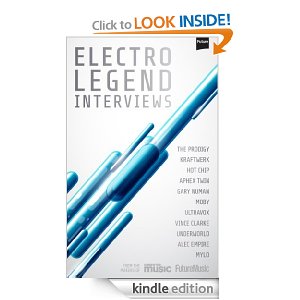 Available for just £2.99, the book sheds light on The Prodigy's place in the early rave scene, with Liam Howlett explaining in a 1993 interview that"When rave dies there are always going to be people who will still want to dance, so as long as we keep coming out with original songs we'll still be around…"
Meanwhile, Gary Numan discusses his classic Replicas album. Addressing the cover art, he says: "The character on the cover is called a Machman – he's looking out on the world, looking out at the park. Outside of the park, there's a man in a grey coat and a grey hat, which was a ghost I saw when I was much younger…"
Elsewhere reclusive genius Aphex Twin gives one of his only ever interviews. "If you plan to be good at anything, it has to happen using your own ideas. It's inevitable. It's exactly like natural selection," he muses.
Speaking exclusively about the early days of Kraftwerk, WolfgangFlür comments: "We were young, shy and childish! We loved to construct things and we never thought we would get famous from that."
The book also features Vince Clarke revealing his computer music-making secrets. "Once you've got the hang of the computer and the software," he says, "then you've still got to write the songs…"
And discussing the history of Ultravox, Midge Ure reveals that: "In those early days, a lot of musicians saw synths as electronic guitars. We just started going bang-bang-bang. Suddenly, you got this blast of unearthly noise and it changed the musical landscape."
Patch details below:
the patch
snazzy fx ardcore running dual lfo sketch
triggers the two MFB seq 02 sequencers
both are running in AB mode 32 steps each
MFB OSC-02 Triple VCO is sequenced and modulated by
MFB seq 02 and Maths
MFB OSC-02 Triple VCO ing mod out is sent to the filter of monotron e
Maths
with black front panel white knobs
is patched into function
with black front panel and monotribe knobs
function is being fed by the monotron e LFO
EOC is sent to the filter cv of monotron-e
all audio outputs are mixed with MFB drum 99 mixer
this is sent to the alesis io dock input
a little KORG iELECTRIBE is added
this is all on channel 1
Ableton live 8 win7 64bit with hp Compaq L2105tm touchscreen
channel 2
midi input from korg ms20 legacy and DOEPFER A192 CVM 16
Max for Live
QM synth
channel 3
sonic charge microtonic
audio damage big sequence
In this tutorial Ryan Hemeon shows how to hook up an external midi controller and send the midi to two separate apps using MidiBridge. H uses Audiobus to keep the apps running in the background, iGrand and Magellan.
Mike Martin from Casio demonstrates the Privia Pro PX-5S stage piano at Kraft Music.
Specification:
Keyboard
88-key, Tri-sensor Scaled Hammer Action II
Maximum Polyphony
256 Notes
Number of Tones
370 Preset / 350 User
Keyboard Instrument (including Electric Piano) – 60 Preset, 50 User
Hex Layer – 50 Preset, 150 User
Stage Settings
100 User Stage Settings / 4 zone configurations
Controllers
4 knobs, 6 sliders, Pitch & Modwheel, 2 Pedal Inputs
Arpeggiator
4 simultaneous programmable 16 step Arpeggiators
Phrase Sequencer
8 Tracks, up to 1,000 phrases
Storage
USB / File & Audio Recording
System Effects
Reverb, Chorus, Delay, String & Damper Resonance
Insert Effects
4 simultaneous / Equalizer, Compressor, Limiter, Enhancer, Early Reflection, Phaser, Chorus, Flanger, Tremolo, Auto Pan, Rotary, Drive Rotary, LFO Wah, Auto Wah, Distortion (w/ Amp Simulator), Pitch Shifter, Multi Chorus, Ring Mod, Delay, Piano effect
Master Effects
4 Band EQ & Compressor
MIDI
Independent USB & MIDI I/O
Audio Terminals
1/4″ L&R Input & Output, 1/8″ Audio Input
Dimension
52.05 x 11.26 x 5.31 (inch)
Weight
24.47 lbs (W/O Battery)
Go here for more information and CODE to unlock more sounds: http://synthuniverse.com/dubstep-maker/
Go here to listen to app: http://www.youtube.com/watch?v=r4OSDd…
Dubstep Maker is an iPad app for making dubstep music. It features 38 assignable PADS,
a 8 note keyboard and a synth wobble modulator. There are over 100 drum loops, synth loops, vocal samples and fx sounds.
Dubstep Maker is an iPad app for creating dubstep music. It features 38 assignable PADS, a 8 note keyboard and a synth wobble modulator. The wobble modulator is placed where you would normally find a mod or pitch wheel. Next to that you have a selection of 6 synth sounds to modulate and create wobble sounds.

There are over 100 drum loops, synth loops, vocal samples and fx sounds. From a design point of view it's is simply laid out. Buttons are as big as a finger tip and spread out nicely.

The edit screens are where you assign different sounds to different pads.This is simply done by selecting a button to edit and pick your sound by touching the + button.

The only other functions available to change is the master volume, the tempo and the rate of the synth wobble using the sliders.

While there are lots of dubstep apps available none of them really stand out. WHOMP is perhaps the best and oldest of them but still not a stand out app one might expect. Dubstep Maker is an intriging app that it is well laid out (perhaps too simply? I'm not sure.) Its sounds are your standard dubstep sounds that doesn't set itself too far apart from the rest although there is a lot of variation.

The synth wobble section is probably where it will find its fans. Fair enough playing a wobble sample but to actually adjust
the wobble to suit is great. Maybe more sounds to play around with would not go amiss, or a dedicated page just to create wobbles would be nice.
DJ/Producer Funkagenda explains how to create from scratch that classic Dubstep bass sound using NI Massive synth.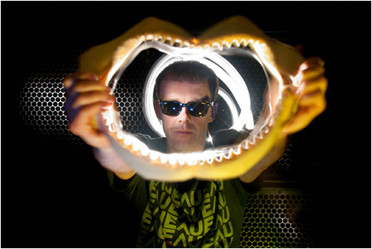 For the first time in 15 years, electronica pioneering act Leftfield is recording new material that will be heard for the first time when Leftfield will appear at The Playground Festival the 7th June at Brixton Academy. Says Neil Barnes: "A lot of people were bugging us to make a new album, so I thought, 'Sod it, yeah alright'. So that's what I've been doing the last two years. I'll probably play some new stuff in my set when I play Brixton."
Other bands playing at the festival are:
SQUAREPUSHER – LIVE / LEFTFIELD / GARY NUMAN- (Full band LIVE) / DIGITALISM- LIVE / [UNKLE]- James Lavelle / VITALIC – LIVE / BOOKA SHADE- LIVE / JAMES ZABIELA / THE ORB – LIVE / JUAN ATKINS + MODEL 500- LIVE / DERRICK MAY / KEVIN SAUNDERSON / KAVINSKY / CASSIUS / PANTHA DU PRINCE- LIVE / TOKIMONSTA / CRAIG RICHARDS / X-PRESS 2 / JOHN FOXX & THE MATHS / WOLFGANG FLUR [ex Kraftwerk] / NATHAN FAKE / LUKE VIBERT / LUKE SOLOMON / BODDIKA / DEADBOY / KRYSTAL KLEAR / NO ARTIFICIAL COLOURS / FANTASTIC MR. FOX / OM UNIT / WILDKATS / SEVERINO / DAN BEAUMONT / LUKE UNABOMBER / WHYT NOYZ / MOLO / THE NINETYS / DAKTYL / FLECHETTE / CHARLIE TRAPLIN / MAXX BAER / TEMPLA
In other words, a great line-up for the electronic music fans. Leftfield is a British electronic band which formed in 1989 in London, England and until recently consisted of Neil Barnes and Paul Daley (formerly of The Rivals, A Man Called Adam and the Brand New Heavies). Note that as of now Daley is no longer involved in the band and is instead focusing upon his solo career.
The duo were hugely influential in the evolution of electronic music in the 1990s and were notable for their use of guest vocalists in their electronic music. Among the more prominent were Toni Halliday, on "Original", Johnny Rotten on "Open Up", Djum Djum on "Afro-Left" and Earl 16 and Cheshire Cat on "Release the Pressure".
Via SL Mag
Synthesizer demo of the analog synthesizer Roland Juno-106 from 1984.
The Juno-106 is a very common and widely used analog polysynth. It continues to be one of the most popular analog synths due to its great sound and easy programmability. It was the next major incarnation of the Juno-series, following the Juno-60. While it has virtually the same synth engine as the Juno-60, the 106 added extensive MIDI control making it one of Roland's first MIDI-equipped synthesizers. There was also increased patch memory storage, up to 128 patches instead of the 56 patches available in the Juno-60. However, the Juno-60 is often said to have a slight sonic edge over the more advanced 106. The 60 had the ability to modulate oscillator pulse from its envelope and has a "punchier" sound quality.
The Juno-106 is a six-voice polyphonic and programable analog synth with one digitally controlled oscillator (DCO) per voice. While classic monophonic synths used two or three oscillators to create a fatter sound, the Juno-106 uses built-in Chorus to fatten up its sound to dramatic effect. The nature of its DCO meant it was stable and always in perfect tune but still warm and analog. There is an excellent 24dB/oct analog lowpass filter with plenty of resonance and self-oscillating possibilities and a non-resonant highpass filter. The programable pitch/mod bender can be assigned to control the DCO pitch, VCF cutoff, and LFO amount all at once or individually.
The Juno-106 was the first MIDI equipped Juno and its implementation is quite good. There are 16 MIDI channels available and MIDI SysEx data can be transmitted/received from all the sliders and buttons for total remote control and sequencing capability. A switch on the back of the keyboard, next to the MIDI ports allows the user to switch between three types of MIDI modes: Keyboard and Hold data only; Keyboard, Hold, Bender, Patch selection data; or All data (including SysEx). Most users simply set it to MIDI Function mode 3 and forget it.
This synth is incredibly straightforward and very powerful. It's SH-series derived panel layout is easy to understand and very hands-on. Use it to generate lush pads, filter sweeps, and funky bass lines and leads. The Juno-106 is an awesome learning tool for anyone new to analog synthesis, as well as an electronic musician's dream for its warm analog sounds coupled with modern features like MIDI and memory – all at a very reasonable price. And still the Juno-106 has an even cheaper alter-ego in the form of the HS-60 – a hobbyist version with built-in speakers.
Background video description:
In this movie I play some of my own sounds – on some sounds I used a small amount of digital delay from a Roland DEP-5 (my favourite unit for delays).
The Juno-106 is one of the most loved and used synthesizers by professionals and hobbyists alike! William Ørbit, Überzone, Norman Cook (Fatboy Slim), Autechre, BT, Vince Clarke, Moby, 808 State, Underworld, Leftfield, Fluke, Josh Wink, Todd Terry, Depeche Mode, Eat Static, Biosphere, The Prodigy, The Shamen, Bushflange, Cirrus, Astral Projection, Apollo 440, Faithless, Union Jack, Computer Controlled, Pet Shop Boys, Sneaker Pimps, Erasure, Freddy Fresh, Rabbit in the Moon, Kevin Saunderson, Jimmy Edgar, Laurent Garnier, Vangelis, Sigur Ros, and the Chemical Brothers have used this synth.
________________________________________
­_______
THE SOUND PROGRAMS IN THIS MOVIE:
Do you own a Roland Juno-106 and want to get those fantastic sounds for your synth?
The "ANALOGAUDIO1 JUNO-106 PATCH BANK" costs 12,99 Euros and includes 64 great patches – lush analog pads, great retro sounds, fat basses, sequencer sounds and funky leads (in one word: all you hear in the video and some more).
As an experienced synth player, programmer and composer I programmed these patches at a professional level for studio use. This patchbank gets the most out of your Roland Juno-106. Also included is a patch list (PDF), to find the right sounds quickly. The sounds are not available anywhere else.
The patchbank will only work with a Juno-106, but NOT with the Juno-60 or other synths.
After payment through PayPal you will get a sound file (wav) for the tape interface of your Juno-106 and a patchlist via email.
If you want to buy the "ANALOGAUDIO1 Juno-106 PATCHBANK", send me a message through YouTube (and check your spam folder, I answer quickly).
Crazy frequency modulations, random LFOs, oscillating filters…. A bit of tweaking in the beginning then I just let the battle rage on. Done on The Weird Synth 001, a DiY Yusynth/MFOS modular synthesizer. Enjoy the madness.