In this radio commentary, Bill discusses the theremin, and how it lead to one the music industry's most fundamental assets, the electronic synthesizer.
This was originally broadcast on December 26, 2000. Visit this link to view complete list of media attributions http://goo.gl/fmGESM.
Trying to emulate a Roland TB 303 with a Juno 106. It sounds pretty convincing (except the absence of slide and accent feature). The first part is clean and the second part is with overdrive (Danelectro Daddy-O).
Off course this is an emulation and with the absence of a decent sequencer, slide and accent feature it won't sound exactly like the real deal. Anyways it was fun trying.
Teenage Engineering PO-12 unveiling at Norbergfestivalen 2014.
The creators of OP-1 finally reveal the sound of their upcoming $50 drum machine. There is a slight delay in development, but they're confident that it'll be released in 2015.
Stay tuned for more details.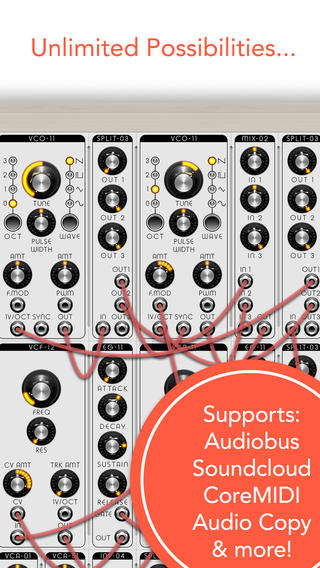 What's New in Version 1.05
This update requires iOS 7 for Audiobus 2.1 Compatibility

New Modules:

VCO-12
Analog Modeling Oscillator
Variable waveform which morphs from triangle, saw, square, and pulse
Analog circuit characteristics from minimal to extreme
Sweepable frequency modulation over the entire oscillator frequency range

VCO-13
Super Wave Oscillator
7 simultaneous oscillators which have been slightly detuned from each other to create a huge sound
Choose from Super Sine, Super Triangle, and Super Saw
Detune and mix controls
Sweepable frequency modulation over the entire oscillator frequency range

Improvements:

Audiobus 2.1 compatible

MIDI event handling vastly improved. Fast playing legato should work perfectly now.

Misc. bug fixes
The entire AIRA family has been updated with exciting and useful new features requested by users from around the globe. Easy to install and free for all users, this update includes enhancements to the whole line, such as backup and restore facilities, and better overall MIDI management. It also provides a wealth of product-specific enhancements, such as external MIDI pitch control for VT-3, tuning control for TB-3, and instrument gain control for TR-8.
Video description:
Product specialist David Ahlund came to show us the new features in the firmware updates for the TR-8 TB-3, VT-3 and System-1 synth. We also got a loot at the new SH-101 Plug-out.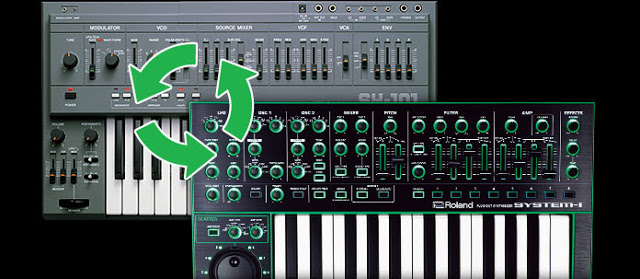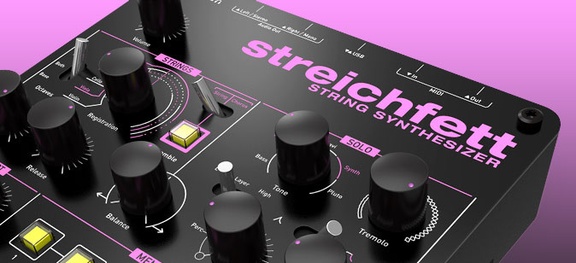 Waldorf has announced the release of Streichfett, a colourful string synthesizer desktop module.
Streichfett combines the best of the previously extinct species of String Synthesizers of the 70s and early 80s. Its dual sound engine features a fully polyphonic strings section and an eight voice solo section, which is essential for recreating how adult movies sounded thirty years ago.
The Ensemble Effect handles lubrication of the String Section, while the Effects section adds adjustable Phaser and Reverb. Additionally, the Animate Effect can be used to modulate the strings registration, allowing spectacular sound morphs.
Streichfett is available for purchase for SRP 279 EUR (including tax).
The music in this video was created through the movement of the dancers in front of a Kinect camera.This new interactive music experience is called Nagual Dance and will soon be available to public.
It works like that:
The Kinect tracks your movements and sends it in form of data to a computer. The software Nagual Dance translates this data into music. And this whole process happens in real time!
It works with one or two players.
Specific sound elements (instruments) are assigned to certain limbs of your body. What you play with it is totally up to you.
The music is created in Soundscapes (interactive music pieces), a new music format developed by Nagual Sounds. These Soundscapes exist in a variety of styles and offer you many options to create and vary musical elements.
This Soundscape is called Firedance.
The left player plays the drum elements.
He's got Percussions on his feet, Kick + Snare on his right hand and Hi-Hat + Shaker on his right hand.
The right player plays the melodies.
She's got chords on her right foot+percussive synths on her left foot, the bass on her right hand and a Pad + Leadon her left hand.
You can stream and download the track on our Soundcloud page:
https://soundcloud.com/nagualsounds/n…
Stay tuned:
https://www.facebook.com/Nagualsounds…
https://twitter.com/Nagualsounds
https://www.nagualsounds.com
New studio section turns VocaLive into a full-fledged DAW! More information at http://www.ikmultimedia.com/vocalive
VocaLive is now the digital audio workstation for singers and songwriters
What's new in VocaLive 2.0 -
• Studio section* (available via in-app purchase) offers DAW-style features: waveform visualization and editing, touch-and-drag looping, normalization, punch-in/punch-out recording, per-channel FX on/off button and full access to all mixing and recording controls
• AutoFreeze (allows each track to have its own full effects chain)
* requires iPhone 4, iPod touch (5th generation), iPad 2 or later
This is the music from the 1989 Robocop Ocean crack by DCS.
Played on an original Commodore 64 with 6581 SID Chip (R2-4883).
Modular Analog Synthesis for the iPad
Explore new sound spaces with Tera Synth that go beyond the emulation of synthesizer legends. Use the power of analog and digital synthesis combined with new modules for physical modelling. Wireless patching of modules combined with an intelligible modulation routing simplifies the development of new synthesizer designs from scratch.
Tera Synth supports Audiobus and Inter-App-Audio for integration with other Music Apps.
Available soon in the App Store !