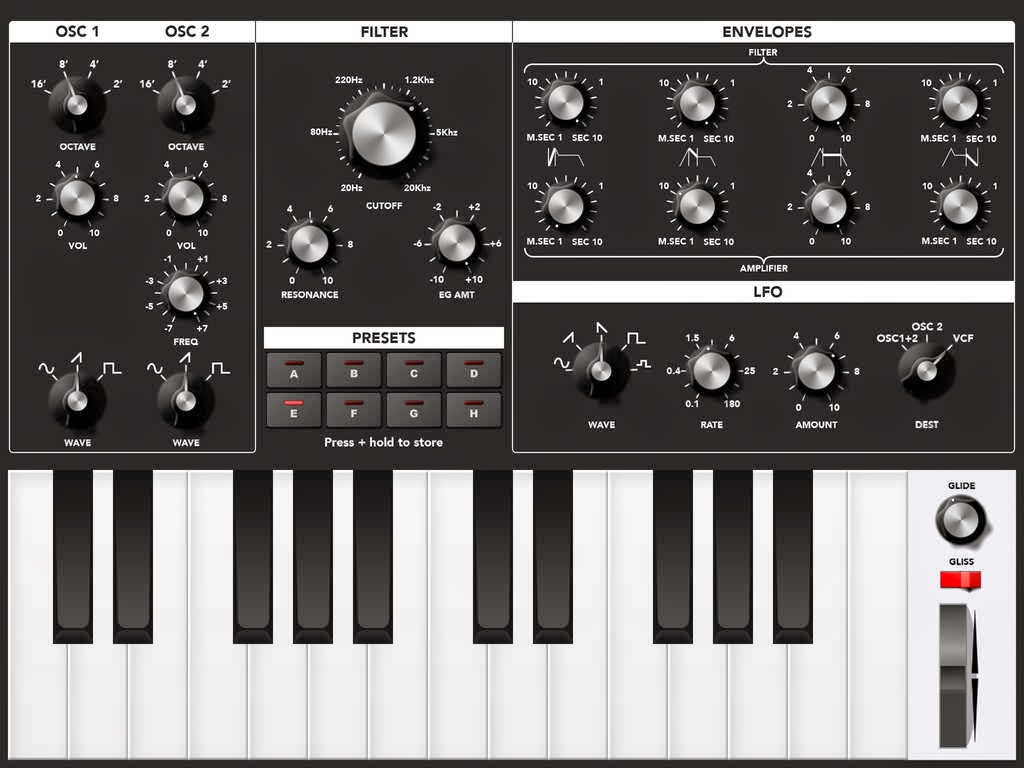 LF1 Monosynth is a new mono synth for your iPad. Here are the details …
Experience and create the classic vintage synth sounds with the LF1 Monosynth.
The LF1 Monosynth is a fully featured analogue–modelling synthesiser, featuring:
2x classic–sounding analogue style oscillators with sin, sawtooth and square waveforms and a four octave range. The frequency of the second oscillator can be adjusted by ±7 semitones.
Analogue–modelled resonant filter with invertible envelope.
Amplitude envelope.
LFO with 5 selectable sources (including Sample + Hold), assignable to pitch or filter.
Glide & Glissando controls.
Pitchbend Wheel.
8 user–preset locations.
Slick, retro-styled UI.
The LF1 is ideal for lovers of classic synths, or indeed for beginners looking to get a taste of analogue synthesis. This app is packed with vintage mojo and ready to go.

LF1 costs $2.99 on the app store:
MiMiX is a mixer app for Audiobus. With MiMiX You can take total control of mixing of Your favourite Audiobus enabled apps' outputs in the most convenient way. Just insert MiMiX into the Output Slot of Audiobus, even into multiple chains to mix the sound of the connected input or effect apps. You can even insert MiMIX into the input slot to send the mix to an other app, like a DAV to record the mix. Coming soon to the App Store! Check details at http://ttrgames.hu/mimix/
Vostok Deluxe by Analogue Solutions – teaser 1. High end analogue synth with pin matrix
www.analoguesolutions.com
From October 20th to December 31st, get the MiniBrute SE at a very special price!!!
More info:
http://www.arturia.com/products/hardw…
A sound demo video of the PPG WaveMapper For Mac & PC. The new synth will be shipping late October and don't miss out on our very special deal.
KORG PROPHECY Synth Demo, Part 2 of a 2 Part video series on my favorite patches, and a 'walkthrough.' of programming changes. Be sure to watch for a Part 2 of a deeper video series on programming soon to follow.
————————————————————
I will provide a download link, upon request, to the Korg Prophecy Parameter Guide & The MOSS-TRI User's Guide, which is the manual for the Prophecy board for the Korg Trinity "Plus"…not the V3 Z1 MOSS-TRI Board (they are different synths):
The KORG PROPHECY was among the first "Virtual Analog" synthesizers from the mid to late 90s, and is one of my favorite synths due to it's truly extensive architecture. It remains one of the more complex and unique sounding "Physical Modeling" Synthesizers ever made.
Mitch Gallagher presents the Arturia iProphet synth app, based on the classic Prophet VS synthesizer. Enjoy the demo, then click the link above for more on this and other music-related apps!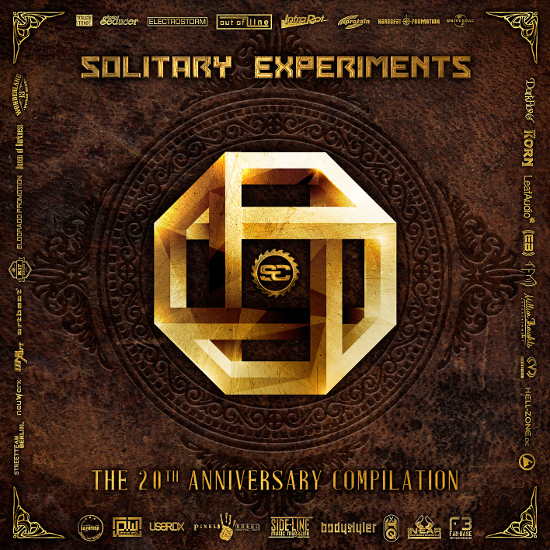 Special occasions are best celebrated among friends, which is why Solitary Experiments have asked a number of friends to put their own spin to the biggest hits from the latest outing "PHENOMENA." "The 20th Anniversary Compilation" does not online contain the resulting remix work, but also the three best mixes to come out of the remix battle that the Berliners had initiated via Facebook. Also included is a smashing cover version of the Bronski-Beat-classic, which the band has treated to the trademark "Solitary-sound" with loving care. The original tune was a massive influence on the group and pretty much the initial spark for trying to put together a music project. With a total playing time of 80 minutes, this release utilizes the maximum capacity of a standard Compact Disc and delivers almost one and a half hours of smashing, club-compatible remixes of some of the most popular Solitary-Experiments-tunes. Those that will be attending the event in Berlin and are there early enough might be in luck to receive a giveaway copy of this release at the door… for all the rest, "The 20th Anniversary Compilation" is released as a Digital Download at a special bargain price and as a strictly limited pressing on CD.
Track List:
1. Smalltown Boy (30th Anniversary Tribute)
2. Beg Your Pardon (SoliT.O.Y.ry Mix)
3. Now Or Never (NamNamBulu Remix)
4. No Salvation (Torul Remix)
5. Steering Wheel (The Saint Paul Remix)
6. Stars (Patenbrigade Wolff Remix)
7. Epiphany (BeyOnd the Sugarcake Remix)
8. Game Over (Nobody Is Perfect Remix by Final Illusion)
9. No Salvation (Modcube Remix)
10. Epiphany (Attacke Remix)
11. Steering Wheel (MRDTC Version)
12. Game Over (Nin-Tendo-Mix by Eisfabrik)
13. No Salvation (ES23 Remix)
14. Epiphany (Hypervisor Remix)
15. Stars (DJ Thommy's Stardust Mix)
"Off The Rails" is the newest single from Billie Ray Martin featuring Hercules and Love Affair singer Aerea Negrot. The single is available in all digital stores worldwide since Sunday and via Bandcamp.
Included on the 11-track single are remixes by Napoleon, Aerea Negrot and Ray Grant. The track was produced and co-written by Waterson.