We get a look at the new Roland AIRA Eurorack module, with AIRA specialist David Ahlund
https://nonorder.wordpress.com/
Monolite Poly K is the ultimate evolution of the Monolite synth family for NI Reaktor 5.9.2 and later.
A perfect companion for experimental, noise, ambient and fx sound designers thanks to its extensive sonic capabilities.
Features:
– Monophonic/Polyphonic/Drone Play Mode for extreme flexibilty
– 4 dependent Oscillators, 2 Post Oscillators Clipping mode plus a Tone Cut Filter to create unique timbres
– Pre-Filter Grainer unit for granular processing
– Pre-Filter Fx unit with 17 different effects with automizable X-Y pad controller
– 4 Filter Mode (LP 4, HP 2, BP 2, LP 3 + Notch) with Envelope Amount and Keyboard tracking
– 2 Clockable LFOs with different waveforms (Sine, Tri, Pulse, Random, Random Hold)
– 4 Modulation Slots to allows a wide range of sonic sculpting
– 2 ADSR Envelope (Amp Envelope and Env 2) with Velocity and Glide function
– Crush Effect
– High Quality Reverb and Delay with two routing options
– Master Equalizer
Vintage synthesizer demo track featuring the Roland SH-101 Analog Synthesizer (1983)
Some famous classic 80s synth sequences. No external FX used.
Quick cover of classic song of Soft Cell, made for celebrate the birth of the new group "Synth and Groovebox cover versions" on Facebook


https://www.facebook.com/groups/14221…
Gears:
Korg MicroKORG
Korg Volca Bass
Korg Volca Beats
Korg Kaossilator2
Akai Miniak
Boss RC-505
Effetcs:
Preset reverb from the Xenyx X1622USB mixer
Resonate FX by Korg Kaossilator2
Mixers:
Behringer Xenyx X1622USB
Behringer Q802USB
Behringer Micromix MX400
Audio interface
Behringer U-Control UCA222
No VSTs, no PC, no DAW involved. Only hardware instruments.
No overdubbing. All played live
The addition of a VCF and VCA section and four wave shapes to choose makes the JEN SX-2000 much more versatile than other preset synths like the ARP Pro-Soloist, Roland SH-1000/2000, Yamaha SY-1/2 or Korg Micro-Preset M500. This is just a fun little synthesizer.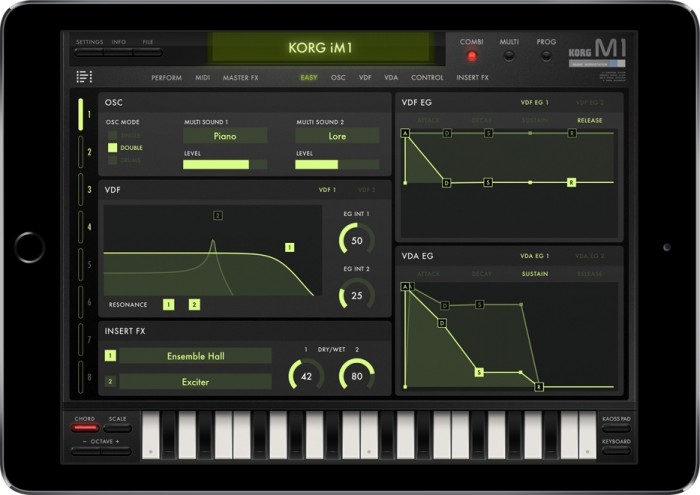 Korg has announced the release of iM1, a digital synthesizer workstation for iPad.
Since it went on sale in 1988 the legendary M1 music workstation rapidly achieved record-breaking sales, becoming a mainstay of the music scene from the late 1980s and beyond. The appearance of the M1 helped musicians deliver professional-quality songs using just a single piece of equipment.

The design goal of the M1 was to deliver sound that would satisfy professional needs in two areas: performance and music production. This goal became the new direction for the PCM synthesizers and desktop music sound modules that subsequently appeared, and has been carried on to the present day with KORG's flagship model the KRONOS.

High-capacity sampling and the increase in computer speed have enormously improved overall sound quality from a computer, but generating sound that delivers a real sense of presence demands technology and ideas beyond those that merely improve sound quality. The common element of electronic instruments that have left their name in history is that they had a unique sound that was difficult if not impossible to replicate. Sounds such as the "M1 Piano" and "M1 Organ" are instantly recognizable and have appeared on countless hit records over many years, and yet these are sounds that could only be produced by the M1. And that's what you can now have on your iPad!
iM1 features
Advanced Integrated System with 8 parts.
3,300 sounds (incl. all expansion sound cards) and 34 effect types.
MIDI program change, Virtual MIDI and Bluetooth MIDI.
Virtual keyboard and performance via external MIDI keyboard.
KAOSSILATOR-style "Touch Scale".
Gadget-style "Smart Keyboard".
Usable as a Darwin gadget within the Gadget app (Programs only).
Compatible with KORG Legacy Collection M1 format (.m1all file type).
Inter-App Audio, Audiobus 2 support, Core MIDI.
iM1 for iPad is available for purchase for the introductory price of $19.99 until June 30th, 2015 (regular $29.99 USD). The M1 Cards Pack and T1 Cards Pack are available as in-app purchases of $4.99 USD each.
Official music video for "All About" from Train to Spain.
http://www.traintospain.se
Director: Daniel Roos
Production: Studio Motljus
http://www.motljus.nu
This video is an example of how to chain effects in the FX Manager, sequencing the DSI Mopho x4.
Each track can handle up to four chained up effects. As all effects are real-time processed, the recorded events will not be affected but the sound will change on the fly. In this video only one track is used, in LIVE mode exclusively (CHORD sub-mode). Its effect section contains two arpeggiators, one humanizer and one randomizer.
0:10 keypad used to play simple notes, an external keyboard controler could be used instead of the integrated pads
0:14 octave is set down to access lower notes
0:15 use of the smartpads in chord mode
0:21 tonality changed from Cmaj to Cmin and back to Cmaj
…
0:34 first arpeggiator added
0:38 octave set to -1
0:59 exit from the first arpeggiator with the following settings:
style = up/down
gate = 200%
rate = 1/1 (slow)
octave = -2
…
1:03 harmonizer added and set with +5 and -4 to create chords from the first arpeggiator outputed notes.
…
1:24 second arpeggiator added, playing around and finally setting a very high rate
…
2:54 second arpeggiator style set to "random"
3:05 second arpeggiator is bypassed
…
3:11 randomizer added, with param set to "velocity"
More information on :
http://squarp.net/overview.html#Quick… "Effect Manager"
http://squarp.net/overview.html#LIVE_… "Chord smartpads"
In this short video we introduce SynthMaster Player for iPad.
SynthMaster Player for iPad is the mobile player version the award winning SynthMaster software synthesizer.
It is targeted towards users who prefer to use presets rather than designing their own sounds during music production. Although it is a preset based player, users can edit the following preset parameters:
1) 8 easy parameters assigned by the sound designer
2) 2 XY Pads assigned by the sound designer
3) Effect bypass states and send amounts
4) Layer bypass states and volumes
5) Master volume, polyphony
The free app comes with 100 factory presets. When users complete registration by entering their names and email addresses they receive another 100 factory presets as a bonus!
After completing registration, users can upgrade to the Pro version of the app by purchasing the "Factory Presets" bank via In-App-Purchase (IAP). With the Pro Upgrade all of the 800 factory presets are loaded and also the following features are unlocked:
1. Users can save the changes they have made to the presets.
2. Users can purchase additional preset banks via In-App-Purchase (IAP). We currently have 28 additional preset banks that contain 1750 presets for various genres/styles.
3. Existing SynthMaster users can download their previously purchased SynthMaster preset banks inside the app, so that they don't have to purchase them again.
4. Existing SynthMaster users can export their own presets in SynthMaster v2.7 and import them into SynthMaster Player for iPad using iTunes.
BUILT-IN KEYBOARD
The built-in 2 octave keyboard with pitch and modulation wheels lets users play notes without having to connect an external MIDI controller to their iPad. With its Scale functionality, it shows the users the notes on the scale, and with its Chord functionality the user can play a certain chord by pressing a single note.
MIDI SETTINGS
SynthMaster Player for iPad supports CoreMIDI and also virtual MIDI. It acts as a virtual MIDI destination for other DAW apps. Midi input device, midi input channel, and receive midi beat clock settings can be adjusted from the MIDI Settings window.
INTERAPP AUDIO
SynthMaster Player for iPad acts as an source/instrument in InterApp Audio. We demonstrate in our user manual how to connect it to InterApp enabled DAW apps.
AUDIOBUS
SynthMaster Player for iPad acts as a source/instrument in AudioBus, with state saving enabled. We demonstrate in our user manual how to connect it to AudioBus enabled DAW apps.
SYSTEM REQUIREMENTS
Minimum Operating System Supported: iOS 7.0
Minimum Hardware Supported: iPad 3rd Generation
Recommended Hardware: iPad Air and above