Download SoundPrism Electro here: http://soundprism.com/electro/download
Audanika has introduced SoundPrism Electro – a new iPad musical instrument, based on their SoundPrism Pro instrument and MIDI controller. 
Features:
New sound engine with rock-solid polyphony and great-sounding effects. SoundPrism Electro's new sounds are hand-crafted by Swiss sound designer Oliver Imseng to work beautifully with each other.
Innovative and improved chord input system: effortlessly play inversions and chord progressions while focusing on your track, not on the music theory behind it.
A ribbon controller for live manipulation of the built-in effects.
New interactive tutorial system: SoundPrism Electro walks you through its interface and teaches you how to play.
Supports Audiobus including state saving.
Supports Core MIDI
All audio and video content c.2014 G-Storm Electro
All original patches. Mostly bass, arpeggio and some sound FX stuff. The only sound is the Sub37 and sometimes the Volca Beats (off camera) mixed on an Alesis Multimix8. No effects added to the synth recording.
"Go (Blank Sea)" is taken from Zola Jesus' new album, TAIGA, which is out now. The video was recorded live at Webster Hall in New York City on October 19th, 2014.
Director: Mark Zemel (little-tv.com)
Editor: Jorge Duran
Camera: Nathan Lynch & Mark Zemel
Sound Engineer and Mix: Jeff Curtin
2014 & 2015 TOUR DATES (zolajesus.com/tour.html)
Nov 11th / Berghain / Berlin, DE
Nov 12th / Uebel & Gefährlich / Hamburg, DE
Nov 13th / Zoom / Frankfurt, DE
Nov 14th / Botanique/Orangerie / Brussels, BE
Nov 15th / Melkweg / Amsterdam, NL
Nov 18th / Koko / London, UK
Jan 8th / Neptune / Seattle, WA
Jan 9th / Mississippi / Portland, OR
Jan 10th / VENUE/ Vancouver, BC
Jan 12th / Urban Lounge / Salt Lake City, UT
Jan 13th / Bluebird Theater / Denver, CO
Jan 14th / The Granada Theatre / Lawrence, KS
Jan 15th / Cedar Cultural Center / Minneapolis, MN
Jan 16th / Tomorrow Never Knows Festival / Chicago, IL
Jan 17th / The Ready Room / St. Louis, MO
Jan 19th / The Loving Touch / Ferndale, MI
Jan 20th / Skully's / Columbus, OH
Jan 22nd / The Drake / Toronto, ON
Jan 23rd / Phi Centre / Montreal, QC
Jan 24th / Fete Ballroom / Providence, RI
Jan 27th / Union Transfer / Philadelphia, PA
Jan 28th / Ottobar / Baltimore, MD
Jan 29th / Black Cat / Washington, D.C.
Jan 30th / Motorco Music Hall / Durham, NC
Jan 31st / Terminal West / Atlanta, GA
Feb 2nd / Fitzgerald's / Houston, TX
Feb 3rd / The Mohawk / Austin, TX
Feb 4th / The Loft / Dallas, TX
Feb 6th / The Crescent Ballroom / Phoenix, AZ
BUY TAIGA HERE:
Digital- found.ee/taigadigital
CD- found.ee/taigacd
LP- found.ee/taigalp
Marbled LP- found.ee/TaigaMarbled
Website: zolajesus.com/
Twitter: twitter.com/ZOLAJESUS
Facebook:facebook.com/zolajesusofficial
Soundcloud: soundcloud.com/zolajesus
Instagram: instagram.com/zolajesus
Tumblr: zolajesus.tumblr.com/
Youtube: youtube.com/user/ZolaJesus
Spotify: open.spotify.com/artist/78OKNrjc3BvniYTqvpOp6P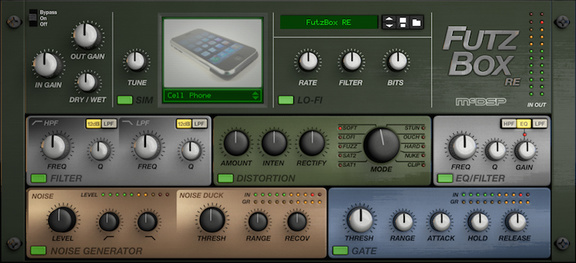 McDSP has announced it has released the FutzBox Rack Extension for Propellerhead Reason.
McDSP introduces one of the most popular music and post production tools for adding grit, distortion, and character to your audio for the Reason audio production platform!

The FutzBox Rack Extension plug-in is a collection of filtering, distortion, noise generation, and lo-fi effects, coupled with the ability to harness the sound from over 160 devices including walkie-talkies, telephones, radios, and more!
The FutzBox for Reason is available for purchase for $79 USD / 65 EUR through the Propellerhead Shop.
Hear how FutzBox RE by McDSP can inspire your creativity with distortion, filtering, bit crushing, gating, over 160 SIMs (Synthetic Impulse Models) and more!
This is a preview, more info soon at http://www.amazingnoises.com
The Amazing Noises Reverb is a Feedback Delay Network (FDN) Reverb Effect, which can create nice reverberated ambiences, from small rooms to huge buildings. It can also simulate alien and unreal spaces, for your experimental fun!
Demo of Spectral Manipulation, Cross Synthesis, phase-sync transformation audio app for iPad
Cross-synthesis, phase-sync high-quality transformations.
Pricing and availability details are to come, but they say it is 'coming soon'.
Eiosis has released AirEQ, a plugin for AAX32 & AAX64, VST3, VST2, AU, RTAS, OSX and Windows, 32 and 64 bits formats.
http://www.eiosis.com/aireq.html
AirEQ was designed with a vision of achieving musical, technical and sonic excellence.
Simple, intuitive and quick to use, AirEQ always sounds great : it is the best equalizer plugin for efficient every day mixing, mastering and post production equalization.
The Water and Fire curves as well as the Character and Strength parameters were adjusted by ear, so mixing engineers can focus on one thing – making music sound great.
Arturia Minibrute – arpeggio and improvised melody
Volca Keys – pads and bass
A simple arp made from a sequence on the Minibrute, then random notes from a chord played by hand over the top. Pad sections were made with the Volca Keys in polyphonic mode, using a midi keyboard to play it.
More Minibrute SE here: https://www.youtube.com/watch?v=1Sxa6…
Gearing up for the holiday seasons