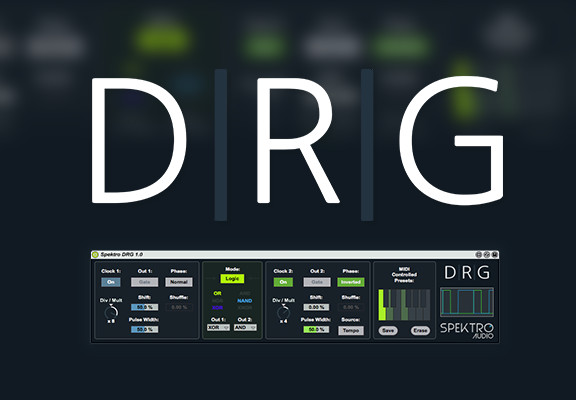 Spektro Audio has released DRG – Dual Rhythm Generator, a Max for Live device capable of generating clocks and rhythms that can be used with analog synthesizers and drum machines via control voltage.
By using a combination of two clock generators and an optional boolean logic operator, DRG can generate anything from simple clock divisions to complex rhythms.
DRG is great for clocking analog sequencers, triggering envelopes, sequencing drum modules and etc.
DRG can be used in different situations. The workflow was thought out to work great both in the studio and in live concerts. Everything on the front panel, from the simple layout to the LEDs colors, was design to give you instant feedback of whats going on. Features such as the MIDI Controlled Presets let's you add variation to your track and change the settings using either MIDI clips or any MIDI controller.
DRG requires an audio interface with DC-Coupled outputs or an Expert Sleepers ES-3 / ES-4 / ES-40 module.
DRG is available for purchase for $9.99 USD.
Use a sequencer to create polyrhythms and pitch divisions.
Though this is illustrated on a Serge the concepts apply to many modular synthesizers. Let me know how you apply this on your modular synthesizer.
To see the modules used in this patch in detail see the Mystery Serge at http://www.serge.synth.net/gallery/dl….
Doug's website is http://www.neatnetnoise.com.
Interact with Doug:
http://www.youtube.com/channel/UC1LRX…
https://soundcloud.com/doug-4
https://www.facebook.com/doug.lynner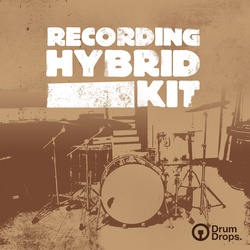 Ableton has introduced the Recording Hybrid Kit, a free multi-sampled, multi-velocity Yamaha drumset by Drumdrops.
The drums that comprise Recording Hybrid Kit were specially selected from several different Yamaha drumsets in order to provide a well-balanced and versatile Drum Racks. The individual drum voices were sampled at multiple velocities and are available in up to 16 steps for each articulation.

Recording Hybrid Kit works well at various tuning pitches, and its big size and its classic Ludwig 402 snare sound makes it especially suitable for rock and pop.
The kit is a free download at Ableton.

Moogfest 2014, a five-day festival 'dedicated to the synthesis of technology, art, science and music', kicks off this Wed, April 23rd, in Asheville, NC. The electronic music festival will feature a full schedule of daytime programs, evening concerts and more. Featured performers and panelists are a who's who of electronic music, including: Kraftwerk, Giorgio Moroder, Keith Emerson, Nile Rodgers, Mark Farina, Sasha, Janelle Monae, Dorit Chrysler, Forest M. Mims, David Borden, Tom Oberheim, Joseph Paradiso, Daedulus, Roger Linn, Dave Smith, Don Buchla and many more.
Nightime concerts - Moogfest will offer five evenings of musical performances by electronic music artists of all types, including: electronic music pioneers Kraftwerk's 3D show; Pet Shop Boys; M.I.A.; super producer Nile Rodgers with his band CHIC; Giorgio Moroder; Keith Emerson; a rare performance by UK's Darkstar; Moderat; Mad Decent's Dillon Francis and Riff Raff; Zed's Dead; El-P; and Factory Floor; and over 70 more artists spanning the 5 day festival.
Daytime events - Daytime at Moogfest will offer a five-day conference with thought leaders and pioneers of music and technology, including Simpsons and Futurama's David X. Cohen; Janelle Monae; improvised performances by Yeah Yeah Yeah's Nick Zinner, Bradford Cox, and Dan Deacon; and Google's brightest minds exploring the future of audio; plus conversations with interdisciplinary research laboratory MIT Media Labs; MAKE Magazine's Mark Fraunfelder; OMNI Reboot, a magazine at the intersection of science, technology, art, culture, design, and metaphysics; videogame arts and culture publication Kill Screen; and more presenting one of a kind programming exclusive to Moogfest.
The Modular Marketplace will showcase the latest and greatest from a lineup of innovative instrument makers, including boutique electronics, experimental effects and modern modular synthesizers. The Modular Marketplace will host daily demonstrations, workshops and sound experiments, as well as a free week-long clinic on electronic music production. Programming includes presentations by The Pioneers of Electronic Music Instruments: Roger Linn, Tom Oberheim, Don Buchla, David Borden, and Dave Smith.
Details and ticket information are available at the Moogfest site.
Joy Division cover, live in studio.
DSI Tempest
Moog Little Phatty
Korg Volca Keys
MS20 Mini
Gforce Virtual String Machine
The Flux Link is an expressive performance control in iMPC Pro that lets you glitch and drop the beat of your Sequences.
iMPC Pro Log showcases the latest features from the freshest development build of iMPC Pro, the upcoming beat production iPad app from Akai Professional and Retronyms. A new video drops every week until we launch!
[Note: iMPC Pro is currently in development. All features are subject to change]
Follow Retronyms
http://www.facebook.com/retronyms
http://twitter.com/retronyms
Join the conversation with Akai Professional!http://www.facebook.com/akaipro
http://www.twitter.com/akai_pro
Here is a brief exploration of the Mutable Instruments Yarns as an arpeggiator in (monophonic) "1M" mode. The Yarns MIDI to CV is connected to the Cwejman D-LFO which is being run through the Cwejman QMMF-4 and SPH-2. The GATE output of Yarns is connected to the 'TRIG' in of the Tides module. The Yarns modulation CV is connected to the Tides FM input so that pressing keys down produces legato notes while decreasing pressure on a key allows for staccato notes. The beginning of the video demonstrates how holding the 'START/STOP' button while playing a MIDI sequence latches on the arpeggiator, which means staccato notes freely run as hands remain off of the keyboard, and legato notes run while pressure is applied to a key. From here we experiment with various arpeggiation ranges, directions and patterns.
Background video description:
It's alive! This is an experimental drone/noise patch I was messing with on the Prophet '08. LFOs modulating LFOs modulating LFOs for some self-perpetuating insanity. Music for asylums. The sun was setting so I just left it run for a while. Please subscribe, and feel free to post below with any questions or comments!
—Instruments—
DSI Prophet 08
—Effects—
Alesis MIDIVERB II
Alesis Quadraverb
—Other—
Mackie 1604-VLZ3
RME Babyface
Ableton Live, Audacity
A short video of The Ealing Feeder in action. This is a gigging instrument and gets a lot of use – hence the odd repairs with electrical tape. Instrument designed, built and programmed by Sarah Angliss.
The Sequential Circuits Prophet VS digital/analog hybrid synthesizer from 1986. This track is only using Prophet VS sounds. www.firechild.se