Here is an introduction to an exploration of the Dave Smith Instruments Pro 2 Sequencer.
Available for iPad & iPhone: https://itunes.apple.com/us/app/histo…
Historic Harpsichords – Ruckers 1628 is a superbly-sampled recreation of one of the greatest and most valuable harpsichords of all time!
Flemish instrument-building family Ruckers need little in the way of introduction to those in the know; suffice to say, their highly-valued (and valuable) historic harpsichords are akin to Stradivarius violins built by the Stradivari family.
You could even say that the harpsichord was the 'synthesizer' of its time, without which influential early musical stylings such as baroque and renaissance would never have emerged.
New video from Mark Mosher exploring the Nord Lead 4
A video from my archives. I made this in January of 2014 when I was only 5 hours in with Nord Lead 4. This video shows off the first three single-slot custom presets I created (the Nord Lead 4 can is really 4 independent synths). Some pretty cool stereo imaging about half-way in so use headphones. I'm getting huge timbre and rhythm texture shifts by morphing a whole lot of parms (arp speed, delay time, filter, distortion…) with the mod wheel and morph buttons.
The Nord Lead 4 went on to be my primary controller and synth for studio and live work at festivals throughout 2014.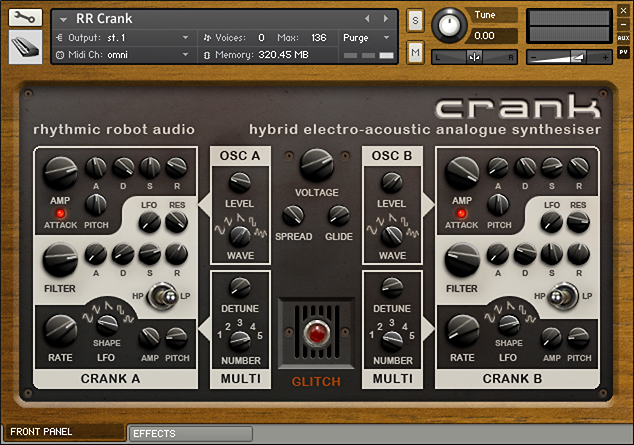 Rhythmic Robot Audio has released Crank, a hybrid synthesiser for Kontakt melding acoustic and electronic sources in a 4-oscillator architecture.
Crank takes over six hundred samples of an Eastern European stringed hurdy-gurdy – and places them at the heart of a four-oscillator analogue synthesiser framework ideally suited to the creation of strange, eerie, evolving patches.
The acoustic hurdy-gurdy produces its sounds by rubbing a rosined wooden wheel over a series of violin-style strings: the sound is half violin, half hand-cranked barrel organ and can be both plaintive and raw-sounding. Rhythmic Robot has sampled a hurdy-gurdy extensively to create the basic tones for Crank, and named the instrument after the handle that the player cranks round to make the hurdy-gurdy play.
The twin Crank oscillators are independently controllable, with dual filters, envelopes, pitch control, LFOs and so on; they also run in tandem with twin Analogue Oscillators, adding some classic analogue waves to the tonal palette. The characteristic attack "squeal" of the acoustic hurdy-gurdy can be turned on or off individually, and the sound sources mixed and blended to create haunting and evocative instruments that sound "almost real."
Features:
Twin Crank oscillators drawn from extensive samples of the hurdy-gurdy.
Twin Analogue oscillators sampled from the Roland SH7 flagship analogue synth.
Twin flavours of noise: classic white noise, plus vinyl-style crackle.
Extensive LFO modulation of pitch, amplitude and filter cutoff, independently for both Cranks.
The Rhythmic Robot GLITCH button to randomise the instrument in musically inspiring ways.
Price: £24.95 – Crank is available now from Rhythmic Robot, at an introductory special-offer price of £19.95. Requires Kontakt v.4.2.3 or later to run (including all versions of Kontakt 5). Kontakt Player is not supported.
All sounds from the Serge Modular, clock & trigs sent from DIY Drum machine.
coa-modular.com
Background video description:
Sharing the satisfaction of assembling my very own synthesizer; the reissue of the 1978 Korg classic monosynth! At the end is a brief audio demo including modular sequencing of the MS-20.
New preset collection of 26 presets for IOS Synth Laplace
Available for donation
2 USD = Preset collection
3 USD + = Preset Collection + FB-01 Sample Library with Kontakt 5 Mapped and other samplers also (46 instruments) (6.99 Pounds)
Payment here http://www.patreon.com/synthanatomy and than sending a confirmation to synthanatomynews@gmail.com
In this episode of Groove TV the Berlin-based sound artist Derek Holzer gives an introduction to the subculture of circuit bending and do-it-yourself electronics. Without any formal training in either music or electronics, Holzer decided to try his hand at building his own instruments and subsequently developed the design for his "SoundBoxes".
Link: http://macumbista.net/ (Derek Holzer)
Filmed, edited and directed by: Maren Sextro
http://marensextro.com/
First broadcast on groove.de in May 2012
http://bit.ly/YOwCNB
Visit our website: http://www.groove.de
Like us on Facebook: http://on.fb.me/15TcIX0
Sunday morning inspiration by long time John Foxx colleague Louis Gordon
more info:
http://www.ableton.com/en/packs/time-…
Ableton has released Time and Timbre, a Max for Live percussion instrument and 'time engine' that they say is the result of three years of development by the duo Skinnerbox.
The pack consists of five individual drum synthesis modules (Timbre) and a polymetric sequencer (Time), as well as a built-in mastering plug-in (Master Blaster).
About Time & Timbre
The first of Time & Timbre's sections is a six­ voice polyrhythmic and polymetric sequencer called – you guessed it – 'Time'.
Taking the drum sequencer concept a few steps further, Time not only lets you make and chain together patterns, add accents and rolls to individual steps, but also define sequence length and beat divisions freely and independently for each of its six channels.
Another unique feature of Time is the ability to apply swing to any notes in a pattern (not just 4ths, 8ths, 16ths), thus providing highly unusual and interesting varieties of 'feel' for your rhythms. Time also includes four internal LFOs that can modulate anything within the device (or even any parameter in Live) and can be synced to follow the swing.
The second section, Timbre, consists of five drum synthesis modules capable of producing a broad spectrum of sounds. Timbre gives you direct control over key parameters of each drum voice including envelope, tonality and noise (a fundamental element of percussive synthesis). All this allows you to craft a broad range of drum sounds that can be as classic or as unconventional as you like.
Going even further, each drum voice can be randomized and have its parameters modulated by internal LFO, letting you infuse your patterns with any degree of subtle sound variation or controlled chaos.
Time & Timbre comes with a set of tools that present an alternative to preset browsing. For instance, the panel labelled Morph Master Mike lets you save two sound snapshots and morph between them
Push Integration
Time & Timbre is also integrated with Push, letting you take its= creative potential into the hands-­on realm of hardware.
Note: This pack requires Max version 6.1.9 and Live version 9.1.6.
Pricing and Availability
Time and Timbre is available now. It normally retails for US $69, but is currently 20% off during Ableton's Holiday Sale, for $55.