Mitch Gallagher sits down with synth pioneer Dave Smith here at Sweetwater Sound. Dave was visiting Sweetwater for GearFest '15, featuring a special panel discussion between Dave Smith, Roger Linn, and Tom Oberheim.
Legendary synth designer and Grammy-winner Dave Smith was the founder of Sequential Circuits in the mid-'70s. His Prophet-5, the world's first fully programmable polyphonic synth, was the first musical instrument with an embedded microprocessor. Dave is also known as the driving force behind the development of the MIDI specification. He has continued to innovate, and recently unveiled his latest synth creation, the Sequential Prophet-6.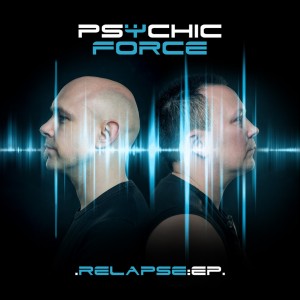 The Belgian label Alfa Matrix have announced the comeback of the old-school electro act The Psychic Force. The German duo, Michelle Christiansen and Jörg Charnowski, earned a solid reputation in the early nineties in the dark elektro scene with their debut "Body Language" (1990) followed by "Mutilation" (1992), "Gehirnwäsche / Live" (1993) and "Traces" (1994). The single marks the band's 25th anniversary and also breaks the 20 year silence the band imposed on their fans.
On this new "Relapse" EP, you can expect a mixture of icy EBM, harsh electro and catchy synth melodies. Besides two brand new songs "No Secrets Allowed" and "The Fog", The Psychic Force also serve you a revamped 2015 version of their good old classic club hit "Still Walking" next to a string of remixes by bands such as Serpents, PNE, etc..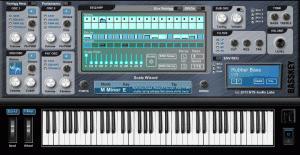 NTS Audio Labs has announced the release of Basskey, a new VST instrument and standalone application for Windows. It costs 19€.
Basskey is a virtual analogue bass synthesizer with antialiased oscillators and "huge ultraplucked non linear envelopes, specially suited to produce rich and hardly plucked basses". It features a selectable swing, a sequencer/arpeggiator, a TB-303 style sequencer and a gate sequencer.
It has an in-built MIDI filter to keep scales and keys on melody and play chords in any scale or key.
Feature highlights:
5 Oscillators in Total.
2 Antialiased Oscillators with Saw, Square, PWM Square and Triangle waveforms.
2 Antialiased Fat Oscillators with highly detunable Saw, Square and Triangle waveforms.
1 Bonus Waveform Oscillator to load any WAV sample.
Amp, Filter and Pitch Envelopes (non linear).
Amp, Filter and Pitch LFOs (Vibro).
Filter Effect (LP, HP, BP, PK).
Tone Equalizator.
Delay Effect.
Customized Pitch Bend.
Assignable Mood Wheel.
Swing.
Portamento.
Sequencer/Arpeggiator with random functions can be used to control note Pitches, Velocities or Filter Track values.
303 Style Sequencer.
Gate Sequencer.
Scale Wizard (Integrated MIDI Filtering Tool that permit to stay in harmony with your song, play chords and chords scales.
Price: €19.
Warp has announced a new release from Richard D James – AFX Orphaned Deejay Selek 2006-2008.
The EP will be Richard D James' first AFX release since the Analord series on Rephlex (2003-2005).
Available on 12", CD (both in die-cut and spot glossed sleeves), digital and streaming.
Dr. Richard Boulanger of Berklee College of Music hands-on with the SYSTEM-1m by Roland.
http://www.roland.com/products/system…

The SYSTEM-1m is a semi-modular synthesizer with PLUG-OUT capability and a unique design that can be used as a Eurorack module, tabletop synth, or 19" rackmount unit. In addition to being a powerful standalone instrument, the SYSTEM-1m has external inputs and an array of CV/Gate connections that allow it to be re-patched and to interface with other modular synthesizer systems. The SYSTEM-1m's CV/Gate connections combined with its ability to load classic Roland PLUG-OUT synth models like the SH-101 and PROMARS give it power and flexibility that is simply unparalleled.
ST/LL © Shiro Takatani (2015)
Premiere 12 mai / May 2015
Le Volcan, Scène nationale du Havre (France)
Avec : Yuko Hirai, Mayu Tsuruta, Misako Yabuuchi, Olivier Balzarini
Musique : Ryuichi Sakamoto, Marihiko Hara, Takuya Minami
Conception lumière : Yukiko Yoshimoto
Création numérique : Ken Furudate
Texte : Alfred Birnbaum
Technicien video : Shimpei Yamada
Régisseur plateau : Nobuaki Oshika
Directeur technique : So Ozaki
Directeur technique (tournée) : Thomas Leblanc
Assistant numérique : Ryo Shiraki
Administratrice : Yoko Takatani / Dumb Type Office Ltd.
Production, tournées :
Epidemic – Richard Castelli (assisté de Chara Skiadelli, Florence Berthaud, Claire Dugot)
Production : Dumb Type Office
Coproduction : Le Volcan – Scène Nationale du Havre, France ; Biwako Hall – Center for the Performing Arts Shiga, Japan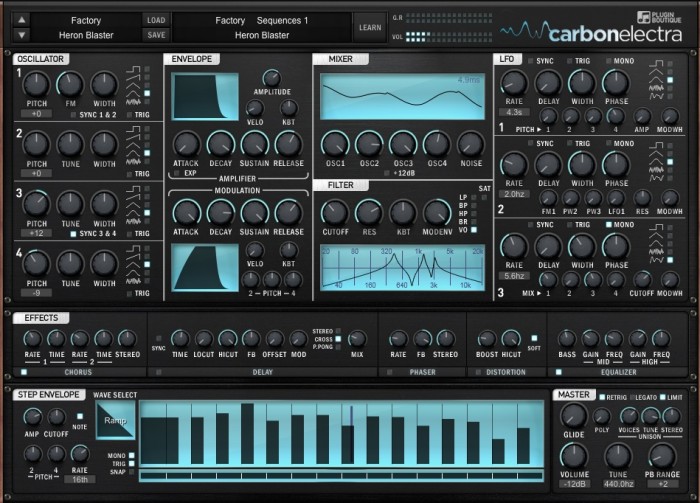 Plugin Boutique has announced Carbon Electra, a soon to be released 4 oscillator subtractive synthesiser by David Carbone.
Carbon Electra is a powerful and intuitive synth built by producers, for producers. It's a four-oscillator subtractive synth with a modern feature set.

It has been developed as an advanced learning tool whilst also being a powerful and easy to program synth. It is based on vintage analogue routing and features flexible modulation options including an editable stepper and note performer. The graphical displays act as a comprehensive information tool and as an accurate guide to each parameter change. Best of all, it sounds incredible.
Carbon Electra features
Powerful synth engine that is easy to learn and use with no hidden menus.
4 Analog style syncable oscillators with adjustable pulse width, frequency modulation and multiple wave types including pitchable noise.
Informative physics based graphic displays with comprehensive info pane.
6 filter types including powerful vocal filter with filter drive and saturation.
Simple, usable and useful FX section, like having a bunch of great guitar pedals.
Editable step editor that can be assigned to pitch, volume or cut-off independently or simultaneously, with various wave types and edit mode allowing node creation and line curves.
Over 600 factory and artist presets covering sequences, chords, motions, bass, leads, keys, pads and effects.
Ability to run the amp section "too hot" into the built in optional limiter at the main output, creating a modern hyper-compressed sound.
Super flexible unison control ranging from subtle warmth to massive super saw or super square sound.
Multiple stereo width parameters allowing high precision control of the stereo field.
Carbon Electra for Windows and Mac (VST/AU) will be available late July 2015 for $99 USD / £59 GBP.
The Casio SK-1 is the cheapest sampler in the world. Followed by the SK-5, the second cheapest in the world. It's a polyphonic synthesizer (just four voices) with very cheap sounds and it can store one sample in its memory. The sampling is 8-bit PCM, 9.38kHz, giving about 1.4 seconds. It's so gritty… Samples can only be recorded through the awful mini-mic built-in to the upper-right corner or a 3.5mm line-input plug on the backside of the synth. Alas, its memory clears when turned off.

There are 11 built-in accompaniment-style drum patterns (disco, rock, samba, etc.) which are all embarrassingly fun and totally unusable. The keyboard uses mini plastic keys. It lacks MIDI, lacks effects, edit-ability, memory, and filtering. However there are 13 envelope shapes that can affect your sample or synth sounds somewhat. There is also portamento, vibrato, and chord accompaniment with the chord selector system.
Background video description:
One off custom Casio SK1 project.
Built for:
Evolving improvised set. Melodic ambience to drone to noise. Touching on the lines of PE and HNW. Anyone who's familiar with the Alec Empire live dvd of intelligence and sacrifice will probably recognise the tone of this from the noise set in new world order.
No post processing or production. It is what it is.
Factory demo songs from the Korg MS2000 virtual analog synthesizer recorded direct with no additional effects.
Song List:
1. Grooven Dugan (0:03)
2. Neon Lamp (0:51)
3. Pink Doll 2001 (2:58)
4. Joker (4:32)
5. Tube (6:20)
6. Past Memory (7:33)
7. Fragmented (8:57)
8. Pineapple (9:38)
9. Next Wave (11:11)
10. Jingle "MS2K" (12:29)
The MS2000 is a turn-of-the-millennium virtual analog synthesizer that is 4-note polyphonic. Its design focuses on real-time controls with lots of knobs. The same synth engine was used in the MicroKorg, which has a much-reduced interface that is less suited to real-time control.
It included a vocoder at a time when hardware vocoders were rare, expensive, and inconvenient. The revised MS2000B version has a darker case and a built-in XLR microphone input to make the vocoder engine easier to use.
For more information and manuals for this and other synthesizers, visithttp://soundprogramming.net/synthesiz…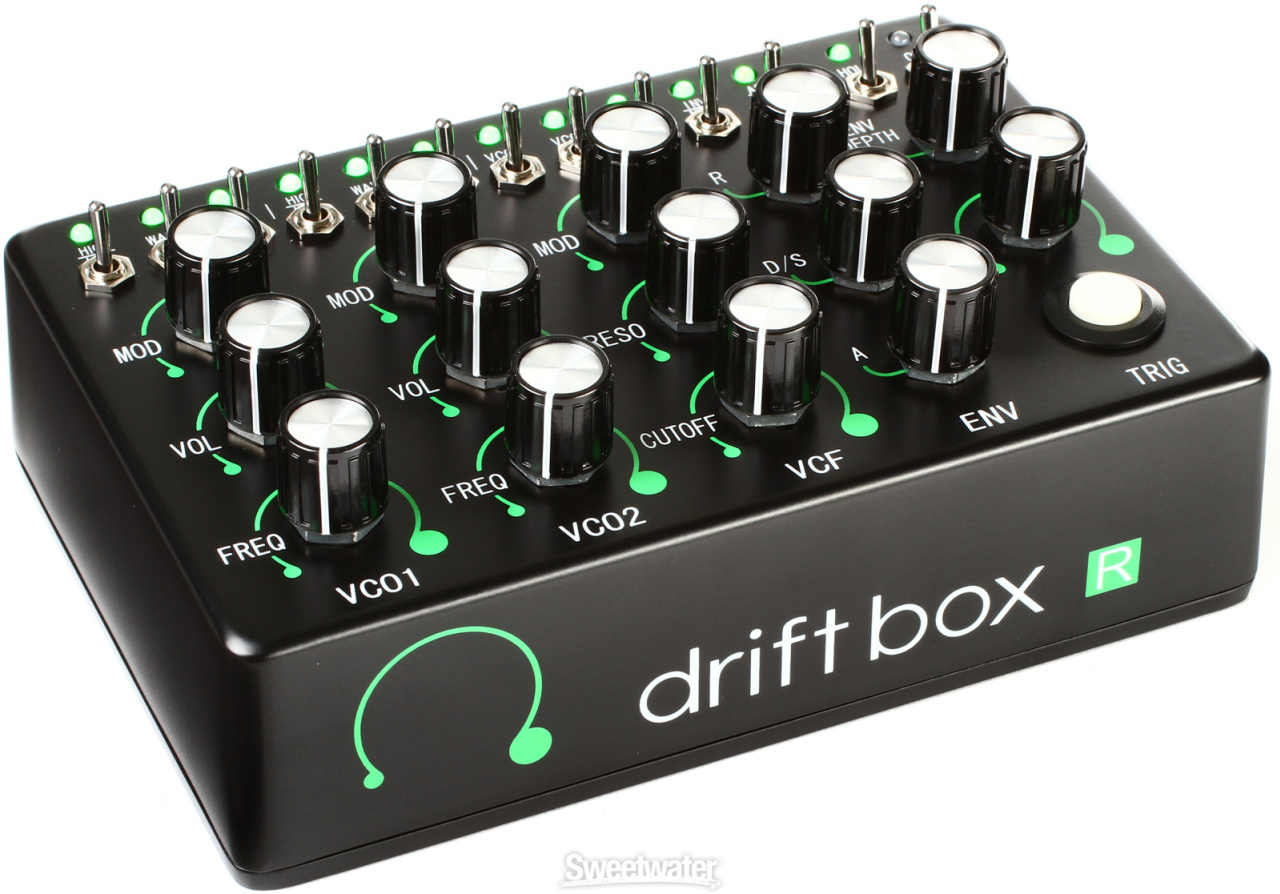 Roland has released a new analog synthesizer – the Roland Driftbox-R Limited Analog Monosynth. The Roland DriftBox-R Limited is an updated version of the original Reon DriftBox.
Originally commissioned by Roland to demonstrate the the SBX-1 Sync Box, the DriftBox-R Limited features two oscillators, filter, and envelope generator.
Control is via five CV/gate connections, letting you integrate the synth with other analog gear.
Features:
Updated version of the original Reon DriftBox
A wide range of functions in a small desktop box
Two VCOs, a great-sounding filter, and an envelope generator
CV/gate I/O for semi-modular flexibility
Use it alone, triggering its envelope with the onboard momentary button
Combine it with other hardware for endless possibilities