By adding an extra oscillator to your Arturia Microbrute you can greatly expand the sonic possibilities of this already competent synth. I'll show you how to use the mod matrix to connect oscillator modules from Pittsburgh Modular. By tuning the oscillators and using pitch, envelope and LFO CV – I get the Microbrute, the Waveforms and the DNA Symbiotic Waves modules to sing beautifully together.
More on the Pittsburgh Modulars:
http://pittsburghmodular.com/waveforms/
http://pittsburghmodular.com/dna-symb…
Example of "ALIAS" the One Line Code Music matrix sequencer. Coming Early 2016. It uses a "pin board" matrix to select bitwise operators and sources to feed in. IT also has aliased and anti-aliased oscillators and analogue modelled filters.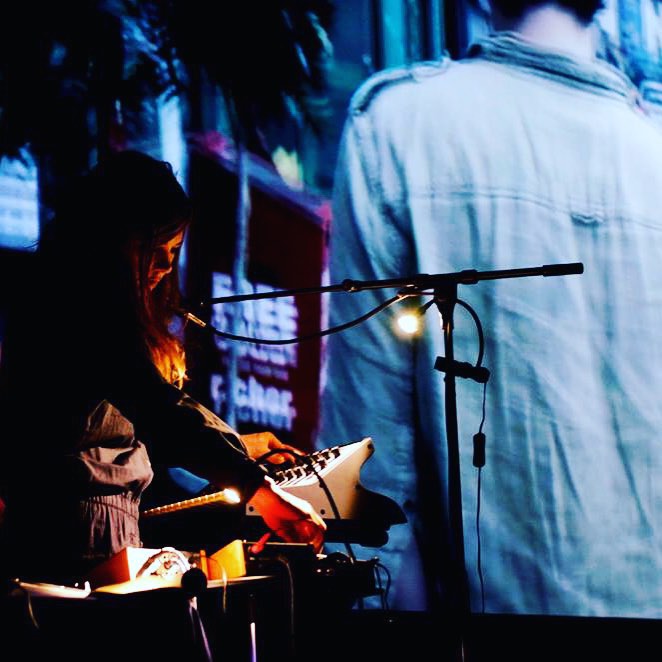 I Speak Machine (Tara Busch and Maf Lewis) has recently finished another of their live gigs in Malmö, Sweden, at Inkonst, this as an integrated performance with the ongoing art installation Sisters Academy. The band, being welcomed in a surreal environment featuring blindfolded students and experimental activities going on all over the place, fits nicely with the horror-futuristic music and visuals that I Speak Machine (ISM) performs on stage. Just like ISM the Sisters Academy are not just there due to general fascinations with the obscure, but rather a closer search into the realms of our existence and human conditions.
For those of you who have not seen ISM on stage, their live performances is far more than playing backtracked songs and soundscapes on laptops to visuals on the screen. Tara, a true machine geek, will bring a plethora of hardware gems on stage paired with intriguing vocals run through vocoders and the like. Perhaps not the most obvious route considering hers and Maf's common roots in the downtempo electronica band Dynamo Dresden. However, Tara and Maf apparently weren't content with performing in the straight forward rock/pop format. Tara have always had a fling towards dark and disturbing music, music that leaned towards horror and sci-fi, filled with those bizarre soundscapes – almost limitless in their nature.
Neither Tara nor Maf are 'true' horror/sci-fi geeks, but these type of movies do represent great reflexions on culture, and through ISM they have developed a new process on how to do things in this genre, without getting trapped in the conventional like the use of theremins and scary strings. This also means that ISM do not operate in a conventional way, such as adding music to a film score, but rather let the two grow and develop organically together, and through cross-pollination in the creative phase let music and visuals influence each other. And perhaps more importantly it is all being developed for live performances, not for home cinema viewing.
Read the full interview here >>
New single "Eternally". Originally found on CD "Autopilot".
All copyrights by A SPELL INSIDE.
Song written and produced by A SPELL INSIDE.
Model: Pia Gummersbach
Light and Advice by Eric Remann / http://www.ericremann.com
Make-Up Artist Mirja Dunkel
Location Clearing by Kay Schlossmacher
A big thank you to Marc Versteeg & Frauke Wolf.
www.aspellinside.com
www.facebook.com/aspellinside.band
Booking: cbo@cbo-entertainment.de
Patch experiment using the Noise Engineering Variatic Erumption x 2, and Minigorille CV graphic modules x 2. Clock output from the Tiptop Circadian Rhythms into the CV Graphic input 1, left side (purple). Then another output from the TipTop CR taken to the right side (siliver) CV Graphic module. Output 4 from the Tiptop CR sent to the left side Variatic Erumption (ext gate to the hit jack input) which would send very slow burst of random gates. The CV Graphic CV output (PONG sequencer mode 2) A and B would output bouncing ball like CV voltages to the Variatic Erumption CV Pattern, and Time/Division input. This created some very organic scattered sequencing taking one output that was triggering a Snazzy Fx Ardcore running custom frac drums patch.
The other output was running into a trigger input on the Mutable instruments clouds, which is causing the light granular scattering in between the beats. Another output from the V.E. running into the Noise Engineering Basimilus Iteritas, for the FM pluck like percussion sound. Next output from VE running into a 4ms RCD, random triggering spaced out burst to the clock input. From here, the output was taken (4)out to the MakeNoise Optomix set slightly open, which was running a ALM's new "Akemie's Castle" dual voltage controlled oscillator, running out the chord output (OSC A). From the Akemie's Castle the output is going into a Tiptop Z-DSP processed with the The Halls of Valhalla card running program 7 (Asgard). Mult output also taken to the Strymon Big Sky pedal running in "Chorale" mode mix completely wet for delicate melodic swells. Making the rich choral timbres. Another gate output from the Noise Engineering V.E. running into the Mutable Instruments (mystery) module. Output from here sent to the Qu-Bit RT-60 effect module, which is also being triggered (for effects program change) via by the 5 division output from the 4ms Rotating Clock Divider.
Kick drum created using the MakeNoise telHarmonic module, running into a Optomix. Snare and hi-hat sounds courtesy of two Ladik D-333 Rom players. One running the Snares card, and another running hi-hats. Both outputs being summed into the Synthrotek DLY module. The delay input being modulated by a modcan QuadLFO output 1 slow S&H. First sequenced notes via the Mutable instruments Braids running the new "HARM" additive harmonics mode. The quantization was set to "Oinian". Second Braids for other harmony running the "OPSK" smooth sine like melody, VCA mode set to on, with short decay for pluck like quality. Signal for both braids are being sent to another Qu-Bit RT-60 running program number 1-Reverb. Quantization set to "Oinian". Bassline sound created with a Intellijel Shapeshifter output 1, then being run into intellijel uVCF filter in LPF input, then the signal goes out a Qu-Bit RT-60 in program 1 Reverb.
Link to download the free track here: bit.ly/1LkddOy
Link to the Noise Engineering Variatic Erumption: noiseengineering.us/variatic-erumption
Link to the Minigorille CV Graphic Module here: minigorille.com/cv_graphic.html
This is a live demo of the SYSTEM-100 plug-out, starting from scratch in manual mode. The virtual audio unit wasn't used in this demo, so no virtual patching was made. The plug-out is loaded into the System-1 and used as it. Free patches for System-1 and for the SH-101 plug-out can be found onhttp://www.albaecstasy.ro/roland-syst…
3 DLP video projectors, computers, speakers
concept, composition: Ryoji Ikeda
programming, computer graphics: Norimichi Hirakawa, Tomonaga Tokuyama, Yoshito Onishi, Satoshi Hama
commissioned by and produced in cooperation with ZKM I Center for Art and Media Karlsruhe
Camera: Martina Rotzal, Christina Zartmann. ZKM | Institute for Visual Media
© Ryoji Ikeda Studio, 2015. All rights reserved.
A set of sound samples made with a single Mother-32 unit by British electronic music producer The Haxan Cloak.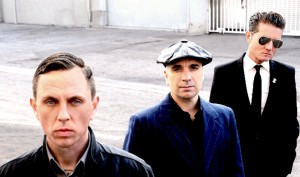 "Industrial Complex", Nitzer Ebb's 6th studio album to date and produced by Flood, will be re-released on vinyl in 4 different versions.
The re-release will include the "I am Undone" remix by Alan Wilder and new remixes of "Once you say" byApoptygma Berzerk, Vince Clark, NZ, MRDTC, Technomancer feat. Angst Pop, Neotek vs. Birmingham 6 and K-Bereit.
The editions are:
"Industrial Complex" featured guest vocals by Depeche Mode's songwriter Martin L. Gore on the song "Once You Say".

The track list for the double vinyl is as follows:
LP1:
SideA:
1 Promises 3:50
2 Once You Say Featuring [Uncredited] – Martin L. Gore 3:41
3 Never Known 3:58
4 Going Away 4:10
5 Hit You Back 4:19
6 Payroll 2:57
Side B:
7 Down On Your Knees 3:52
8 I Don't Know You 3:12
9 My Door Is Open 3:15
10 I Am Undone 3:51
11 Kiss Kiss Bang Bang 2:57
12 Traveling 3:13
LP 2:
Side A:
1 I Am Undone (Alan Wilder Remix) Remix – Alan Wilder 5:29
2 Once You Say Remix by Apoptygma Berzerk 4:16
3 Once You Say MRDTC Version 5:19
4 Once You Say PUREMIX by NZ 4:48
Side B:
5 Once You Say RAWMIX by NZ 3:47
6 Once You Say Neotek Remix 4:28
7 Once You Say Angst Pop feat. Technomancer Remix 4:43
8 Once You Say K-Bereit Remix 4:37
9 Once You Say Vince Clark Remix 5:51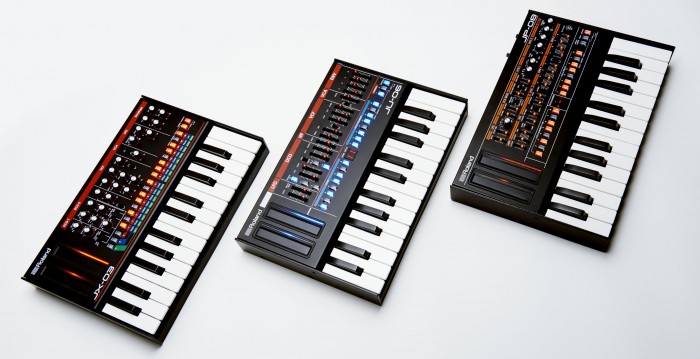 Roland has announced its Roland Boutique series, a new, limited-edition line of compact sound modules that recreate renowned analog synthesizers from the company's historic past.
Powered by Roland's Analog Circuit Behavior (ACB) technology, the series includes three modules based on the JUPITER-8, JUNO-106 and JX-3P instruments from the 1980s. Armed with a full complement of hands-on controls derived from the original synths, each sound module can be used as a tabletop MIDI device or mounted in the companion K-25m Keyboard Unit to create a standalone compact synth.
The Roland Boutique series faithfully captures the legendary sound and response of classic Roland analog synths for modern electronic musicians. Using the proprietary ACB modeling that was first developed for instruments in the AIRA line such as the TR-8 and SYSTEM-1, the essence of the original instruments is recreated in every detail, right down to the analog component level.
Each Roland Boutique module is no bigger than a book and can run on USB bus power or batteries, providing grab-and-go versatility for computer music production and live playing. The modules also include built-in speakers, a convenient feature for monitoring the sound in mobile environments.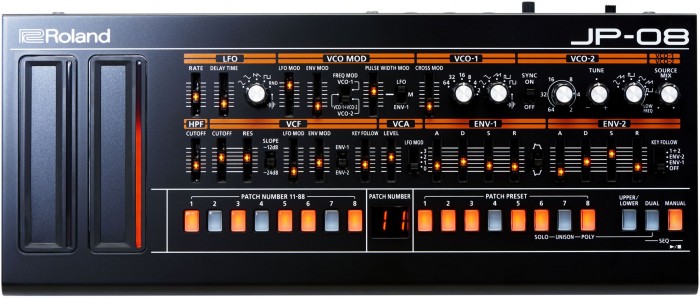 With the JP-08, the legendary JUPITER-8 synth is back in a compact and powerful package. Featuring 36 knobs and sliders from the original JUPITER-8 front panel, the four-voice JP-08 is highly programmable and encourages sonic experimentation. The JP-08 faithfully reproduces the original JUPITER-8 sounds and adds a few new twists in the form of extra LFOs and expanded VCO range.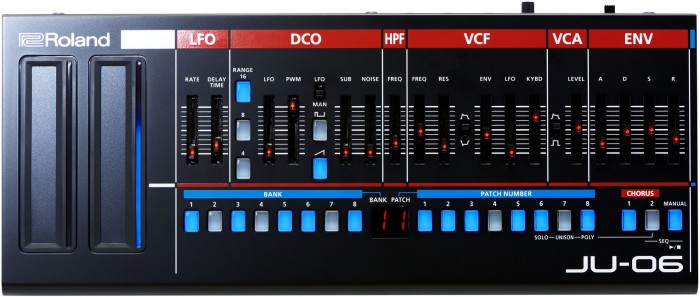 Often described as one of the last great synths of the analog era, the JUNO-106 became a favorite thanks to its warm sounds and instant sound-shaping ability. The four-voice JU-06module continues this approach, with 23 parameters controllable via the front panel and classic JUNO sound, complete with the original's signature chorus effect. New enhancements include a faster LFO and continuously variable high-pass filter.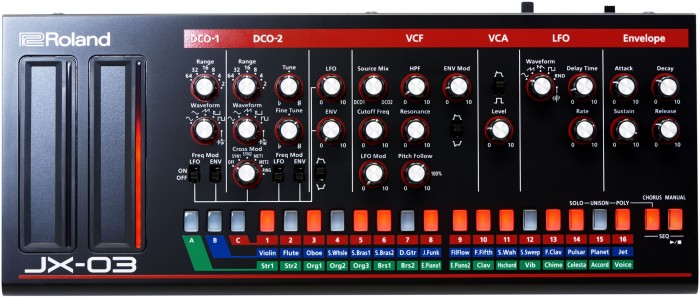 The JX-03 module continues the legacy of the dual-oscillator JX-3P synth. While the original featured a button-driven interface for immediate access to preset sounds, it was highly programmable when paired with the optional PG-200 controller. The four-voice JX-03 inherits all 24 knobs from the PG-200, plus the distinctive JX-3P tonal character. Added extras not present in the original synth include new waveforms, expanded DCO range, and cross-modulation options.
In addition to their unique ACB sound engines and model-specific controls, each Roland Boutique module is equipped with dual ribbon controllers and a built-in step sequencer. With their USB and MIDI I/O connectors, the modules can easily integrate with studio setups and other MIDI keyboards. Each module also features a chain mode that allows the user to connect two or more modules of the same type to increase the available polyphony as needed.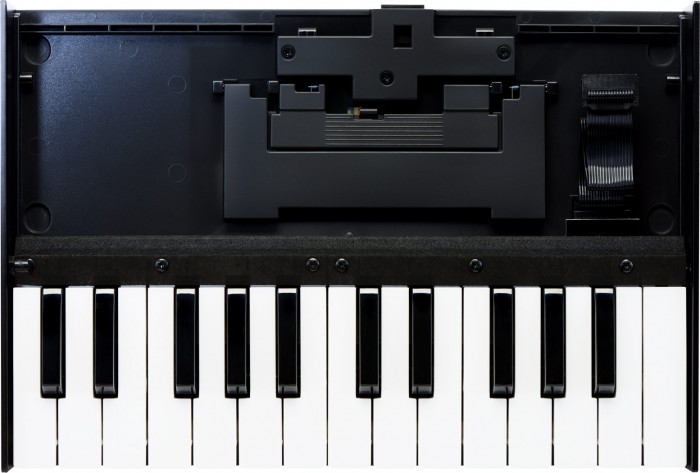 With the optional K-25m Keyboard Unit, users have the ability to turn a Roland Boutique module into a compact, all-in-one synth with 25 velocity-sensitive keys. Each module mounts in the K-25m quickly and easily, and can be interchanged with another in no time. Once in the K-25m, the module can be mounted flat or angled in two different positions for easier access to the panel controls.
Pricing and availability to be announced.