Playing live ambient chillout / electronica soundscape / space music on Alesis A6 Andromeda analogue synth.
Created using 2 oscillators, step sequencer pattern, filter and envelope adjustments, delay, phaser, LFOs on the Alesis A6 Andromeda synthesizer.
The SparkPunk Sequencer is a musical control voltage sequencer designed to control the SparkPunk Sound Kit. With the pair, you can create ten-step musical motifs, but there are hidden opportunities in the sequencer: it can be modified and connected to external hardware in clever and interesting ways. The SparkPunk Sequencer cycles among ten steps, reading the slider and switch for each, producing corresponding analog voltages on the output pins. It offers hands-on control, with its array of knobs, sliders, and switches while seamlessly integrating with the SparkPunk Sound Generator for your creative musical enjoyment.
SparkPunk Sequencer Kit: https://www.sparkfun.com/products/12707
SparkPunk Sound Kit: https://www.sparkfun.com/products/11177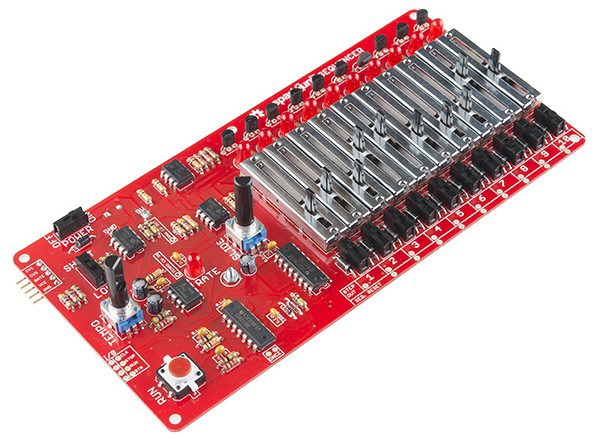 Sparkfun has published a Theory and Applications Guide for the Sequencer Kit that explains how the sequencer works and also details several useful mods. Mods include adjustable sequence length, CV out for standard analog gear, synchronizing sequencers and more.
Note: The Sparkfun Sequencer is a solderable kit with lots of parts.
The Sparkfun Sequencer Kit is available for US $59.95.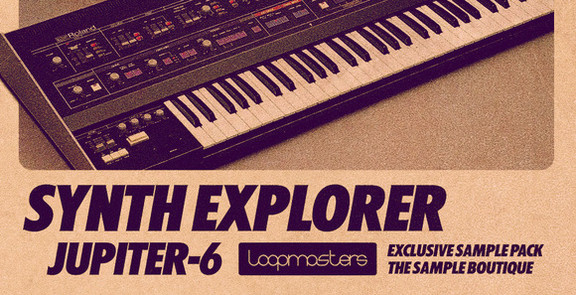 Loopmasters has launched Synth Explorer – Jupiter-6, the first title in a new series of royalty free loops and one shot samples that pay tribute to legendary synthesizers and drum machines.
First up for the Synth Explorer collection is the classic Roland Jupiter 6. First introduced to the world in 1983 the Jupiter 6 was one of the first analogue synthesisers to adopt MIDI and is considered to be a solid 12 oscillator analogue workhorse with a distinctive but fully capable palette of sounds ranging from Ambient Drones, Smooth Pads, Analog Leads to Techy Blips and Noises.

Synth Explorer – Jupiter 6 has been produced using a mint condition Roland Jupiter 6 owned by one careful, well known producer, recorded live through a TL Audio C-1 dual valve compressor and a Neve 8801 channel strip to capture the pure sonic delight of this vintage synth beauty.

This edition of Vintage Explorer sees a wealth of Loop and one shot samples aimed towards the soulful spectrums of electronic music production with a slight angle towards Italo Disco, Funk, Nu Disco and Deep House as well as more experimental down tempo genres.
Synth Explorer Jupiter-6 features
356 MB content, 24-bit quality.
Includes 41 arp loops, 24 music loops, 25 bass loops, 16 bass multi samples, 37 sfx hits, 41 chord hits, 34 synth stabs.
90 REX2 files.
114 soft sampler patches for Kontakt, HALion, EXS24, NN-XT and sfz formats.
The sample pack is available for purchase for £14.95 GBP.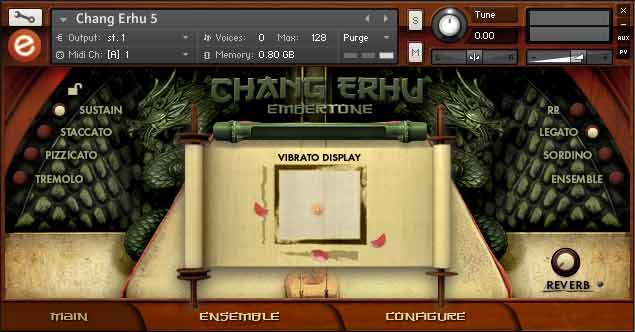 Embertone has launched Chang Erhu, a deep sampled erhu instrument for Native Instruments Kontakt.
The erhu is a two-stringed, bowed musical instrument. It may also be called a "southern fiddle", and sometimes known in the Western world as the "Chinese violin" or a "Chinese two-stringed fiddle". It is used as a solo instrument as well as in small ensembles and large orchestras. It is the most popular of the huqin family of traditional bowed string instruments used by various ethnic groups of China. A very versatile instrument, the erhu is used in both traditional and contemporary music arrangements, such as in pop, rock, jazz, etc.

Our Erhu can create profoundly expressive and beautiful music, and it's also sooooo much fun to play. Its flexibility and out-of-the-box sound is undeniable! …and we don't think there's a virtual erhu out there to match it!

Chang Erhu features
True legato programming with 2x true round robin.
Bow Change, Slurs, Portamentos.
Custom Kontakt scripting by Andreas Lemke.
Control over vibrato speed and intensity.
3200+ recorded samples.
1.6 GB installed.
Sample resolution: 44.1Khz/16-bit stereo/mono (recorded 96KHz/24-bit).
Chang Erhu is available for purchase for $80 USD (16-bit) / $85 (24-bit & 16-bit). Requires full version of Kontakt 4/5.
Something new is happening in the world of Komplete. Watch the video for a glimpse of the future.
FabFilter has released Pro-Q 2, an updated version of its equalizer effect plug-in for Windows and Mac.
Here are all the details:
Completely redesigned EQ engine

For Pro-Q 2, FabFilter has completely redesigned the internal filter engine from the ground up — not only improving the existing Zero Latency and Linear Phase processing modes, but also introducing a unique Natural Phase mode. Besides perfectly matching the magnitude response of analog EQ'ing, Natural Phase also closely matches the analog phase response, without introducing noticeable pre-ring or a long latency. Last but not least, FabFilter Pro-Q 2 is more than twice as CPU-efficient as its predecessor.

Universal filter slope support

Very steep filter slopes of up to 96 dB/octave are now available, and, uniquely, FabFilter Pro-Q 2 lets users change the slope of any filter type — not just the usual Low/High Cut filters. This makes it possible to create super-narrow bell filters, very steep or gently sloping shelves, and more. In addition to the existing Bell, Low/High Shelf, Low/High Cut, and Notch filters, Pro-Q 2 also features new Band-Pass and Tilt Shelf filter types.

More interface innovations

Furthermore, FabFilter Pro-Q 2 is boosted by an abundance of user interface innovations. Spectrum Grab enables users to directly adjust peaks in the real-time spectrum analyzer display. Pro-Q 2 offers flexible interface resizing, in addition to a Full Screen mode that makes it easier than ever to do ultra-precise adjustments. EQ Match lets users match the spectrum of another track in just a few seconds. All this power is neatly integrated into a gorgeous, uncluttered interface that lets users focus freely on music and workflow.

Original and trailblazing

Of course, Pro-Q 2 features everything that was great about the original Pro-Q — up to 24 EQ bands, innovative interface with unsurpassed workflow and multi-band selection, per-channel EQ'ing in L/R or M/S mode, real-time spectrum analyzer, intelligent solo mode, double-click text entry, stereo/mono plug-ins, Pro Tools hardware surface support — as well as all the trailblazing FabFilter bells and whistles that users have come to expect and love — perfectly fine-tuned knobs and controllers, GPU-powered graphics acceleration, interactive MIDI Learn, undo/redo and A/B switch, Smart Parameter Interpolation for smooth parameter transitions, an extensive help file with interactive help hints, sample-accurate automation, advanced optimization, and more.
New in Pro-Q 2
Different interface sizes and additional Full Screen mode.
Operates in zero latency mode, linear phase mode with adjustable latency or the unique Natural Phase mode.
Spectrum Grab: just grab and adjust a peak in the real-time spectrum analyzer right away!.
Filter shapes: Bell, Notch, High/Low Shelf, High/Low Cut, Band Pass, Tilt Shelf.
Universal filter slope support for all filter types, up to 96 dB/oct.
EQ Match feature to automatically match the spectrum of another track via the side-chain input.
Phase Invert option to change polarity.
Highly improved CPU optimization: Pro-Q 2 uses less memory and is more than twice as efficient as its predecessor!.
Optional Gain-Q interaction.
Auto Gain and Gain Scale.
Built-in spectrum analyzer with Pre-EQ, Post-EQ and SC modes, adjustable range, speed, resolution, tilt and freeze.
Optional piano roll display to quantize EQ frequencies to musical notes.
Large output level meter with peak level readout.
FabFilter Pro-Q 2 for Windows and Mac (VST/AU/RTAS/AAX/AudioSuite) is available for purchase for 149 EUR/$199 USD/£124 GBP. Bundles with FabFilter Pro-Q 2 and other FabFilter plug-ins are also available. Existing FabFilter customers can purchase or upgrade to Pro-Q 2 with a discount from their online user accounts.
Learn how IBM partnered with musician James Murphy to make music out of US Open tennis match data. Learn more at http://bit.ly/1quJJxa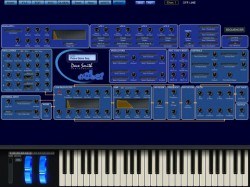 SoundTower has introduced Evolver Editor, a dedicated iPad patch editor for the Dave Smith Instruments Evolver synthesizer.
Evolver Sound Editor is an editor and sound development tool, created specifically for Dave Smith Instruments Evolver synthesizer.
Evolver Sound Editor displays all Evolver Program parameters in a single graphical interface. 
Features:
Real time editing of all Evolver parameters
Program Bank manager
Load/Save of Program Banks
Transmitting and receiving of Program Bank data
Sequencer editor
Resizable on-screen keyboard
Direct USB/MIDI connection with Apple iPad Camera Adapter
Wireless connection possible using MIDI network
Magnified editing panels
The Evolver Sound Editor is available for US $24.99 in the App Store.
IK Multimedia has introduced SampleTank 3 Free, the free version of their SampleTank sound and groove workstation for Mac and PC.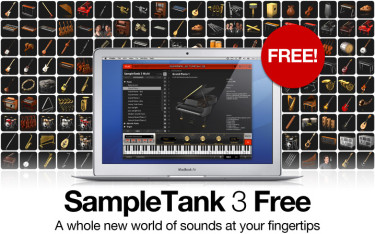 SampleTank 3 Free is essentially a fully functioning version of SampleTank 3: The only difference is that SampleTank 3 Free includes a small portion of the sounds featured in the full version.
The library is expandable; IK plans to add instruments to SampleTank 3 Free until a total of 22 instruments are available.
SampleTank 3 Free is available now as a free download, for Mac & Windows.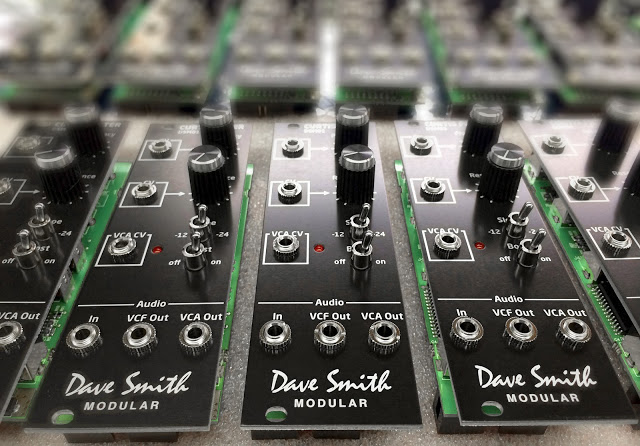 Dave Smith Instruments today began shipping the DSM01 Curtis Filter module, their first product for modular synthesizers. The module takes its name from the filter chip originally designed by the late Doug Curtis, which has been an integral part of the sound of Dave Smith's instruments from the classic Sequential Circuits Prophet-5, all the way up to recent synths such as the Evolver, Mopho, Prophet '08, and Prophet 12.

The DSM01 features a switchable 2/4-pole, resonant low-pass filter, as well as its own VCA. It is a standard 8HP wide, Eurorack-format device with interconnections made using 3.5 mm phone jacks. A carefully designed set of inputs and parameters allows voltage control of filter frequency and resonance. Filter slope is selectable between -12 dB and -24 dB. The module's VCA features two separate outputs for the filter—one pre-VCA and the other, post-VCA. A unique feature of the filter is a Boost function that introduces harmonic distortion into the signal for more aggressive coloration.

"Having the widest tonal palette possible has always been the goal for modular users," said Smith. "This product is our first—but significant—contribution to that world. We wanted to give modular users easy, affordable access to the classic Curtis filter sound, which I've always found very versatile and expressive." The Curtis sound has often been described as saturated, brash, and powerful, and has also been fundamental to such vintage instruments as the Oberheim Xpander, Rhodes Chroma and Polaris, and Elka Synthex.

"The DSM01 packs a lot of sound-shaping power into a small package. We think modular users are going to get a lot of sonic mileage out of it," said Smith.

The DSM01 Curtis Filter module is available now with a MAP of $179.