What's the one thing you want most when you're starting on a project?
Whether you're creating a sound universe for a new game or film, performing live in front thousands of eager ears, or alone in your studio creating the future of music, what's the one thing you want most when you're first getting started on a project? Inspiration!
Every aspect of Symbolic Sound's new software release — Kyma 7 — has been designed with inspiration in mind. In the new Multigrid, you can explore combinations of sources and effects with no interruption in the audio signal; in the Wave Editor Gallery, a single click automatically generates massive numbers of patches all based on your original sample; the new Parameter Assistant, Capytalk Reference, Inspiration tool, and web-based Questions and Answers make it easy to get up to speed quickly and get your questions answered when you need it. Derive even more inspiration from the Kyma Community Sound Library accessible from the Help menu in Kyma 7.
'There's nothing quite as daunting as a blank screen or silent speakers,' according to composer and Kyma co-developer Carla Scaletti, referring to the sound designer's equivalent to writer's block, 'but once you have a starting point, it's easier for inspiration to kick in. That's when it starts to get fun, when you can start tweaking and refining! What we do in Kyma 7 is automatic-patch-generation based on the sound designer's original files in order to create a vast number of starting points or springboards. We don't do the sound design or composing for you; we just provide some initial material to help kick things off. Because we know that once you get that initial inspiration, you'll be off and running and nothing will be able to lure you out of the studio.'
Response from beta testers has been enthusiastic: "I'm beginning to realize how mindbogglingly awesome this new upgrade is. It's an order of magnitude more advanced and effective than Kyma X," according to Barton McLean, composer/performer with The McLean Mix.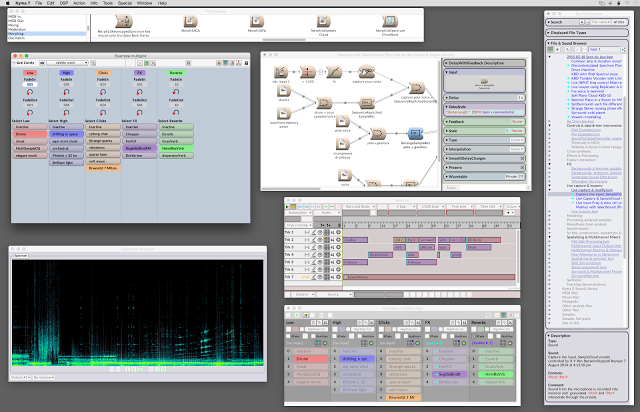 New Features
Inspiration for sound design
Wave Editor Gallery — A single click yields vast quantities of audio assets! Kyma automatically creates hundreds of signal flow graphs — with the controller you want and with all the parameter controls set up so you can start tweaking immediately.
Wave Editor Multigrid — Use the MultiGrid to explore limitless combinations of sources and effects. When you hear something you like, click the signal flow icon and Kyma extracts the current path through the MultiGrid as a fully formed Kyma Sound—it even preserves the presets! Now that you've got a starting point, it's way easier for inspiration to kick in.
Wave Editor — In the new Wave Editor, you can edit multichannel files using the automatic splice-finder or generate your own wavetable for the new AntialiasedOscillator. Click the Gallery button to generate a myriad of ready-to-play keyboard instruments based on your custom waveform.
Sons du jour — Ready to start each day with a little inspiration? Every morning, Kyma selects some Sounds just for you and places them in the Sons du jour folder of the Sound Browser. So you can start each session with some fresh new Sounds!
Roll the dice in the Sound Browser — Kyma generates so many possibilities that the sheer quantity of choices can seem overwhelming at times, but don't worry. Now you can roll the dice in the Sound Browser (as well as in the Virtual Control Surface) to hear what fate and a pseudorandom number generator will pick out just for you!
Sound search in the Browser — Looking for something in particular? In Kyma 7, you can search for Sounds and files by name, by algorithm, by controller type, by a parameter name, by star-rating, even by the contents of a parameter field.
New to Kyma 7? — Let the friendly inspiration tool brief you on the highlights and lead you to tutorial videos and PDF documentation.
Kyma 7 Video Tutorials—If a picture is worth a thousand words, then a video must be worth at least a million pictures—especially when it comes to working with an interactive graphical interface. The new Kyma 7 tutorials are inspirational and instructive.
Inspiration on stage — Interactive, responsive, and live
With the new Multigrid you can switch instantly between sources, effects, and combinations with no interruption in the audio signal. Perform live, inspired in the moment, with infinite combinatorial possibilities.
In the Kyma 7 Timeline you can slow down or stop the progression of time to synchronize with other performers. If you're working to picture, you can link a QuickTime video to the Timeline and, whenever you receive an edited video, you can insert or delete time; the Timeline will automatically shift all affected Sounds and control functions left or right to accommodate the change.
Kyma 7 minimizes interruptions so you can stay in the flow
Speedups — Sounds and Timelines compile faster in Kyma 7 — some by as much as 1000 times faster! That couldn't hurt.
X-ray vision — Curious about what's inside a Sound? Just hover over the name or icon to take peek inside without interrupting the flow.
New Oscilloscope & Spectrum Analyzers — For listening with your eyes, there's a new Oscilloscope or Spectrum Analyzer that you can switch on at any time, even while a Sound is already playing.
Questions and Answers — Stymied by a question? Go to the Help menu and pose a question…or discover the most up-voted answer to the questions posed by others.
Organize your signal flow graphs — Use the merge and split functions to keep your signal flows clean, logical and easy to read.
Parameters sidebar — New side-bar parameter fields are more uniform and easier to organize; open a parameter field to show more detail and hide it when you're finished. And if you don't like the ordering of the parameters, you can rearrange them.
Parameter Assistant — When you need inspiration for what to put into a parameter field, the Parameter Assistant searches the Sound Library and finds all the values ever used for that particular parameter in that type of Sound and shows you the most commonly used values at the top of the list. All you have to do is drag and drop.
Hover help — Hover over any element of a Capytalk expression for a hint as to its function.
Capytalk parameter language help — Or dive deeper by opening the Capytalk reference where you can search by typing part of a message or browse the messages by category. Not only does the Capytalk Reference provide a full description, it also provides examples that you can copy and paste into parameter fields and Sound examples so you can see the message used in context.
Embedded Virtual Control Surfaces — When you combine Sounds in a Timeline or MultiGrid in Kyma 7, each Virtual Control Surface layout is preserved in its own embedded layout. Quickly navigate down into embedded layouts and pop back out again.
An inspiring community
Kyma tends to attract independent-minded, creative, dedicated individuals with wide-ranging interests; Kyma 7 makes it easy to tap into their collective expertise for even more inspiration.
Share — Sharing your results with a community of like-minded individuals is both satisfying and inspiring. Just select Share from the File menu to contribute your Sound to the community Sound library in the cloud.
Community Sound Library — Looking for some fresh ideas? Check out one of the Sounds uploaded by your fellow Kyma users.
Educational opportunities — Find yourself a 5-star Kyma coach or consultant from among the list of private tutors, discover where you can sign up for a course at a degree-granting institution, find a book about Kyma or discover an Artist's Pack full of inspiring new Sounds, waveforms, Multigrids and beautifully-crafted Virtual Control Surfaces.
Third-party support links — Discover some of the third-party software written by Kyma users to facilitate Kyma interactions, like Delora Software's connectivity solutions or Camille Troillard's OSCulator.
KISS — And don't forget the yearly conclave of Kyma adepts; this year the Kyma International Sound Symposium will meet in Bozeman Montana (the city of First Contact) on the theme Picturing Sound.
System Requirements
Symbolic Sound Paca or Pacarana
Computer requirements
Operating Systems:
Mac OS 10.5 or newer or
Windows 8.1, 8, 7 (SP1), Vista (SP2), XP (SP3)
Storage: ~1.7 GB
Memory: 1 GB or larger is recommended
Internet access is required
Availability
Kyma 7 is available today. The price is USD 249 and there is a discount for Symbolic Sound customers who upgrade a registered copy of Kyma X.
More information
More detailed information, screen shots, and videos are available on the Symbolic Sound web site: symbolicsound.com"
Daniel Fisher fires up the awesome Moog System 55 modular synth in this exclusive preview.
The Synthino XM is completely new polyphonic synthesizer with unique features running on a powerful hardware platform. It is compact, well-constructed, open source, and absolutely beautiful. Most importantly, it is really fun to play whether you are a musician or you just want to make some noise.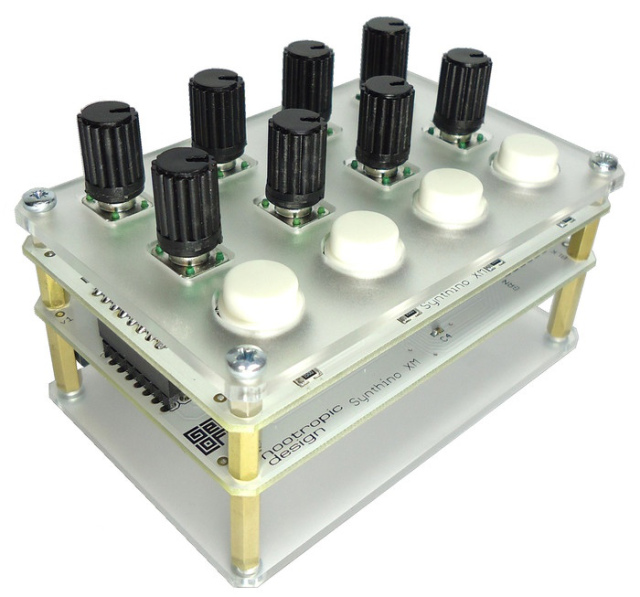 Synthino XM is a polyphonic, multitimbral synthesizer with many features:
5-note polyphony for superb playability
12 waveforms, 4 drum samples
12-bit audio at 25KHz output rate
4 MIDI channels, each with separate waveform and ADSR envelope
low pass filter with cutoff frequency and resonance controls
2 independent low frequency oscillators (LFOs): pitch and filter
selectable waveform for LFOs
1V p-p audio output voltage with enough current to drive headphones
arpeggiator mode, up to 16 notes
4 arpeggiator patterns: up, down, up-down, random
4 built-in arpeggiator chords or use MIDI to specify up to 16 notes
arpeggiator pitch transposition control
tempo control with MIDI clock input
16-step live performance "groovebox" sequencer
pitch fine-tuning adjustment
programmable/upgradable over USB
A new video that demonstrates the power of the little and very fine synthesizer/sequencer Sismo Qadrox.Here he is the master, the Tr-606 and the both Monotrons the slaves.
Nearly 15 years ago came my first commercial product…theE MacBeth M3X…..seen here now with my 2015 blaster, the MacBeth Elements Synthesizer! The M3X is doing the bass stuff- the Elements most of the lead stuff. There is much Tape Delay Simulator and Spring Reverberator stuff going on here…as for say, apologies as usual for the second rate keyboardmanship….but as you possibly can tell, in the hands a of a skilled player….it's some machine!
This is a demonstration of the magnetic resonator piano, an electromagnetically-enhanced acoustic piano that allows the pianist to continuously control the volume and timbre of every note.
McPherson's Magnetic Resonator Piano preserves all the sounds and techniques of the acoustic piano, while expanding its vocabulary to include:
Infinite sustain
Crescendos (including crescendos from silence)
Harmonics on each string (8 to 16 harmonics are usable on the lower strings)
New timbres which can be shaped in real time
Subtle pitch bends
In contrast to the conventional (hammer-actuated) piano sound, the sounds of the MRP are pure and ethereal, emphasizing the fundamental frequency of each string over its high partials.
"moDernisT" was created by salvaging the sounds and images lost to compression via the mp3 and mp4 codecs. the audio is comprised of lost mp3 compression material from the song "Tom's Diner",
famously used as one of the main controls in the listening tests to develop the MP3 encoding algorithm.
Here we find the form of the song intact, but the details are just remnants of the original. the video was created by takahiro suzuki in response to the audio track and then run through a similar algorithm after being compressed to mp4. thus, both audio and video are the "ghosts" of their respective compression codecs. version one.
Elektron Product Specialist Cenk aka Dataline walks us through the version of Elektron Overbridge shown at NAMM, which despite being labeled a 'work in progress' looks remarkably slick and stable.
Overbridge is Elektron's first foray into computer software and will be a free add-on for Analog Four, Analog Keys and Analog Rytm. The key features of Overbridge are full VST/AU control—essentially the ability to treat your Elektron hardware like plug-ins—over the compatible products, bi-directional USB audio streaming at 24-bit quality, and total recall of analog sounds and sequences, where settings for your Elektron hardware are automatically recalled along with your DAW project.
Mellotron 4000D Mini First Look
The M4000D MINI Mellotron was developed to meet the needs of keyboardists who want a small, light digital Mellotron. The Mini is also designed to fit perfectly on top of the regular M4000D to make a dual-manual Mellotron.
Features:
High-quality semi-weighted Fatar piano style keyboard with velocity sensitivity. No aftertouch.
Lightweight sheet metal cabinet, fits perfectly on the M4000D, total weight only 21 pounds (9.5 kg).
Same output signals as the M4000D, but only unbalanced 1/4″ connectors.
The weight is 9.5 kg instead of 17.5 kg for the regular M4000D.
Dimensions: 807x329x76 mm
For more information: Mellotron site.
Elektron Analog Rytm Live Demo
Only Elektron Analog RYTM