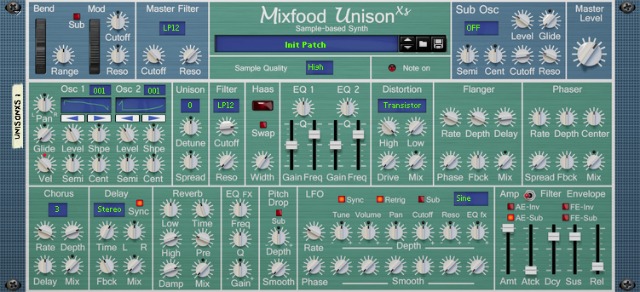 Mixfood Unison Xs is a sample-based synthesizer and the perfect tool for creating deep bass sounds and sharp synth sounds. Here's more details in their own words…
Mixfood Unison Xs contains 1100 different waveforms. Standard waveforms include Sine, InverseSine, Triangle, Square and Saw. Next to the standard waveforms Mixfood Unison Xs hosts many more crazy but usable waveforms. With 2 oscillators, each containing the same 550 waveforms many different sounds can be created. Each oscillator has its own controls which include: level, shape and tone control. Both oscillators are routed through the effects and the LFO. After that a filter and amp envelope add more control to the synth. On the master output an extra filter is added for the finishing touch. A Sub-Oscillator is added for extra depth!
Use the Unison with Stereo Spread for more Wow and the Pitch Drop Fx for extra Punch! It gets even better when using the EQ fx combined with the LFO, try it and you'll love it.
Mixfood Unison Xs is perfect for all music styles and can produce all kinds of different synth sounds, from deep bass to hard, sharp synth sounds.
If you flip the rack over, 6 audio outputs are revealed. The main mix, 2 "wet" audio outputs and 3 "dry" audio outputs. The "wet" audio outputs contain the processed signal of each of the 2 oscillators, the "dry" audio outputs contain the signal of the unprocessed/clean signal of each of the 2 oscillators or the sub-oscillator. This way all of the 1100 waveforms can be used! By combining Mixfood Unison Xs with all your favorite effects endless possibilities are at your fingertips.
Slices has always presented the whole spectrum of electronic music, and the variety is apparent in this feature with The Soft Moon on Electronic Beats TV. Oakland native Luis Vasquez's project is a one-man exploration into the darker sides of self-discovery that was first brought to our attention by Slices alumni Trentemøller. He's been compared to bands like Joy Division and supported Depeche Mode live, so we wanted to find out more about this intriguing artist and experience his show at SchwuZ in Berlin.
Links:
https://www.facebook.com/thesoftmoon
https://twitter.com/thesoftmoon
https://soundcloud.com/thesoftmoon
http://www.thesoftmoon.com/
EMW's new module can create almost all the noises from vintage arcade machines. Among many possible modulations to the Clock frequency and algorithm tap points, you can also PLAY the module using a square wave from a VCO to modulate the internal algorithm reset point.
You can get Cubasis here at the App Store.
https://itunes.apple.com/us/app/cubas…
Cubasis is Steinberg's streamlined, multitouch sequencer for the iPad. Specially designed for quick and easy operation, Cubasis makes recording, editing and mixing a breeze. Record tracks in high-resolution audio quality, and edit your music with the Key and Sample Editors, while the included mixer and audio effects polish your song to perfection. Cubasis comes loaded with three virtual instruments which can be played in real time using the virtual keyboard and drum pads. Cubasis' projects can be even opened in Cubase under Windows and OS X! Cubasis places touch-intuitive production tools in your hands, opening up a new world of possibilities for your creativity.
Key features
• Unlimited audio and MIDI tracks (depending on the device used)
• 24 assignable physical inputs and outputs
• 32-Bit floating point audio engine
• Audio I/O resolution of up to 24-bit/96 kHz
• iOS 32- and 64-bit support (depending on the device used)
• Micrologue virtual analog synthesizer with 50 ready-to-go presets
• MicroSonic with over 70 virtual instrument sounds based on HALionSonic and 16 Allen Morgan drum kits
• MiniSampler with more than 20 instrument sounds to create your own instruments
• Mixer with 15 effect processors (insert and send effects)
• Over 550 MIDI and audio loops
• Virtual keyboard and virtual drum pads
• Sample Editor and Key Editor
• Automation
• MIDI CC, program change, aftertouch support
• AirPlay, Buetooth and HDMI audio out support
• Export to Cubase, Dropbox, SoundCloud, AudioCopy & email
• MIDI clock and thru support
• Core Audio and Core MIDI compatible hardware supported
• Full Inter-App Audio and Audiobus support
• Import audio from your iTunes music library or using iTunes filesharing, use AudioPaste or set up a Wi-Fi server in Cubasis
If you want to get up to speed on the new convolution reverb that's part of Reason 8.3's revamped RV7000 MkII reverb unit, then you've come to the right place. In this tutorial we'll take a look at the history of reverb to understand how convolution fits into the story, how it works, and how you can go about making your own presets with custom spaces.
Grab the free RV7000 MkII Patches ReFill: https://shop.propellerheads.se/produc…
Learn more about Reason:
http://propellerheads.se/tryreason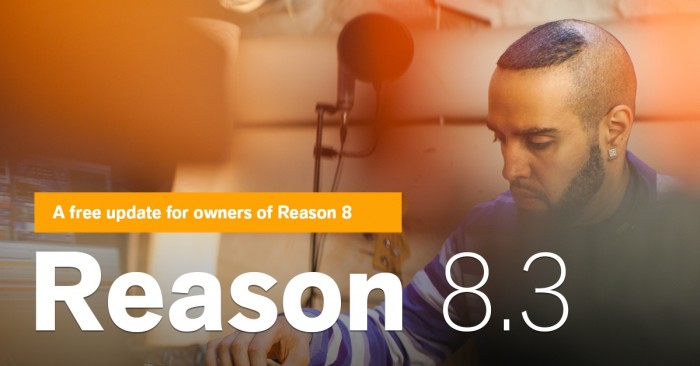 Propellerhead Software has updated its Reason and Reason Essentials software to version 8.3, which includes new features, improvements and bug fixes.
The new version of Reason packs a fantastic update to Reason's classic RV7000 Advanced Reverb, while also delivering a number of workflow enhancements that will help you work faster than before.

The RV7000 was praised for it's fantastic sound when it was introduced in Reason 2.5. Today it's getting an update with an advanced convolution mode that let's you use the reverb characteristics from actual spaces in your music. Or to go all experimental and conjure up your own reverb sounds based on any samples.
Changes in Reason 8.3
The detached rack window can now have a separate browser panel.
Added convolution mode to RV7000 reverb.
Zoom to Selection function for quickly zooming in on selected clips or notes.
Buttons for setting MIDI focus to a device directly from the rack.
The static value for an automated parameter is now adjustable in Arrange Mode.
Added fold button for Info area in browser.
Remote files for Akai MPK Mini added.
Removed outdated splashes shown when copying sound banks from DVD.
Increased horizontal zoom in Edit mode in all template songs.
In Manual Rec mode, Parameter Automation Rec Enables are no longer turned off when you select another track.
The template song chosen in the Setup Wizard should be set in the Preferences.
Mixer scrollbar no longer overlaps the channel strip name labels
Replaced "Beta Version" dialog on startup with label in splash (in Testing versions of the program).
Added tool tip for browse/clear button in Browser side panel.
Audio is now properly clipped to range [-1,1] when dropping to Propellerhead.
Assert Failure When Browsing Nested Folders Using Kong's NN-Nano Sampler Module.
Assert on duplicate many clips.
Authorizer could crash if it tried to start Codemeter service (Mac) and failed.
Assert on drag and drop of REX file to Dr OctoRex.
User statistics failed if Codemeter wasn't installed.
Reason and Authorizer now works with earlier versions of Codemeter (Mac).
Fixed a problem using network attached storage in Reason.
If Music folder was broken, Reason couldn't start (Unknown exception).
Corrected text field validation in Drop dialog.
3rd party RE patch files didn't show proper icons in Reason Essentials.
Having subfolders in the DiagnosticReports folder on Mac could cause Reason to crash.
New Authorizer version included (handles full disk better).
It wasn't possible to drop an NN19 patch on an NN-XT device in Reason Essentials.
The Windows installer now requires the channel.phat file to be present (avoiding broken auto-update).
Improved support for folder aliases and symbolic links.
Text parsing when importing MIDI files could cause unknown exceptions.
Reason 8 is available for purchase for 369 EUR. The Reason 8 Upgrade is 129 EUR. Reason 8.3 and Reason Essentials 8.3 are free updates to Reason 8 and Reason Essentials 8 users.
Artist: Depeche Mode
Song: Stripped (Highland Mix)
from the Stripped single release in 1986
Techno is a sound of resistance. Resistance is a struggle to survive. Survival is an essential component of living. We are here, alive, living, breathing and thinking.
"Disagree" is a statement of non conformity
"Stars" is a statement to put our lives into the context of the universal.
Create, contribute, and celebrate our music.
The belgian band The Happy Hunting Ground with " in the city " from the 12inch " The Happier Hunting Ground " 1985
Out via the Minimal Maximal label by mid July is a split vinyl/CD featuring The Happy Hunting Ground and Phantom Limb. The release was created by Dirk Ivens while all the tracks have been re-mastered by Eric van Wonterghem.
The vinyl version is out in a limited LP edition of 500 copies and includes a free cd version with all 9 tracks. You can order it right here. The Happier Hunting Ground part was originally released as a 12 inch EP on the Belgian label Anything But Records in 1985 while the Phantom Limb tracks were originally released as a 12 inchEP on the Dutch label Sublabel, a division of Torso in 1982.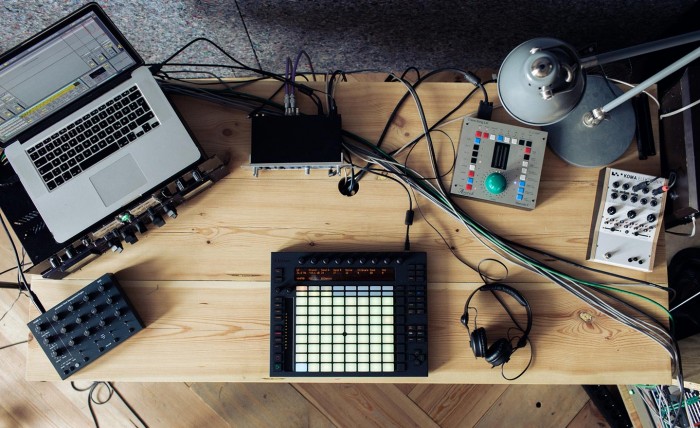 Ableton has announced the release of Live 9.2, an update to the music production software for Windows and Mac.
Live 9.2 brings refinements to Live's audio warping and introduces latency-compensated automation, a new Tuner device, and more.

For Push users this update brings the ability to use all 64 pads to play drums – and quickly flip back to 16 pads for step sequencing.

In addition, Max for Live now includes Max 7, the latest, most powerful version of Max.
Check the release notes for details on what is new. Live 9 is available for purchase starting at 79 EUR.
Ableton has also released a free 64 Pad Lab pack by Mad Zach, featuring five extensive Drum Racks tailored for use with Push's 64 Pad mode.
In a new video, Mad Zach shares his strategies for playing with the 64 pad layout, tweaking individual sounds, and some useful production tips for getting punchy drums – all on the basis of the free 64 Pad Lab Pack.