This is a sequencer that Charlie Slick built with an Atmega arduino chip.
The chip basically replaces the CD4017-or the like-but adds a few features like gate controlled reverse and random. The modules also has an offset input so you can use it like an arpeggio. There is no gate output but it does have an externally trigger reset.
Pseudo multichannel personal autonomous sound installation with 10 panning spots
- 10 speakers
- optical relays
- arduino uno
- micro sd wav player
Moscow, 2014
more info and images - vtol.cc/filter/works/anywhere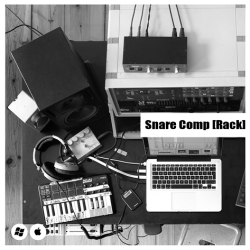 Audiomodern has release Snare Comp [Rack] – a free download for Ableton Live.
The free Live rack is described as 'a hard snare compressor'.
Alba Ecstasy has released a new sound library for theNovation Bass Station II, details below:
87 presets for Novation Bass Station. Demo: all sounds are coming from Novation – The New Vintage pack.
Click here: http://www.albaecstasy.ro/novation/
Delay & Reverb from Ableton.
Alba Ecstasy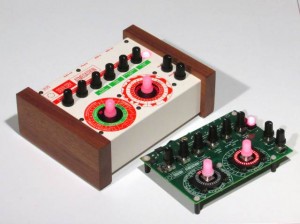 Soulsby Synthesizers has released the Atmegatron – a new 8-bit monosynth. It's the debut product from Soulsby Synthesizers.
The Atmegatron combines the sounds of 1980s home computers with the flexibility and power of a modern synthesizer.
The Atmegatron is built on the open source Arduino platform. This means that the synthesis engine can be completely changed by uploading software to the synth. One minute it's a monosynth, the next it's a drum machine. Soulsby Synths plans to relese new and completely free software versions over the coming months.
Features:
32 waveforms
15 digital filter types
2 ADSR envelopes
1 LFO with 16 waveforms
an arpeggiator with 15 patterns and
loads of fx including phaser, distortion and the unique Wavecrusher.
16 preset sounds and unlimited preset expandability via the Atmegatron Librarian software available for Mac or PC.
The Atmegatron is available in two versions:
Atmegatron Complete – £255 ex VAT & delivery.
Atmegatron Synthesizer
Power Supply
Printed 32 page colour manual
Quick reference guide
The Atmegatron Complete is housed in a beautiful white aluminium chassis with real walnut side panels.
Atmegatron PCB – £127 ex VAT & delivery.
Atmegatron Synthesizer PCB
Power Supply
Quick reference guide
The Atmegatron PCB comes with nylon pillars to keep the PCB raised from its resting surface. The PCB is perfect for programmers and hackers, but is not suitable for outside of the home due to its fragility.
After last year's announcement that And One will go on their last tour during 2014 and then put their gear on the shelf forever, they now seem to have made a 360 degree turn and announces three new albums during 2014 alongside a worldwide tour with the slightly ironic name And One Forever, below are three new teasers from their upcoming album trilogy.
AND ONE FOREVER TOUR 2014
16.03. (So) Köln – Live Music Hall
29.03. (Sa) Magdeburg Factory
30.03. (So) Hannover – Capitol
05.04. (Sa) München – Backstage
12.04. (Sa) Leipzig – Haus Auensee
19.04. (Sa) Hamburg – Große Freiheit
26.04. (Sa) Dresden – Alter Schlachthof
02.05. (Fr) Berlin – Columbiahalle (Setlist A)
03.05. (Sa) Berlin – Columbiahalle (Setlist B)
Tickets: www.eventim.de www.bodypop-shop.de
Besuche AND ONE auch…
…zu Hause: http://www.andone.de
…auf Facebook: http://www.facebook.com/ANDONEofficial
…auf Twitter: http://www.twitter.com/ANDONEofficial
…auf YouTube: http://www.youtube.com/user/ANDONEoff…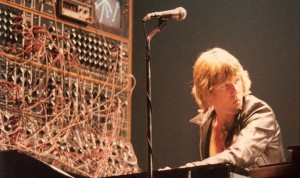 FACT has an interesting article out called: THE 14 SYNTHESIZERS THAT SHAPED MODERN MUSIC, you can read the intro below and then jump over to the site for the full listing.
In 2014 the synthesizer is as important, and as ubiquitous, in modern music as the human voice.

The concept is simple enough – a basic circuit generates a tone, and the tone can then be controlled by some sort of input, human or otherwise. It's a concept that has provided the backbone for countless instruments over the last 100-or-so years, and like it or not, has informed the direction of modern music both in the mainstream and in the underground.

These days it's easy enough to boot up your cracked copy of Ableton Live or Logic and open any number of VST synthesizers, giving you access to decades of technological innovation. It is however important to know how these sounds took hold in the first place, and why they were so successful. Sometimes it was simply the fact that there was no competition (the Minimoog) and sometimes the success was simply down to price and availability (the MS-20).

The following list contains a few of the key instruments that helped shape electronic music, from the obvious (the unmistakable Roland TB-303) to the obscure (the humble Alpha Juno 2). You might be surprised how many of them lie at the center of your favorite tracks.
Example:
Moog had successfully conjured up a brand new market for portable, user-friendly synthesizers, and American manufacturer ARP knew they needed to get in on the action. Their bulky 2500 and 2600 modular units were popular and incredibly widely used, but it was smaller Minimoog competitor the Odyssey that really captured the public's imagination. The synth was basically a stripped-down version of the 2600, and turned out to be the company's best selling synthesizer. Considered by many to be inferior to the Moog, as it only boasted two oscillators to the Minimoog's three and was saddled with a comparatively limited filter, the Odyssey was actually the world's first duophonic synthesizer – capable of playing two notes at once.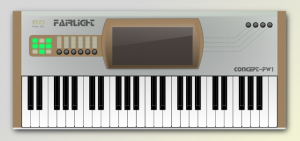 "Success of a product strongly depends on how well the Product Design was elaborated before even starting to work on the first prototype. We help you by immediately turning your ideas into visual realistic sketches, like for example illustrated below."
Here's a link to the source >>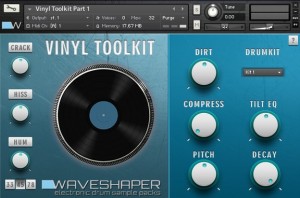 WaveShaper has announced the release of Vinyl Toolkit, a drum instrument library for Native Instruments Kontakt.
The Vinyl Toolkit is a collection of 200 one-shot drum samples taken from vinyl records from various eras, chopped and sliced with love to be production-ready. This is not just a sample collection but a versatile Kontakt instrument with a comprehensive featureset and fast sound-shaping tools.

This instrument was developped in tight collaboration between WaveShaper and Sampleism, and is available to buy for 12.99 on Sampleism.
May you be into dubstep, footwork, hip hop, soul, funk, trip hop, dub, trap, crunk, jungle, skweee, drum & bass, rock or any other genre you will be at home with Vinyl Toolkit !
Vinyl Toolkit features
Fast workflow:

The samples are already mapped into 6 different kits.
5 FX with single-knob action let you quickly fine-tune and shape the sound to taste.

Great sound quality:

hand-picked selection of sounds, with vintage character but also punch and versatility.
24bit, 48khz stereo WAV files built into a Kontakt instrument.
You can add even more grit and vintage flavour by dialing in some hiss, crackles and hum.
The sample library is available to purchase from Sampleism, priced at £12.99 GBP.
Four additional drum sample packs are now also available as Kontakt versions on Sampleism: Monokken, MR-10 (Grey Matter), Stix305 and Aluminium/White Metal, which is now mkII with improved samples.