Make Noise interns Safarii, Asher and Adam came into the Make Noise shop 10 weeks ago with no knowledge of modular synthesis. They learned quite a bit from Walker and Tony and now they are presenting this video to teach the complete neophyte some of the basic principles of modular synthesis.
From here you could move on to:
Make Noise System Tutorial 1: Basic Sequencing
http://youtu.be/9DJzWuOz7vU?list=PL0j…
Make Noise System Tutorial 2: Basic Envelopes with MATHS
http://youtu.be/zySMtEwwSJg?list=PL0j…
Get the Nashville, Summer NAMM experience in under 3 minutes.
visuals: quartz composer fractal experiment.
audio: analog modular synth
The Grassi Box is a MIDI-to-relay piece of hardware (built by Dan Wilson of Circitfied) based on an Arduino teensy and some accompanying software tools built in Max. The idea is to be able to control a variety of my ciat-lonbarde instruments from a computer.
In this video the audio from the guitar is being analyzed (in real-time) to find the nearest preset/combination/permutation from a set of 6884 pre-analyzed presets.
Filmed by Angela Guyton
For more information visit:
rodrigoconstanzo.com/grassi-box
angelaguyton.com
POLYRHYTHMUS is a device to sequence drums, melodies, CCs and parameters and/or build very complex yet mathematically logical and uncommon arpeggios for live purposes.
you can get it for free at http://www.maxforlive.com/library/dev…
more footage from 6/17 shoot in video studio. use headphones as with v1. RW hardware and step sequencer test 2. pls review.
Rhythm Wolf Highlights:
5-voice analog drum machine and synth, with analog design that references classic rhythm machines and synthesizers
Analog drum sounds: kick, snare, open and closed hi-hat, and metallic percussion
Synth bass module: selectable square or sawtooth wave
Onboard 32-step sequencer
Six genuine MPC pads for sequencing and finger drumming
"Howl" knob: custom distortion circuit for additional sound design
MIDI connectivity: USB-MIDI and MIDI In/Out
Gate Trigger: for triggering via modular synths, vintage sequencers, or external sound sources
Dedicated outputs for the drum machine and synth-bass
Pricing and Availability
Akai Pro's Rhythm Wolf is expected to be available in the Fall with a street price of US $199.99. For more information, check out the Akai Professional website.
Plastikman Live – EXhale (Sonar 2014, Barcelona)
Free MP3 Download: bit.ly/EXhaleMP3
AIFF version: bit.ly/EXhaleAIFF
Taken from the Plastikman live performance at Sonar, Barcelona June 2014.
Original version appears on the album 'EX' (OUT NOW)
Digital: po.st/EXdigital
CD: po.st/EXCD
LP: po.st/EXLP
Limited SubPac bundle: bit.ly/1pfllUF
With littleBits, Ayah Bdeir is turning electronics into a resource—like cardboard, plywood, or fabric—that any designer can use. Her color-coded bricks snap together with magnets. Each performs a specific function, allowing users to quickly construct circuits that include sensors, switches, and motors. As simple to assemble as Legos, the kits lend some of the technical muscle of MIT Media Lab alumni such as Bdeir to artists, makers, and kids. The CEO has shipped her kits around the world—and to New York City's Museum of Modern Art, where littleBits are showcased in the permanent collection.
Video by Jane Nisselson / Virtual Beauty
Read about it: http://popme.ch/meet-the-makers
"Robot Dances" – Doug Lynner aka Synthesizerman – 7/19/14 – Performed live at Robotspeak (San Francisco) on the Church of The Super Serge concert series on Serge and Cynthia modular synthesizers.
A close-up video view of the set-up of the instrument for this performance can be seen at http://youtu.be/jZk8Ewv0wCg.
For more visit http://www.neatnetnoise.com
Copyright 2014 by Doug Lynner. All Rights Reserved.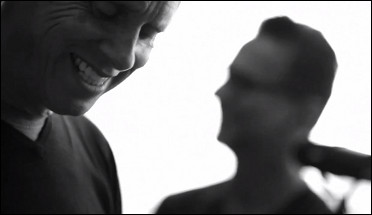 A new tour, a new live DVD, the recipe is well known by now. Out in September is a brand new Depeche Mode live DVD including the 2 concerts the band gave on 25 and 27 November 2013 at the Berlin O2 World venue during their Delta Machine Tour. The film direction is again in the hands of Anton Corbijn. More details will be revealed soon as there is as of yet no officialword out yet. A Blu-ray is expected to be released.