This video examines one way to use the Sputnik Modular Selector or any sequential switch to toggle between different audio rate wave shapes to create more complex shapes.
We're giving away one free Sputnik Modular Selector module! Check this link for more details!
https://www.voltagecontrollab.com/201…
https://itunes.apple.com/app/id920832…
http://ios.icegear.net/laplace/
Laplace is a physical-modeling synthesizer based on resonator synthesis that makes it easy to create bowed string, plucked string, blown pipe and metallic sounds.
"The X-files" returns for a six-episode series helmed by creator/executive producer Chris Carter and starring David Duchovny and Gillian Anderson as FBI Agents Fox Mulder and Dana Scully.
Also returning are the Lone Gunmen, Annabeth Gish, Mitch Pileggi and William B. Davis while Joel McHale will play a conservative pundit who tasks Mulder and Scully with investigating a woman (Annet Mahendru) claiming to have been abducted. Kumail Nanjiani will also play a small role, while Robbie Amell and Lauren Ambrose will play a pair of new FBI agents.
And for the OST fans, music composer Mark Snow has also come aboard
The next mind-bending chapter of THE X-FILES debuts with a special two-night event beginning Sunday, Jan. 24 (10:00-11:00 PM ET/7:00-8:00 PM PT), following the NFC CHAMPIONSHIP GAME, and continuing with its time period premiere on Monday, Jan. 25 (8:00-9:00 PM ET/PT). The thrilling, six-episode event series, helmed by creator/executive producer Chris Carter and starring David Duchovny and Gillian Anderson as FBI Agents FOX MULDER and DANA SCULLY, marks the momentous return of the Emmy Award- and Golden Globe-winning pop culture phenomenon, which remains one of the longest-running sci-fi series in network television history. Subscribe to tvpromosdb on Youtube for more The X-Files season 1 promos in HD!
Official website: http://www.fox.com/the-x-files
Official Twitter page: https://twitter.com/thexfilesfox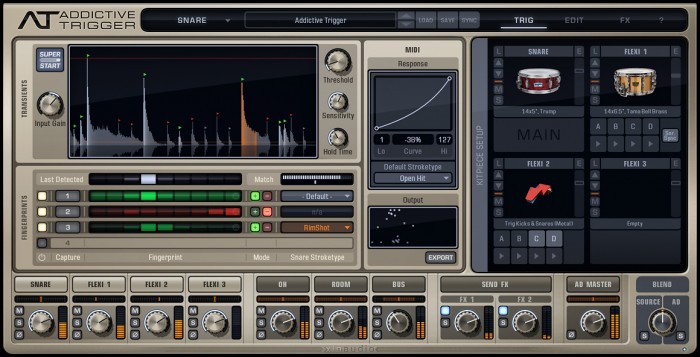 XNL Audio has announced the release of Addictive Trigger, an intelligent drum replacement plug-in for Windows and Mac.
When creating Addictive Trigger, we developed smart new technologies (Audio Fingerprint™ and SuperStart™) to make drum replacement easy and painless. Then, we combined these new technologies with some of the best sounds and features from Addictive Drums 2.

The result is a fast, accurate and fun way to raise your live-recorded drums to a whole new level.
Addictive Trigger features
Audio Fingerprint drum hit detection.
SuperStart auto-adjustment of settings.
Outstanding drum sounds included.
A complete solution.
Addictive Trigger for Windows and Mac (VST/AU/AAX) is available for purchase for 149.95 EUR.
XLN Audio has also released DS-10 Drum Shaper, a transient shaper effect plug-in for drums.
DS-10 is a transient shaper designed specifically for use with drums. The clutter-free interface lets you dial in just the right amount of punch in your drum mixes while three amazing algorithms provide great sounding results.

Our powerful MOJO processor lets you shape the transients in specially chosen frequency bands while leaving other bands unaffected, opening up a world of exciting sound design possibilities.
DS-10 Drum Shaper features
Transient shaping just for drums.
New Natural and Smooth algorithms.
MOJO tuned-transient processor.
The DS-10 Drum Shaper for Windows and Mac (VST/AU/AAX) is available for purchase for 79.95 EUR.
Both plug-ins are also included in the new Trigger+Shaprer Bundle, which is available for 219.95 EUR.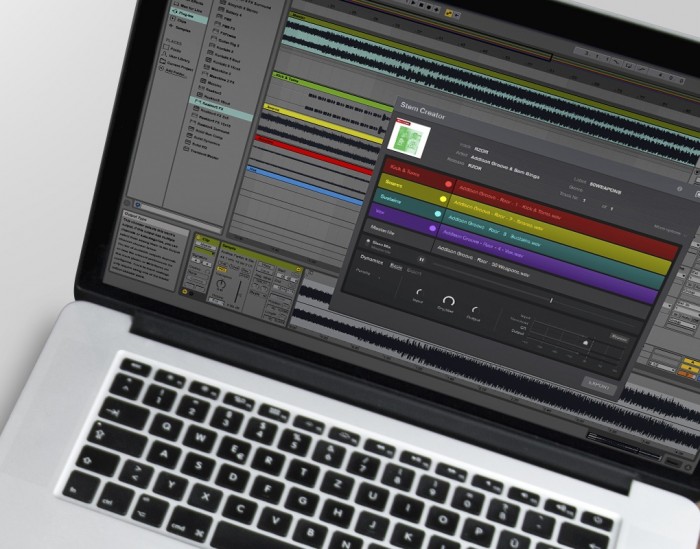 Native Instruments has released the official full version of Stem Creator, the first standalone application developed specifically for Stem file creation.
Available now for free download via stems-music.com, the new tool provides a simple way to create high-quality Stem files using a drag-and-drop interface and integrated mastering controls to fine-tune the final mixed Stem file's sound. Stems enables producers, DJs, labels, online stores, and the entire world to create their own Stem files and discover a new music experience.

A Stem file contains a track split into four musical elements: A drums stem, a bassline stem, a melody stem, and a vocal stem for example. Each 'stem' can be controlled independently to create instant new mixes, mashups, instrumentals, a cappellas, and more.

Stem Creator is designed for the sole purpose of processing audio files into the four-channel stem.mp4 format – streamlining Stem file creation for simplicity and ease of use. To create a Stem file, creators first prepare and export four isolated musical parts of a track from their DAW or audio editor, along with the final mixed version – five uncompressed audio files in total. Then each file is imported into the Stem Creator where a limiter and compressor are adjusted to match the stems with the volume and dynamics of the original stereo master. Standard metadata like track name, artist, and album can then be edited, along with advanced options like stem name and color, catalog number, and album art before finally exporting the finished Stem file.
Stem Creator is available for download at no charge. A developer toolkit will make the technology behind Stems readily available for anyone to integrate into future software and hardware.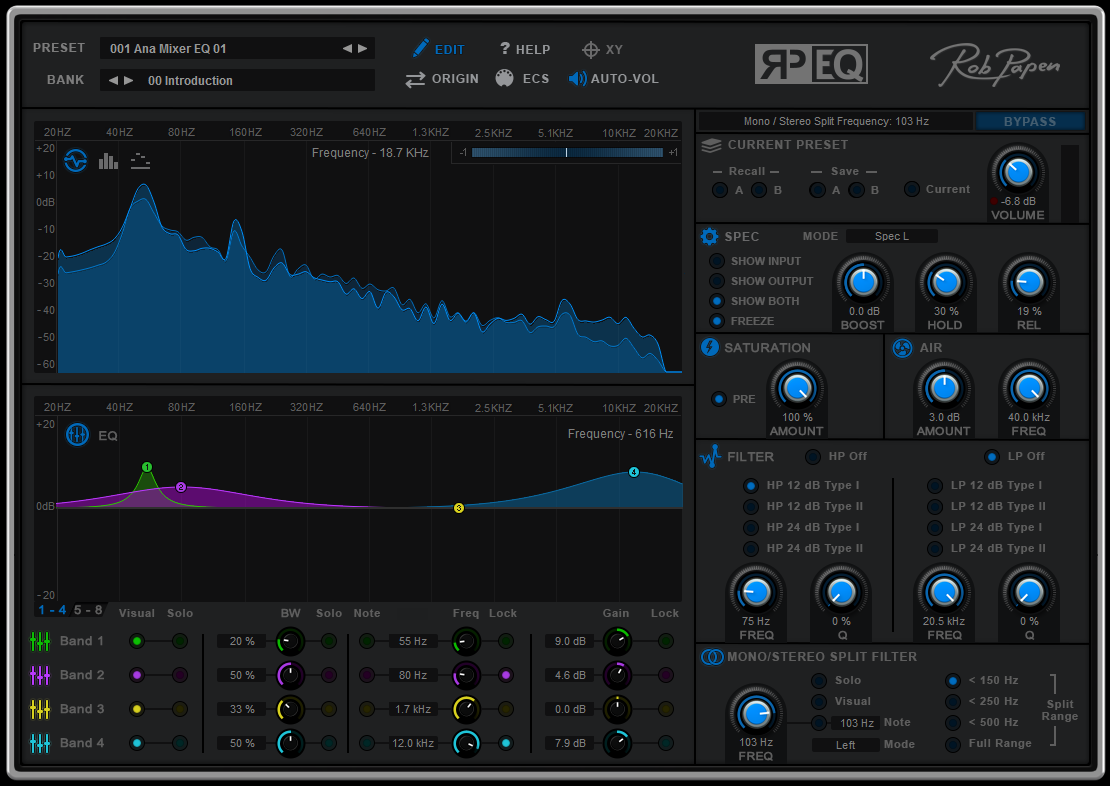 Rob Papen has launched RP-EQ, a new equalizer effect plug-in for Windows and Mac.
In the virtual music world there are a countless number of different EQ's available…so why another one? Well, Rob Papen is all about sound and he was convinced he could add something special to the EQ plugins.

When you first open RP-EQ in your DAW software you will see that it is far from a basic bread-and-butter equalizer. Unique elements were added to the core equalizer unit.
The toolbox includes a Mid/Side equalizer mode and Mono/Stereo split filter which is used frequently in modern EDM/Dance music styles. The Air section is fantastic on your master channel and the proven X/Y Pad adds a dynamic and creative edge to an already very musical RP-EQ.

In true Rob Papen style, RP–EQ comes with many great presets to get you started and with the 'sound' of RP-EQ you will have a great go to plug-in for your top notch music productions!
RP-EQ for Windows and Mac (VST/AU/AAX) is available for purchase for 79 EUR / $89 USD. The eXplorer-III bundle now also includes RP-EQ. The bundle now includes 14 plug-ins, and costs 585 EUR / $699 USD (over 50% off buying the plug-ins individually).
You can get miniSynth PRO here at the App Store
https://itunes.apple.com/gb/app/minis…
miniSynth PRO is a fully-featured, professional-grade virtual analogue synthesizer. It can work as a polyphonic or a monophonic synthesizer at the flip of a switch. It incorporates an improved version of the time proven zero latency "push-pull" Yonac keyboard algorithm that powers our existing synthesizers, and features a highly customized version of our original analogue-clone "Vincent" tone shaping filter. More importantly, it marks the debut of our brand new cutting-edge YASSE (pronounced "Yah-See") modular sound sequencing and synthesis engine, developed in our labs over the last three years.
As a step up on its predecessors, miniSynth PRO is designed as an FM / Subtractive hybrid synth. Among other innovations, it features our special dynamic waveform selection algorithm, individually parameterized voice processing, and carefully selected waveforms driving its dual interactive oscillators and its five-destination LFO.
miniSynth PRO offers many other features to render music making easier. They include a dedicated arpeggiator module, dual individually adjustable keyboards, user control matrix with configurable assignments, and 82 presets designed by actual musicians. Did we also mention that users are able to record their own performances, as well as save and recall any number of their own presets in our brand-new patch design format?
Selected Specs
• Dual Subtractive / FM virtual-analogue polyphonic / monophonic synthesis
• Fully configurable FM, filter or modulation based tone shaping
• Up to 12-voice polyphony with individual voice parameterization and processing
• 44100, 16-bit CD-quality stereo audio output
• Zero latency sound processing
• Dual syncable oscillators
• 6 optimized, custom waveforms per oscillator
• Dedicated oscillator octave, fine tune and mix
• Osc 2-to-1 adjustable frequency modulation
• Custom VCF ("Vincent") w/ adjustable quadruple (Initial, Peak, Sustain, Final) stages and dedicated envelope
• VCA (Amplifier) ADSR envelope
• Noise generator w/ adjustable mix
• LFO with 8-octave range and 6 waveforms
• Dedicated LFO fine tune
• Five individually adjustable LFO destinations (Osc1, Osc2, FM, VCF, Amp)
• LFO key syncing
• Control matrix w/ configurable axes, including pitch bend, LFO modulation, filter parameters and more
• Adjustable continuous glide
• Faithful "latest-priority" keyboard control algorithm in monophonic mode
• Adjustable dual keyboards w/ individually settable key width, position & size.
• Custom arpeggiator module w/ 4 different note orderings; hold, track or trigger modes; 5-octave stepping w/ up to 5 repeats-per-octave
• Option to control the Arp w/ upper KB only
• BPM-based arp timer w/ settable note value
• Custom analog-tone stereo reverb w/ individually adjustable channels
• Recording module w/ file saving and playback
• Export/import recordings and patches via iTunes or Wi-Fi
• 82 carefully engineered presets, including retro, basses, arpeggios and more
• Users can save unlimited presets
• Metronome
• Audio Copy/Paste
• USB MIDI Support for external controllers (requires OS 4.2+ & USB adapter available in the Camera Connection Kit)
• Virtual MIDI IN
• Audio Backgrounding
Learn how to create a lead sound that will slice through any mix with these seven tips.
The first ever documentary film on the most secretive duo in the world. The epic story of two uncompromising artists. With the participation of their closest collaborators and friends from Pharrell Williams to Nile Rodgers, Giorgio Moroder, Kanye West, Michel Gondry, Paul Williams, Peter Lindbergh, Leiji Matsumoto and Pete Tong.
Daft Punk Unchained, directed by Hervé Martin Delpierre, is the first independent film which explores an exceptional pop culture phenomenon of the last twenty years: Daft Punk. Between fiction and reality, magic and secrets, theatricality and humility, Thomas Bangalter and Guy-Manuel de Homem-Christo have created a unique artistic universe. Throughout their career they have remained determined to control every link in the chain of their creative work. The film highlights key moments of their story, from their first school band in Paris to their historic concert at Coachella festival in 2006 and their spectacular triumph at the 2014 Grammy Awards for the album « Random Access Memories ». In an era of globalisation and the expansion of social media, they have refused to show their own faces and they orchestrate every detail of their appearances as robots. The documentary includes archives of radio interviews with Daft Punk, rare footage and exclusive interviews with their friends and close collaborators from Pharrell Williams to Nile Rodgers, Giorgio Moroder, Kanye West, Michel Gondry, Paul Williams, Peter Lindbergh, Leiji Matsumoto and Pete Tong.
A BBC Worldwide France production, 2015
Credits:
FEATURING Pharrell Williams, Kanye West, Nile Rogers, Skrillex, Giorgio Moroder, Michel Gondry, Pete Tong, Leiji Matsumoto, Paul Williams, Peter Lindbergh, Joseph Trapanese, Pedro Winter
DIRECTOR: Hervé Martin Delpierre
WRITERS: Hervé Martin Delpierre, Marina Rozenman
PRODUCER: Patrice Gellé – BBC Worlwide France
EXECUTIVE PRODUCER: Jean-Louis Blot – BBC Worlwide France
All the latest news and release dates on the official BBC Worldwide's pages:
#DaftPunkUnchained
International distribution BBC Worldwide: http://www.bbcworldwidemusic.com/daft…
Facebook: http://facebook.com/daftpunkunchained
Twitter: https://twitter.com/daftpunkunchd
Subscribe to the BBC Worldwide channel: http://www.youtube.com/subscription_c…
BBC Worldwide Channel: http://www.youtube.com/BBCWorldwide
This is a channel from BBC Worldwide who help fund new BBC programmes.
Trying to assign 3D touch to MIDI after touch
'3D Touch' is Apple's name for the updated screens on its latest iPhones that let the screen sense how much pressure you apply to the display. The ability to sense pressure introduces new options for creating musical controllers and software instruments for iPhones. Previously, aftertouch has been dependent on having an aftertouch-capable hardware MIDI controller.