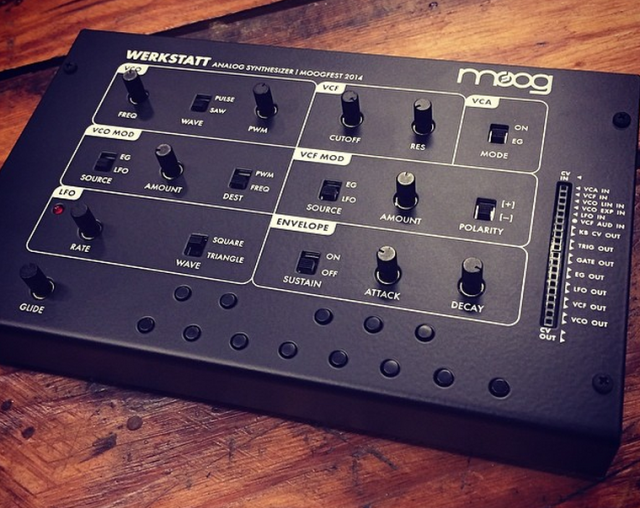 Moogfest has released this sneak preview image of the new Moog Werkstatt Analog Synthesizer, with a couple of interesting features:
Along the right-hand side, there is a break-out patch-bay, allowing modular patching of the Werkstatt; and
Along the bottom, there's a button-style keyboard.
"Werkstatt" means "workshop" in German, so the DIY function is probable. The architecture is a single-oscillator monosynth, switchable between saw waves and PWM. Both the filter and oscillator mod can be set to either an independent LFO or the envelope. Attack / Decay / sustain switch controls the envelope. The most interesting feature is the analog patch bay along the right-hand side of the unit, implemented as a simple header strip. This should suggest semi-modular capabilities by patching with jumper wires. A prototype shot shows those jumpers in action and a 1/4″ jack plug for audio coming out the back.
Background video description from 'alternatingbitmusic': I think its cool how a monosynth can spit out such an array of sounds at once. I started a sound that had a percussive element to it and I thought I'd share with you all. Everything you hear is live from the FutureRetro XS, with CV in from a sequencer for voltage & gate only. The final output has a touch of delay for flavor. Enjoy.
RISE & HIT delivers expressive build-ups with exclusive sounds for spine-chilling, cinematic tension. More: http://native-instruments.com/riseandhit
Seize your audience. RISE & HIT fuses a wealth of unique sounds into a swelling peak, adding spine-chilling cinematic suspense to your soundtracks. Set the ambience with over 8 GB of exclusive ready-to-go samples. Then easily alter, layer, edit, and add effects to fit any atmosphere. Edge-of-your seat intensity guaranteed.
I Dream Of Wires' premiere screening is at Moogfest on April 26, with a 2nd Moogfest screening April 27!
4ms Peg, QCD² / Expander², QPLFO, RCD²,VCA Matrix
Analogue Systems RS100²,RS110²²,RS 360²
Arp Odyssey white noise
Bananalogue Serge VCS
Cyndustries Zero Oscillator
Doepfer R2m, A114, A118, A134²²,A141, A143-2/9,A148,
A149-1,A151²², A175²²,A185-2′³, A 138a²²b²²c²²²
Flame Chord Machine²,Talking Synth Module
foh choices
Grendel Formant Filter ²
Make Noise Brains,Pressure Points², Maths²,
modDemix²²,Optomix,QMMG,René, Wogglebug²
Malekko Anti ²² ,Uncle³,Jag
Moog Taurus 2 , Freqbox ²²,MP201
Roland SVC 350 Vocoder,System 102 & 104
SSL Modulation Orgy
Tip Top Audio Z8000 manual voltage source
Toppobrillo,Quantimator, Sportmodulator,TWF²
Logic masterclock to Kenton Pro 2000²
FX :Alesis 3630,Boss VF1,BSS DPR 402,
Lexicon PCM 80, Line6 Echopro,
Red Federation BPM FX Pro, TC M3000
mackie the mixer³
morse key
Rubens' Tube is an awesome demo and here we take it to the next level with a two-dimensional 'Pyro Board'. This shows unique standing wave patters of sound in the box.
The pressure variations due to the sound waves affect the flow rate of flammable gas from the holes in the Pyro Board and therefore affect the height and colour of flames. This is interesting for visualizing standing wave patterns and simply awesome to watch when put to music. Thank you to Sune Nielsen and everyone at Aarhus for sharing this demonstration with me! And thanks for having me at your conference.
Music by Kevin MacLeod, www.Incompetech.com "Ice Flow"
This recording has been made using ONLY a Korg MS-20 mini.
Original midi tracks has been exploded into a total of 37 monophonic tracks and then processed, one at a time, through a MS-20 mini.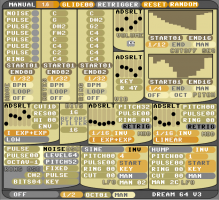 Odo Synths has announced the release of version 3.0 of Dream 64, the free Chip Synth VST instrument plug-in for Windows.
Dream 64 is not an SID emulator, but it's a plug-in that can recreate sounds that are used in chip-music. It's inspired by the SID chip from the old but good Commodore c64 but with some extra features for fun.
Main features:
All sequencers have a start and end loop but start always at step one.
Start-step never can be higher than the end.
Every sequencer has its own BPM rate or all have one manual rate.
8 step Wavetable sequencer with audio on/off (gate effect).
8 step Arp sequencer notes from c to c3 and one c4 note.
8 step Ring modulation sequencer notes from c to c3 and one c4 note.
A Bitcrusher only for the ringmod. This is nice if you use the Wavetable.
16 step easy to edit filter-sequencer. Can be used for nice bass sounds because it has an end step (will sustain).
Waveforms for the oscillator are saw, triangle, pulse, noise, ringmod mode. The noise is very special – it can be pitched by key or fixed.
Oscillator octaves from -3 to 2.
Ring modulation oscillator notes from c to c3 and one c4 note and a bitcrusher (this is nice for the wavetable sequencer).
2 LFOs with 21 waveforms BPM rates and manual with inverter.
The LFOs can start (key sync) (host sync) and (free run).
Destinations of the LFOs are pitch/pulse/ring osc and Filter.
2 modulation envelopes with inverter and BPM retrigger.
Destinations Pitch/pulse/ring modulation.
Filter Envelope can be switched to the filter sequencer.
filters lowpass/hipass/bandpass/low and hipass/band and hipass/band and lowpass.
Random for most of the controls.
Reset most of the controls.
Double click is reset for most of the controls.
Bitcrusher before and after filter.
Dream 64 is a free download at http://chips.site90.com
Video by LickMyKazoo (www.lickmykazoo.com)
Drum programming, mixing and all synth tracks performed by Kostis Tsioulakis
(https://soundcloud.com/kostistsioulakis)
Synthesizers used: murmux initiate, semi-modular and pedalsynth
(http://www.dreadbox-fx.com/synthesize…)
Delay used (on lead track only): Dreadbox Sonic Bits
(http://www.dreadbox-fx.com/sonic-bits…)
Recorded directly through an RME fireface 400, no aditional effects, eq, compressor or filters used (except for the drum track)
controller used: Keith McMillen QuNexus
(http://www.keithmcmillen.com/qunexus/…)
Original track covered: "Revenge of the Black Regent" by Add N to (X),
Avant Hard, Mute Records Ltd, 1999
MFB-522 drumcomputer sound demo
No processing , recorded thru mackie 820i into ableton @ 100bpm
http://acidoo.com
Bassdrum + Snare/RS separate out
Instruments stereo out