Background video description:
One of the easiest drum machines to use and my first one I got in about 1988 which was still selling new. Related to the TR-707 but slimmed down to the size of a crappy RX machine. Has better sounds and editing than the RX17 or similar. Love the claps, the kicks, everything about it. Funny enough these can go for crazy prizes, like over $200.
This video demonstrates the basics of creating a beat with the Elektron Analog RYTM.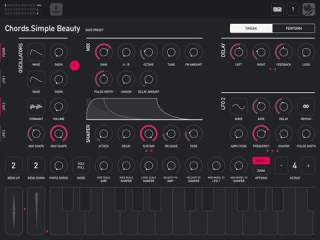 Retronyms has released Phase84 – described as 'a next generation phase distortion synthesizer', inspired by the classic phase distortion synthesis sounds of the Casio CZ line of synths.
Phase distortion synthesis is a form of waveshaping synthesis that has its roots in Casio's CZ line of digital synthesizers from the 80s. It is designed to have the warmth of a subtractive (analog) synthesizer, yet be capable of the squelchy tones and sharp attacks of an FM synth.
Phase84 is an extremely capable synthesizer and features over 110 presets, containing all sorts of basses, leads, pads, bell tones, sweeps, atmospheric sounds, pseudo-realistic tones, and more. While you don't need to know much about synthesizers to get a lot out of Phase84, experienced synth tweakers will be thrilled at the sheer variety of unique sounds that can be produced with this incredibly versatile synth.
Features:
More than 100 presets.
MIDI support.
inter-App Audio support.
Advanced Keyboard section.
Expressive Perform Mode with Groove Gate.
Tabletop Ready App.
Precision Knob mode.
Phat, naturalistic unison feature for super thick pads and sweeps.
Oscillator Section: 9 Params, 2 General-Purpose Oscillators, 1 Formant Oscillator.
Mix Section: 8 Params including Delay Amount and Pulse Width.
Envelope Section: Amplitude and Shaper Envelopes. Fully visualized and interactive
ADSR plus special Fade Param.
Delay/Filter Section: Stereo delay with loss modeling and a punchy overdriven analog-style filter.
3 LFOs: More flexible than your average LFO, this has 4 waveforms, optional delay and repeat count, and can go into the audible frequency range.
Thereminist Lydia Kavina, first taught by Léon Theremin himself, gives us great tips and tricks for playing the wonderful new Moog Theremini. If you're just getting started with the Theremini, make sure to check it out! Want more info? See below!
The Moog Theremini is an affordable modern re-imagination of the classic Theremin, which anyone can learn to play – it has:
• User friendly pitch assist correction with selectable scales and root note, so you can't play a wrong note! You can also turn this off for classical theremin glissando sounds, or just dial it back for partial correction as you improve your technique.
• 32 different sounds on-board, covering a range of basses, lead sounds, classical theremin tones and much more.
• Adjustable stereo ping-pong delay built right in, for wonderful ethereal sounds right out of the box!
• Built in tuner gives live visual feedback of currently playing note, showing how close you are to hitting the note to help learn pitch and scales.
• Built in speaker for instant playback anywhere.
• Headphone output (which mutes the speaker) for practising!
• Stereo 1/4″ audio outputs to connect Theremini to audio interfaces, looping pedals, stereo systems, multitrack recorders or anything you like!
• Single Pitch CV output w/ selectable range, so you can connect it to analogue synthesizers and use the Theremini as a wild CV modulation source.
• 21 user selectable scales and user-adjustable root note selection (including chromatic)
• User selectable note range: choose the highest note and lowest note (stored per preset), so it can be set up as you prefer
• Removable pitch antenna – built in storage compartment on bottom-side for easy storage and transportation (carry bag sold separately)
• Built in 3/8" Mic stand and Camera stand adaptor.
• High quality rubberised feet so it can be placed on a table.
Download SoundPrism Electro here: http://soundprism.com/electro/download
Audanika has introduced SoundPrism Electro – a new iPad musical instrument, based on their SoundPrism Pro instrument and MIDI controller. 
Features:
New sound engine with rock-solid polyphony and great-sounding effects. SoundPrism Electro's new sounds are hand-crafted by Swiss sound designer Oliver Imseng to work beautifully with each other.
Innovative and improved chord input system: effortlessly play inversions and chord progressions while focusing on your track, not on the music theory behind it.
A ribbon controller for live manipulation of the built-in effects.
New interactive tutorial system: SoundPrism Electro walks you through its interface and teaches you how to play.
Supports Audiobus including state saving.
Supports Core MIDI
All audio and video content c.2014 G-Storm Electro
All original patches. Mostly bass, arpeggio and some sound FX stuff. The only sound is the Sub37 and sometimes the Volca Beats (off camera) mixed on an Alesis Multimix8. No effects added to the synth recording.
"Go (Blank Sea)" is taken from Zola Jesus' new album, TAIGA, which is out now. The video was recorded live at Webster Hall in New York City on October 19th, 2014.
Director: Mark Zemel (little-tv.com)
Editor: Jorge Duran
Camera: Nathan Lynch & Mark Zemel
Sound Engineer and Mix: Jeff Curtin
2014 & 2015 TOUR DATES (zolajesus.com/tour.html)
Nov 11th / Berghain / Berlin, DE
Nov 12th / Uebel & Gefährlich / Hamburg, DE
Nov 13th / Zoom / Frankfurt, DE
Nov 14th / Botanique/Orangerie / Brussels, BE
Nov 15th / Melkweg / Amsterdam, NL
Nov 18th / Koko / London, UK
Jan 8th / Neptune / Seattle, WA
Jan 9th / Mississippi / Portland, OR
Jan 10th / VENUE/ Vancouver, BC
Jan 12th / Urban Lounge / Salt Lake City, UT
Jan 13th / Bluebird Theater / Denver, CO
Jan 14th / The Granada Theatre / Lawrence, KS
Jan 15th / Cedar Cultural Center / Minneapolis, MN
Jan 16th / Tomorrow Never Knows Festival / Chicago, IL
Jan 17th / The Ready Room / St. Louis, MO
Jan 19th / The Loving Touch / Ferndale, MI
Jan 20th / Skully's / Columbus, OH
Jan 22nd / The Drake / Toronto, ON
Jan 23rd / Phi Centre / Montreal, QC
Jan 24th / Fete Ballroom / Providence, RI
Jan 27th / Union Transfer / Philadelphia, PA
Jan 28th / Ottobar / Baltimore, MD
Jan 29th / Black Cat / Washington, D.C.
Jan 30th / Motorco Music Hall / Durham, NC
Jan 31st / Terminal West / Atlanta, GA
Feb 2nd / Fitzgerald's / Houston, TX
Feb 3rd / The Mohawk / Austin, TX
Feb 4th / The Loft / Dallas, TX
Feb 6th / The Crescent Ballroom / Phoenix, AZ
BUY TAIGA HERE:
Digital- found.ee/taigadigital
CD- found.ee/taigacd
LP- found.ee/taigalp
Marbled LP- found.ee/TaigaMarbled
Website: zolajesus.com/
Twitter: twitter.com/ZOLAJESUS
Facebook:facebook.com/zolajesusofficial
Soundcloud: soundcloud.com/zolajesus
Instagram: instagram.com/zolajesus
Tumblr: zolajesus.tumblr.com/
Youtube: youtube.com/user/ZolaJesus
Spotify: open.spotify.com/artist/78OKNrjc3BvniYTqvpOp6P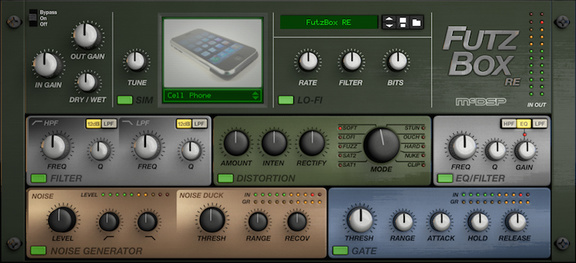 McDSP has announced it has released the FutzBox Rack Extension for Propellerhead Reason.
McDSP introduces one of the most popular music and post production tools for adding grit, distortion, and character to your audio for the Reason audio production platform!

The FutzBox Rack Extension plug-in is a collection of filtering, distortion, noise generation, and lo-fi effects, coupled with the ability to harness the sound from over 160 devices including walkie-talkies, telephones, radios, and more!
The FutzBox for Reason is available for purchase for $79 USD / 65 EUR through the Propellerhead Shop.
Hear how FutzBox RE by McDSP can inspire your creativity with distortion, filtering, bit crushing, gating, over 160 SIMs (Synthetic Impulse Models) and more!
This is a preview, more info soon at http://www.amazingnoises.com
The Amazing Noises Reverb is a Feedback Delay Network (FDN) Reverb Effect, which can create nice reverberated ambiences, from small rooms to huge buildings. It can also simulate alien and unreal spaces, for your experimental fun!