Europa driving: two Seiko ds-250, two Kawai k5, two k3, jd800, Cz-1, and Pearl DRX1 (analog triggers)
key features of europa:
intuitive and simple programming procedure
no sub-menus or shift keys – one function per key*
simple to use – tr808/606 style programming.
has swing (shuffle!)
analogue features – analogue tempo clock, 7 analogue trigger outs, analogue sync signals
live editing features
transpose, octave shift, mute
rugged steel construction.
*the europa uses dynamically allocating function keys so that the button you need is always one hand without having to resort to something as arcane as a shift key.
europa is a hardware sequencer, it does not contain a 'sound engine'. it has been designed from the ground up to be utilised with your midi synths, analogue modular, drum brains and drum machines.
use with your analog sequencer….it's so cool!! eurpoa was designed to be utilised with our sq8 and oberkorn analogue sequencers (and anything else with a compatible clock input).
either use the main sync out or one of the seven trigger outputs to clock your analogue sequencers. have them step whenever you like by programming triggers into the europa sequencer. you can have 2 sequencers play alternately. you can mute the track so the oberkorn/sq8 sequencer stops! use another trigger and you can activate the reset feature of the oberkorn/sq8!

The Godfathers of Electronic Music, Kraftwerk + DIY Synth Kit + Awesome kids = Future Inventors
Inspire your future musicians this Christmas, whether they're just dabblers or composers. Understand how to put your synth together and then create your next track with our DIY Synth Kit. Put together 3 Synths in one; Atari Punk, Dub Siren and Stutter!
All music created with the Tech Will Save Us DIY Synth Kit.
Technology Will Save Us make DIY Kits to spark creative imagination.
Useful Links:
Build your DIY Synth – https://www.techwillsaveus.com/resour…
Buy your DIY Synth Kit – https://www.techwillsaveus.com/shop/d…
YOU CAN ALSO FIND US HERE:
BLOG : www.techwillsaveus.com/blog
FACEBOOK : http://facebook.com/techwillsaveus
TWITTER : http://twitter.com/techwillsaveus
INSTAGRAM : http://instagram.com/techwillsaveus
Utilizing the Moog Modular System 55, the psychedelic dub artist known simply as Ott designs a sonic environment in which to explore the duality of connection and isolation.
Learn more about the System 55 at:
http://www.moogmusic.com/products/mod…
Hear more from Ott at:
http://ottsonic.bandcamp.com/
'Blackbird' by On Dead Waves
"My dreams are like summer, and yours are like spring
Let's sleep until sunrise, sing blackbird sing"
'Blackbird' Free Download: smarturl.it/ODWBlackbirdDLD
Listen to the On Dead Waves mixtape: LINK
Connect with On Dead Waves:
instagram.com/ondeadwaves
twitter.com/ondeadwaves
ondeadwaves.com
facebook.com/ondeadwaves
echo | collective has released ORION, a drum library and step sequencer built for Native Instruments Kontakt.
In addition to the sequencer, ORION contains over 800 unlocked one shot percussion sounds. These are arranged into 18 future-retro inspired drum kits created from custom-sampled and processed classic analog synths and drum machines, DSP-manipulated acoustic recordings, and a kit built entirely from processed vinyl pops and clicks. This includes three artist signature kits created by producers Vital, Phrakture, and Timecop 1983.
The ORION instrument is designed to allow fast, easy, and intuitive sequencing of the drum library using a unique dual-view sequencer: Step View mimics the sequencing style of classic drum machines focusing on one drum sound at a time, while Grid View shows the entire pattern, inspired by modern software and grid-controller hardware.
A user can delve deeper with the advanced step modulation sequencer for per-note control of every parameter of every sound on every beat. Sequenceable send effects include programmable reverb and delay.
A user can also add grit and glue to the beat with the insert effect module, delivering tape saturation, compression and a selection of custom tape hiss and vinyl noise floor recordings.
Specs:
24-bit 44k unlocked wav files.
17 unique drum kits.
60+ Kontakt fully programmed unlocked .nki files.
.nki files require full version of NI Kontakt 5.5 or higher.
Price: $30 [Limited introductory price].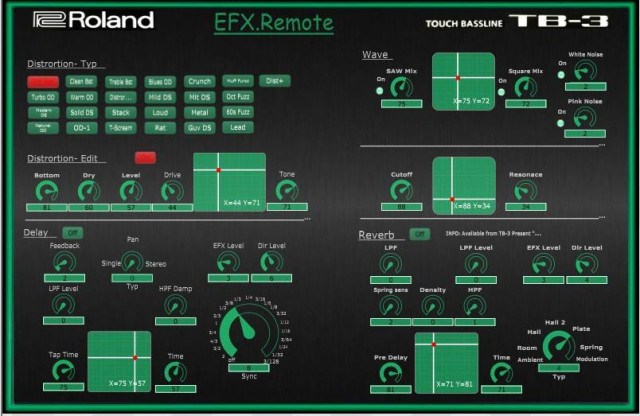 Momo Miller let us know that he has developed an editor for the Roland Aira TB-3 synthesizer, EFX.Remote.
The patch editor lets you edit the effects section and the wave/filter settings on the Roland TB-3.
EFX.Remote is available for US $5, for Mac & Windows.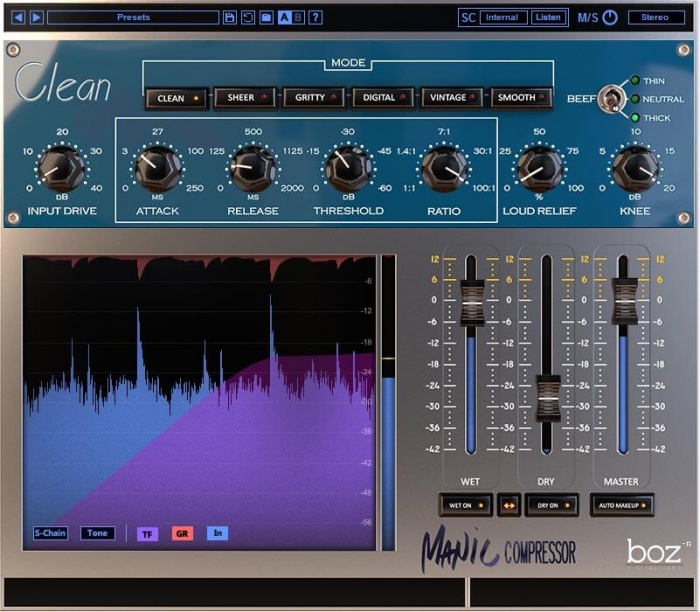 Boz Digital Labs has announced the release of Manic Compressor, a new compressor effect plugin for Windows and Mac.
Manic Compressor was designed from the beginning to be more than just a compressor. It was designed to unleash the power of parallel compression without requiring complex routing in your DAW.

Even with 6 different compressor modes and a comprehensive parallel routing setup, Manic Compressor uses an intuitive interface to get you way more power from your compressor than you've ever had before.
Manic Compressor (VST/AU/RTAS/AAX) is available for the introductory price of $99 USD (regular $149 USD). Until November 30th, 2015, you can save an additional $20 USD by using coupon code MANICLAUNCH at checkout.
Tested out Ableton Link and Patterning on the iPad w/ my wife.
Read the article: http://www.theproducerskitchen.com/ab…
Tempo from Live, iPad and Mac in separate rooms: 0:00
Tempo from Patterning: 2:52
Live and iPad in same room: 4:09
Ableton Link: https://www.ableton.com/en/link/
Patterning: Drum Machine: http://www.olympianoiseco.com/apps/pa…
Chief engineer Tatsuya Takahashi walks you through a step by step of how to program a step sequence on the volca sample OK GO edition.
– Check out other tutorial!
Introducing volca sample OK GO edition – Part 2: Sample Edit
http://www.youtube.com/watch?v=g-u6gv…
– And OK GO's introduction video!
volca sample OK GO edition – Get the volca sample and remix OK GO!
https://www.youtube.com/watch?v=9KyfE…
– Get more details about this product!
www.korg.com/volca_sample_okgo_edition/
Chief engineer Tatsuya Takahashi explains the basics of how the 11 parameters can manipulate the way samples sound on the volca sample OK GO edition.
Analog, digital and virtual

A synth jam with Yamaha DX7II, Moog Sub 37 and Korg Gadget for iPad.
Fx: TC-Helicon Voice Live GTX (chorus and reverb for the DX7 II) and Zoom MS70 CDR (chorus, reverb and delay for the Sub 37).