Music video for the Jack Dangers/Wolfgang Flür collaboration 'Staying In The Shadow', exclusive limited edition clear vinyl seven-inch, only available via the Electronic Sound Music Club.
Details here: www.kickstarter.com/projects/147541…lect­ronic-sound
Make sure to Like and Follow to make sure to be updated as new material is added
Discover what the AudioFuse, the Next generation audio interface has underhood!!
More info:
http://www.arturia.com/audiofuse/over…
Features
14 Input, 14 Output channels
4 analog inputs: 2 x Mic/Instrument/Line, 2 x Phono/Line
4 analog outputs; 2 analog inserts
ADAT I/O, SPDIF I/O; Word Clock I/O
MIDI I/O; 3-port USB hub
2 microphone preamps with DiscretePRO technology
2 RIAA phono preamps
Latest generation 24-bit AD/DA converters at up to 192kHz sampling rate
Option for analog soft-clipping
Talkback feature with a dedicated built-in microphone
A/B speaker switching Direct monitoring
Separate Master and Monitor mix channels
USB interface with PC, Mac, iOS, Android, and Linux compatibility
Aluminum chassis, leather-covered top
Official music video of the song "Timelessness", taken from the album "Memories" released in March 2015.
Order the album "Memories" at:
[Europe] http://thyxmusic.com/store/en/mindina…
[World] http://www.metropolis-mailorder.com/p…
Credits:
Music Video produced by Dogfella Studio
https://www.facebook.com/dogfellastudio
twitter.com/dogfella_studio
Instagram.com/dogfella_studio
www.dogfella.co.uk
Director: Paris Seawell
Girl: Dandan Liu
Man: Hugo Nicolau
So, I got hold of stems for some obscure Wulfband song.
I tried to make the video in their usual style (basically just remove colors and lower brightness?). Hope you like it!
New track from The Operating Tracks
Berlin's Schneidersladen aren't quite like other music gear stores, starting with their hidden location above a grocery store.
And then there's their incredible rotating rack of modular gear. We sped it up so we can stare dizzingly and watch. Guessing this doesn't exactly work as aversion therapy.
Euclidean rhythms generated by the new Knit Rider sequencer modular from Bastl Instruments (CZ) – at a workshop hosted by Schneidersladen, Berlin. More to come.
Quick live jam on the modular from Bastl Instruments (CZ) – at a workshop hosted by Schneidersladen, Berlin. More to come.
Leftfield have announced their new album and put out a track on SC  for the new album 'Alternative Light Source'. The usual 'pre-order it now and get a track immediately' offer is on.
The band is playing what passes for a UK tour these days, with live dates in June for Bristol, London, Manchester, and Glasgow. Head to http://www.leftfieldmusic.com for tickets and more information.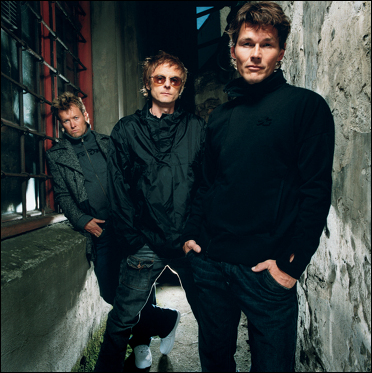 Yesterday it was officially announced that a-ha have reunited, it was done at a  press conference at the Norwegian Embassy in Berlin.
Present were Paul Savoy, Morten Harket and Magne Furuholmen. The trio also released some specific details during the press conference. A new a-ha album, "Cast In Steel", will be released this fall to be followed by an international tour in 2016. "Cast In Steel" is the follow-up to 2009's "Foot of the Mountain" and will be out September 4th 2015, 3 weeks before the band plays at Rock In Rio in Brazil and 30 years after their first single "Take On Me" reached the number 1 spot around the world.
Surprisingly, it's Alan Tarney, the man who produced a-ha's first 3 albums, which has now produced "Cast In Steel".
a-ha will hold 15 concerts next year – 13 in Germany, in addition to one in Zurich and one in Vienna. Currently no other concerts have been announced though it's pretty sure that more will follow. These are the first tour dates which have already been announced Germany:
April 3 – Stuttgart Schleyerhalle
April 4 – Zurich Hallen Stadium
April 6 – Munich Olympiahalle
April 7 – Leipzig Arena
April 9 – Nuremberg Arena Nürnberger

Versicherung

April 10 – Vienna Stadthalle
April 13 – Berlin Mercedes Benz Arena
April 14 – Hamburg O2 World
April 16 – Bremen ÖVB Arena
April 17 – Hannover TUI Arena
April 19 – Halle Gerry Weber-Stadium
April 20 – Oberhausen König-Pilsener-Arena
April 23 – Mannheim SAP Arena
April 24 – Frankfurt Festhalle
April 26 – Cologne Lanxess Arena