Front 242 – Belpop Documentary 2008
Thanks to deutschmark for sharing
A special program about Front 242 broadcasted on Belgian TV.
(Dutch spoken, French parts got Dutch subtitles)
Number of interviews and archival footage never seen before.
A mashup with Front 242 – Circling Overland and Gesaffelstein – Hate And Glory.
All live, no computer.
Gear used:
Elektron Octatrack
Elektron Analog Four
Roland Aira TR-8
Roland Aira VT-3
Nothing But Noise, a project from Front 242's mastermind Daniel Bressanutti, Dirk Bergen (ex Front 242) and Erwin Jadot, has released 2 videos from their live concert at this year's BIM festival in Antwerp. The first of the two is a cover of Joy Division's "Love Will Tear Us Apart". The second is the track "Mooglish", also recorded live in Antwerp.
Enjoy

PIAS has just made public the video for the track, by the great Anton Corbijn. Rumour has it that the director misheard the track title as 'egghunter', which explains the grainy footage of a fruity lady being chased around wearing an egg on her head, eggs falling, and so on. For more on PIAS Recordings 30 year anniversary and their vinyl reissues, please visit their website.
This is not any official remixes but it sure sounds nice. Out now on the download streets is a dubstep remix of the 80s classic "Don't Go" in a remix by Dominatrix aka Andy Motke.
We asked Vince Clarke what he thought of it, here was his answer: "Uber cool!"
It's not the first time that Motke has been remixing electropop acts. He also had a take on Bigod 20 vs Front 242.
Via SL
Steelberry Clones got an exclusive interview with Daniel B (Daniel Bressanutti) from Front 242. Daniel B talks passionately about analog synthesizers, the future of Front 242 and his latest project – Nothing But Noise, with a scheduled album release on April 16th. Front 242 hardly needs any major introduction, for 30 years they have been shaping, defining and exploring the genre that later became the foundation for electronic body music (EBM). Several bands have followed in their footsteps since then. Front 242 started in 1981 in Aarschot, near Brussels, Belgium, by Daniel and Dirk Bergen, who wanted to create music and graphic design using emerging electronic tools. The first single, "Principles", was released in 1981. The front part of the name comes from the idea of an organized popular uprising. Patrick Codenys and Jean-Luc De Meyer had separately formed a group called Under Viewer at about the same time, and the two duos joined together in 1982. Bressanutti, Codenys and De Meyer took turns on vocals at first, until they settled on De Meyer as the lead vocalist. De Meyer came to write most of the lyrics and Valerie Jane Steele also wrote several tracks including "Don't Crash". They decided not to use the regular waveform settings on their synthesizers, arguing that creating the waveform for each note was part of the creative process.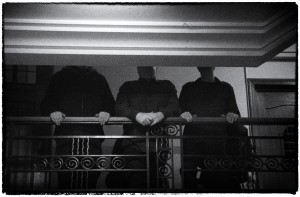 Dirk Bergen early on left the band to pursue other things, but Daniel tells us that they have remained friends for all of these years, and when the opportunity came up last year they decided to get back in the studio together with Erwin Jadot (a mutual friend) to bring us this new project called Nothing But Noise (NBN). The new NBN album that will be released on April 16th brings us a very different sound, then we are used to listening to Front 242. NBN, apart from being done entirely by machines, has very little in coming with Front 242 – it is a very complex sounding album with strong ambient influences, basically all instrumental and perhaps most importantly no drums. Daniel B tells us that this was a clear intent from the beginning – to do a full synthetic album with no drums in sight. Steelberry Clones has pre-listened to the entire album and we must say that it is an impressive sonic experience to listen to all these analog synths pushed into a dark ambient world – a cinematic experience. You can pre-listen to a couple of samples below on the NBN SoundCloud player below:
The members of Front 242 were heroes in the electronic underground scene all through the 80s and 90s, and have continued to record and tour to the present day. The band members has come and gone over the years but they all have one thing in common and that is their love for side-projects – all current members of Front 242 sport multiple side-projects spanning DJing, bands and film. Daniel B has produced a range of extra-curricular work over the years, including 'Male or Female' and 'Speed Tribe', a DVD and audio release based around the 2001 Le Mans motor race. Nothing But Noise, together with Dirk and Erwin, is Daniel's latest and most anti-242 project and of course we here at Steelberry Clones needed to know more about this.
Can you tell us a little about the theme of the new NBN album
"For us it was like a new beginning, and although it had been a long time since we stopped working together, we always had in the plans that at one point in time we should do something together. So when the opportunity came we basically did not have any specific plans for the new album – we merely did for ourselves, not something revolutionary, but something we both liked."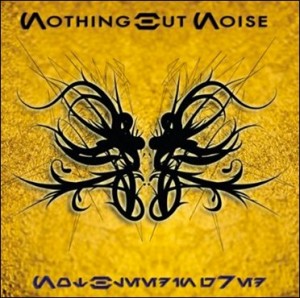 However, somewhere in the back of our heads we had two objectives; first we wanted to kind of explore where the music we all listened to when we were young (Tangerine Dreams, Krautrock, Kraftwerk, Stockhausen etc) would have been today if these acts had continued to produce material all the way to where we stand today. Secondly, we wanted to take on the challenge of not using any drums at all, especially considering our Front 242 background. "I would say that the only real parallel to Front 242 is the sole use of machines.".
You have all been engaged in several side projects, along side Front 242, has this been a way to keep the creativity up
Not in relation to Front 242, I would say. Front 242 is actually more of a certain formula – you know what it is supposed to sound like, and in fact most of our fans (and the longer we keep going) want us to sound the same. At least speaking for myself – Front 242 is not my whole life. It's the same thing with a guitar player who at points in time also wants to play the piano – there are so many things to explore, but of course all the things you do outside of Front 242 will influence the work in the band – cross-pollination in a sense. The "Male and Female" album has definitely influenced my way of making music and in general it is easier to be creative in a new format, like Nothing But Noise, to explore new things.
The announced break with Front 242, was that because of Nothing But Noise, or something else
"As you know we (Front 242) do not make any records anymore – so I have plenty of time to focus on other projects." Front 242 still have some booked concerts that we will do, especially in countries where we have not toured a lot, so we will still do occasional shows going forward, and for how long depends a lot on inspiration. When it comes to Nothing But Noise it is easy to say that we have the time and music is our lives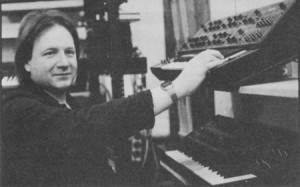 Was it hard to start working again with Dirk after all these years – did you have a plan on what you wanted to accomplish
"We talked about it a lot and we did not have a master plan what we wanted to do."
Nothing But Noise is the new musical project from Front 242's mastermind Daniel Bressanutti, Dirk Bergen (ex Front 242) and Erwin Jadot. Upcoming is the project's first album "Not Bleeding Red" (expected to be released in February 2012 but now delayed to April 12, 2012). The band has now released 2 new videos.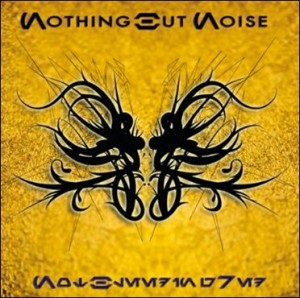 The album will be available as a double CD box (containing 9 tracks) or as a double vinyl album (containing 8 tracks). You can order them on Amazon USA, Amazon UK or Amazon DE.
Enjoy
This was just announced via the Alfa Matrix – the Belgian electro giants Front 242 have decided not to perform in Europe after the 1st of May 2012 and this until further notice. In a message to the label the band says that they need a (well deserved) break (to start recording a new album as well?).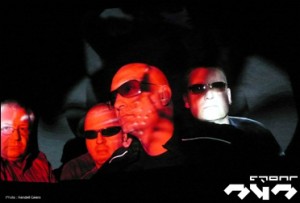 This however also means – and the band has confirmed this as well – that Front 242 will not perform at the Amphi Festival 2012 in Cologne nor at the Noctural Culture Night 2012 Festival in Deutzen.
In case you think that festivals are to blame, know that the band added: "The promoters of those festivals are not responsible for this decision which is fully on Front 242′ s behalf."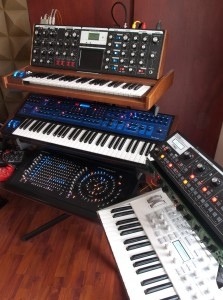 Nothing But Noise, the new musical project from Front242s mastermind Daniel Bressanutti, Dirk Bergen (ex Front 242) and Erwin Jadot will do a couple of live concert to promote the upcoming album release "Not Bleeding Red" (exptected to be released in Feb 2012). Daniel, Dirk and Erwin have created special versions of the songs for the live show to give the live performance some extra punch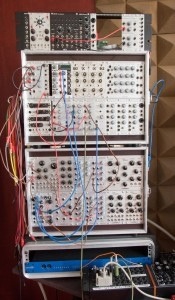 For the live concerts, NBN will be using 1x Access Virus TI2, 2x Access Virus TI Polar's, 1x Dave Smith Instruments Prophet '08, 1x Macbook Pro running Steinberg Cubase driving an Edirol UA-101 audio interface, and an Avalon VT-747sp stereo vacuum tube compressor/equalizer on the master insert to spice up the main mix. Audio XL (http://www.audioxl.be) and Soundcraft (http://www.soundcraft.com) decided to support and sponsor NBN by providing a Soundcraft Si Compact 24 digital live mixing console (http://www.soundcraft.com/products/product.aspx?pid=181) to take care of the sound mixing.
NBN Live Dates :
– 14 Oct 2011 : Body Farm festival Chapter II, Botanique, Brussels (Belgium) http://www.bodyfarmfestival.org
– 22 Oct 2011 : CC Het Gasthuis, Aarschot (Belgium)
– 19 Nov 2011 : Centre Scolaire Notre-Dame de la Sagesse, Brussels (Belgium)
For more info and the likes : check out http://www.nothingbutnoise.be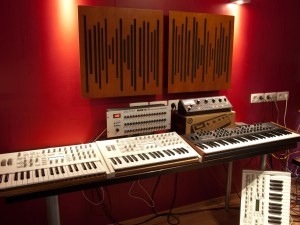 …and here is the complete line up: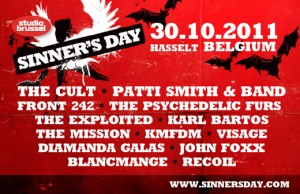 On Sunday 30 October 2011 Hasselt (BE) will host the best of new wave, EBM, electro, synthpop, post punk, darkwave and industrial. For this 3rd edition the festival will work with 2 stages in the main hall of the Ethias Arena so that visitors no longer need to choose between 2 different halls.

Here's a round-up of the bands playing:
FRONT 242 (BE) – Undeniable the biggest electronic band that Belgium ever was able to export before, during and after (and not thanks to) the New Beat era. Signed nowadays with the Belgian electro label Alfa Matrix they are set for a few more surprises in the next months. The influential Belgian band will celebrate its 30th birthday at Sinner's Day. Happy birthday guys!
THE CULT (UK) – The band became cult itself by melting Led Zeppelin's hard rock with The Doors' mystique and The Cure's dark new wave. If there's one The Cult song that you all know, it's the anthem and million seller "She Sells Sanctuary" which was recorded for the band's second album "Love" (1985). This will be a unique opportunity to see the band live.
THE PSYCHEDELIC FURS (UK) – The Psychedelic Furs were top of the bill in the Club during Sinner's Day 2010. It was their first concert in Belgium since 25 years. They are back now for the main stage bringing a mix between punk and pop.
THE EXPLOITED (UK) – Punk and New Wave, the pair has gone together for years. Since 1980 The Exploited has been the image 'par excellence' of the punk movement with "Punk's Not Dead" being their first legendary album. 11 guitar players, 10 bass players and 8 drummers, we'll see singer Wattie Buchan showing that the band has still enough guts after 31 odd years.
JOHN FOXX AND THE MATHS (UK) – John Foxx was the original singer of Ultravox and was the very first British artist to actually make a complete synthesizer album. Foxx was also the guy who penned "Underpass". Enough said? Well, he also was responsible of Gareth Jones joining up with Mute records.
RECOIL (UK) – Recoil is the project of Alan Wilder, the former musical director, sound sculptor, producer, magician (…) of Depeche Mode. Wilder was also one of the first musicians to work with samples. Live he creates a universe of sounds which you hoped you'd have heard before. Expect the necessary Depeche Mode hints during the live show. This is one of the last shows Recoil will probably bring for a very long time, so make sure to be there.
BLANCMANGE (UK) – Contemporaries of Depeche Mode, Soft Cell, The The and more (they were all featured on the Some Bizarre CD compilation with rare to find tracks or versions), Blancmange brings catchy synthpop presented by their first big worldhit "Living On The Ceiling". In the rest of Europe they scored massively with the brilliant track "Don't Tell Me".
DIAMANDA GALAS (USA) – We thought we had missed our last chance to see her live at work, but behold, there's always Sinner's Day to make us happy. The American diva with Greek roots has an amazing voice, period. Her 3,5 octaves cut through you like a knife. From vocal terror to endearing blues and back. We couldn't have described it better. For the connaisseurs, she also sang vocals on various Recoil tracks. A must see if you are more an eclectic music fan.
KMFDM (GER) – Teutonic sounds will come from KMFDM, better know as Kein Mehrheid Fuer Die Mitleid (or as 'Kill Mother Fucking Depeche Mode'). The band was founded by Sascha Konietzko in 1984. Konietzko literally lives and breathes industrial.
THE MISSION (UK) – Here's another Side-Line favorite (really Wayne!). The band singlehanded helped give gothic a face (Andrew Elderitch being too numb) and got massive MTV airtime with "Deliverance" or yet the beautiful "Butterfly on a wheel". On Sinner's Day they will celebrates their 25th anniversary. The gig will be the only concert in Belgium this year.
KARL BARTOS (GER) – Kraftwerk is half dead, long live Karl Bartos. Expect bleeps and beeps that lay in the line of what he used to do with Kraftwerk. We are very much looking forward to see this Einzelgaenger at work.
VISAGE (UK) – Visage is the brainchild of the remarkable Steve Strange, who not only graced the tabloids for the brilliant tunes he crafted but also for his very chaotic life style. His major hit "Fade To Grey" is still being played worldwide. Let's see what he can deliver us live in 2011.
PATTI SMITH (USA) – This American lady is labeled as 'the ultimate queen of new wave'. Debby Harry was better looking so is said – well tastes differ – but Smith surely was more vigorous. Her most famous songs are "Gloria", "Because The Night", "Dancing Barefoot" and "People Have The Power".
Doors open at 12AM, and the first show will start at 1PM. The last band will end at around 1AM, followed by after party. Tickets are only 58 euro in presale, so head for www.sinnersday.com to get hold of yours!