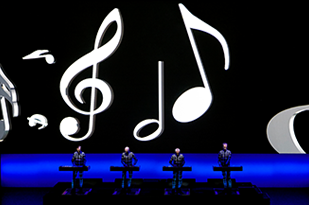 German electronic music pioneers Kraftwerk will play eight 3-D concerts at Walt Disney Concert Hall, March 18-21, 2014 to launch the LA Phil's Minimalist Jukebox Festival. These will be their first L.A. dates since 2005.
They will perform eight of their albums, spread across eight performances.
KRAFTWERK – THE CATALOGUE 1 2 3 4 5 6 7 8 is a chronological exploration of their work. Starting with Autobahn, each performance will cover one of Kraftwerk's studio albums in full and in order of their release:
Autobahn (1974), Tuesday, March 18, 7:30 PM
Radio-Activity (1975), Tuesday, March 18, 10:30 PM
Trans Europe Express (1977), Wednesday, March 19, at 7:30 PM
The Man-Machine (1978), Wednesday, March 19, at 10:30 PM
Computer World (1981), Thursday, March 20, at 7:30 PM
Techno Pop (1986), Thursday, March 20, 10:30 PM
The Mix (1991), Friday, March 21, 7:30 PM
Tour de France (2003), March 21, 10:30 PM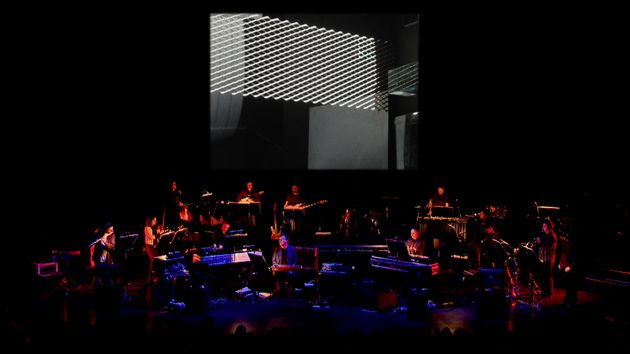 Concert Live 1975.09.21 Croydon, UK
1- Kling klang
2- Tongebirge
3- Tanzmusik
4- Ruckzuck
5- Kometenmelodie 1
6- Die Sonne, Der Mond, Die Sterne
7- Kometenmelodie 2
8- Mitternacht
9- Autobahn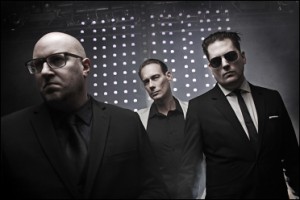 The Swedish synthie/electro act Covenant returns to North America this August as they embark on a 20 date tour, including a special extended/rarities set performance at one of their California shows. The band comes with a newly revised line-up which now includes Daniel Jonasson from Dupont. Jonasson will replace Joakim Montelius live.
The tour kicks off August 20 in Chicago and ends off with dates in South America which will be confirmed pretty soon.
Tour dates below:
Aug 20 – Chicago, IL – Logan Square Auditorium
Aug 21 – Detroit, MI – Smalls
Aug 22 – Toronto, ON – The Mod Club
Aug 23 – Montreal, QC – Le Belmont
Aug 24 – Boston, MA Brighton Music Hall
Aug 25 – New York City, NY – Le Poisson Rouge
Aug 26 – Richmond, VA – Fallout
Aug 27 – Charlotte, NC – Amos Southend
Aug 28 – Atlanta GA – The Shelter
Aug 30 – New Orleans, LA – Siberia
Aug 31 – Houston, TX – Numbers
Sep 1 – Austin, TX – Elysium
Sep 2 – Dallas, TX – Trees
Sep 4 – Mesa, AZ – Nile Theatre
Sep 5 – Los Angles CA (Glendale) – The Complex
Sep 7 – Los Angles, CA – Das Bunker
Sep 9 – San Francisco, CA – DNA Lounge
Sep 11 – Portland, OR – The Fez Ballroom
Sep 12 – Seattle, WA – El Corazon
This was just announced via the Alfa Matrix – the Belgian electro giants Front 242 have decided not to perform in Europe after the 1st of May 2012 and this until further notice. In a message to the label the band says that they need a (well deserved) break (to start recording a new album as well?).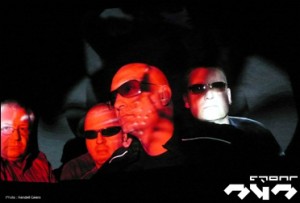 This however also means – and the band has confirmed this as well – that Front 242 will not perform at the Amphi Festival 2012 in Cologne nor at the Noctural Culture Night 2012 Festival in Deutzen.
In case you think that festivals are to blame, know that the band added: "The promoters of those festivals are not responsible for this decision which is fully on Front 242′ s behalf."
Kraftwerk play the rather eerie Radioactivity, this is shot in 3D , View from the front.
Manchester 2009 Start of the 3D show , you can tell from the crowds reaction just how good the 3D show was.
Kraftwerk will give further concerts with 3D theme in the fall on the 12 and 13 October – giving three concerts in Munich. Yes, you read that right! Three concerts in two days – the 13 is done including two concerts, 20.00 respective 00:00. In turn, a 3D exhibition held on 15 October.
Just saw on DEVO's blog that DEVO has had to postpone the tour due to the fact that Bob Mothersbuagh is injured. From their site: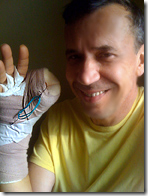 DEVO deeply regret that they have had to postpone all of their upcoming live dates for 2010 due to a serious hand injury sustained by guitarist Bob Mothersbaugh. A glass shard sliced Mothersbaugh's right thumb to the bone, severing a tendon. He underwent immediate emergency surgery and is expected to make a full recovery after proper care and therapy. Most of DEVO's upcoming November tour dates, including Solana Beach's Belly Up, , Los Angeles' Club Nokia, and San Francisco's Warfield Theater, will be rescheduled for next spring and the public will be informed once new dates have been confirmed. Mark Mothersbaugh and Gerald Casale will still attend Moogfest on October 29th, in Asheville, NC. As previously announced, DEVO have been awarded the first-ever Moog Innovation Award by Moog Music.
TG LIVE PERFORMANCES 2010
23rd Oct – LONDON VILLAGE UNDERGROUND, UK
30th Oct – PRAGUE ARCHA THEATRE, Czech Republic
2nd Nov – BOLOGNA, ITALY
5th Nov – PORTO CASA MUSICA, Portugal
4th Dec – ATP, MINEHEAD, UK
BIMFEST 2010 welcomes Laibach and DAF
For its 9th edition of the BIMFEST (taking place on December 18), BodyBeats Productions finally got hold of Laibach who canceled the last time, and of DAF, who returned with one of the most expensive songs in history of electronic music. As far as Laibach is concerned, the band will be bringing a 'best of' set.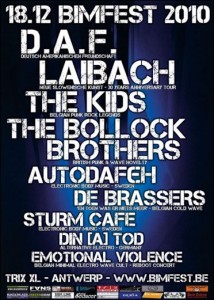 Also invited to this usually very family friendly festival are the Belgian punk legends 'There will be no next time' The Kids, cold-wavers De Brassers and the rebooted minimal electro heads Emotional Violence. Next to them, you may expect the British punkrock/new-wave band The Bollock Brothers, Swedish old school EBM acts Autodafeh and Sturm Café and the Berliner electro-rockers Din[a]tod.
Tickets are €30 (before October 1st) / € 35 (from October 1st on) or €40 at the doors. Tickets and more info can be found at www.bimfest.be .
Unfortunately I did not have the chance to attend this year´s Das Boot festival, but Moving Hands Magazine has made a good review of the event:

Leæther Strip

Project-X

Dupont

Covenant
Das Boot 2010
2010th edition of the festival held on a cruise ship sailing from Stockholm
So Das Boot missed the year of 2009, but only a few months later than the 2009 Das Boot was supposed to be, the 2010 Das Boot cruise was held and this time over a weekend so most people didn't have to take any time off from job or school.
The newer and bigger boat makes the whole cruise seem a bit smaller with all the spaces and different dancefloors and stages but all in all I think it's a big improvement from the retired MS Festival who now sails between Stockholm and Riga. The food/wine/beer buffet is bigger and better. The Tax Free is bigger and better. There are more bars. The main stage area is also really nice with a big floor for the people who wants to shake their bottoms and a lot of sofas for the lazy crowd, the sound was also really good and loud at this stage which is a quite important improvement.
The evening started up with the legendary danish Leæther Strip which is Mr Claus Larsen's one man project and has been for 21 years. It was fun to finally experience Leæther Strip but the main stage felt too big for him as he is just one guy with a synth/laptop and I think it would have worked much better on the smaller stage. He did his job though and delivered.
Now to the smaller stage and Dupont who had to begin their show before even Leæther Strip had ended his show in the other end of the boat which made the crowd quite tiny before everyone finally made their way from the Starlight Bar (main stage) to Moonlight Bar (the smaller stage). Dupont did a very cozy gig and as most people where friends it was a very relaxed and fun gig. Mr Johan Damm who is an old member of Dupont joined up on stage and became a part of the classic song "Behave".
Then it was time for Covenant to do their thing on the main stage and they did it as always. Nice gig and a very large crowd made it a nice memory for sure. Covenant have played on Das Boot before and last time they did it was on the old boat and on a much smaller stage so it was great seeing them on a stage that fitted them.
No rest for the wicked, so it was heading back to the smaller of stages and witness Swedish Project-X make havoc and scream themselves to a frenzy. First time I have seen this act and I was impressed. A good finish to this night, at least for me as the music continued all the night through to the next day in the Zenith Disco where I myself never leave for some reason. You must understand, the these cruise ships are very confusing with all the bars and restaurants and shops and what not. Just finding your cabin can be a pain in the ass.
The last day of the cruise there where just one live act and that was the Swedish mad guys of Slagsmålsklubben (Fight Club) who plays a very frenetic kind of old computer games inspired electronic music. The guys had partied all night and where still partying on stage but did a good job nevertheless and gave us quite a few funny little anecdotes between the songs.
It is a very different experience to go on a Das Boot-cruise. It's like being on a festival except for the dirt and that you have your own cozy cabin to retire to. As always Das Boot was a success in my book, now just let us hope it was a success for the guys behind it too and that we soon can go and get crazy on another cruise.