Video and Audio remastered by RK Music
All Rights by the Artists.
— Tracklist —
01. 00:00 Intro
02. 02:00 20 Hertz
03. 07:00 Bullet
04. 12:05 Leviathian
05. 17:35 Der Leiermann
06. 23:00 Prometheus
07. 29:15 The Men
08. 35:25 We Stand Alone
09. 40:55 Ritual Noise
10. 47:55 Stalker
11. 52:25 Happy Man
12. 55:10 Dead Stars
13. 01:02:00 Brave New World
14. 01:07:30 Call The Ships To Port
Eskil Simonsson – Lead Vocals, Lead Composition, Engineering, Lyrics, Production, Synths .
Joakim Montelius – Lead Lyrics, Composition, Production, Synths .
Daniel Jonasson – Synths .
Andreas Catjar– Engineering, Production, Synths, Additional Vocals.
Covenant performing live with Like Tears in Rain (O2 Islington Academy 07/03/2015)
Background video information:
I make no claim to the copyright of the music or the artist's visual appearance(s). If the copyright owners want this video removed, please just ask. Thanks.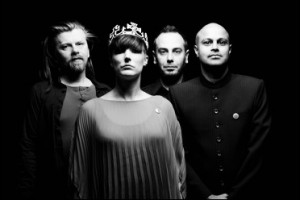 Joakim Montelius (Covenant) has launched a new project, called Amusik. Today the very first sounds from the project were posted online. The project so far prepped 4 tracks of which the first one is now online.

Says Joakim: "Since Amusik is a bunch of people who don't like doing things the conventional way, we decided not to do the usual 'studio recording, airplay, video routine'. Instead we made a lo-fi live recording and enlisted our great friends Allan Bank and Petter Duvander to make a video documentation of our first ever live show. That video is now ready. It was recorded at Babel in Malmö on January 25, 2014 when Amusik supported Covenant on stage."
Amusik consists of the members Ulrika Mild, Joakim Montelius, Richard Hansson and Khyber Westlund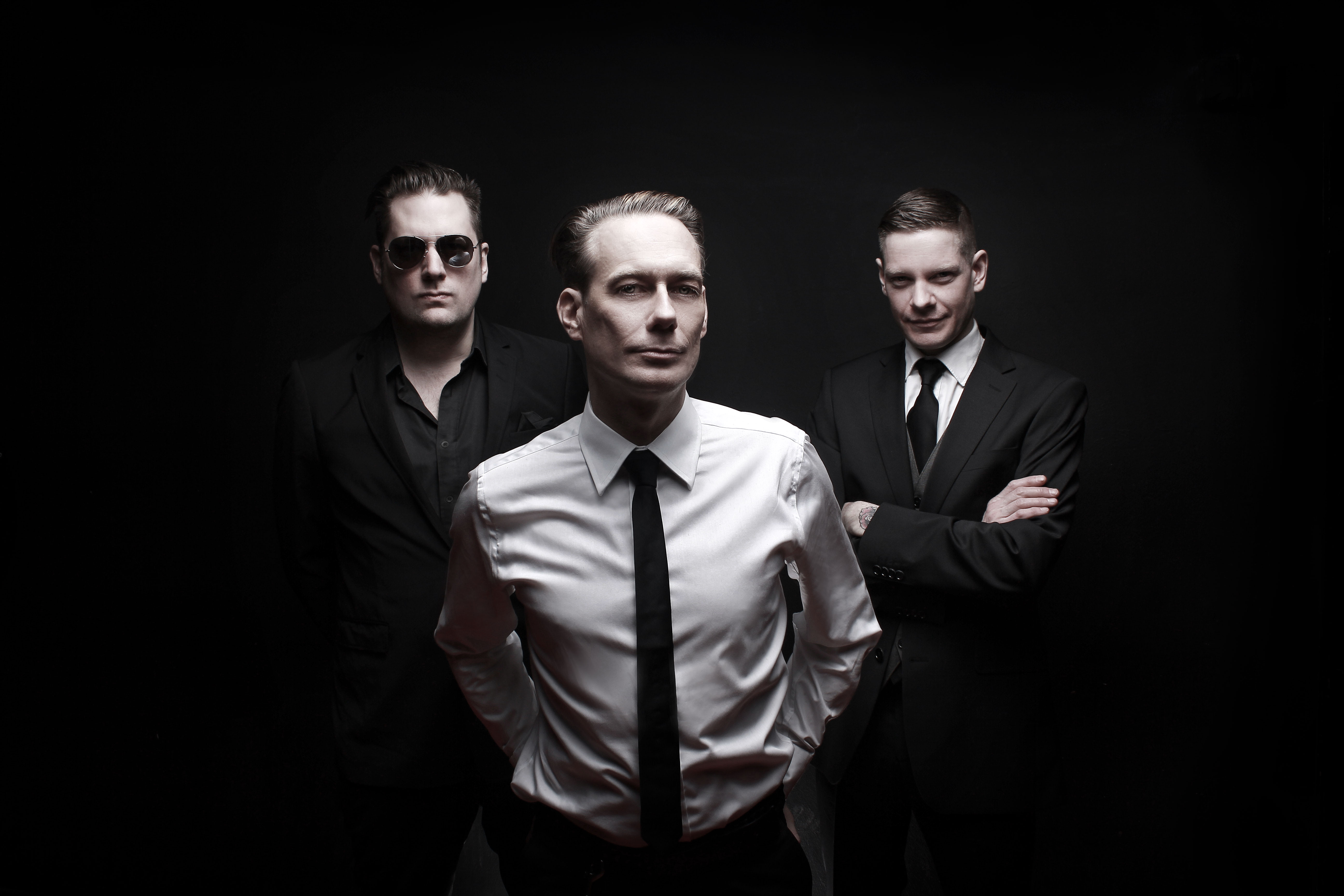 Sweden's most notable electro act Covenant are back with a new album – Leaving Babylon. After the release of their previous album we saw the multi artist Daniel Myer leave the band to explore new adventures, something that has definitely changed the sound of the new album. With new fresh blood behind the machines and still with Eskil and Joakim as the main engineers in the control room, we are sure to recognize the pulsating beats that has become their trademark, but also pulling the space ship into new realms of their electronic universe.
Do we like it – sure, not doubt about that, although one might lack those obvious dance floor hits that we have become accustomed to from this highly energetic band on stage and in the studio. The tracks are, as always, impeccable when it comes to the production and the deep voice of Eskil blends nicely with the pulsating synths and ambient soundscapes that filter through most of the tracks. In the absence of dance floor fillers, although I am certain we will not have to wait long before the Covenant tribe releases up beat versions of many of these tracks, we receive the full spectrum of nicely tweaked synth pearls, vocoder voices and, not overly surprising, a fresh scent of noise inspired tunes. The noise ingredient is likely triggered by Eskil's on-the-side project Cement, where he goes basurk with his machines – creating a mash up of sounds that would easily flavour any futuristic adventure on the big screen.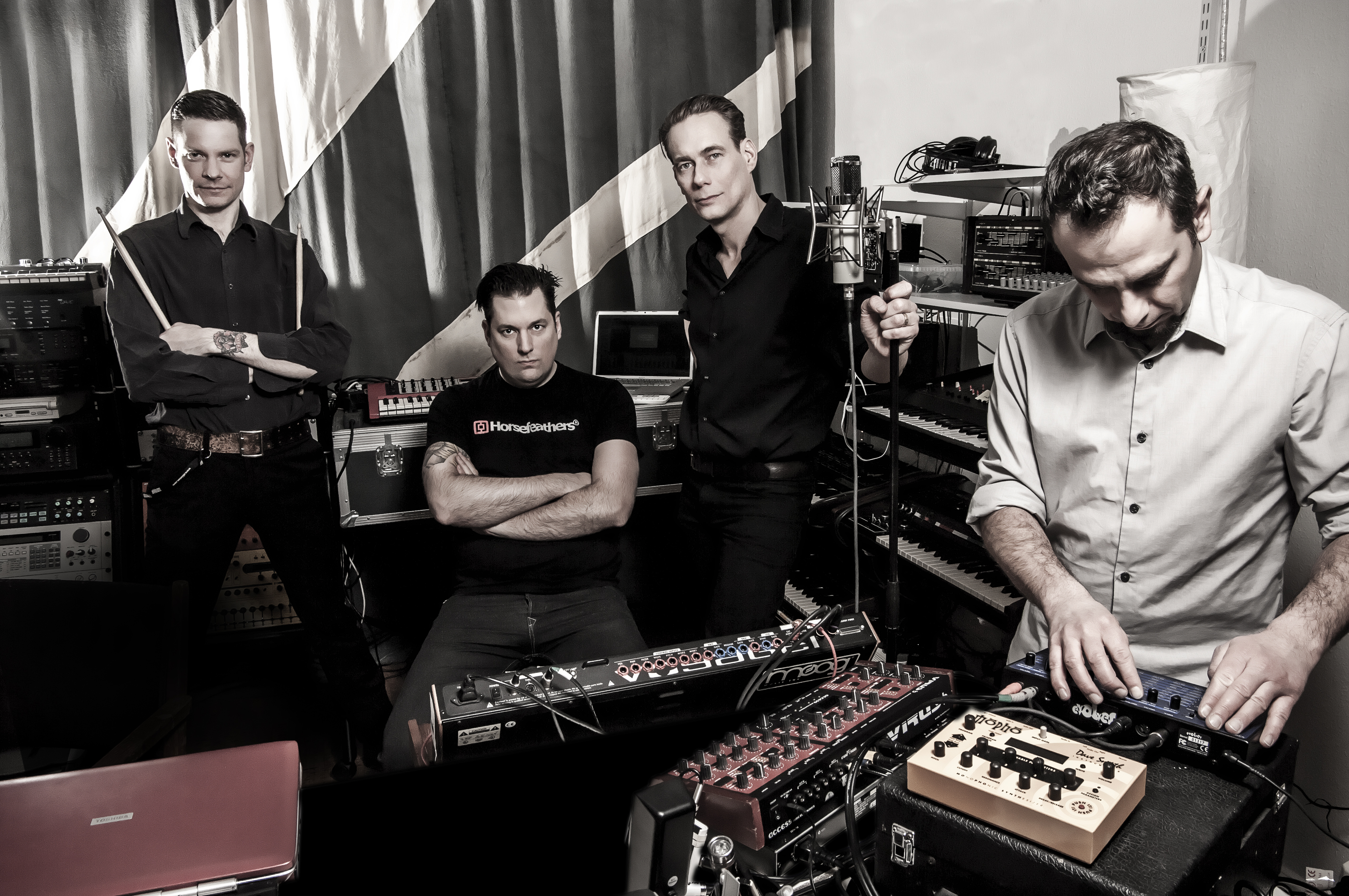 It strikes us again and again when listening to Leaving Babylon that this is a record with other ambitions than the previous albums – more experimental and more leaning towards something that can trigger uncharted demographics in the ever growing electronica scene. One can even find traces of the old synth maestro Jean Michel Jarre in there (Ignorance and Bliss), for good or bad – not sure, but it fits nicely with my visions of a band who has done it all and wants to explore new turfs, while at the same time stay true to its past. Speaking of the past Covenant also makes a flirt with JS Bach adding cembalo sounding tunes that infiltrates the cool sounding Thy Kingdom Come.
Striking the right balance between electro pop, ambient music, and hard core dance floor beats has always been at the heart of this band and it will be very interesting to see if the band who has now clearly opened the doors to new domains will continue to push the envelope going forward. It may not suit everyone, but it will definitely be a treat for those who are open to alternative electronic music.
From the label: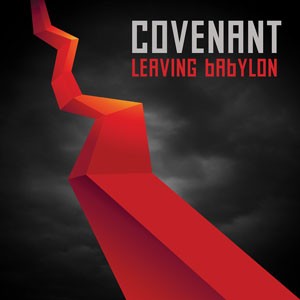 The forerunning single "Last Dance" has not budged from the top position of the German Alternative Charts when Covenant announces the new album Leaving Babylon released on September 6th 2013.
Built around a structure of majestic synths, quirky noises, unexpected harmonies, scary singing machines and fog horns, massive beats and Eskil's signature vocals, the singles dark and atmospheric vibe sets the tone for the overall feel of the album. Balancing a return to their early EBM roots with their modern electronic soundscapes, Covenant digs deep into their history and incorporates threads from each of their early releases and weaves it into Leaving Babylon.
"The stars shines so bright when it's dark" says Eskil Simonsson, the bands singer and front man, about the feel of the new album and the troubled world in which we find ourselves.
The album is available as a limited version of 5000 copies. Included with the eight-panel glossy digipak are an extra booklet and an exclusive bonus CD featuring Swedish poetess Helena Österlund.
Fan video for Last Dance
Please support the artist: http://www.covenant.se/
http://www.dependent.de/
I do not own the copyrights to any of the material in this video. I made this video for entertainment purposes only.
welle: erdball – DIE LIEBE DER 3. ART (NDS)
Aus der Sendung "Tanzmusik für Roboter" (LP-CD)
http://www.welle-erdball.de
Eine Funkhausproduktion (c)2012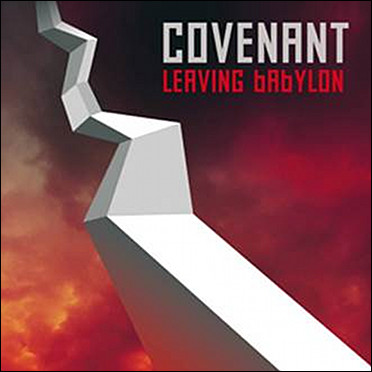 Out on September 6 will be the new Covenant album "Leaving Babylon". The release will come as a normal CD and as a limited edition digipak 2CD. Written and recorded by Eskil Simonsson, Joakim Montelius and Daniel Jonasson (of Dupont) the album will have 9 tracks while the limited 2CD version will feature a bonus-CD consisting of a 76 minute piece called "Jag är fullständigt tung" with text and vocals by Swedish poet Helena Österlund.
The track list for the normal CD is as follows:
Leaving Babylon
Prime Movers
For our Time
Thy Kingdom come
I walk slow
Ignorance & Bliss
Last Dance
Auto (Circulation)
Not to be here
Listen here:
Covenant "Last Dance" will be held June 11, 2013 via Metropolis Records.
Official video for Kite "Dance Again" (Taken from "V"/Progress Productions 2013). Director & Photographer: Jenny Farida // Editing & Additional photo: Videomaskinen // Lighting: Gustaf Lerne.
About Kite:
Kite is Christian Berg and Nicklas Stenemo. The Swedish electronic duo have released EP´s since 2008.
The musical expressions of Kite is based in a soundscape of emotional layers. With great nerve, a sense of drama, cold beats and serious songwriting-skills Kite moves on into the sad dancefloors like a heartaching update of the genre´s biggest stars; Kraftwerk, Ultravox and early Orchestral Manoevers in the Dark.
Background message from Joakim (Covenant):
Ok.
An overwhelmingly intense week in the studio has passed. In glorious pain and love not given lightly, metaphorically speaking, the masters for the first release of the "Leaving Babylon" epic just arrived. I'm right now enjoying the honour of being the first person on the planet to hear the "Last Dance EP" in its entirety. Sometimes it's pretty kool to be a member of Covenant.
It's a 6-track EP with 4 songs and 2 remixes on it. One track written by each of us, including our new live member Andreas Catjar, so it's a rather complex beast, this one. Majestic synths, quirky noises, unexpected harmonies, scary singing machines, fog horns, massive beats and of course Eskil's incomparable vocals. I for one really look forward to see where this road is going to take us.
The exact release date is still in the shadows but we aim for June. Do keep tuned to keep track of that. We hope you'll like it. Or find it interesting enough to react to it.
I'll leave you with a little snippet from the title track "Last Dance" together with the evocative picture Eskil captured, from the ferry, of the castle Kronborg across the sound in Helsingör where Hamlet and his homies made such mayhem in Shakespeare's classic. It's like a mirage. Mist is common here, but I've never seen the castle like that. One can almost hear Horatio exclaim:
"And then it started like a guilty thing, upon a fearful summons"
With that paraphrase I bid you adieu. Peace, love and robot laws unto you all.
/joakim
Swedish electro pop duo Jode are in the production process with Christoffer Berg (Depeche Mode, The Knife, Moby etc) finishing their debut single "Untold". Berg will be mixing and producing. Christoffer Berg just came home from New York and Santa Barbara after spending 6 months with Depeche producing their forthcoming album.