IAMX on tour. Get tickets: http://www.iamxmusic.com
Happiness single now available at all digital outlets. New album pre-orderhttp://www.pledgemusic.com/iamx
Download Happiness for free if you subscribe on http://www.iamxmusic.com
Director/Editor – Chris Corner
Producers – Jenz Merrill & Janine Gezang
Featuring Cynthia Marie, Buddy Daniels Friedman and baby Lydia
Phantom Miro Camera – Kyle Daly
Second Camera – Chris Corner
Associate Producer – Jordan Paley
1st Assistant Director – Zack Wallnau
Gaffer & Key Grip – Alyssa Brocato
Special thanks to Tiffany Steffens, Doomie's Home Cooking, Ray Hinton from Lumitech Lighting and TVE Studios
Music and lyrics by Chris Corner.
(c)2015 IAMX
The new IAMX song 'Happiness' from the upcoming sixth IAMX album 'Metanoia'
Buy on iTunes http://smarturl.it/Happiness_sg
Metanoia Tour 2015 dates and tickets http://www.iamxmusic.com
10.6 Costa Mesa/CA U.S.A – Constellation Room
10.7 San Diego/CA U.S.A – The Casbah
10.9 Los Angeles/CA U.S.A – Fonda Theater
10.10 San Francisco/CA U.S.A – Great American Music Hall
10.12 Portland/OR U.S.A – Wonder Ballroom
10.13 Seattle/WA U.S.A – Neumo's
10.16 Salt Lake City/UT U.S.A – Urban Lounge
10.17 Denver/CO U.S.A – Marquis Theater
10.19 Minneapolis/MN U.S.A – Varsity Theater
10.20 Chicago /IL U.S.A – Bottom Lounge
10.22 Detroit/MI U.S.A – The Shelter
10.23 Toronto/ON, CANADA – Lee's Palace
10.24 Montreal/QC, CANADA – Virgin Mobile Corona Theater
10.26 Boston/MA U.S.A – Brighton Music Hall
10.27 Philadelphia/PA U.S.A – Underground Arts
10.29 Washington/DC U.S.A – U Street Music Hall
10.30 New York/NY U.S.A – Webster Hall
Released by Metropolis Records in US/CAN and Orphic Music outside US/CAN.
Cover pic by Laurence Demaison http://www.laurencedemaison.com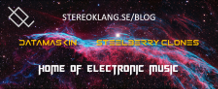 Here's a brand new video from IAMX, details below:
Official album release: March 22nd 2013
Album Pre-order: http://www.boutiqueiamx.eu
IAMX on tour: http://www.iamx.eu/tourdates.html
Video directed, shot and edited by Michel Briegel in Joshua Tree
Produced by Orphic
Make-Up and hair: Kelly Shew
Thanks to Ray Hinton from http://www.lumitech.net
Music written and produced by Chris Corner
Swedish electro pop duo Jode are in the production process with Christoffer Berg (Depeche Mode, The Knife, Moby etc) finishing their debut single "Untold". Berg will be mixing and producing. Christoffer Berg just came home from New York and Santa Barbara after spending 6 months with Depeche producing their forthcoming album.
http://tinyurl.com/itunesiamx
http://tinyurl.com/amazoniamx
Directed, shot and edited by Chris Corner and Danny Drysdale
An Orphic production
Assistance and production – Janine Gezang
Light – Valquire Veljcovic
Helping hands – Linda Duffield, James Cook, Brett Leitch
Coat worn by Chris – "Stone Jacket" by Anne-Mari Pahkala
Green hooded top by Dana Mikelson
Thanks to Dana Mikelson and Veruschka Bohn aka Spite & Malice
"Quiet The Mind" written by Chris Corner, produced by Jim Abbiss and Chris Corner
http://www.pledgemusic.com/projects/iamx
In a FB post Covenant have announced that Daniel Myer has left the band, which was also confirmed directly to Steelberry Clones when we met up with Eskil Simonsson back stage at ElectriXmas
Says Covenant: "On the other end of things Daniel Myer has announced that he's leaving the Covenant setup to focus on his own projects. He will be sorely missed but we wish him the best and we hope he'll achieve every ambitious goal he aims for. His last performance with Covenant will take place on Christmas Day (Dec 25) next week at the Dark Storm Festival in Chemnitz. We hope you'll show up and join us as we show him all our love."
Visitors of Covenant's 2007 tour saw Myer first at work when he was replacing Clas Nachmanson who had decided to focus on other things than Covenant for a while.
IAMX is out and about with his new song titled 'The Unified Field' – song details below:
Single release worldwide on Dec 3rd 2012
All major online shops (amazon, itunes and more)
From the upcoming album 'The Unified Field', to be released March 2013
http://www.pledgemusic.com/projects/iamx
Director, Producer, Editor – ADAM ANTHONY
Producer, Visual Effects – EDWARD COPESTICK
Cinematographer – TONY GARDINER
The Maestro – GYTON GRANTLEY
Additional Editor – CHRIS CORNER, DANIEL BONTEMPO
Second Camera – NATE MARTIN
Make Up Artist – JODI GARDNER
Next Friday, IAMX will release its new single "Volatile Times".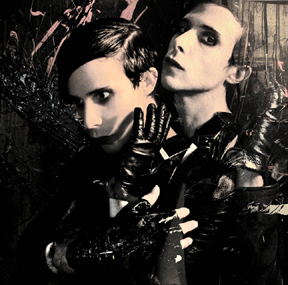 This is the third single taken from the latest album with the same name. Accompanied is a music video directed by Michel Briegel at TURMWERK.
The song is a reworked version by Chris Corner. The single will be released on September 23rd through BMG.
Tracklist:
01. Volatile Times (IAMseX UNFALL Rework)
02. Volatile Times (Clayton Worbeck Mix)
03. Volatile Times (Glen STRANGERS trip wave Remix)
04. Volatile Times (Noblesse Oblige Remix)
http://youtu.be/6UQsokUXZnw
IAMX are about to release a new single next week! This is the second single taken from the new album.
"Bernadette" features 5 versions of the title track including a version were frontman Chris Corner will sing in German. The single will be released digitally on July 29th.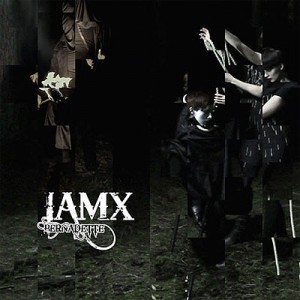 Coinside with the release of the single, a music video for the song will be released. Directed by Fabian Röttger.
Earlier this year, IAMX released the first single "Ghosts Of Utopia" followed by the "Volatile Times" in March
Tracklist:
01. Bernadette (Radio Edit) 03:23
02. Bernadette (Radio Edit Deutsch) 03:23
03. Bernadette (Post Romanian Storm) 05:13
04. Bernadette (Headfuck Collage) 02:15
05. Bernadette (Instrumental) 05:25
Slightly re-edited and higher quality version of the official Ghosts Of Utopia video.
Credits:
Directed and edited by Chris Corner
Camera – Chris Corner, Janine Gezang, Alberto Alvarez
Assistance – Janine Gezang, Alberto Alvarez, Caroline Weber
Purchase the video at www.iamx.eu/special.html
Ghosts Of Utopia video and single digitally available at www.iamx.eu
Credits:
Directed and edited by Chris Corner
Camera — Chris Corner, Janine Gezang, Alberto Álvarez
Assistance — Janine Gezang, Alberto Álvarez, Caroline Weber
a TURMWERK production
Enjoy

IAMX goes for March release of 'Volatile Times'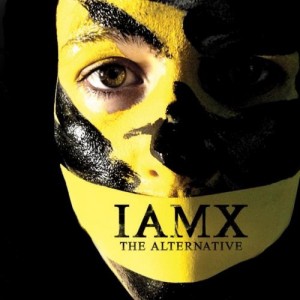 Out on BMG by March 18th 2011 is IAMX's "Volatile Times" CD. The release for the all new IAMX album was slightly postponed but is now coming both in a first limited edition digipak and as a special 2LP+CD. This is the first time that an IAMX album will be released as vinyl. "Volatile Times" is the 4th studio album created by Chris Corner aka IAMX, formerly also the mastermind of Sneaker Pimps fame. Close listeners will notice that some of the new tracks are reminiscent of Corner's previous band, Sneaker Pimps, and keep alive the cabaret-esque and dark electronic sound.
The deluxe double-vinyl / CD set comes in a cardboard sleeve including the exclusive bonus-track "Avalanches". "Volatile Times" will be preceded by single "Ghosts of Utopia" to be released on February 25.