How To Get Started With Vidibox for your iPad
vidibox is a new and different kind of video remixing app for iPad that lets users create real-time music and video projects from an intuitive drum pad interface. 

It gives DJs, VJs, installation artists, digital storytellers, video mashup fans and music lovers the ability to express themselves easily with intuitive, professional quality video and audio mixing.
Features:

• Transparent drum pad interface. Slots can contain audio, video or both. 
• Easy media import and arranging via drag and drop to slots. 
• Audio and video can be imported separately.
• Play up to 16 tracks simultaneously, freestyle or quantized to the BPM.

• An automatic video composition engine displays multiple videos at once.
• Choose from several video composition layouts.
• Audio and video FX bank.
• Trim and organize media with simple, intuitive gestures.
• Hold, trigger or loop media.
• External screen support to display projects with the app hidden.
• Record videos of performances in real time and easily share them. 
• Compress vidibox projects and share them on Dropbox.
• Audiobus support.
• MIDI in/out support via CoreMidi.
PixiVisor is a revolutionary tool for audio-visual experiments. Simple, fun, cross-platform.
More info: http://warmplace.ru/soft/pixivisor
Music: http://nightradio.bandcamp.com/track/…
It consists of two parts: Transmitter and Receiver.
Transmitter converts the video (static 64×64 image or 10FPS animation) to the sound, pixel by pixel (progressive scan). So you can listen the sound of your image. But the main function of the Transmitter is to transmit the signal to the receiving devices.
Receiver converts the sound (from microphone or Line-in input) back to the video. You can set the color palette for this video, and record it to animated GIF file.
Key features:
file formats supported by Transmitter: JPEG, PNG, GIF (static and animated);
real-time video export to animated GIF;
64 predefined color palettes;
iOS: iTunes File Sharing;
iOS: Wi-Fi Export/Import (in the File menu of the Transmitter);
more functions in the next PixiVisor updates…
Examples of use:
wireless Lo-Fi video transmission over audio;
video signal transmission through audio cable; you can then modify that signal by some mixers or audio FX processors;
VJing;
sound visualization;
save any sound to animated GIF;
hide some images and animation in your music;
searching for hidden messages in the ambient noise; EVP;
something else; reveal it first!
Download Strum for FREE for iPhone, iPad, and iPod touch! http://bit.ly/Strum_YT
Turn your life into a music video!
Introducing Strum, a new app that transforms your video into a music video in just seconds. Smule's advanced audio filters automatically compose music to match your video. With over 20 different visual and audio styles, from simple background melodies to outrageous remixes, you will create a unique experience every time. Share your videos with your friends, and follow creative people from all over the world. Each day, discover inspiring new videos from the Strum community.
Check back frequently for new and limited-time filters!
Directed by Adolf Steinhimmel
Make Up & Style by Anna Steinhimmel & Koneko
Camera & Editing: Adolf Steinhimmel
While And One will probably soon announce its departure from SPV to launch the next material on the band's own label, it also found the time to announce a brand new video: "Aigua", which is Catalan for 'water'. The video was directed by Adolf Steinhimmel.
The track does not feature And One's Steve Naghavi but just guest singer Vivi on vocals. Nice song, nice video.
Bleep Labs has introduced the new Hard Soft Synth 3jb, a audio + video synthesizer. The HSS3jb features 15 modes of audio/video excellence, each with 4-5 variables of control. There are also 8 video only modes designed for use with the trigger and audio inputs. An adjustable analog filter keeps everything smooth.
Features:
First, Boom Bip's DJ Set with me projecting visuals, then a view of the Vjay App which I am running on my iPad to control the central visual element.
VJ's control view, and then club view. Controlling Vjay app with iPad multitouch, plugged in to Edirol V4 mixer and Macbook Pro ( not seen ) "Pay no attention to the man behind the curtain!"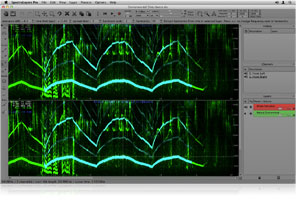 Sony has released SpectraLayers PRO, the newest addition to its line of award-winning software for audio and video production. An intelligent audio editing program, SpectraLayers operates directly on waveform spectra using a wide variety of smart editing tools. Through this application, users can more accurately edit audio by graphically dividing files into discrete, user-defined layers that can be processed independently and reintegrated to achieve flawless master files.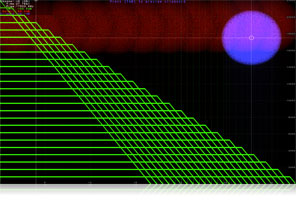 "SpectraLayers introduces an innovative, unique workflow that redefines what can be accomplished in the professional audio editor's suite," said Dave Chaimson, vice president of global marketing for Sony Creative Software. "The level of editing precision and advanced capabilities SpectraLayers offers makes it an essential tool for industry professionals who demand the deepest audio analysis tools."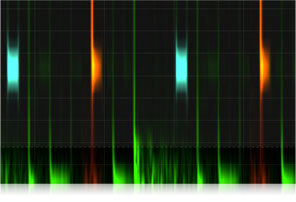 SpectraLayers Offers the Following Transformational Features:
Extreme Audio Editing:
– Divide audio files into discrete, user-defined layers that can be processed independently and reintegrated to achieve perfect master files.
– Remove unwanted noises and artifacts with ease while leaving surrounding audio data completely intact.
– Separate music and dialogue into individual component layers.
– Perform pitch correction on user-selected components of an audio file.
– Employ SpectraLayers in audio mastering, sound design, analysis, and forensics tasks.
– All tools are modifiable using a wide range of user-definable sensitivities and tolerances.
Extraction Tools:
Extract audio into independent layers using intelligent, programmable tools:
– Area — select any audio for transfer from directly within the spectrum graph.
– Frequency — track frequencies and transfer them directly to selected layers.
– Harmonics — seek and select harmonics in user-defined amounts and orders.
Modification Tools:
Operate directly on waveform spectra to perform precise, creative edits:
– Amplify
– Clone
– Erase
Creation Tools:
Create sound directly in the SpectraLayers interface:
– Frequency
– Noise
Fidelity / Flexibility:
– 32-bit 96 kHz capable.
– SpectraLayers provides seamless file transfer to Sound Forge Pro and other audio editing programs.
Dual Platform Support:
SpectraLayers is available for both Mac and Windows platforms.
Price and Availability:
SpectraLayers is now available for purchase worldwide, and online for immediate download at www.sonycreativesoftware.com. Manufacturer's Suggested Retail Price (MSRP) is $399 USD.
More information: http://www.sonycreativesoftware.com/spectralayersp… .
Crypts video for the track Fancy from the upcoming Self Titled album out on September 4, 2012 on Sargent House. Crypts is Steve Snere (These Arms Are Snakes, Kill Sadie), Nick Bartoletti and Bryce Brown.
Filmed by:
Christian J Petersen of Dumb Eyes http://www.dumbeyes.com/
Patrick Richardson Wright http://wrightmight.com/
Concepted, Directed, Edited, Synthesized, Vectorized by Nick Bartoletti
CRYPTS
http://cryptsmusic.tumblr.com
https://www.facebook.com/Cryptsss
http://twitter.com/crypts
http://sargenthouse.com
http://crypts.bandcamp.com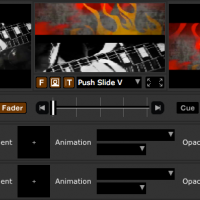 Based on the popular Video-SL plug-in, Serato Video now gives ITCH DJs video mixing tools that Serato Scratch Live DJs have enjoyed for years, with the use of supported ITCH controllers. Scratch Live DJs can use the same tools with their choice of turntable or CDJ control. With a reworked architecture, Serato DJs can experience an even smoother workflow and greater flexibility when using effects and transitions to amplify video mixes, at home, in the club or on-stage.
Features
– Manipulate video playback with Serato Control Vinyl and CDs or an ITCH Controller.
– Visual effects library of transitions and effects.
– Add your own images and text to your video mix.
– Store effects within each video file for instant recall.
– Choice of configurations for external connections to monitors, screens or projectors.
"Our first attempt at controlling analog video animation with control voltage created by a Moog synthesizer. Learn more at www.scanimate.com and www.experimentalsynth.com"