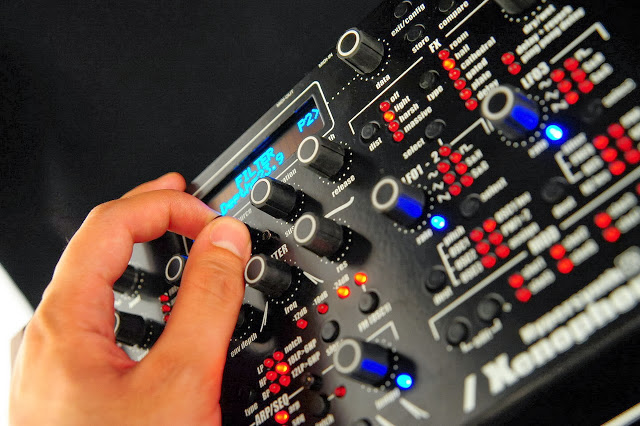 Here are all the details:
Synth-Engine:
Xenophone is an advanced analog mono-synth with 100% analog signal path. It has three oscillators, two subs, three ring modulators, one multimode VCF and analog distortion, all based on discrete analog circuits followed by a high quality stereo digital delay and reverb. The extensive modulation capabilities of the sound engine plus the warm and unique character of Xen's filter enriched by built-in analog distortion make it the best choice for creating deep basses, aggressive leads, transparent and crisp synth lines, acid sequences, complex arpeggios, punchy percussive sounds, extreme SFXs and more. Besides the synthesis capabilities, it can be used as a powerful audio processor to colorize an external input signal by analog filter, distortion and DFX.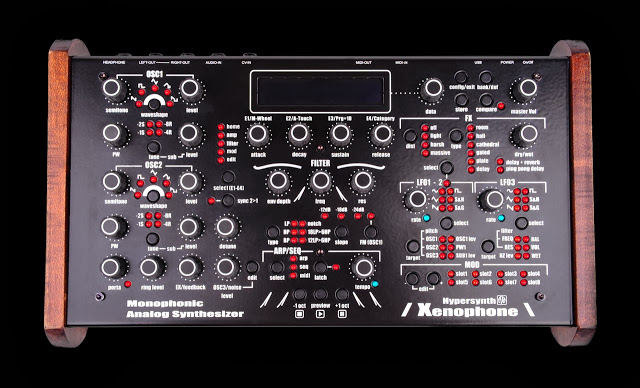 Control and User Interface:
26 encoders and 27 buttons put all the major parameters easily reachable with no menu diving. The Encoders smoothly turn and provide you 96 steps per rotation that mimic pot's feeling and sweep range. The layout is designed in a way to be simple and intuitive. Using 88 LEDs and a free-angle OLED display, it is easy to get the idea of the current preset at a glance. Master Tempo and all LFOs have blinking LEDs that show the BPM and rates. The presets can be previewed without external keyboard using 3 buttons in 3-octave range or pre-defined notes. User interface is easy to learn and creative with no useless bells and whistles. You can get a huge sound out of the box only with a few tweaks and changes.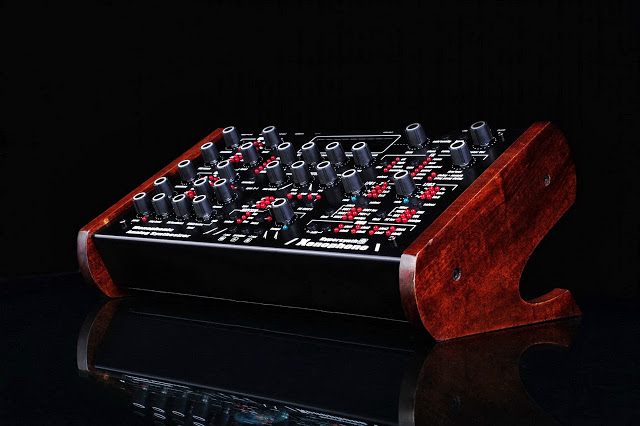 Enclosure and Connectivity:
Xenophone has a rigid Aluminum enclosure that comes with a pair of vintage style hand-made wooden side panel that made out of maple wood in two options: flat and tilted.
The box connects to the outside world using 2x balanced outputs (stereo), 1x headphone jack, 1x external input, 1x CV input, MIDI in/out, USB and DC power in.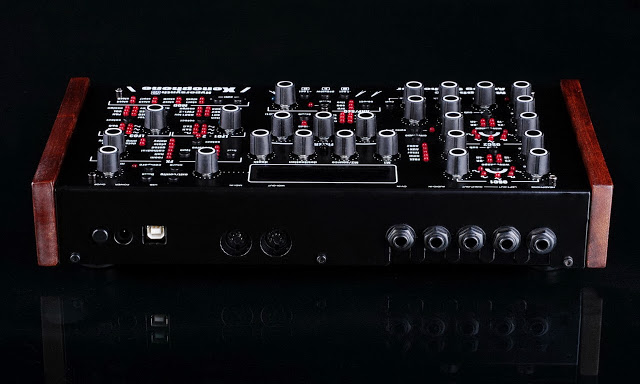 MIDI and DAW Integration:
Xenophone can function as a standalone instrument or fully programmable synth. It responds to the standard MIDI messages plus dedicated CC and NRPNs. The maximum implemented resolution in NRPN mode is 12bit, 4096 steps for filter frequency that provides super smooth sweep over the frequency range in compare to 127 steps CC standard!
The computer integration is an important feature of a modern synth that plays vital role in the studio. Xenophone comes with a software editor called: XEditor. Using this editor you can control and automate every parameter of the sound engine remotely via MIDI and storing your patches on your PC and vise-versa. It also helps you in deep and precise editing the patches. "XEditor" will be available as standalone and VST plug-in."
http://www.hypersynth.com/xenophone.html
Kinetik Labs produces some really interesting hardware machines for Drone Music. At the last Turin Synth Meeting, Andrea Reali and Claudio Granzieri plays and demonstrates their pretty dense drone instruments. Enjoy.
Jamming with the Roland MSQ-700, a simple but effective hardware sequencer from 1984. A (Crumar) Bit 99 offers the synth sounds, and a Roland TR-505 provides the beat.
In the days before DAWs, hardware sequencers were often used to build the structure of synth-based songs of the '80s.
More info on Reason: https://www.propellerheads.se/product…
The Reason Rack offers nearly endless sonic capabilities. But what if you just want the sound of your favorite hardware synth? Or that weird little drum machine you got half-price. In this tutorial we take a look at the External MIDI Instrument and how it can help you expand your Reason rack with your hardware.
External instruments can easily be played inside of Ableton Live. Enjoy this Ableton Live Quick Tip in which AfroDJMac shows you how to set up an external instrument, such as the Synthboy ( http://ninstrument.com ). Once inside Ableton, it can be sequenced and effects can be added to further the potential of your hardware synthesizers!
Visit his site for more stuff like this, including Live Instrument downloads, tutorials and music! http://www.afrodjmac.com
The Sanyo DP 10 is a card player synthesizer from the early 80s. Yamaha released a series of keyboards around the same time and Sanyo appears to have taken that technology into their unit. Like the Yamaha keyboards they accept cards that have a magnetic strip the reader recognizes and plays a pre-programmed song. The cards features songs such as Dancing Queen, Londonderry Air, etc and a head cleaning card. The DP 10 can also mix signals into the unit via the 2 mic inputs and an auxiliary input to play along with another instrument or sing through a mic. You can also adjust the tone or change the tempo of he song. There is also a rhythm section for 10 different styles of music, such as march and disco, jazz and bossa nova.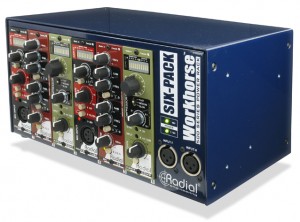 Radial Engineering is pleased to announce the SixPack, the latest Workhorse power rack designed for the popular 500 series module format.
500 Series Range
The SixPack is Radial's sixth power rack in their ever growing 500 series range. Add this to the 15 modules that are currently available and it is clear: Radial has certainly taken a most proactive stance with respect to building and supporting the 500 series standard. According to Radial President Peter Janis: "Given today's ever changing digital environment, recording studios must be agile for them to adapt and they must also bring a higher level of creativity and uniqueness to the recording process.  We believe that the 500 series is perfectly suited for this new reality as it is compact and easily transportable. And when you consider the hundreds of modules that are now available plus the tremendous patching options that can be put to use, there has never been a more exciting time to be involved in music production."
Six Slots Rack
The SixPack is a 6-slot power rack designed to accommodate all 500 series modules including older ones made by API. It features a hefty 1600 milliamps of current for more than 265 milliamps average power per slot. This lets you mix and match solid state and tube modules without concern about powering. The external supply also provides 48V phantom power for mic preamps. Protective circuitry in each slot safeguards the SixPack and other connected modules against malfunction or short circuits.
The design begins with 14 gauge steel construction for added durability and improved shielding against noise. Modules may be patched in series using the FEED switch and stereo mated using the LINK function.  Extra connectivity includes ¼" TRS connectors wired in parallel with the XLRs for cross-patching and parallel processing. These are also wired in parallel to a set of D-Sub connectors for easy patching to and from the workstation.  Two front panel XLR convenience jacks let you access channels 7 and 8 on the D-Sub or may be assigned to channels 1 and 4 to create a stereo channel strip. Separate ground lugs on the rear panel enable the system tech to incorporate star grounding or other schemes into the studio design.  Optional mounting hardware lets you recess the SixPack into the workstation or angle mount it for a more ergonomic set up. The same hardware works double duty to enable the SixPack to be mounted into a standard 19″ rack.
(Via GJs)
The SixPack will start shipping January 2013. For more information on the SixPack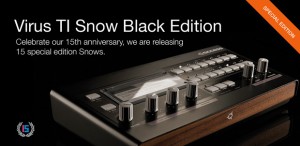 The Virus TI series comes in different flavors. You're looking for something ultra compact and yet powerful? The sturdy Virus TI Snow features exactly the same sound engine like its bigger Virus TI brothers. It fits on an issues of Time magazine and has proven itself to be an ideal companion for musicians on the road or with limited desktop estate.
The Snow features 4 multimode parts and about 50% of the polyphony in comparison to the bigger models. Those result in everything in between 10 and 50 voices cranking out the same powerful signature sound like all other Virus TIs. Each and every voice can use up to four oscillators in parallel including Virtual Analogue, Wavetable, HyperSaw and Grain Oscillator models.
The filter section comprises two independent multi-mode filters with optional Mini Moog emulation and self-resonance. An extensive array of parallel effects enable you to compose highly complex sounds in virtually no time.
In Multi mode, your patches sound 100% identical and include all of the effects. The 4 independent parts can be routed to 1 Stereo Analogue or 3 USB outputs streaming audio directly into your sequencer workstation. The software suite includes a VST, RTAS and AU compatible plug-in allowing for total recall, sample-accurate timing and modern automation features.
The audio inputs and outputs can be optionally used as a sound card in your sequencer. The hardware knobs can be used to either control the Virus' sound engine or compatible third party software plug-ins.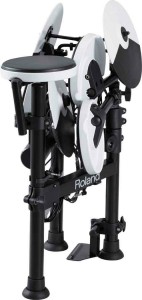 Roland has announced the TD-4KP V-Drums Portable, a compact, easy-to-transport electronic drum set with a unique and innovative folding design. They tell us that this new set offers players the industry leading V-Drums sound and performance with maximum mobility and ultra-quick setup time.
The TD-4KP features a kick pad, a snare pad, three tom pads, and three cymbal pads (crash, ride, and hi-hat). An FD-8 Hi-Hat Controller pedal is included as well. Roland says that the 7.5-inch snare and tom pads feature a cushioned rubber surface that provides a sensitive, accurate response and natural playing feel.
All the drum and cymbal pads are mounted on a durable, integrated stand that folds into a surprisingly small size for transport and storage. To put the kit back into playing position, the user simply unfolds the stand and pads.
Roland tells us that the included TD-4 Percussion Sound Module delivers a wide range of expressive drum and percussion sounds that can be easily edited, allowing players to quickly customize their kits. Ambience effects optimized for drums are included for lively, dynamic performances. The Coach and Quick Rec/Quick Play functions are ideal for effective practice, providing drummers with valuable feedback for rapid improvement.
An optional CB-TDP Carrying Case provides a convenient way to transport and protect the TD-4KP. The custom-designed bag features a shoulder strap and detachable pouches for the FD-8 and a kick pedal, plus handy pockets for a kick beater, drumsticks, and other accessories. Users can also swap out the snare pad with an optional PDX-6/8 for a true mesh head feel and dual-triggering capability.
A Roland spokesperson told us, "With its extremely portable fold-away design, great V-Drums sound, and expressive playing feel, the TD-4KP is a perfect fit for a wide range of users, from young students to drum teachers to gigging players. Its versatility and small footprint makes it ideal for many different environments, including bedrooms, apartments, lesson studios, rehearsal spaces, and more."
Pricing and Availability:
TBC
More information: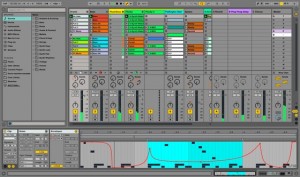 Ableton has announced two groundbreaking new music-making products: Live 9, the music creation software with inspiring new possibilities, and Push – Ableton's first hardware instrument for Live.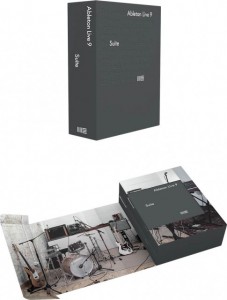 The upgrade to version 9 greatly expands the creative possibilities of Ableton's popular Live software.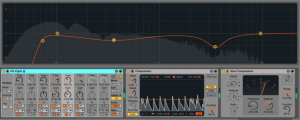 Changes in Live 9
Session automation: In Session View, automation can now be recorded in real time directly within clips. Automation can move together with clips between Arrangement and Session View.
Find sounds fast: Live's new browser puts all instruments, effects, samples, and plug-ins in one easy-to-navigate view. Drag and drop folders from anywhere on your computer, search as you type and navigate from the keyboard to find everything quickly.
Discover new sounds: Live comes with a large selection (3,500 in the Suite edition) of production-ready sounds, which were carefully crafted with the help of over 40 artists, sound designers and engineers. All sounds feature Macro controls for fast access to their most meaningful, musical parameters.
Get your sound right: Live's studio effects have all been reworked for even better sound and usability. The Glue Compressor is a new effect – an authentic model of a legendary 1980s console bus compressor. EQ Eight has an audition mode for isolating frequencies and an expandable spectrum display. The Gate and Compressor effects feature a Gain Reduction view which shows changes in signal level over time.
Extract music from samples: Live's new Harmony, Melody and Drums to MIDI tools extract natural-feeling MIDI directly from the favorite parts of your music collection. You can also sing, tap a rhythm, play any solo instrument, then use Melody or Drums to MIDI to turn your recordings into MIDI clips that you can edit and reuse with any sound.
Edit the details: Transpose, reverse and stretch MIDI notes or warp clip automation and add curves to automation envelopes. New tools and an improved workflow allow fast and flexible editing of musical ideas.
Max for Live – now in Suite: The Suite edition of Live 9 comes with Max for Live and its many unique instruments, effects and tools. Max for Live itself includes 24 new devices such as a convolution reverb, new drum synthesizer instruments, MIDI echo as well as reworked versions of classics such as Step Sequencer and Buffer Shuffler 2.
Ableton Live 9 will be available in the first quarter of 2013. Prices start at $99 USD/79 EUR (Live 9 Intro download version), $449 USD/349 EUR (Live 9 Standard download version) and $749 USD/599 EUR (Live 9 Suite download version). Upgrades to Live 9 Standard / Live 9 Suite vary in price depending on the Ableton products you already own.
With Push, Ableton presents a new hardware instrument designed to solve an old problem: how to make a song from scratch.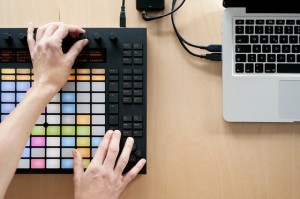 Push provides direct, hands-on control of melody and harmony, beats, sounds and structure, powered by Ableton Live running on your computer. High-quality, dynamic pads, buttons, encoders and display combined with an innovative workflow allow you to play and compose musical ideas without the need to look at or touch your computer, and more importantly, without interrupting the musical flow.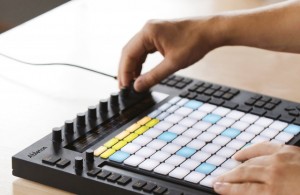 Push features
Play and sequence beats: Push's 64 velocity- and pressure-sensitive multi-color pads can be used to play, step sequence, and navigate within rhythm patterns – all at the same time. The 11 touch-sensitive endless encoders can control device parameters, adjust velocity, nudge timing and more.
Play melodies and chords in a new way: Push "folds" a keyboard's worth of notes into its 64 pads, with different pad colors showing the key center and other notes in the key. This allows you to play in every key using the same finger patterns, move between keys at the touch of a button, and explore new harmonies and phrases.
Improvise with song structure: Push expands the scope of creation with its unique workflow. Using just a few buttons to trigger clips, overdub notes, move between song materials and variations lets Ableton Live itself become an intuitively playable instrument.
Move smoothly from creation to arrangement: Push offers both the inspiring instrument to start creating music, and the full-featured software to finish off a track. Everything created with Push is laid out in Ableton Live on your computer – ready for fine-tuning, arrangement and export.
Includes Ableton Live 9: Push includes Ableton Live 9 Intro and works with any edition of Ableton Live 9 (Intro, Standard, Suite). All the included instruments, effects and sounds, as well as your own libraries, are ready to be played, tweaked, and personalized.
Designed by Ableton, built by Akai Professional: Utilizing Akai Pro's long-standing expertise in the field of pad controllers, Push features 64 pressure and velocity-sensitive RGB (multi-colored) pads with an adaptive layout and a touch strip with 24 LEDs for pitch bending or navigating through a Drum Rack. The 11 touch-sensitive encoders and LCD display adapt dynamically to control and show active parameters.
Fits inside a backpack alongside a laptop: Push is 370 mm / 14.57 inches wide, 293 mm / 11.54 inches deep and is 46 mm / 1.81 inches in height (including encoders) and weighs 2990g / 6.59 pounds. Backside connections are a USB port, power adaptor input and two assignable footswitch inputs. (Push is USB-powered, the brightness of the display and LEDs can be increased by using the included power supply).
Push cover: An optional steel cover doubles as a sturdy, angled stand for performance.
Push will be available in the first quarter of 2013 for $599 USD/499 EUR. Push includes Ableton Live 9 Intro and works with any edition of Ableton Live 9 (Intro, Standard, Suite). Bundle upgrade discounts will be available for owners of previous versions of Live.
More info here >>