Nord has released a new sound bank for the Nord Drum 2 by Swedish electronica legend Andreas Tilliander, which they say concentrates on bring out the electronic soul of the machine in 25 amazing kits.

Andreas Tilliander is a man of many aliases such as his most recent creation TM404, but perhaps you also have heard of Svaag, Skitus, Mokira, Lowfour or Rechord? TM404 made it's live debut at Berghain, Berlin during the CTM Festival in January 2013. Since then there's been sweaty gigs in lots of countries and places. Tokyo, Nagano, Taipei, Shanghai, New York City, Bern, Venice have all witnessed TM404 and his analog hardware live sets. Richie Hawtin is a fan and has invited the man behind TM404 twice to his Enter experience at Space, Ibiza. Andreas Tilliander is releasing three new records autumn 2014 as TM404, Mokira and Svaag. 

Pricing and Availability:
Free download (requires Nord Drum 2 OS v3.00 or later)
Korg has introduced Cliphit– a new system that lets you turn anything into an electronic drumkit.
Korg says that Cliphit is designed for 'casual playing'. That means some 'pro' features, like MIDI out, are left out.
Instead, Cliphit focuses on fun, letting you clip sensors to just about anything, plug them into the battery-powered sound module and play electronic percussion in a unique way. 
To use Cliphit, you attach the clips, with their internal sensors, to a magazine, desk, or almost any surface, transforming it into a snare, hi-hat, or cymbal. You can also attach these clips to practice pads. And you can use them to play drums or programmed EFX sounds, which include things like dog sounds, cat sounds and hand clapping.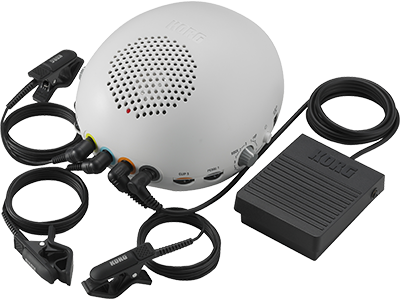 Features:
A high-tech drum kit with three clips that trigger onboard drum samples
Includes one footswitch to control kick sounds, with the ability to add one more for control of hi hat open/close
Eleven kits are provided including hand percussion and sound effects kits
2W output, 3-inch speaker, and bass-reflex design deliver great-sounding tone
Perform sounds by striking the CLIPHIT itself with your hand
AUX IN jack lets you connect external sound sources such as an MP3 player to jam along
Headphone jack for private practice
Compact design
Two-way power supply allows for battery operation

Connections include: CLIP Input x 3, PEDAL Input x 2, AUX IN (Stereo mini jack), DC 9V jack, Headphone (Stereo mini jack)
Official pricing and availability info for the Cliphit is to be announced.
AudioThing has released Tank Drum for Kontakt 5, a new virtual instrument based on samples from a steel tongue drum.
Also called hang drums, these instruments are usually made out of propane tanks with tongues of different sizes and tuned in different scales.
The instrument sampled features 8 tongues and is tuned in E minor pentatonic. It was played both with hands and rubber mallets, along with some sound effects with hands and brushes. The sound has a long release and is rich in harmonics.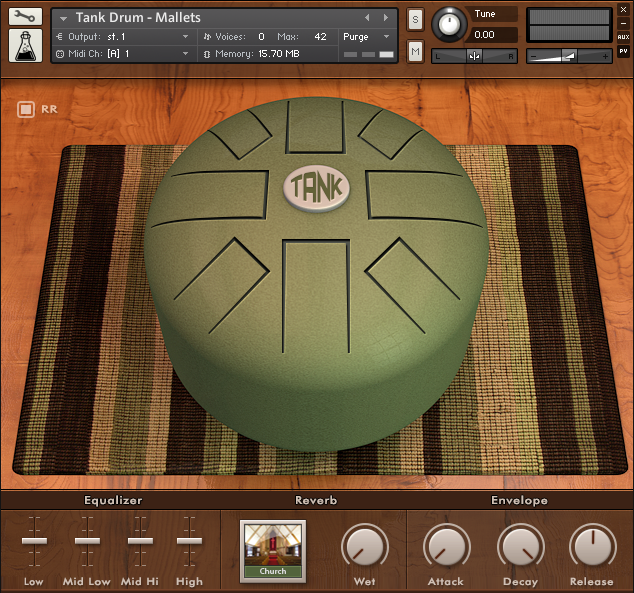 Specifications:
7 Kontakt Instruments (.nki)
5 Round Robin samples
3 Velocity Layers
7 Custom Impulse Responses
274 Samples (44.1kHz / 24Bit)
Formats: Kontakt 5 and WAV
This is drum & bass piece performed live using an automated drum kit and other percussion, playing together with a selection of vintage and new analog synthesizers.
All the sound is being generated in real time, the analog synths coming through the main rack mixer and the robotic percussion being recorded by microphones.
List of the main gear used :
Modulars : Roland System 100m (sub bass), Roland System 700 (basses), Doepfer system (stabs and atmospheric sound).
Other Synths : Yamaha CS-10 (more basses), Studio Electronics Omega 8 (chords and atmospheric sound), Korg Monotron Duo (more basses).
If you would like to download the audio file, you can do so at kxnz.bandcamp.com where you can find it in high-quality formats on a pay-what-you-like basis. All proceeds will go towards supporting a trip to London to present a paper about musical robotics at NIME 2014.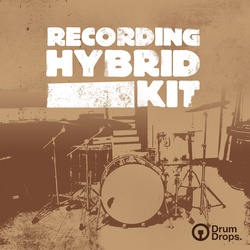 Ableton has introduced the Recording Hybrid Kit, a free multi-sampled, multi-velocity Yamaha drumset by Drumdrops.
The drums that comprise Recording Hybrid Kit were specially selected from several different Yamaha drumsets in order to provide a well-balanced and versatile Drum Racks. The individual drum voices were sampled at multiple velocities and are available in up to 16 steps for each articulation.

Recording Hybrid Kit works well at various tuning pitches, and its big size and its classic Ludwig 402 snare sound makes it especially suitable for rock and pop.
The kit is a free download at Ableton.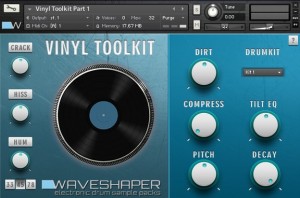 WaveShaper has announced the release of Vinyl Toolkit, a drum instrument library for Native Instruments Kontakt.
The Vinyl Toolkit is a collection of 200 one-shot drum samples taken from vinyl records from various eras, chopped and sliced with love to be production-ready. This is not just a sample collection but a versatile Kontakt instrument with a comprehensive featureset and fast sound-shaping tools.

This instrument was developped in tight collaboration between WaveShaper and Sampleism, and is available to buy for 12.99 on Sampleism.
May you be into dubstep, footwork, hip hop, soul, funk, trip hop, dub, trap, crunk, jungle, skweee, drum & bass, rock or any other genre you will be at home with Vinyl Toolkit !
Vinyl Toolkit features
Fast workflow:

The samples are already mapped into 6 different kits.
5 FX with single-knob action let you quickly fine-tune and shape the sound to taste.

Great sound quality:

hand-picked selection of sounds, with vintage character but also punch and versatility.
24bit, 48khz stereo WAV files built into a Kontakt instrument.
You can add even more grit and vintage flavour by dialing in some hiss, crackles and hum.
The sample library is available to purchase from Sampleism, priced at £12.99 GBP.
Four additional drum sample packs are now also available as Kontakt versions on Sampleism: Monokken, MR-10 (Grey Matter), Stix305 and Aluminium/White Metal, which is now mkII with improved samples.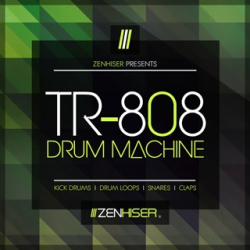 Zenhiser has introduced TR-808 Drum Machine, a new sample library that they say is "The Biggest TR-808 Drum Machine Pack Ever Released."
Here's what they have to say about it:
We really went to town with the drum sampling of this 808 drum machine, developing new techniques of takes with altering decay and tone times to give you the music producer as much control as if you actually owned this awesome drum machine. Every preset has been sampled to perfection and quickly folder?d for ease of use so all you need to do is assign the drum samples to your DAW or sampler and voila, you have an authentic Roland TR-808 right there in your studio, ready to use and abuse!
To make the package even sweeter we spent hours creating similar versions of authentic drum beats from the decades ranging in bpm from 88 to 170, over 560 drum loops in total, now that?s a huge library of drum loops any producer in EDM or retro freak can not refuse. Just have a look at the specs below to see how comprehensive this drum machine pack really is, and as far as we know there is no other 808 sample pack this dedicated, detailed and comprehensive anywhere in the world.
TR-808 Drum Machine Specs:
808 Drum Loops – 561 loops
808 Bass Drums – 240 samples
808 Claps – 16 samples
808 Clave – 16 samples
808 Conga Low – 36 samples
808 Conga Medium – 36 samples
808 Conga High – 36 samples
808 Cow Bell – 16 samples
808 Cymbal – 72 samples
808 Hi Hat Open – 36 samples
808 Hi Hat Closed – 16 samples
808 Maraca – 16 samples
808 Rim Shot – 16 samples
808 Snare – 216 samples
808 Tom Low – 36 samples
808 Tom Medium – 36 samples
808 Tom High – 36 samples
TR-808 Drum Machine is available at Zennhiser for AU $35. Audio previews are available at the site
http://livingston-eliptik.bandcamp.com/ https://soundcloud.com/herdmusic
One Yamaha TX81z in performance mode (8 sounds max on keyboard). No Fx, no mastering. Drumkit is composed of basics presets sounds. Heavier bassdrum can be made with editing.
Sequence via computer
Yet another FM synthesizer from Yamaha, this one comes in a compact, multitimbral, 1-unit rackmount module and is basically a key-less version of the DX-11. It has far more professional features than its relative, the FB-01. The TX81Z features great FM type synth sounds similar also to the DX-21 and DX-27. It's still not as good as the classic DX-7, but it's an inexpensive source of those sounds with lots of programmability. Eight voice polyphony, 128 preset sounds, 32 user and lots of functions hidden behind 11 push buttons.
The TX81Z features a new ability to use waveforms other than just a sine wave. There are eight voices that can be split, layered and detuned. Also onboard are pseudo-effects including delay and reverb. These features can be stored as performance setups. The effects are simply envelope and re-triggering effects. The TX81Z works great as a sound-module for any live or studio production. It's got a wider range of sounds than the DX-7, may not be quite as warm or 'classic' sounding, but at its low price and with the excellent MIDI implementation it makes a great alternative or backup synth for percussive, punchy FM synth sounds.
https://sellfy.com/p/HYhN/ 128 contempary and classic style drum and percussion sounds to load into your Elektron Analog Four, with the imminent +drive and 4000 available sound slots coming to the next A4 OS these will give you a great headstart when making drum sounds.
I designed all these sounds from scratch for the purpose of saving time, drum sounds need to be tuned very carefully to sound convincing, so as you can hear from this brief demo a large portion of this work has already been done for you.
The sounds themselves range from classic drum machine type sounds, to abstract and contempary, hand percussion, even a hang drum emulation and many more useable and useful sounds. Comes with full documentation.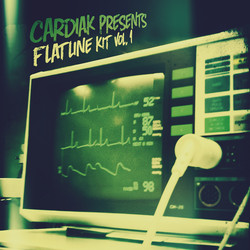 The Drum Broker has released Flatline Kit Vol. 1, a drum kit sample pack by Cardiak.
Fresh from the lab at HeartFelt Productions Platinum Producer Cardiak brings you the official "Flatline Kit Vol. 1″.

Well known in the production world for massive amounts of hits with the hardest drums and neck snapping snares, Cardi has given you gold. Cardiak's actually library of his own snares and claps are sure to have you pushing out bangers that slap hard in no time. This kit is a great selection of 808′s that will quake your neighbor's neighbor and trademark stabs from some of your favorite tracks.

Forget the rest, this is the official kit straight from Cardiak himself.
Flatline Kit Vol. 1 features
4 808′s.
11 Claps.
13 Fills.
38 Kicks.
7 Loops.
13 Percussive Elements.
6 SFX Transitions.
58 Snares.
5 Stabs.
The sample pack is available to purchase for $24.99 USD.