TR-808 Drum Machine – The Biggest TR-808 Drum Machine Pack Ever Released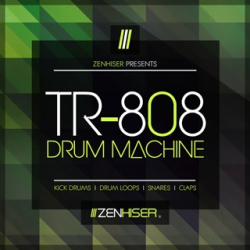 Zenhiser has introduced TR-808 Drum Machine, a new sample library that they say is "The Biggest TR-808 Drum Machine Pack Ever Released."
Here's what they have to say about it:
We really went to town with the drum sampling of this 808 drum machine, developing new techniques of takes with altering decay and tone times to give you the music producer as much control as if you actually owned this awesome drum machine. Every preset has been sampled to perfection and quickly folder?d for ease of use so all you need to do is assign the drum samples to your DAW or sampler and voila, you have an authentic Roland TR-808 right there in your studio, ready to use and abuse!
To make the package even sweeter we spent hours creating similar versions of authentic drum beats from the decades ranging in bpm from 88 to 170, over 560 drum loops in total, now that?s a huge library of drum loops any producer in EDM or retro freak can not refuse. Just have a look at the specs below to see how comprehensive this drum machine pack really is, and as far as we know there is no other 808 sample pack this dedicated, detailed and comprehensive anywhere in the world.
TR-808 Drum Machine Specs:
808 Drum Loops – 561 loops
808 Bass Drums – 240 samples
808 Claps – 16 samples
808 Clave – 16 samples
808 Conga Low – 36 samples
808 Conga Medium – 36 samples
808 Conga High – 36 samples
808 Cow Bell – 16 samples
808 Cymbal – 72 samples
808 Hi Hat Open – 36 samples
808 Hi Hat Closed – 16 samples
808 Maraca – 16 samples
808 Rim Shot – 16 samples
808 Snare – 216 samples
808 Tom Low – 36 samples
808 Tom Medium – 36 samples
808 Tom High – 36 samples
TR-808 Drum Machine is available at Zennhiser for AU $35. Audio previews are available at the site
Comments