December 6, 2013 · Posted in
Uncategorized
·
Comments Off

on MicroBrute: How to make drum sounds
How to make drum sounds with the Arturia MicroBrute, including a kick/bass drum, high hats and a sort of "hand clap". Pause the video on the stills to check out the positions of all the controls required to recreate these sounds.
November 28, 2013 · Posted in
Uncategorized
·
Comments Off

on Metal Can Drums – virtual instrument library for Native Instruments Kontakt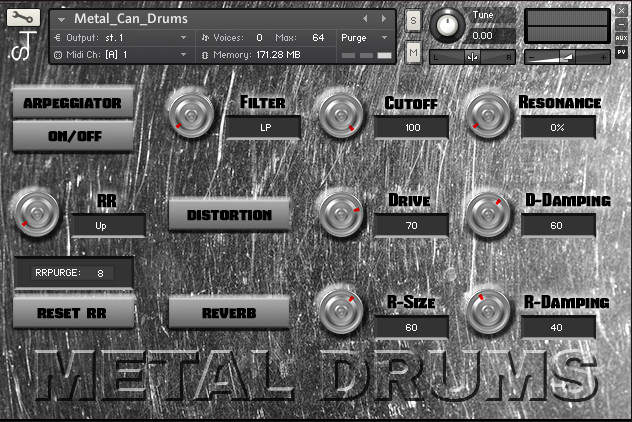 Syntone has announced Metal Can Drums, a virtual instrument library for Native Instruments Kontakt.
Metal is an interesting material. On the one hand, you can hit it to create a sharp attack and barely any release. But on the other hand, you can tap it and get a long, rattly sound.

That is the concept for the Metal Can Drums library: to provide a set of metal drums that give you the best of both worlds. The library comes with 8 round robin, 7-8 velocity layers, 33 different types of hits from 4 different types of cans and custom scripting, including a custom-made arpeggiator.
Metal Can Drums features
8 round robin, 7-8 velocity layers.
33 different types of hits from 4 different types of cans.
Custom-scripting, including an arpeggiator.
48kHz/24-bit quality.
1.35GB (572MB compressed).
Requires Kontakt 4.2.4+ full version.
The library is available to purchase for the introductory price of $20 AUD until December 9th, 2013 (regular $40 AUD).
October 8, 2013 · Posted in
Uncategorized
·
Comments Off

on Electro kit – Free drum samples
Sampling card RME Fireface 400 usb.
FORMAT: wav
41,000 hertz 16 bit samples
Number of samples: 68
August 16, 2013 · Posted in
Uncategorized
·
Comments Off

on AUFX DUB for iPad Demo with Drums, Cubasis and Audiobus
Demo of the new AUFX DUB from Kymatica, tested this with the Yamaha DD65 kit and the Korg Wavedrum Global running through the iPad via a Behringer UCA222. Then into Audiobus and into Cubasis. The recorded reggae drum pattern that plays about half way through was programmed with DM1 then treated with the other AUFX SPACE reverb app, and had some compression from Cubasis added..
AUFX:Dub. A highly tweakable stereo delay audio effect, suitable for everything from clean digital delays to filthy dub echoes and broken cassette tapes. It features tape simulation (noise and warble), filters in the delay loop for typical dub sound, stereo detune, ping-pong delay, and more
All AUFX apps have the following features:
High quality 32-bit DSP engine.
Process hardware input/output or other apps through Audiobus (input/filter/output slots supported).
Ready for the future inter-app audio standard.
Fully MIDI controllable, including Virtual MIDI.
Built-in look-ahead limiter to avoid clipping.
Background Audio.
Save and load user presets.
Comes with several bundled presets.
Record the result directly in app.
Email recordings or export to AudioShare audio document manager app.
Access user presets and recordings through iTunes File Sharing.
August 15, 2013 · Posted in
Uncategorized
·
Comments Off

on Drum Mixing – collection of 42 presets for the Glue compressor in Ableton Live 9

Minimal System Instruments has released Glue Compressor: Drum Mixing, a collection of 42 presets for the Glue compressor in Ableton Live 9.
Glue Compressor: Drum Mixing is the first pack Minimal System have produced for Ableton Live 9, more specifically the fantastic new Glue Compressor. This plugin is designed to, as the name suggests "glue" your buss or master mixes together to create a more uniform sound much like the famous SSL Buss Compressor.

This new preset pack is designed for use on drum busses only and includes 42 presets crafted by our in house mixing and mastering expert. Covering all aspects of drum mixing this pack provides everything needed to get your drums sounding polished.
The presets pack costs £4.99 GBP.
February 4, 2013 · Posted in
Uncategorized
·
Comments Off

on Twisted Tools | Micro Kits 05 by Delect
Twisted Tools has announced the arrival of Micro Kits 05 by Delect, the fifth release in its series of Micro Kits. Each Micro Kits release features 5 drum kits developed by a cutting edge sound designer and formatted for a wide variety of samplers. To celebrate Twisted Tools 3 year anniversary and thank their customers for their support, Micro Kits 05 is being released for free at http://twistedtools.com/.
Micro Kits 05 by Delect comes with 5 masterfully designed electronic drum kits by electronic duo Delect, a new collaboration between Chris De Luca  [Funkstörung] and Leonard de Leonard [Leonizer Rec.]. The kits will work in nearly any electronic genre, from techno to hip hop.
The sample pack's kits are formatted for a wide variety of samplers, providing instant inspiration within nearly any type of production environment. Additionally, MK05 features a custom Reaktor map and presets for Twisted Tools S-LAYER. By harnessing the power of S-LAYER'S advanced randomization and sample layering engine, the possibilities for generating new content from MK05 is literally endless. MK05 comes with over 40 S-LAYER kits and generator presets to get you started.
About Chris De Luca – As Funkstörung, CLP and as a solo artist, Chris de Luca released an uncountable amount of records on !K7, Boysnoize Rec, Shitkatapult and many more. His remixes for Björk, Wu-Tang Clan, Apparat and The Glitch Mob have attracted worldwide attention and acclaim. de Luca's diverse music portfolio shows his passion for electronic music and hip hop and his dedication to defying conventions. His innovative, bass heavy sound is a radical and refreshing take on the stale electronic music scene.
About Leonard de Leonard – the man with the bushy beard is a producer, sound designer and founder of Leonizer Rec. From Shanghai to Cairo, Seoul to Berlin, Leo has been rocking clubs all over the world with his ass-kicking sets. After releasing numerous albums and EPs as a solo artist on labels like Musiques Hybrides, Ekler'o'shocK and BEE Records, Leo started a new chapter with Chris de Luca, and the Delect story began…
Pricing and availability:
Micro Kits 05 by Tonebuilder is available for free download at http://twistedtools.com/shop/micro-kits/micro-kits-05-Delect
Supported Sampler Formats:
S-Layer, Maschine, Battery, Kontakt, Ableton 7/8, Reaktor 5.8 and EXS24.
Here's a nice treat from AfroDJMac featuring samples from the Minibrute, details below:
This free Ableton Live Pack features drum sounds created from samples of the Arturia MiniBrute. More specifically, I resampled sounds from the MegaBrute Collection for Ableton Live ( http://afrodjmac.com/2012/11/07/megabrute-ableton-live-pack/ ) and created some odd and unique drum samples. From there I organized them into Ableton's drum rack and added various effects. All in all it is 24 different drum sounds all created from the analog beauty that is the Arturia Mini Brute!
Free Download Here: http://bit.ly/freesynth68
December 7, 2012 · Posted in
Uncategorized
·
Comments Off

on Soundcells: WaveDrummin v2 – organic, electronic percussion for the Reason Rack!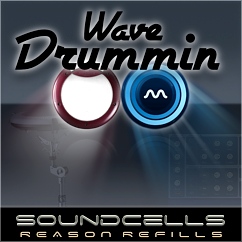 Soundcells has a new release out called "WaveDrummin v2" – which is not just another percussion ReFill.
By finding a whole new continent Columbus redrew the map of our planet. Now it´s your turn to do so. By making use of this ReFill you can combine enchanting and haunting rhythms coming from all continents, maybe even from other planets as well as Wavedrummin opens doors to percussive bliss that have never been opened before. At the studio in Central Europe Soundcells recorded their favorite hits and bits coming from the Wavedrum by Korg and – since version 2 – the incredible Impaktor by BeepStreet. The result has become this ReFill – a work of art, a tool that lets you draw your own restyled map of our precious planet.
Realism vs mixability
Lots of samples taken from acoustic, real percussion instruments have the tendency to sound kind of dull in your mixes. The power of their sound often gets mudded by the rest of your instruments. With this in mind all loops and samples are processed in such a way that the sounds will always sit conveniently in your mixes. Their impact and power will never get lost. Another point that needs to be highlighted is this special stereo knob coming with lots of combinators that works wonders for the mixability of our loops. Check it out!
Genre Crossover
The sounds of this percussion library are as authentic as you wish and at the same time they can be as electronic as you wish. There is no limit to their sonic possibilities. So whether you are a dance producer druling over techno or electro beats or you are a vegetarian ethno guru spiritualist… WaveDrummin will help you getting there. Check out the demos!
Version 2 is stuffed with 33 new Impaktor rex loops, new combinator patches, new Kong kits and more…
WaveDrummin v2 Contents:
• 150 combinator patches stuffed with inspiring new energy (35 new ones since version 2).
• 143 rex loops that range from authentically acoustic to crazy electronic stuff, 20 Kong kits, 20 NNXT patches and 7 Redrum kits.
• 210 single hits to build your own kits from.
• Recorded impact noises coming from Brushes, Rods, Sticks and Fingers to add extra realism to the loops. The combinators carry knobs to control their volumes.
• All single loops and samples are included into this download in Rex and Wave format.
By purchasing this pack you are not restricted to Reason only. However there is a lot more magic to be found within the ReFill.
A web address to link to for more info and many "WaveDrummin v2" only MP3s:
Offering price per unit is 14,90 ,- EUR (normal price is 19,90 ,- EUR)
November 5, 2012 · Posted in
Uncategorized
·
Comments Off

on Roland introduces easy-to-transport TD-4KP V-Drums Portable electronic drum set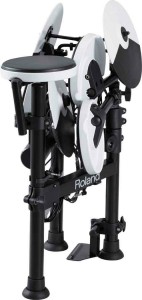 Roland has announced the TD-4KP V-Drums Portable, a compact, easy-to-transport electronic drum set with a unique and innovative folding design. They tell us that this new set offers players the industry leading V-Drums sound and performance with maximum mobility and ultra-quick setup time.
The TD-4KP features a kick pad, a snare pad, three tom pads, and three cymbal pads (crash, ride, and hi-hat). An FD-8 Hi-Hat Controller pedal is included as well. Roland says that the 7.5-inch snare and tom pads feature a cushioned rubber surface that provides a sensitive, accurate response and natural playing feel.
All the drum and cymbal pads are mounted on a durable, integrated stand that folds into a surprisingly small size for transport and storage. To put the kit back into playing position, the user simply unfolds the stand and pads.
Roland tells us that the included TD-4 Percussion Sound Module delivers a wide range of expressive drum and percussion sounds that can be easily edited, allowing players to quickly customize their kits. Ambience effects optimized for drums are included for lively, dynamic performances. The Coach and Quick Rec/Quick Play functions are ideal for effective practice, providing drummers with valuable feedback for rapid improvement.
An optional CB-TDP Carrying Case provides a convenient way to transport and protect the TD-4KP. The custom-designed bag features a shoulder strap and detachable pouches for the FD-8 and a kick pedal, plus handy pockets for a kick beater, drumsticks, and other accessories. Users can also swap out the snare pad with an optional PDX-6/8 for a true mesh head feel and dual-triggering capability.
A Roland spokesperson told us, "With its extremely portable fold-away design, great V-Drums sound, and expressive playing feel, the TD-4KP is a perfect fit for a wide range of users, from young students to drum teachers to gigging players. Its versatility and small footprint makes it ideal for many different environments, including bedrooms, apartments, lesson studios, rehearsal spaces, and more."
Pricing and Availability:
TBC
More information:
October 2, 2012 · Posted in
Uncategorized
·
Comments Off

on Looking for Daniel Miller's drum sounds – look no further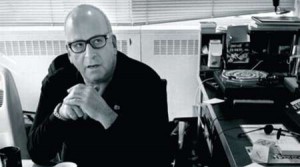 DM ARP 2600 Drums is a free Live Pack consisting of 8 Ableton Drum Racks and 150 original analog percussion sounds sampled from Daniel Miller's own ARP 2600 modular synthesizer. Extensive controls for real-time sound tweaking and bonus sequence clips are included.
Beginning with his now-classic "Warm Leatherette/T.V.O.D." single (as The Normal), Daniel Miller and the Mute label have been at the cutting-edge of electronic music for almost 35 years. Singular artists such as DAF, Fad Gadget, Depeche Mode, and Erasure began their careers at Mute and pioneers such as Can and Cabaret Voltaire enjoy their canonical status in no small part thanks to Daniel Miller's expert curatorship of their archives.

Ever the inquisitive experimentalist, Daniel Miller continues to produce with a finely honed ear, merging the best of analog synthesis with new music technology that provides the creative immediacy he demands. Made in collaboration with the Flatpack sound design team, DM ARP 2600 Drums delivers a large selection of drum and percussion patches created with Daniel Miller's own ARP 2600 modular analog synthesizer. Carefully sampled and programmed, this free Live Pack delivers Drum Rack Instruments with Daniel Miller's characteristic touch.
DM ARP 2600 Drums includes Macro controls to quickly and intuitively alter the overall sound of each kit as well as individual characteristics of the kick and snare sounds. Further customization of individual sounds as well as of effects and presets can be accessed via the Drum Rack's Chain and Device buttons. A detailed walk-through of all the customization options can be accessed via Help View in Live's main menu.