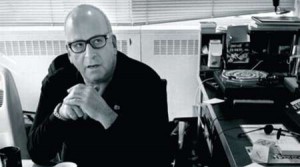 DM ARP 2600 Drums is a free Live Pack consisting of 8 Ableton Drum Racks and 150 original analog percussion sounds sampled from Daniel Miller's own ARP 2600 modular synthesizer. Extensive controls for real-time sound tweaking and bonus sequence clips are included.
Beginning with his now-classic "Warm Leatherette/T.V.O.D." single (as The Normal), Daniel Miller and the Mute label have been at the cutting-edge of electronic music for almost 35 years. Singular artists such as DAF, Fad Gadget, Depeche Mode, and Erasure began their careers at Mute and pioneers such as Can and Cabaret Voltaire enjoy their canonical status in no small part thanks to Daniel Miller's expert curatorship of their archives.
Ever the inquisitive experimentalist, Daniel Miller continues to produce with a finely honed ear, merging the best of analog synthesis with new music technology that provides the creative immediacy he demands. Made in collaboration with the Flatpack sound design team, DM ARP 2600 Drums delivers a large selection of drum and percussion patches created with Daniel Miller's own ARP 2600 modular analog synthesizer. Carefully sampled and programmed, this free Live Pack delivers Drum Rack Instruments with Daniel Miller's characteristic touch.
DM ARP 2600 Drums includes Macro controls to quickly and intuitively alter the overall sound of each kit as well as individual characteristics of the kick and snare sounds. Further customization of individual sounds as well as of effects and presets can be accessed via the Drum Rack's Chain and Device buttons. A detailed walk-through of all the customization options can be accessed via Help View in Live's main menu.
SYNTHETIK DRUMS for NanoStudio by Blip Interactive
32 drum kits for TRG-16, over 400 single drum sounds!
This video details the features of the Super Tape Drums Ableton Live Pack created by AfroDJMac.
Features:
-450+ drum sounds recorded to a Tascam 8 Track Reel to Reel Machine
-30+ Ableton Live Racks of Drums and Effects Organized for efficiency and usability
-5 Ableton Live Sets
-Inspiring Instrument and effects, and super warm drum samples
It's Available Wednesday June 27th @: http://afrodjmac.com
Visit my site for more stuff like this, including Live Instrument downloads and music! http://www.afrodjmac.com
Zenhiser has announced 80′s Retro Drummer, a collection of 80′s drum samples.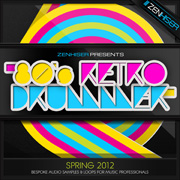 Fresh from the Zenhiser studio comes a 80′s drum kit that will simply blow you away. The attention to detail on these 80′s drum sounds is second to none and literally took us weeks to produce using the same concept and tricks that were used back in the 80′s by high end studios and producers. '80′s Retro Drummer' is a drum kit that not only sounds like it was created in the eighties but stands up against any modern drum kit.
Clocking in at just over 390 authentic 80′s drum sounds means this sample pack is an all in one pack for all producers and remixers. With styles and techniques used by some of the pioneers of the 80s including Phil Collins, Howard Jones, Depeche Mode, Simple Minds, Duran Duran, Human League, Tears For Fears, Art Of Noise, Steve Winwood and more this is a sample pack with a decade of pure 80′s drum history.
The sample pack is available to purchase for $30 USD.
Commodore 64 SID chip drums for Ableton Live drum racks. This is a cool collection of retro 8-bit drum sounds. There are effects assigned to macro knobs to allow for extreme glitching and subtle finessing.
Download here: http://bit.ly/freesynth51
Samples provided by: http://bedroomproducersblog.com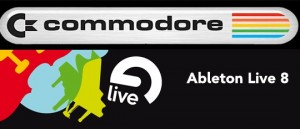 One of the cool things about drum racks is the ability to give the instrument its own send and return channels.  It's a very convenient way to add effects to your sounds without setting up additional channels in your Live set.  So, I've given the Commodore 64 drums three effect sends.  There is reverb which also has control over the reverb time.  Next is a delay, set to repitch, mode, allowing for some cool analog delay effects.  And finally, a New York Style or Parallel compression.  This is a really useful effect for drum sounds because it allows you to squeeze and beef up your sound, but also retains the dynamics of the original.  The rack has control of the pitch of the samples, allowing you to raise or drop them by 48 steps.  As you might imagine, this drastically changes things up.  Finally there is Ableton's Arpeggiator effect, which can be helpful in creating rhythmical patterns.
http://youtu.be/1ZXwi_wOOPk
Craig Blundell demonstrates the new features of the SPD-SX Sampling Pad. The SPD-SX puts powerful sample creation and playback under your sticks with innovative audio-capturing features, expressive playability, three multi-effects engines, and much more.
The perfect addition to any acoustic or electronic drum kit, percussion setup, DJ booth, or keyboard rig, the SPD-SX is equally at home on the live stage, in the recording studio, pre-production suite, or dance club. The SPD-SX takes many of the proven concepts from its predecessor and raises them to a new level. Whether you're firing off one-shot samples, looped phrases, or complete audio playback tracks, the SPD-SX is loaded with the latest technology and tools to get the job done with speed, precision, and convenience. Enjoy the most advanced triggering and sampling technology in a sleek, easy-to-use percussion instrument.
Get your drums going with AfroDJMac's latest Live rack featuring the Operator synth
I made a rack of 16 drums, exclusively with Ableton's Operator synth. They sound pretty glitches out yet exciting. Some fun and interesting effects added into the instrument rack helps to spice things up with a healthy dose of character. Follow along as I show you how it works. Thanks!
Download @ http://bit.ly/freesynth33
Background information:
After last week's Ableton Rack, the Gibson Pad, I received a few questions regarding the drums I used in creating the demo video.  So, this week's rack is the drum rack I used to create those sounds.  The FM synthesis in Ableton's Operator can be used to attain nearly any sound imaginable. Lately, I have been using it to create some far out drum sounds.  This week's Free Weekly Ableton Live Rack is just that, a collection of different drums made with the Operator synth.  Every time  I open Operator and start messing around with it, I am always amazed at what I get.  The drum sounds I created are all racked up into a drum rack and from there I added a bunch of useful effects.  First is a bit of New York Style Compression, which is just a combination of the dry, uncompressed signal and a heavily compressed version; the macro knob allows you to blend them to taste.  I've added both a lo and hi pass filter, distortion, reverb and delay.  Also, I've thrown in a vinyl distortion that is designed to emulate the sound of a drum hit being sampled from a record.  One of the cool things about sampling off a vinyl is the crackling you get behind the drum sounds and the way it cuts out at the end of the sample.  To achieve this, I set up a vinyl distortion followed by a gate. The gate is set to close out the vinyl crackles, but open when the drum sounds.  The result is that you only hear the vinyl crackles while the drums are sounding, just like with a vinyl sample.  I love this effect, it adds so much life and grit to the drum sounds.  This technique can be emulated for any sample, not just drums. So here it is in all, I hope you enjoy it!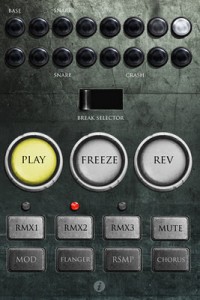 Amen break – coming from the late 60′s is one of the most famous drum loops sampled and remixed in hundreds of jungle, drum'n'bass and hiphop records. This six-second clip spawned several entire subcultures and gained massive fame among DJ's, producers and music fans.
We bring you the Amen Break Generator – a vintage-looking loop player designed for a real-time generating of infinite combinations of this famous break! You can remix the loop with your fingers, use three different randomizing algorithms and add various DSP effects.
FEATURES
44.1 khz, 16-bit low-latency audio engine
beautiful vintage-looking graphics
16 buttons for manual tempo-synced triggering of the break
3 different randomization algorithms for automatic remixing
single slice freezer and loop reverse mode
high quality DSP effects including ring modulator, flanger, resampler and chorus
3 additional classic drum loops just for even more fun!
The app is priced at $0.99
All sounds and effects created exclusively with DAMAGE: http://www.native-instruments.com/damage
DAMAGE provides an arsenal of deeply sampled drums, crushing loops, and smashing one-shots, all recorded in brutal detail. From battered dumpsters and exploding cars to edgy electronics, the entire gamut of modern cinematic sound comes together in this uniquely playable and inspiring instrument. Deep, thrilling and intense — DAMAGE is epic redefined!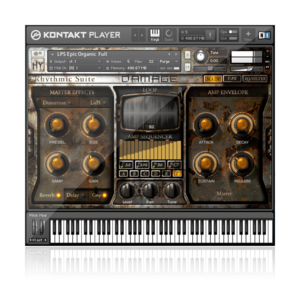 DAMAGE gives you 30 GB of drama, fusing industrial sounds and orchestral drums into a devastating electro-acoustic barrage. Percussive Kits provide more than 200 deeply sampled percussion sources, and over 500 single-shot elements, recorded in up to seven velocity layers and with up to nine round-robins per drum.
Over 700 beat-sliced loops come as menu-style loop suites or as single loops for detailed tweaking. Even the most complex sounds are instantly usable, and it's all in hair-raising, big-screen quality.