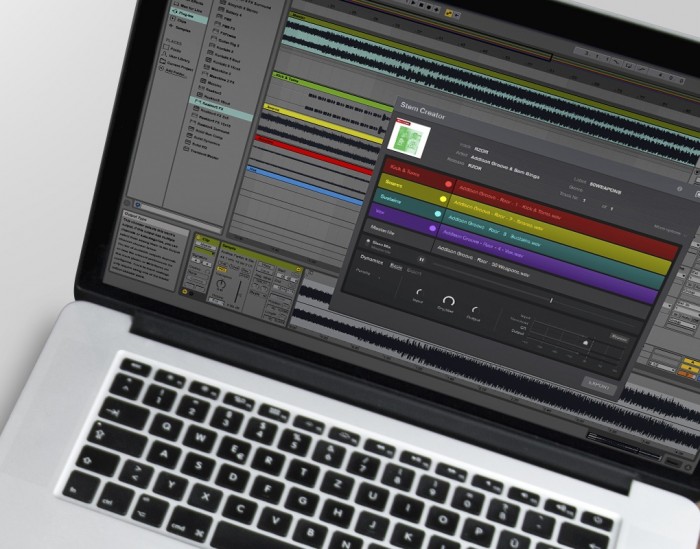 Native Instruments has released the official full version of Stem Creator, the first standalone application developed specifically for Stem file creation.
Available now for free download via stems-music.com, the new tool provides a simple way to create high-quality Stem files using a drag-and-drop interface and integrated mastering controls to fine-tune the final mixed Stem file's sound. Stems enables producers, DJs, labels, online stores, and the entire world to create their own Stem files and discover a new music experience.

A Stem file contains a track split into four musical elements: A drums stem, a bassline stem, a melody stem, and a vocal stem for example. Each 'stem' can be controlled independently to create instant new mixes, mashups, instrumentals, a cappellas, and more.

Stem Creator is designed for the sole purpose of processing audio files into the four-channel stem.mp4 format – streamlining Stem file creation for simplicity and ease of use. To create a Stem file, creators first prepare and export four isolated musical parts of a track from their DAW or audio editor, along with the final mixed version – five uncompressed audio files in total. Then each file is imported into the Stem Creator where a limiter and compressor are adjusted to match the stems with the volume and dynamics of the original stereo master. Standard metadata like track name, artist, and album can then be edited, along with advanced options like stem name and color, catalog number, and album art before finally exporting the finished Stem file.
Stem Creator is available for download at no charge. A developer toolkit will make the technology behind Stems readily available for anyone to integrate into future software and hardware.
reaktor 6 blocks spits
TheMaschinewarehouse.com is proud to present a Labor of love.
System 63 is a complete Modular synth with audio rate modulation and a host of Modules to choose from. this has been in the works for 3 years. with the recent update to Reaktor and the release of Blocks (which borrows heavily from the System 63 format) you can now easily inter patch between blocks and system 63 then out to your eurorack modular. Stay tuned for the release date and more information!
A bunch of Bento Box 8 Steps sequencers disturbing each other and controlling a Eurorack modular synthesizer. All sequencing and modulation coming from Reaktor Blocks, except for some humble human interaction. Maschine joins the party with bass drum, hi-hats, and rim shot.
All control signals from Reaktor Blocks are directly routed to the Eurorack modular synthesizer via DC-coupled converters (Expert Sleepers ES-3).
No quantization used on the hardware side. The pitch scaling in Reaktor Blocks (value of 0.1/oct) plays nicely with the ES-3. Since its output voltage range is roughly ±10 V you get approximately 1 V/oct. Obviously tracking is not perfectly accurate without calibration – in my case it was off 1 semitone over 4 oct.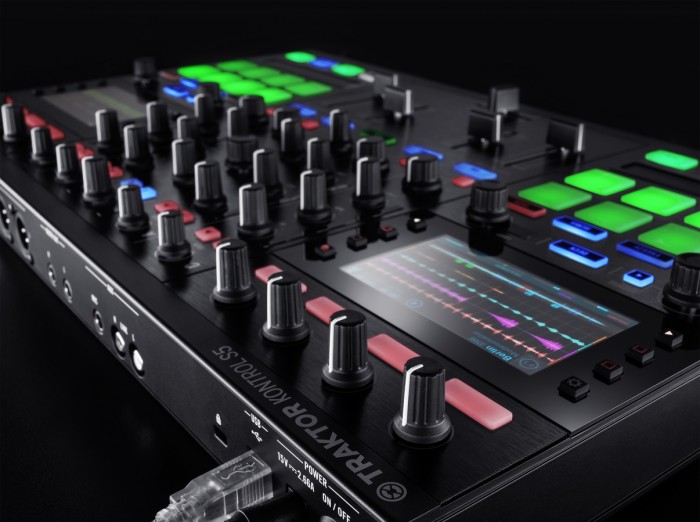 Native Instruments has announced Traktor Kontrol S5, the latest all-in-one DJ system and the next step in the evolution of creative, on-the-go DJing with Traktor.
With a compact size and solid construction, TRAKTOR KONTROL S5 puts familiar hardware control, fluid touch-and-see workflow, and Stems* compatibility into a modern DJ experience. TRAKTOR KONTROL S5 builds on hardware design made popular by the revered TRAKTOR KONTROL S4, with innovative modern technology in a portable format made to feel instantly familiar in the hands of any DJ. TRAKTOR KONTROL S5 will be available online and at retailers worldwide on October 1, 2015.

TRAKTOR KONTROL S5 is designed to provide everything DJing demands – modernized by advanced touch-and-see workflow. The mixer section features key controls such as four channels with EQ and Filter controls, and FX assigns. Touch-sensitive controls bring smart views, performance modes, and pop-up panels to life on two full-color displays – touching an effect knob for example, instantly reveals and hides a deck's FX values. TRAKTOR KONTROL S5's deck types also switch intelligently to match the track, Stem file, or Remix Set being loaded into the included TRAKTOR PRO 2 software. Live remixing with enhanced Remix Decks workflow is seamless – loops can be captured from a running track to instantly sample, for example. And cueing, nudging, or seeking through tracks is made simple and precise with motion-sensitive touch strips that respond naturally to finger swiping.

TRAKTOR KONTROL S5 becomes the fourth addition to the family of Stems-ready TRAKTOR controllers, integrating powerful, customized control of Stems – the open audio format for creative DJ performance.
The Stem View shows Stem files as 4 color-coded, stacked waveforms on the displays. The 16 performance pads map and color-match automatically to each stem when a Stem file is loaded. DJs can mute and unmute different musical elements with the pads or control volume, filter, and effect routing of individual stems, creating spontaneous a cappellas, instrumentals, and mixes that make DJ sets stand out.

TRAKTOR KONTROL S5's compact build and essential on-board connectivity make the unit ideal for mobile professional use. Built using the same premium standards as TRAKTOR KONTROL S8, TRAKTOR KONTROL S5's build quality is designed to resist heavy touring. And it measures to the same size as the popular TRAKTOR KONTROL S4, allowing for protected transport with the TRAKTOR KONTROL S4/S5 FLIGHTCASE**. The built-in 24-bit/48kHz audio interface features both XLR and RCA master outputs, plus one ¼ inch booth output to connect the unit to any type of sound system. And the independent stand-alone RCA or ¼ inch AUX channel input can be used to connect a mic, MP3 player, or any additional line-level device.
Traktor Kontrol S5 will be available on October 1st, 2015, priced at $799 USD / 799 EUR / £579 GBP. Preorder is also available.
More info: http://www.native-instruments.com/rea…
Native instruments has finally released Reaktor 6, the latest version of its software modular synthesizer. The update features Blocks – Eurorack-style virtual modules; new power developer features, an updated user interface; a lower price and more.
Reaktor 6 comes bundled with 30 Blocks in several categories, each with a specific purpose. Bento Box Blocks represent the core components of a modular synth setup. Boutique Blocks take inspiration from custom hardware that bring advanced sound shaping to the world of modular synthesis. Digilog Blocks create complex rhythms, process notes, and provide structure in patches. NI All-Star Blocks are single rack-style components of Native Instruments synths such as Rounds and Monark. The world of Blocks will continue to grow as the vibrant Reaktor community builds and shares new Blocks and Blocks patches – all available for free online at NI's Reaktor User Library.
www.native-instruments.com/en/products/komplete/synths/reaktor-6/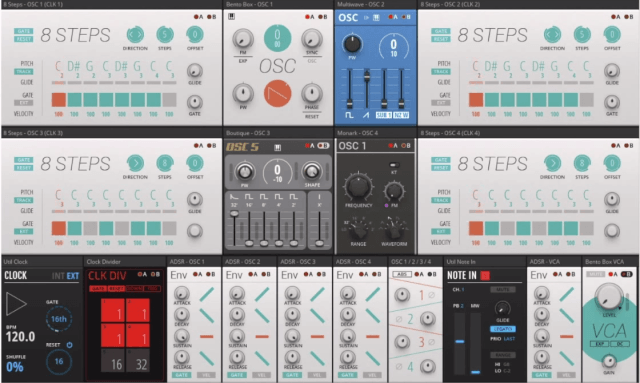 Blocks – Blocks are the new rack-style framework in REAKTOR 6. Blocks offer the speed and flexibility of modular patching, combined with all the benefits of working in the digital domain. Get total recall of complex rack creations. Load as many instances of oscillators, filters, VCAs, LFOs and sequencers as you need. Blocks and Blocks patches can also be shared by the Reaktor community.
Power Developer Features – Three key additions extend REAKTOR's workflow efficiency and sampling power at the Core level.

The Table Framework feature allows flexible and efficient data sharing throughout REAKTOR, including from Primary to Core levels. This opens up new possibilities for building custom sampler engines.
Bundled wires are like multicore cables, making intra-level patching cleaner and more elegant.
Scoped buses allow 'wireless' connectivity across multiple structure levels.

Major Library Updates – Both Primary and Core Macro libraries have been re-organized for ease of use with new categories and more intuitive folder structures. This makes prototyping and instrument building workflows more efficient.

The Core library macros have been re-written for improved sound quality and more efficient use of CPU, letting you build more complex devices that sound better than ever.
The library is also extended to include new anti-aliased oscillators, ZDF filters, envelopes, LFOs, effects, and sampler macros that make use of the Table Framework.

New User Interface – Numerous interface improvements give builders increased readability and optimized use of screen space.

Curved and colored anti-aliased wires allow builders to quickly differentiate wire and port types visually.
There are also numerous builder workflow enhancements including improved structure editing, and a revised property and navigation pane.
Eric Wahlforss (Co-Founder & CTO of SoundSloud,) and Daniel Haver (CEO of Native Instruments) are interviewed in the #TOA15 studio by Peter Kirn (Founder Create Digital Media) after the ¨The Future of Music¨ talk.
Tech Open Air is a three-day Technology Festival. Our mission is to connect, grow and inspire the human spirit through interdisciplinary knowledge exchange and collaboration.
Connect with us and stay up to date about our next events:
http://www.toaberlin.com
http://www.fb.com/techopenair
http://www.twitter.com/toaberlin
Video Production: www.Streamhub.de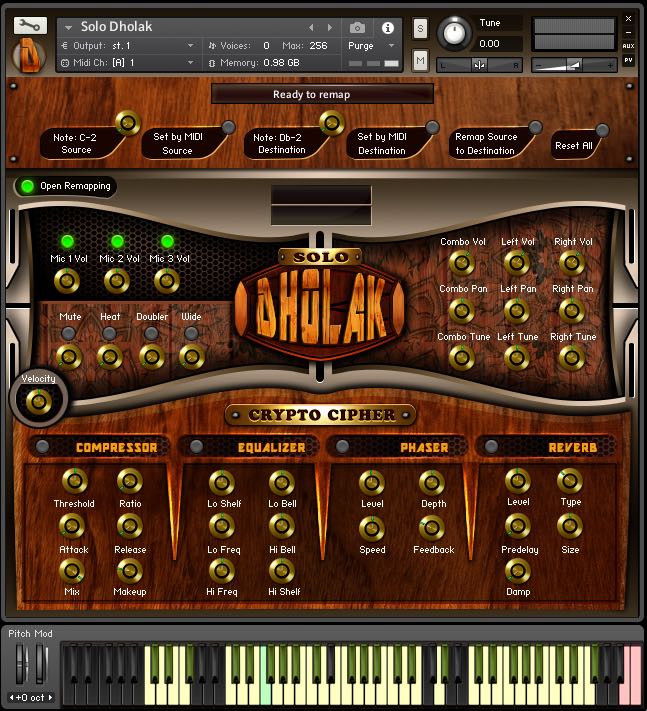 Crypto Cipher has released Solo Dholak, an instrument library for Native Instruments Kontakt.
This is the first and most advance playable "Solo Dholak" sampled instrument released till now with over 12,900 samples recorded with high quality equipments. Sampled Dholak was a always a great need of producers working in film industry and keeping their requirement in mind we started working on the concept and finally developed playable dholak instrument with the modern sound design capabilities.

You have fine control over each sound as well each side of dholak drum. Solo Dholak is recorded with Sontronics apollo (a Blumlein X/Y stereo ribbon microphone), Royer 122, Lewitt mics and bodied mic. Mic mix settings can controlled via mic mixer given on UI.
Solo Dholak is available for purchase for $79 USD. Requires full version of Kontakt.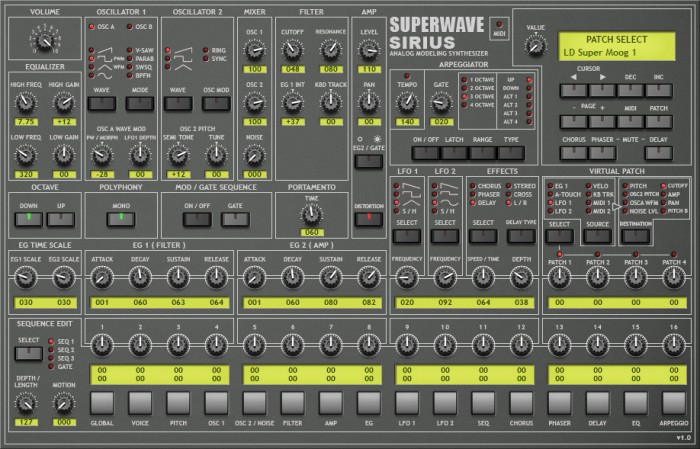 Amazing Machines has released WRECKER, a Multi-function Effects Processor Ensemble for use with Native Instruments' Reaktor.
With focus on Wave Folding Effects WRECKER also includes a Pulse Modulator, a State Variable Filter, a Pan Modulator and an Oscilloscope.
Features:
1 Reaktor Ensemble.
16 Stages Wave Folder (With Curve Control which Crossfades between Stepped and Linear Modulation Curves).
16 Stages Pulse Modulator (With Curve Control which Crossfades between Stepped and Linear Modulation Curves).
2-Pole State Variable Filter (Band Pass, High Pass and Low Pass Filter Modes / Builtin Filter Mode Crossfader).
Pan Modulator.
4X LFO (Built-in Waveform Crossfader / Built-in Slew Limiter).
Oscilloscope.
Price: $19.99 from the Amazing Machines' Online Store. Requires Native Instruments' Reaktor 5.8 or newer (Full Version).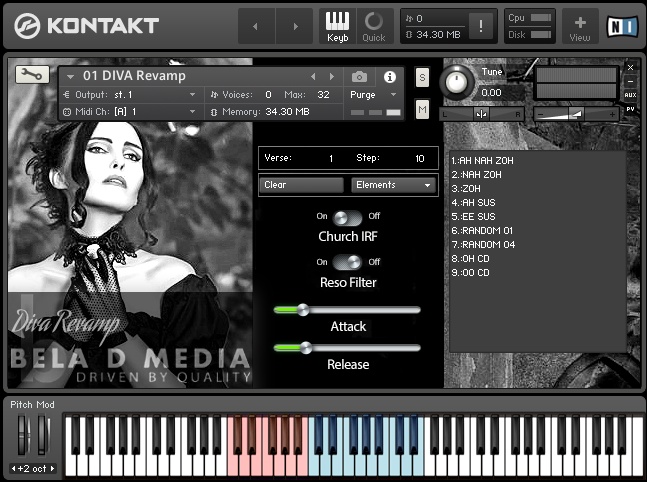 Bela D Media has announced release of Diva Revamp 2015, a female vocal library for Native Instruments Kontakt.
DIVA Classical Female Soloist was created in 2003 and is the very first product every produced by Bela D Media. Since that time, DIVA has sold world-wide and is used by many top composers for film, television and videos games. In the States, often one would be hard-pressed to not to hear DIVA in use on many popular television stations – even to this day. We are extremely proud of this and always consider it to be an honor when a composer (professional or other wise) finds a place for our work in their arsenal of digital tools.

Welcome you to DIVA REVAMP 2015. Once again we have trimmed the digital fat and employed our Vocal Tools style scripting features and GUI to complete this special version. Features include, sample offset polyphonic legato, creation and storage of custom vocal verses, attack and release control per vocal step and real-time playback sequencing.
The library is available for purchase for $150 USD. Users of the Diva Bundle and/or the original Diva Revamp (full version) will received a crossgrade offer. Requires Kontakt 4/5 full version.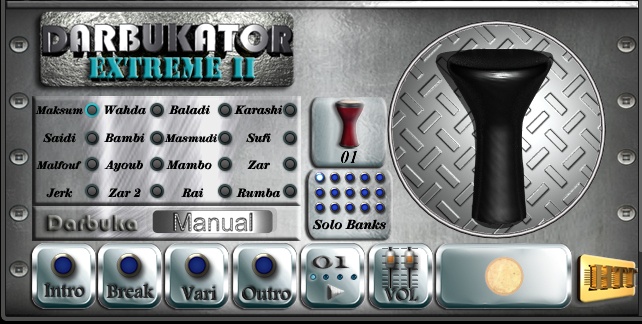 Human Touch Technology has released Darbukator Extreme II, a percussion instrument for Native Instruments Kontakt.
Darbukator Extreme II is a classic arranger for playing oriental Percussion styles with some unique features

Manual / automatic improvisation.
Loops time lock (legato mode)
Random Breaks
Multi Doffs and Doholla for each style (group instruments)

Darbukator Extreme II can be used alone or with other percussion modules. The improvisation generator can add the live feel to any ethic percussion track. All styles and improvisations based on live loops, not single shots.

We sampled the playing technics and improvisation from top percussionists in the Middle East, we got tons of ideas, some of the loops are 8 bars long variations, the possibilities are endless.
Darbukator Extreme II is available for purchase for $89 USD ex. VAT. Requires Kontakt v5.3 or higher, full version.