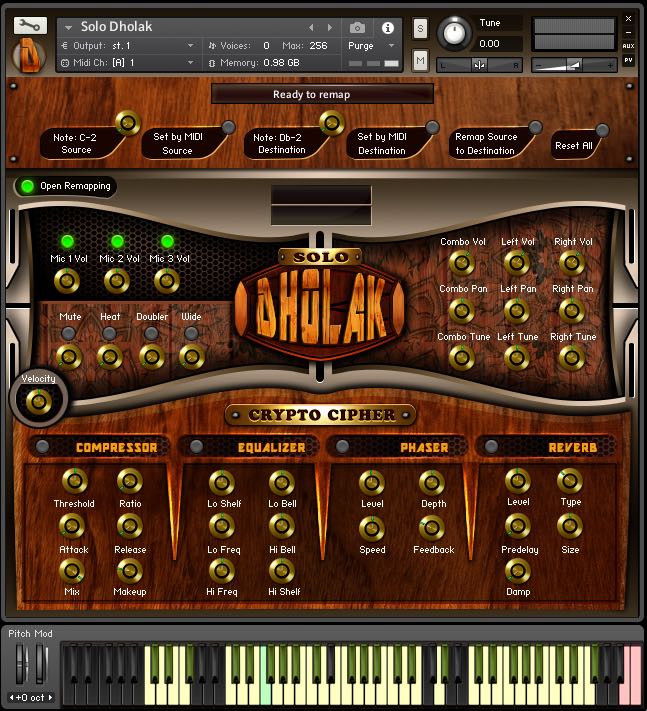 Crypto Cipher has released Solo Dholak, an instrument library for Native Instruments Kontakt.
This is the first and most advance playable "Solo Dholak" sampled instrument released till now with over 12,900 samples recorded with high quality equipments. Sampled Dholak was a always a great need of producers working in film industry and keeping their requirement in mind we started working on the concept and finally developed playable dholak instrument with the modern sound design capabilities.

You have fine control over each sound as well each side of dholak drum. Solo Dholak is recorded with Sontronics apollo (a Blumlein X/Y stereo ribbon microphone), Royer 122, Lewitt mics and bodied mic. Mic mix settings can controlled via mic mixer given on UI.
Solo Dholak is available for purchase for $79 USD. Requires full version of Kontakt.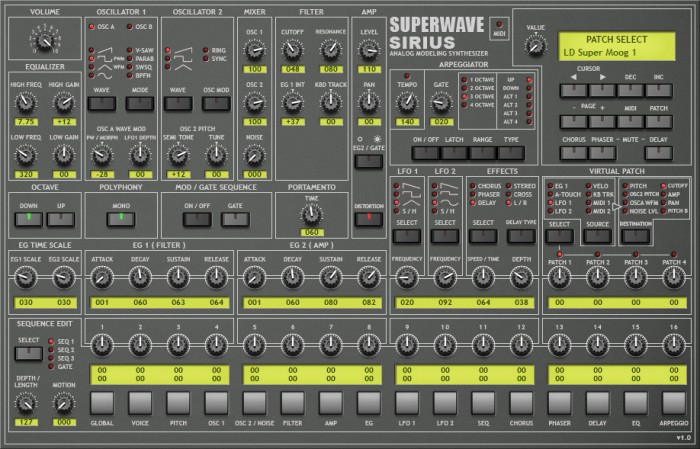 Amazing Machines has released WRECKER, a Multi-function Effects Processor Ensemble for use with Native Instruments' Reaktor.
With focus on Wave Folding Effects WRECKER also includes a Pulse Modulator, a State Variable Filter, a Pan Modulator and an Oscilloscope.
Features:
1 Reaktor Ensemble.
16 Stages Wave Folder (With Curve Control which Crossfades between Stepped and Linear Modulation Curves).
16 Stages Pulse Modulator (With Curve Control which Crossfades between Stepped and Linear Modulation Curves).
2-Pole State Variable Filter (Band Pass, High Pass and Low Pass Filter Modes / Builtin Filter Mode Crossfader).
Pan Modulator.
4X LFO (Built-in Waveform Crossfader / Built-in Slew Limiter).
Oscilloscope.
Price: $19.99 from the Amazing Machines' Online Store. Requires Native Instruments' Reaktor 5.8 or newer (Full Version).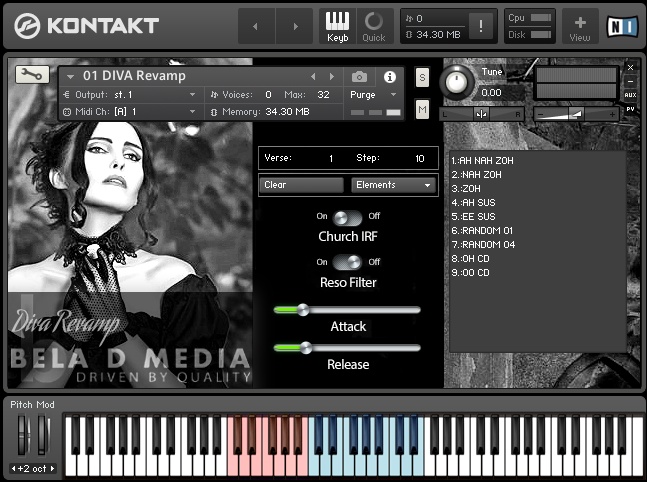 Bela D Media has announced release of Diva Revamp 2015, a female vocal library for Native Instruments Kontakt.
DIVA Classical Female Soloist was created in 2003 and is the very first product every produced by Bela D Media. Since that time, DIVA has sold world-wide and is used by many top composers for film, television and videos games. In the States, often one would be hard-pressed to not to hear DIVA in use on many popular television stations – even to this day. We are extremely proud of this and always consider it to be an honor when a composer (professional or other wise) finds a place for our work in their arsenal of digital tools.

Welcome you to DIVA REVAMP 2015. Once again we have trimmed the digital fat and employed our Vocal Tools style scripting features and GUI to complete this special version. Features include, sample offset polyphonic legato, creation and storage of custom vocal verses, attack and release control per vocal step and real-time playback sequencing.
The library is available for purchase for $150 USD. Users of the Diva Bundle and/or the original Diva Revamp (full version) will received a crossgrade offer. Requires Kontakt 4/5 full version.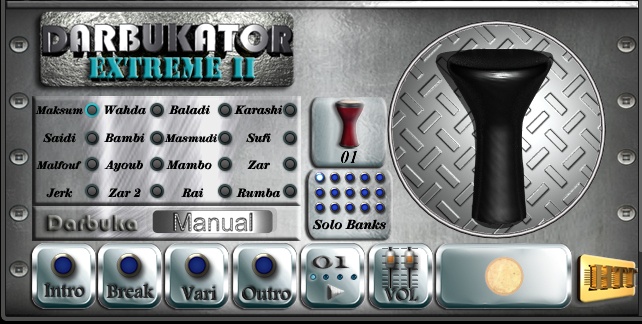 Human Touch Technology has released Darbukator Extreme II, a percussion instrument for Native Instruments Kontakt.
Darbukator Extreme II is a classic arranger for playing oriental Percussion styles with some unique features

Manual / automatic improvisation.
Loops time lock (legato mode)
Random Breaks
Multi Doffs and Doholla for each style (group instruments)

Darbukator Extreme II can be used alone or with other percussion modules. The improvisation generator can add the live feel to any ethic percussion track. All styles and improvisations based on live loops, not single shots.

We sampled the playing technics and improvisation from top percussionists in the Middle East, we got tons of ideas, some of the loops are 8 bars long variations, the possibilities are endless.
Darbukator Extreme II is available for purchase for $89 USD ex. VAT. Requires Kontakt v5.3 or higher, full version.
Heavyocity has announced it has partnered with Icebreaker Audio to release C-Tools, a trinity of retro synth sounds for Native Instruments Reaktor.
Inspired by the future aesthetic of the 70's and 80's, C-Tools is three distinct instruments: Capsule (drums), Coil (bass) & Clique (keys). From nostalgic strings to archetypical pulsing rhythms, C-Tools is the framework for building the vintage synth sound of yesterday, today.

"C-Tools was really built out of necessity," says Icebreaker Audio Founder Adam Hanley. "Personally, I wanted an all-in-one tool that I could use, right out of the box, to produce the kind of retro synth sounds I use most often, without being restricted to a single piece of vintage hardware. And C-Tools does just that."
C-Tools features
Capsule: the C-Tools Drum Machine, featuring eight drum channels and a built-in sequencer. Complete with thumping kicks and kitschy hand claps, Capsule takes a mostly analogue approach to its synthesis engines. Also with an additional effects chain crafted specifically for drums, including a gated reverb.
Coil: a hybrid monosynth designed especially for bass sounds. It uses digital FM and analogue subtractive synthesis techniques to produce a rich sound palette – from biting and percussive, to deep and throbbing, and all spaces in between.
Clique: a combination of string machine and combo organ – two instruments that used similar frequency division techniques to produce their polyphonic sounds. Added is a split keyboard routing mechanism, which allows you to assign different parts of the synthesizer to the upper, lower, or both halves of the keyboard.
C-Tools is available for purchase for the introductory price of $29 USD until July 28th, 2015 (regular $59 USD). Requires Reaktor 5.9.2 full version. A one week bundle offer of $59 USD is available for purchasers of C-Tools and BitRate II & MonoBoy.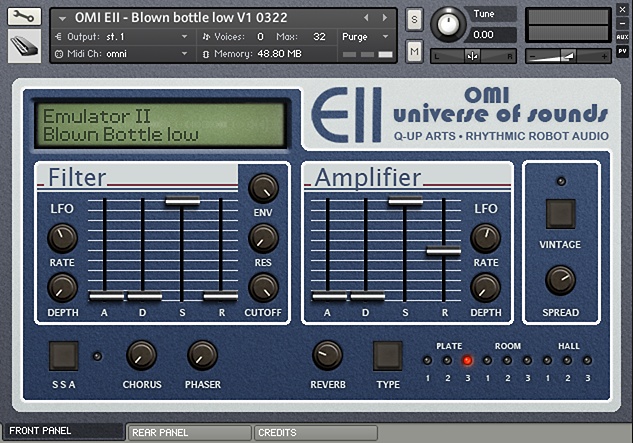 Rhythmic Robot has announced the release of Emulator II OMI Universe of Sounds: Vol 1, an instrument library for Native Instruments Kontakt featuring classic sampled sounds that defined a generation.
Back in the 80s, the sampler that took the studio world by storm was the Emulator II. Far more affordable than a Synclavier or a Fairlight, its crunchy 8-bit samples and clever companding output convertors made for an awesomely in-your-face sound that punched its way through countless hit mixes. Artists like Pink Floyd, Peter Gabriel, Tears for Fears, Thomas Dolby, Philip Glass, Eurythmics, Pet Shop Boys, Vangelis and dozens more put the EII's signature sound to work on their tracks. It's not overstating it to say it helped define the sound of a generation of music.

'I'm a fan of this Rhythmic Robot outfit. Using their instruments is like discovering a lost tribe in the digital jungle… pure, but slightly uncivilized.' – Stephen Hague, producer (Peter Gabriel, Erasure, Pet Shop Boys, Robbie Williams, Melanie C, New Order, etc.)

Key to the EII's success was a phenomenal aftermarket library of professionally-recorded samples. The factory library itself was excellent, but the soundset that really expanded the possibilities of the instrument was OMI's Universe of Sounds – a mammoth swathe of patches covering keys, basses, strings, orchestral, synths, ethnic, drums, percussion, brass… everything you needed to bring your track to life. When we first approached the idea of sampling an EII, it was this library we wanted to sample.

Now, in collaboration with and with the blessing of Doug Morton – the guy who actually recorded those OMI samples back in the 80s, and who remains their copyright owner – we bring you the OMI Universe of Sounds, in all its glory. We've sampled every note of every patch (over 31,700 samples in all!) out of a reconditioned Emulator II, to preserve the exact sound of the EII's D-to-A convertors and sample interpolation process. We've meticulously preserved original looping behaviour, velocity layers and sample switching. In short, what you hear when you play this instrument is the sound of an EII in its heyday.
Emulator II OMI Universe of Sounds: Vol 1 features
31,700 individual samples.
33Gb original 24-bit.
21Gb uncompressed 16-bit.
11.33Gb compressed .ncw format.
541 individual instruments, including 14 Bass, 18 Bells & Chimes, 52 Brass, 51 Drums, 59 Ethnic & Folk, 8 FX, 36 Guitar, 38 Piano & Keys, 77 Orchestral, 41 Percussion, 61 Strings, 76 Synth, 12 Vocal.
Additional Kontakt Multis taking the EII's sounds in exciting new directions.
The sample library is available for purchase for the introductory price of £85 GBP + VAT through July 31st, 2015 (regular £99 GBP).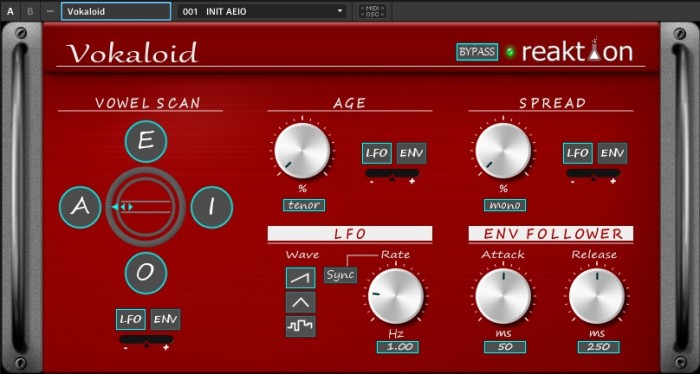 Reaktion has released Vokaloid, a format filter ensemble for Native Instruments Reaktor.
Vokaloid is basically a Formant Filter – a special kind of filter with fixed frequencies in the spectrum (formants) that simulate the sound of vowels of the human vocal tract.

In each circular box you can select a different vowel sound and smoothly scan through them with the "Scan" parameter.
You can vary the timbre with the "Age" parameter and control the stereo widening with the "Spread" parameter.
You can use an LFO or an Envelope Follower as a modulation source for all these parameters.
Vokaloid is available for purchase for 9 EUR.
https://nonorder.wordpress.com/
Monolite Poly K is the ultimate evolution of the Monolite synth family for NI Reaktor 5.9.2 and later.
A perfect companion for experimental, noise, ambient and fx sound designers thanks to its extensive sonic capabilities.
Features:
– Monophonic/Polyphonic/Drone Play Mode for extreme flexibilty
– 4 dependent Oscillators, 2 Post Oscillators Clipping mode plus a Tone Cut Filter to create unique timbres
– Pre-Filter Grainer unit for granular processing
– Pre-Filter Fx unit with 17 different effects with automizable X-Y pad controller
– 4 Filter Mode (LP 4, HP 2, BP 2, LP 3 + Notch) with Envelope Amount and Keyboard tracking
– 2 Clockable LFOs with different waveforms (Sine, Tri, Pulse, Random, Random Hold)
– 4 Modulation Slots to allows a wide range of sonic sculpting
– 2 ADSR Envelope (Amp Envelope and Env 2) with Velocity and Glide function
– Crush Effect
– High Quality Reverb and Delay with two routing options
– Master Equalizer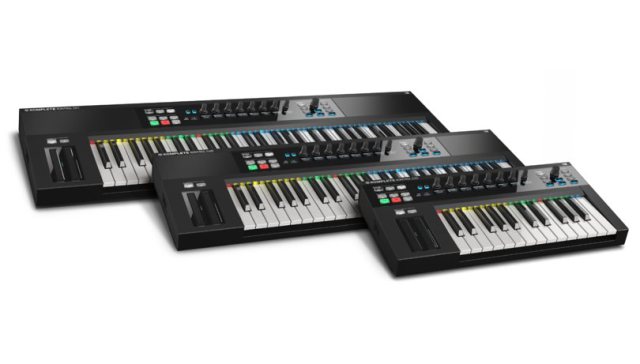 Native Instruments has introduced three "major innovations" for their Komplete Kontrol keyboard portfolio:
NI announced the inclusion of the new Komplete Selectinstruments and effects suite with Komplete Kontrol keyboards,
a "significant update" to theKomplete Kontrol software,
and the debut of Native Kontrol Standard (NKS) – a new format allowing "deep integration" of third party plug-ins.
Komplete Select instrument and effects collection. Beginning next month, with the release of Komplete Select, all Komplete Kontrol S-Series keyboards will include a premium selection of Komplete 10 Instruments and Effects. (Registered owners of Komplete Kontrol S-Series keyboards will also receive the Komplete Select package.) List of included Komplete Select instruments here.
Updated Komplete Kontrol software.Komplete Kontrol 1.1 (coming May 2015) improvements include ability to route and record MIDI output from Komplete Kontrol's Smart Play functions into your DAW or send MIDI to outboard gear. Adjust touch strip parameters and mod wheel functions directly from the hardware. Save, recall, and manage presets more easily. Furthermore, 2015 will also see an addition to the S-Series keyboard portfolio.
NKS: deep plug-in integration, developer kit. NI is concurrently introducing their Native Kontrol Standard (NKS). This standard will allow plug-in developers to integrate their products as deeply as NI's own Komplete Instruments. This integration capability will include full parameter mapping, Komplete Browser support, access to exclusive Komplete Kontrol technology such as the Light Guide, and more. A comprehensive development kit, provided by NI, will open up the NKS framework to third-party developers. NI is already working with major software instrument manufacturers, as well as the wider development community, to ensure that the leading software instruments use NKS to provide the deepest integration possible with the Komplete Kontrol system.
Native Instruments has announced Traktor Kontrol D2, the next-generation pro deck controller for Traktor Pro 2.
Designed for creative DJ performance that takes the DJ's focus away from the laptop, TRAKTOR KONTROL D2 offers groundbreaking touch-and-see workflow in a compact format optimized for easy set-up with club equipment. TRAKTOR KONTROL D2 will join TRAKTOR KONTROL S8 as one of the first DJ hardware controllers to support Stems* – an upcoming, open audio format that allows multi-channel mixing with individual musical parts. Robust, lightweight, and compact, the D2 is the ideal performance deck for the touring DJ.

TRAKTOR KONTROL D2 creates a multisensory DJ experience thanks to its touch-and-see technology. Tracks appear on a full-color display as vector waveforms while several key views and pop-up panels are revealed when a corresponding control is touched. The Browse Knob for example, triggers the Browse View for track selection directly from the controller. Performance Panels appear over track waveforms to view and modify BPM, key, filter, or effect values when activated by touch-sensitve knobs. And an LED-guided touch strip provides motion-sensitive pitch bending, track seeking, vinyl scratch emulation, and keeps track of phase in dark environments.

TRAKTOR KONTROL D2 naturally delivers enhanced TRAKTOR deck functions that empower pro DJs to develop their own trademark sound. Samples and loops are easily accessible for mixing with the four dedicated Deck faders when using a Remix Deck. Eight color-coded pads can trigger sounds, juggle cue points while in Hotcue Mode, or rearrange a playing track on the fly in Freeze Mode. Similar to Remix Deck usage, the D2's touch-sensitive performance knobs and faders will instantly correspond to a loaded Stem file's different 'stem' parts.

Designed to minimize bulk and setup time, TRAKTOR KONTROL D2 is highly transportable for DJs on the go. The lightweight, yet robust build features four foldable rubber-padded feet that extend to raise the unit to industry-standard height, or incline it for contoured comfort. Though one D2 alone can navigate through two TRAKTOR decks, two USB ports found on the rear panel allow a second D2 to be daisy-chained to one computer USB port for a two-unit setup. Connections are further simplified with an included power supply splitter cable that allows two units to be powered using one power supply unit.

Fueling the technology behind TRAKTOR KONTROL D2 is the included TRAKTOR PRO 2 software. An innovation in and of itself, TRAKTOR PRO is the award winning DJ software used by countless professionals. Four software decks, over 30 studio-grade effects, and powerful advanced features for creative looping and cueing have provided DJs all over the world with inspiring and customizable DJ possibilities.

TRAKTOR KONTROL D2 will be fully compatible with Stems on public release of the format in summer 2015.
Traktor Kontrol D2 will be available for $499 USD/499 EUR/£429 GBP on May 4th, 2015. Preorder is also available.