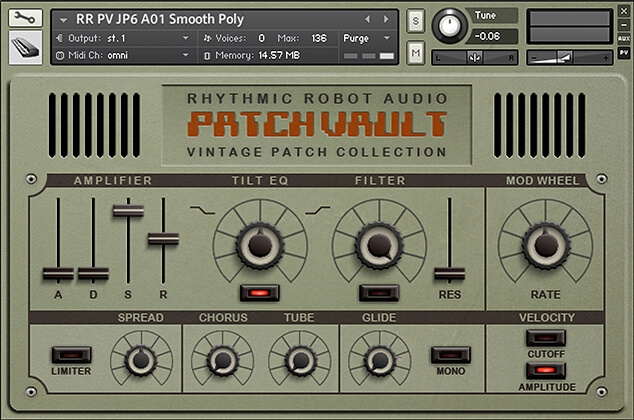 Rhythmic Robot has announced the release of a free taster of its upcoming PatchVault range of vintage synthesiser patches for Native Instruments Kontakt.
PatchVault is an ever-growing collection of patches from the most coveted synths of the past. Taking original, authentic sounds from ancient hardware and wrapping them in a simple but powerful interface, PatchVault makes grabbing that sound a breeze.

The interface is geared towards hands-on, immediate tweakability. It features a neat little Tilt EQ, a powerful 4-pole filter, and can map MIDI velocity to both amplifier and filter cutoff, giving you playable expression that was uncommon on most of the original hardware. There's Chorus and Tube Saturation to enhance the sound, plus a Limiter to tame over-enthusiastic analogue waves. All the modern additions can be easily switched off, though, if all you want is the original factory patch in its raw state.

This is a freebie taster so you can get a feel for yourself of how PatchVault patches might work in your mix. It's the very first factory sound of Roland's über-cool Jupiter 6 synth, so this is most likely the very first sound you'd have heard if you bought a J6 back in the day. If you like this, keep an eye out for the entire Jupiter 6 soundset, which will be coming very soon!
The PatchVault taster is a free download for Kontakt v4.2.3 or higher (full version).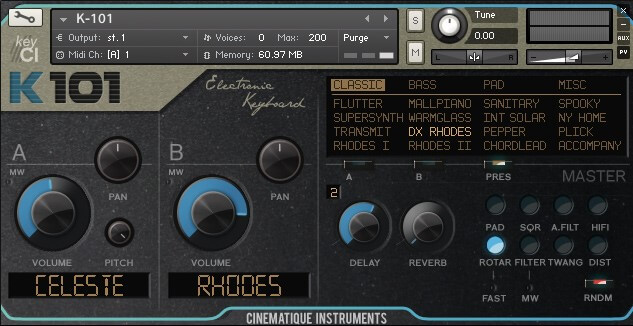 Cinematique Instruments has announced the release of K 101, a "charming electronic keyboard" instrument for Native Instruments Kontakt.
The Instrument
The K 101 is a lucky bag. Its main sound source are the vintage Casio CZ–101 keyboard, supplemented by a few sounds captured from a Casio PT-10. All the sounds are incredibly warm and charming. You can lose yourself just playing along the analog sounds, being inspired by its distinct character which is both warm and raw.

The Content
K 101´s instrument design is based on 2 simultaneous sound slots, each can be feeded with one of 47 sound sources and has a separate volume and pan knob. Beside that, the first slot provides an additional -12 to 12 semitones pitch knob.

We captured 47 individualy designed sounds of the original keyboards. We recorded the whole keyrange in minor thirds, looped the sounds, processed them if needed and extended the key range to C0-C6. In order to shape the final sound, K 101 provides plenty of sound options:

3 EQ´s called "FILTER", "A.FLT" and "HIFI"
rotary- , twang- and distortion-fx
reverb and delay
2 different volume envelopes, called "PAD" and "SQR"

K 101 provides 55 presets which are covering a range of pianos, basses, pads, organs and fx-sounds. To preserve your own presets simply save the patch under a different name on your harddrive. A very special option is the "RNDM" function, which sets fx parameters, sound selections, volumes and panning by random. This is pure fun and amazing to see what comes out in the end.
The library is available for purchase for 32 EUR / $34 USD. Requires Kontakt 4.22 or higher, full version.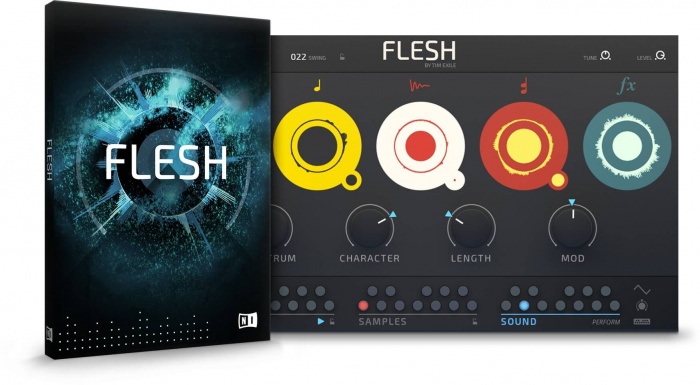 Native Instruments has announced the release of Flesh, a new Reaktor instrument developed by electronic musician, producer, and inventor Tim Exile.
FLESH uses a set of advanced algorithms to turn rhythmic source material into all the elements of a complete production, including basslines, melodies, chords, harmonies, and more. The instrument is aimed at creative producers looking to enhance their live sets or find fresh inspiration for their original productions through a fun, improvisational approach.

"The concept for FLESH came to me when touring with my custom looping, beatmaking, and improvising instrument that I built in REAKTOR," says Tim Exile. "I was missing a way to make harmonic and melodic material in a live, improvised scenario. I wanted something that would empower me to create expressive and dynamic sounds which fit in perfectly with whatever was going on at the time."

FLESH was designed to be a fun and easy-to-use performance instrument.
Its advanced algorithms analyze the transients and spectral profile of sampled source material in the background. This information is then sent to four audio engines as curves and triggers for re-synthesizing the source material. The result is dynamic riffs, grooves, and chords that retain the feel of the original sample. This advanced processing is made possible by the REAKTOR 6 engine.

FLESH comprises four audio engines, plus effects and modulation sections. Each engine has a specific function, from changing the sonic character of the sample itself to transforming it into a monophonic sequence or lead, chords, or sub-bass frequencies. Additionally, the sound generated can be further modified by the effects section and modulation page. The effects section re-creates a highly-modified dub delay while the modulation page allows producers to add subtle to radical motion to their sound.

FLESH features a streamlined control set allowing for radical changes to the rhythmic and tonal output of the instrument. Producers can play rich harmonic progressions, trigger and switch source samples and sound snapshots, then tweak parameters across all engines at once in real time. A clever system of global macro controls allows for consistent and tactile live tweaking on just four main controls – Spectrum, Character, Length, Mod.

FLESH is the first REAKTOR Instrument designed from the ground up to get the most out of the KOMPLETE KONTROL S-Series keyboards. FLESH uses the Light Guide to provide tight visual feedback, highlighting sounds and samples, and sequenced harmonies. Native Map® automaps parameters to the eight control knobs on the KOMPLETE KONTROL keyboards. Users can also save presets – including samples – and recall them in real time.

Tim Exile has seen his career move from performing in small clubs, to big stages around the world and releasing albums on the Planet Mu and Warp imprints. For the last years, Tim has worked closely with Native Instruments to design his own set of 'audio instruments' including THE MOUTH and THE FINGER.
Flesh for Reaktor 6 and Reaktor 6 Player is available for purchase for $99 USD / 99 EUR / £89 GBP.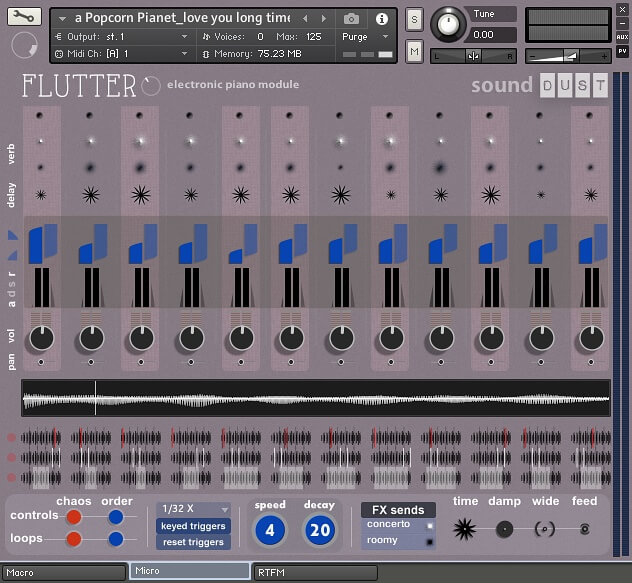 Sound Dust has launched Flutter EP, an electric piano instrument library for Native Instruments Kontakt.
Flutter EP is an electronic piano like you'e never heard before.

She is packed to the brim with specially devised samples made from a variety of slutty analogue hardware synths and keyboards. All sample sets morph and loop through various transitions for a mind boggling selection of unique but Wurly-ish, Rhodes-y, organ-esque, DX like electric piano type sounds….but of course there is a twist.

Think Radiohead, Jon Hopkins, Nils Frahm, Ólafur Arnalds or maybe Steve Reich in a fist fight with Trent Reznor.
Flutter EP features
1.2GB (compressed) 24bit stereo samples.
120 presets created from 12 imagined electric piano and organ multisample sets.
Sample sets made from cunning variations of Hohner Pianet T, Moog Voyager, Nord Modular, Nord Wave, Soulsby Atmegatron, Waldort Wave XTand DSi Pro2 all recorded through a stereo pair of Warm Audio Tone Beast preamps.
Macro page -for quick access to master controls of volume envelope, filter, effect sends and tube/transistor distortion..
Macro page -instant shape presets for volume envelope and filters.
Micro page -individual control on a per note basis of volume envelope, pan, low and highpass filters and effects sends.
Micro page -individual control on a per note basis of sample start, loop position and loop length.
Micro page -individual per note trigger settings for BPM synced note repeats.
Micro page -chaos and order controls for instant parameter randomisation.
Flutter control – modwheel hard wired to unique 'flutter' effect -wiggle it and you'll soon find out what it does.
20 custom reverb convolution impulses.
RTFM tab -so you can't lose the manual.
Flutter EP for Kontakt 5.5.1 or above (full version) is available for purchase for £35 GBP. Until November 30th, 2015, a 20% discount is available with coupon code PSEUDCASE at checkout.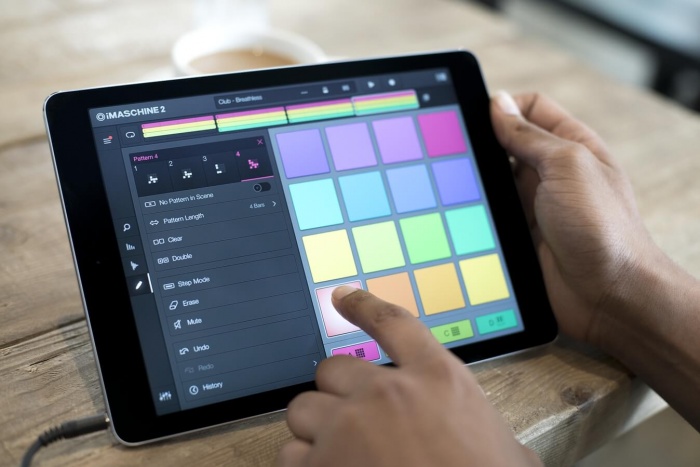 Native Instruments has announced the release of iMaschine 2, the follow up to the beat making sketchpad for iOS.
iMASCHINE 2 expands on the original with a new set of powerful features, including the Arranger, Step Mode, and Smart Play functionality. It is also the first music production app to include optimizations for the new 3D Touch features on iPhone 6s and 6s Plus.

iMASCHINE 2 adds new, powerful features to the acclaimed simple workflow of the original. The Arranger allows producers to turn loops and scenes into full tracks by creating different patterns per group, and then adding, moving, and deleting song sections. Step Mode facilitates drum programming with no finger drumming skills required – users can use the
4×4 pad grid as a step sequencer to produce loops. The new Smart Play keyboard introduces Scale, Chord and arpeggiator functionality to iMaschine 2, allowing users to play chords, melodies, and basslines that are always in-key. Scale mode offers users to select from a variety of traditional and non-traditional scales, while Chord mode will turn a single key stroke into a full chord, which is especially useful when working on a mobile device. Within Chord Mode, the new Chord Sets present ready-to-play progressions to inspire and augment compositions.

Furthermore, a powerful arpeggiator makes it easy to add dynamic motion to a track. Projects created with the original iMASCHINE open effortlessly in iMASCHINE 2, allowing producers to use these new features on all their tracks.

iMASCHINE 2 introduces color coding for fast visual organization of projects. Users can now find sounds and groups by color and navigate through songs with ease. For users of iPhone 6s and 6s Plus, iMASCHINE 2 makes creative use of 3D Touch – Apple's latest interactive feature. For example, when using the Note Repeat feature, 3D Touch adjusts playing dynamics based on how hard users press a pad, mirroring the functionality of MASCHINE hardware. In the same mode, users can also adjust the rate – the harder a user presses a pad, the more rapid the rate is played. Producers can accelerate their workflow further with 3D Touch Quick Actions for entering Step Mode, muting pads, or erasing notes, and even to open up a new project or directly enter the field recording function from the home screen of their iPhone.

iMASCHINE 2 includes the Mixer page, effects, and sample editor from the original software. The Mixer page allows for level balancing of each of the four groups in iMASCHINE 2. The effects section lets users quickly and easily add space, motion, and additional sound shaping to a track with professional effects. A convenient sampling feature allows producers to import music directly from their iTunes music collection, or create their own sample library. Once finished, projects created in iMASCHINE can be exported and opened in the full MASCHINE software for further adjustments and finalization, or uploaded directly to Soundcloud.

For users who have created music with the sounds in iMASCHINE Expansions or those looking to expand their sound palette further, Native Instruments have created the ULTIMATE COLLECTION – a specially priced bundle of 36 iMASCHINE Expansions available for $0.99 until December 1, 2015 – the price of just one iMASCHINE Expansion.
iMaschine 2 is available for the introductory price of $4.99 USD until December 1st, 2015. The Ultimate Collection is available at the Expansions Store for $0.99 USD, also until December 1st, 2015.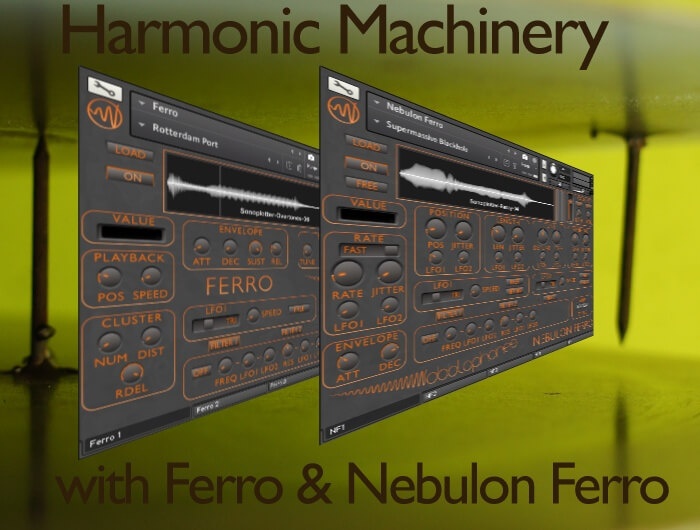 Wobblophones has introduced Harmonic Machinery, a new instrument library for Native Instruments Kontakt.
Harmonic Machinery is built around samples of 3 unique hand-crafted instruments: Ferrophone, Sonoplotter and Blue Triangle. This metallic sound library contains two virtual instruments: Ferro and Nebulon Ferro, a match made in heaven.

They both have powerful personalities that stand strong on their own, but their sounds can easily be welded together to form intricate sound design structures.
So rub your ears and get ready to be inspired by the musical and sonic potential of Harmonic Machinery.
Harmonic Machinery is available at an introductory discount of 15% until December 6th, 2015 (regular $43 USD / 39 EUR / £27 GBP).
The full depth and realism of STRING ENSEMBLE is revealed in these easy-to-follow tutorial videos. Watch them all and create true-to-life scores in record time. This is part 1 in a series of 9.
STRING ENSEMBLE captures a full 60-piece string orchestra with unparalleled sound quality and ultra-accurate realism.
Welcome to the new go-to instrument for professional string scoring.
The Symphony Series is a growing range of high-end tools created for professional scoring. The Symphony Series String Ensemble, featured above, captures the sound of a full 60-piece string ensemble and was recorded in collaboration with top software string instrument developer Audiobro.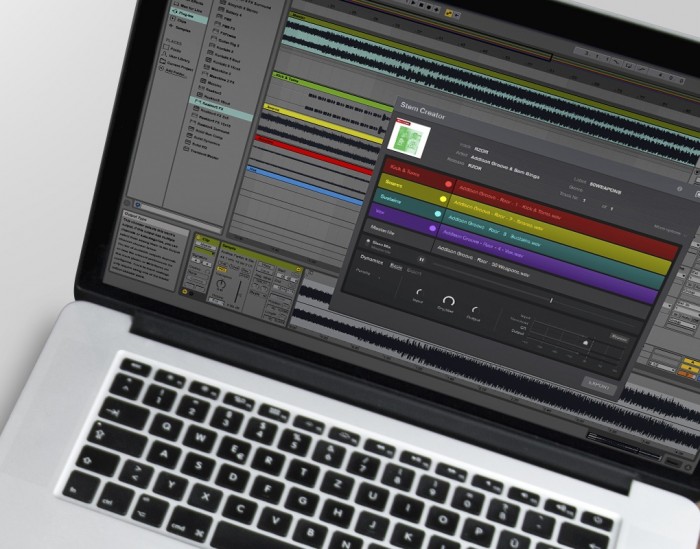 Native Instruments has released the official full version of Stem Creator, the first standalone application developed specifically for Stem file creation.
Available now for free download via stems-music.com, the new tool provides a simple way to create high-quality Stem files using a drag-and-drop interface and integrated mastering controls to fine-tune the final mixed Stem file's sound. Stems enables producers, DJs, labels, online stores, and the entire world to create their own Stem files and discover a new music experience.

A Stem file contains a track split into four musical elements: A drums stem, a bassline stem, a melody stem, and a vocal stem for example. Each 'stem' can be controlled independently to create instant new mixes, mashups, instrumentals, a cappellas, and more.

Stem Creator is designed for the sole purpose of processing audio files into the four-channel stem.mp4 format – streamlining Stem file creation for simplicity and ease of use. To create a Stem file, creators first prepare and export four isolated musical parts of a track from their DAW or audio editor, along with the final mixed version – five uncompressed audio files in total. Then each file is imported into the Stem Creator where a limiter and compressor are adjusted to match the stems with the volume and dynamics of the original stereo master. Standard metadata like track name, artist, and album can then be edited, along with advanced options like stem name and color, catalog number, and album art before finally exporting the finished Stem file.
Stem Creator is available for download at no charge. A developer toolkit will make the technology behind Stems readily available for anyone to integrate into future software and hardware.
reaktor 6 blocks spits
TheMaschinewarehouse.com is proud to present a Labor of love.
System 63 is a complete Modular synth with audio rate modulation and a host of Modules to choose from. this has been in the works for 3 years. with the recent update to Reaktor and the release of Blocks (which borrows heavily from the System 63 format) you can now easily inter patch between blocks and system 63 then out to your eurorack modular. Stay tuned for the release date and more information!
A bunch of Bento Box 8 Steps sequencers disturbing each other and controlling a Eurorack modular synthesizer. All sequencing and modulation coming from Reaktor Blocks, except for some humble human interaction. Maschine joins the party with bass drum, hi-hats, and rim shot.
All control signals from Reaktor Blocks are directly routed to the Eurorack modular synthesizer via DC-coupled converters (Expert Sleepers ES-3).
No quantization used on the hardware side. The pitch scaling in Reaktor Blocks (value of 0.1/oct) plays nicely with the ES-3. Since its output voltage range is roughly ±10 V you get approximately 1 V/oct. Obviously tracking is not perfectly accurate without calibration – in my case it was off 1 semitone over 4 oct.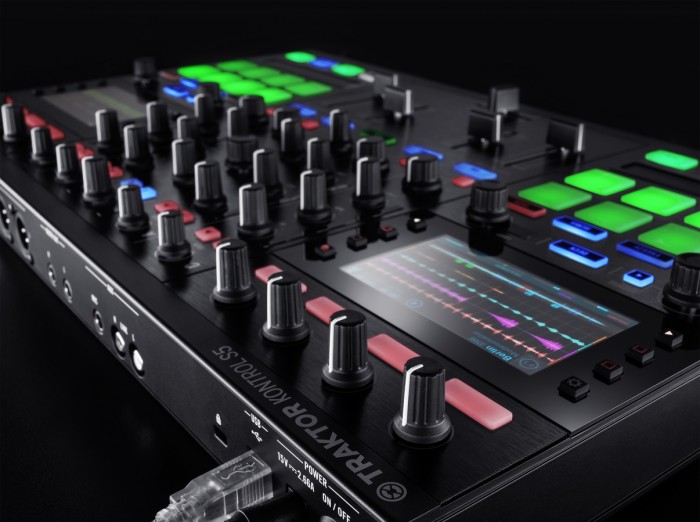 Native Instruments has announced Traktor Kontrol S5, the latest all-in-one DJ system and the next step in the evolution of creative, on-the-go DJing with Traktor.
With a compact size and solid construction, TRAKTOR KONTROL S5 puts familiar hardware control, fluid touch-and-see workflow, and Stems* compatibility into a modern DJ experience. TRAKTOR KONTROL S5 builds on hardware design made popular by the revered TRAKTOR KONTROL S4, with innovative modern technology in a portable format made to feel instantly familiar in the hands of any DJ. TRAKTOR KONTROL S5 will be available online and at retailers worldwide on October 1, 2015.

TRAKTOR KONTROL S5 is designed to provide everything DJing demands – modernized by advanced touch-and-see workflow. The mixer section features key controls such as four channels with EQ and Filter controls, and FX assigns. Touch-sensitive controls bring smart views, performance modes, and pop-up panels to life on two full-color displays – touching an effect knob for example, instantly reveals and hides a deck's FX values. TRAKTOR KONTROL S5's deck types also switch intelligently to match the track, Stem file, or Remix Set being loaded into the included TRAKTOR PRO 2 software. Live remixing with enhanced Remix Decks workflow is seamless – loops can be captured from a running track to instantly sample, for example. And cueing, nudging, or seeking through tracks is made simple and precise with motion-sensitive touch strips that respond naturally to finger swiping.

TRAKTOR KONTROL S5 becomes the fourth addition to the family of Stems-ready TRAKTOR controllers, integrating powerful, customized control of Stems – the open audio format for creative DJ performance.
The Stem View shows Stem files as 4 color-coded, stacked waveforms on the displays. The 16 performance pads map and color-match automatically to each stem when a Stem file is loaded. DJs can mute and unmute different musical elements with the pads or control volume, filter, and effect routing of individual stems, creating spontaneous a cappellas, instrumentals, and mixes that make DJ sets stand out.

TRAKTOR KONTROL S5's compact build and essential on-board connectivity make the unit ideal for mobile professional use. Built using the same premium standards as TRAKTOR KONTROL S8, TRAKTOR KONTROL S5's build quality is designed to resist heavy touring. And it measures to the same size as the popular TRAKTOR KONTROL S4, allowing for protected transport with the TRAKTOR KONTROL S4/S5 FLIGHTCASE**. The built-in 24-bit/48kHz audio interface features both XLR and RCA master outputs, plus one ¼ inch booth output to connect the unit to any type of sound system. And the independent stand-alone RCA or ¼ inch AUX channel input can be used to connect a mic, MP3 player, or any additional line-level device.
Traktor Kontrol S5 will be available on October 1st, 2015, priced at $799 USD / 799 EUR / £579 GBP. Preorder is also available.