http://appstore.com/conductr || http://www.conductr.net
http://facebook.com/c0nductr || http://twitter.com/c0nductr
CONDUCTR ABLETON USER MODULES
• 2 fully customizable module types: Default and XY-4D pads.
• Each Default User Module can contain up to 8 parameter controllers from any device on any track featured in your Ableton Live set.
• 4 different control interfaces: faders, crossfaders, buttons and quantized scales.
• Default User Modules can be quickly created and edited at any time, even while playing, by browsing and selecting any of your set's parameters on the iPad or through the LEARN feature.
• RESET feature: create parameter's values memories and recover them whenever you want.
• GESTURAL MODE: automatic gesture detection to play without looking at the iPad!
DOWNLOAD CONDUCTR NOW AND TRY THE USER MODULES FOR FREE: http://appstore.com/conductr
Native Instruments has announced Traktor Kontrol D2, the next-generation pro deck controller for Traktor Pro 2.
Designed for creative DJ performance that takes the DJ's focus away from the laptop, TRAKTOR KONTROL D2 offers groundbreaking touch-and-see workflow in a compact format optimized for easy set-up with club equipment. TRAKTOR KONTROL D2 will join TRAKTOR KONTROL S8 as one of the first DJ hardware controllers to support Stems* – an upcoming, open audio format that allows multi-channel mixing with individual musical parts. Robust, lightweight, and compact, the D2 is the ideal performance deck for the touring DJ.

TRAKTOR KONTROL D2 creates a multisensory DJ experience thanks to its touch-and-see technology. Tracks appear on a full-color display as vector waveforms while several key views and pop-up panels are revealed when a corresponding control is touched. The Browse Knob for example, triggers the Browse View for track selection directly from the controller. Performance Panels appear over track waveforms to view and modify BPM, key, filter, or effect values when activated by touch-sensitve knobs. And an LED-guided touch strip provides motion-sensitive pitch bending, track seeking, vinyl scratch emulation, and keeps track of phase in dark environments.

TRAKTOR KONTROL D2 naturally delivers enhanced TRAKTOR deck functions that empower pro DJs to develop their own trademark sound. Samples and loops are easily accessible for mixing with the four dedicated Deck faders when using a Remix Deck. Eight color-coded pads can trigger sounds, juggle cue points while in Hotcue Mode, or rearrange a playing track on the fly in Freeze Mode. Similar to Remix Deck usage, the D2's touch-sensitive performance knobs and faders will instantly correspond to a loaded Stem file's different 'stem' parts.

Designed to minimize bulk and setup time, TRAKTOR KONTROL D2 is highly transportable for DJs on the go. The lightweight, yet robust build features four foldable rubber-padded feet that extend to raise the unit to industry-standard height, or incline it for contoured comfort. Though one D2 alone can navigate through two TRAKTOR decks, two USB ports found on the rear panel allow a second D2 to be daisy-chained to one computer USB port for a two-unit setup. Connections are further simplified with an included power supply splitter cable that allows two units to be powered using one power supply unit.

Fueling the technology behind TRAKTOR KONTROL D2 is the included TRAKTOR PRO 2 software. An innovation in and of itself, TRAKTOR PRO is the award winning DJ software used by countless professionals. Four software decks, over 30 studio-grade effects, and powerful advanced features for creative looping and cueing have provided DJs all over the world with inspiring and customizable DJ possibilities.

TRAKTOR KONTROL D2 will be fully compatible with Stems on public release of the format in summer 2015.
Traktor Kontrol D2 will be available for $499 USD/499 EUR/£429 GBP on May 4th, 2015. Preorder is also available.
Remix your tracks like never before with the new SuperSlicer for Traktor DJ. Slice-up your tracks and rearrange your loops using Scratch, Brake, Reverse, Slice or even Pitch-shift effects.
TRAKTOR DJ 1.5 for iPad is now available at the iTunes App Store.
http://ow.ly/kzEGz
Also available for iPhone.
http://ow.ly/kzEzo
Product description: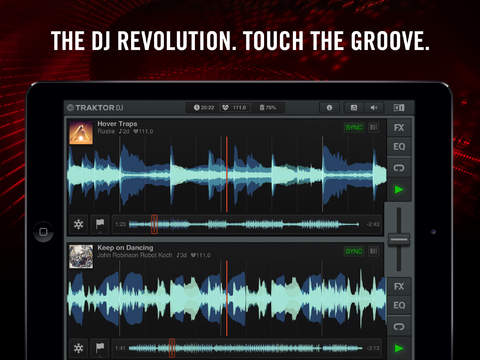 The world's #1 pro DJ software brings high-impact DJing to iPad. Touch your tracks and create stunning mixes in seconds.

"Incredibly well designed and packed with great features." (WIRED)
"Traktor DJ for iPad is better than turntables." (Gizmodo)
"It's wonderfully tactile and a lot of fun." (The Guardian) 
"Traktor DJ brings real DJ tools to the masses." (The Verge)
"They worked on every little detail to get the app just right." (Loop Insight)

///ABOUT TRAKTOR DJ

– Revolutionary DJ app by Native Instruments – makers of the leading pro DJ software
– Touch the groove using familiar iPad swipe and pinch gestures
– Familiar DJ mixer layout with crossfader, 3-band EQ, and filter on each channel
– Direct access to your iTunes music library from TRAKTOR DJ
– Stylish waveform display allows for simple looping and ultra-tight scratching
– Intelligent browser recommends songs based on compatible tempo and key
– Automatic tempo and key detection plus BPM sync for super-smooth mixing
– Innovative Notification Center gives you in-app access to essential tips and undiscovered techniques
– 8 built-in pro DJ effects including Reverb, Delay, and dramatic glitch effects like BeatMasher
– Plug-and-play integration with hardware controllers TRAKTOR KONTROL Z1, TRAKTOR KONTROL S2 and S4
– External mixer mode for sending individual deck outputs to separate mixer channels (if used with TRAKTOR hardware or splitter cable)
– Use TRAKTOR DJ CABLE for pre-listening to the incoming track before the crowd hears it
– Enhanced time-stretching, powered by élastique efficient V2 engine by zplane.development
– New Flux mode – remix your tracks live, then drop back in at exactly the right moment
– Record your mixes live in high-quality on the iPad and share with your friends
Sign up and learn more here: http://www.djtechtools.com/2013/11/03…
On the surface, each Midi Fighter Twister is equipped with 16 endless encoders, each with a push state, plus a full ring of LEDs. Capped off with 2 full-color LEDs at the bottom, each encoder can transform into a wide range of displays and functions depending on the mapping, configuration, or page. This provides infinite levels of control with clear visual feedback similar to a touch screen, while maintaining the tactile feel of a real knob.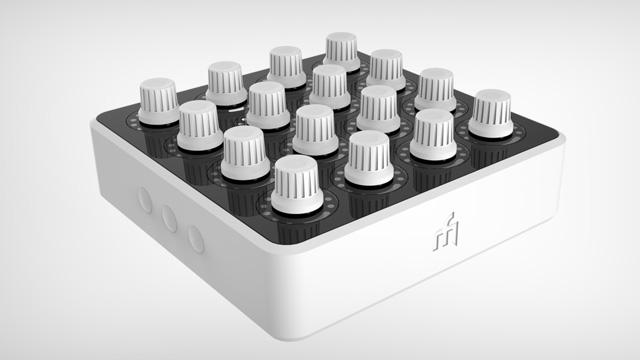 The possibilities – from Ableton control to Traktor effects – are endless, but to really showcase the potential of this dynamic work surface we decided to go a little nuts and create something totally next level.
At popular request, Ean shares how he has the VU meters in Traktor mapped to four different channels on his Kontrol X1 controllers. Read more: http://www.djtechtools.com/2013/10/27…
Mad Zach in a mind-blowing routine using the upcoming all-in-one controllers S4 and S2 on laptop, iPad, and iPhone. More: http://native-instruments.com/traktor
From cue point juggling to on-the-fly Remix Deck and Flux Mode improvisation, Mad Zach performs a controllerist routine on a variety of setups, combining the new Traktor Kontrol S4, the new S2, Traktor Pro 2 and Traktor DJ on iPad and iPhone.
Track: Mad Zach – Tunnel Vision
Follow Mad Zach here: https://www.facebook.com/Mad.Zach.Off…
The redesigned TRAKTOR KONTROL S4 and S2 are now plug-and-play with TRAKTOR DJ for iPad and iPhone. New aluminum-plated jog wheels, RGB buttons, and more let you ignite the dancefloor like never before, on your laptop or iOS device.
Exploring the idea of using the Leap Motion, along with the GECO gestural MIDI app, as a DJ controller for Traktor. DJ SelArom is not using the Leap Motion as a replacement for a traditional DJ controller, but to augment it with new gestural controls, more info below:
I recently got the Leap Motion Controller, and here is the first attempt to use it mixing live. Still getting used to doing this without flailing around like an idiot, but it's definitely a lot more fun that it looks!
If there is enough interest I'll write up a blog about the software and mappings, sound off in the comments and let me know what you think!
Leap Motion: https://www.leapmotion.com
Geco Software: https://airspace.leapmotion.com/apps/…
Music:
Felguk – All Night Long (Darth & Vader Mix)
http://www.felguk.com
https://soundcloud.com/darthvaderlive
Beltek – Go!
http://www.beltek.si
https://soundcloud.com/beltek
Traktor DJ Cable is an ideal solution for beginner DJs starting out with Traktor DJ.
Traktor DJ Cable lets you pre-listen to your next track for smoother mixing. Unlike standard splitter cables, it splits your A and B decks onto separate outputs, so you can listen to each one independently. With a standard splitter cable, you'd hear the same audio from both outputs.
More about Traktor DJ. http://www.native-instruments.com/tra…
We go over the controls and demo the features of the Native Instruments Traktor Kontrol Z1.
"It's my new secret weapon." Felix da Housecat explains why he loves his Traktor Kontrol X1s. He covers the new touchstrip, looping, using cue points, Flux Mode, and more. Traktor Kontrol X1 is the compact add-on controller engineered for seamless Traktor integration.
• Control two track decks and two Traktor FX units
• Touch strip controls track position, pitchbend, loops, and FX
• RGB back-lit triggers identify cue points from loops or markers
Catch Felix Da Housecat Fridays @ Space: http://spaceibiza.com
More about the X1: http://www.native-instruments.com/x1
More about Traktor: http://www.native-instruments.com/tra…
Native Instruments has released the updated TRAKTOR KONTROL X1, a new version of its compact and highly popular decks and effects controller. With the same size and robust product design as the original controller, TRAKTOR KONTROL X1's new features include touch-sensitive Browse and Loop encoders, 7-segment displays and LEDs for visual feedback, and an innovative multi-purpose touch strip for added tactile control. When combined with TRAKTOR PRO, the X1 MK2 delivers plug-and-play physical control over 2 track decks and 2 freely assignable TRAKTOR FX units – with or without the use of turntables or CDJs. The TRAKTOR KONTROL X1 MK2 is now available in stores worldwide and at the NI Online Shop.