Remix your tracks like never before with the new SuperSlicer for Traktor DJ. Slice-up your tracks and rearrange your loops using Scratch, Brake, Reverse, Slice or even Pitch-shift effects.
TRAKTOR DJ 1.5 for iPad is now available at the iTunes App Store.
http://ow.ly/kzEGz
Also available for iPhone.
http://ow.ly/kzEzo
Product description: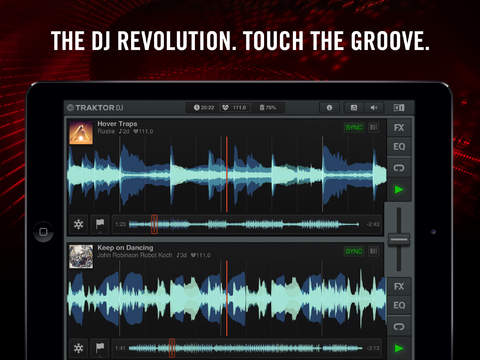 The world's #1 pro DJ software brings high-impact DJing to iPad. Touch your tracks and create stunning mixes in seconds.

"Incredibly well designed and packed with great features." (WIRED)
"Traktor DJ for iPad is better than turntables." (Gizmodo)
"It's wonderfully tactile and a lot of fun." (The Guardian) 
"Traktor DJ brings real DJ tools to the masses." (The Verge)
"They worked on every little detail to get the app just right." (Loop Insight)

///ABOUT TRAKTOR DJ

- Revolutionary DJ app by Native Instruments – makers of the leading pro DJ software
- Touch the groove using familiar iPad swipe and pinch gestures
- Familiar DJ mixer layout with crossfader, 3-band EQ, and filter on each channel
- Direct access to your iTunes music library from TRAKTOR DJ
- Stylish waveform display allows for simple looping and ultra-tight scratching
- Intelligent browser recommends songs based on compatible tempo and key
- Automatic tempo and key detection plus BPM sync for super-smooth mixing
- Innovative Notification Center gives you in-app access to essential tips and undiscovered techniques
- 8 built-in pro DJ effects including Reverb, Delay, and dramatic glitch effects like BeatMasher
- Plug-and-play integration with hardware controllers TRAKTOR KONTROL Z1, TRAKTOR KONTROL S2 and S4
- External mixer mode for sending individual deck outputs to separate mixer channels (if used with TRAKTOR hardware or splitter cable)
- Use TRAKTOR DJ CABLE for pre-listening to the incoming track before the crowd hears it
- Enhanced time-stretching, powered by élastique efficient V2 engine by zplane.development
- New Flux mode – remix your tracks live, then drop back in at exactly the right moment
- Record your mixes live in high-quality on the iPad and share with your friends
Sign up and learn more here: http://www.djtechtools.com/2013/11/03…
On the surface, each Midi Fighter Twister is equipped with 16 endless encoders, each with a push state, plus a full ring of LEDs. Capped off with 2 full-color LEDs at the bottom, each encoder can transform into a wide range of displays and functions depending on the mapping, configuration, or page. This provides infinite levels of control with clear visual feedback similar to a touch screen, while maintaining the tactile feel of a real knob.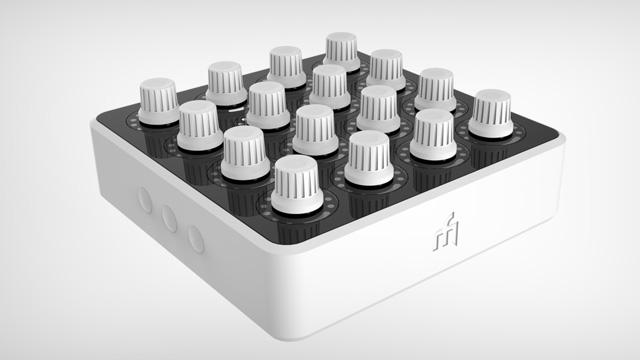 The possibilities – from Ableton control to Traktor effects – are endless, but to really showcase the potential of this dynamic work surface we decided to go a little nuts and create something totally next level.
At popular request, Ean shares how he has the VU meters in Traktor mapped to four different channels on his Kontrol X1 controllers. Read more: http://www.djtechtools.com/2013/10/27…
Mad Zach in a mind-blowing routine using the upcoming all-in-one controllers S4 and S2 on laptop, iPad, and iPhone. More: http://native-instruments.com/traktor
From cue point juggling to on-the-fly Remix Deck and Flux Mode improvisation, Mad Zach performs a controllerist routine on a variety of setups, combining the new Traktor Kontrol S4, the new S2, Traktor Pro 2 and Traktor DJ on iPad and iPhone.
Track: Mad Zach – Tunnel Vision
Follow Mad Zach here: https://www.facebook.com/Mad.Zach.Off…
The redesigned TRAKTOR KONTROL S4 and S2 are now plug-and-play with TRAKTOR DJ for iPad and iPhone. New aluminum-plated jog wheels, RGB buttons, and more let you ignite the dancefloor like never before, on your laptop or iOS device.
Exploring the idea of using the Leap Motion, along with the GECO gestural MIDI app, as a DJ controller for Traktor. DJ SelArom is not using the Leap Motion as a replacement for a traditional DJ controller, but to augment it with new gestural controls, more info below:
I recently got the Leap Motion Controller, and here is the first attempt to use it mixing live. Still getting used to doing this without flailing around like an idiot, but it's definitely a lot more fun that it looks!
If there is enough interest I'll write up a blog about the software and mappings, sound off in the comments and let me know what you think!
Leap Motion: https://www.leapmotion.com
Geco Software: https://airspace.leapmotion.com/apps/…
Music:
Felguk – All Night Long (Darth & Vader Mix)
http://www.felguk.com
https://soundcloud.com/darthvaderlive
Beltek – Go!
http://www.beltek.si
https://soundcloud.com/beltek
Traktor DJ Cable is an ideal solution for beginner DJs starting out with Traktor DJ.
Traktor DJ Cable lets you pre-listen to your next track for smoother mixing. Unlike standard splitter cables, it splits your A and B decks onto separate outputs, so you can listen to each one independently. With a standard splitter cable, you'd hear the same audio from both outputs.
More about Traktor DJ. http://www.native-instruments.com/tra…
We go over the controls and demo the features of the Native Instruments Traktor Kontrol Z1.
"It's my new secret weapon." Felix da Housecat explains why he loves his Traktor Kontrol X1s. He covers the new touchstrip, looping, using cue points, Flux Mode, and more. Traktor Kontrol X1 is the compact add-on controller engineered for seamless Traktor integration.
• Control two track decks and two Traktor FX units
• Touch strip controls track position, pitchbend, loops, and FX
• RGB back-lit triggers identify cue points from loops or markers
Catch Felix Da Housecat Fridays @ Space: http://spaceibiza.com
More about the X1: http://www.native-instruments.com/x1
More about Traktor: http://www.native-instruments.com/tra…
Native Instruments has released the updated TRAKTOR KONTROL X1, a new version of its compact and highly popular decks and effects controller. With the same size and robust product design as the original controller, TRAKTOR KONTROL X1's new features include touch-sensitive Browse and Loop encoders, 7-segment displays and LEDs for visual feedback, and an innovative multi-purpose touch strip for added tactile control. When combined with TRAKTOR PRO, the X1 MK2 delivers plug-and-play physical control over 2 track decks and 2 freely assignable TRAKTOR FX units – with or without the use of turntables or CDJs. The TRAKTOR KONTROL X1 MK2 is now available in stores worldwide and at the NI Online Shop.
This is an overview of the Electrix Tweaker mapping for Traktor's Remix Decks. NI just released Traktor Pro 2.6.2 which enables the remix decks to be mapped to any MIDI controller. The mapping is available at http://www.electrixpro.com/downloads
The Remix Deck mapping was designed to allow the user to directly access Remix Decks C/D. The Tweaker's layout assists in more easily controlling the remix decks, with its 32 button grid giving direct access to the 16 sample cells on each deck. The Tweaker's grid section also provides direct access to sample settings like Punch, Monitor, FX, and Keylock functions.
Additionally, the Tweaker?s pads allow the user to Mute sample slots, switch Trigger Type, as well as Play Mode (e.g. Loop or One-Shot). The mapping also allows the user to switch back and forth between Mixer Mode and Deck Mode. In Mixer Mode the knobs and faders act as EQs and Channel Faders. In Deck Mode, the knobs and faders are used to control the pitch, loops, sample pages, and more. This allows users to quickly switch between the mixer functions and deck functions.
The Remix Deck mapping can be used in a variety of situations. Two sample use cases include:
1 x Tweaker (Decks A/B), 1 x Tweaker (Decks C/D)
For users who want to make full use of Traktor?s Track Decks and Remix Decks, a two-Tweaker setup is the perfect fit. Performers can utilize the Tweaker?s native Track Deck mapping for Decks A/B and the newly released Remix Deck mapping for Decks C/D. Utilizing two Tweakers in this setup allows the user to perform entirely in Traktor?s internal mixing mode and thus take full advantage of Traktor?s FX, looping, and sampling features.
1 x MIDI Controller (Decks A/B), 1 x Tweaker (Remix Decks B/C)
For users looking for additional MIDI control over the remix decks, the Tweaker is the perfect addition to an existing digital DJ setup.Plug the Tweaker into an extra USB port and load the Remix Deck mapping. This effectively allows the user to continue using Decks A/B as usual, while expanding the user's ability to remix on the fly by adding samples via the Decks C/D (Remix Decks).
The carefully redesigned DJ performance controller for TRAKTOR PRO 2 is coming soon. http://www.native-instruments.com/x1
Witness the evolution of TRAKTOR KONTROL X1. A new multi-purpose touch strip lets you nudge, needle drop, or get creative with loops and effects – at the swipe of a finger. Touch-sensitive encoders provide smart, reactive TRAKTOR integration. Command your decks as RGB back-lit buttons provide constant feedback, even in the darkest clubs.
Power, precision, and portability under maximum control – you've never felt closer to the music.
Featured music:
Jack Dixon & Rick Grant – Muted (ManMakeMusic / MMAKEM002)
George Fitzgerald – Hearts (ManMakeMusic / MMAKEM001)
October – Singularity Jump (Tanstaafl / TANS002)