"It's my new secret weapon." Felix da Housecat explains why he loves his Traktor Kontrol X1s. He covers the new touchstrip, looping, using cue points, Flux Mode, and more. Traktor Kontrol X1 is the compact add-on controller engineered for seamless Traktor integration.
• Control two track decks and two Traktor FX units
• Touch strip controls track position, pitchbend, loops, and FX
• RGB back-lit triggers identify cue points from loops or markers
Catch Felix Da Housecat Fridays @ Space: http://spaceibiza.com
More about the X1: http://www.native-instruments.com/x1
More about Traktor: http://www.native-instruments.com/tra…
Native Instruments has released the updated TRAKTOR KONTROL X1, a new version of its compact and highly popular decks and effects controller. With the same size and robust product design as the original controller, TRAKTOR KONTROL X1's new features include touch-sensitive Browse and Loop encoders, 7-segment displays and LEDs for visual feedback, and an innovative multi-purpose touch strip for added tactile control. When combined with TRAKTOR PRO, the X1 MK2 delivers plug-and-play physical control over 2 track decks and 2 freely assignable TRAKTOR FX units – with or without the use of turntables or CDJs. The TRAKTOR KONTROL X1 MK2 is now available in stores worldwide and at the NI Online Shop.
This is an overview of the Electrix Tweaker mapping for Traktor's Remix Decks. NI just released Traktor Pro 2.6.2 which enables the remix decks to be mapped to any MIDI controller. The mapping is available at http://www.electrixpro.com/downloads
The Remix Deck mapping was designed to allow the user to directly access Remix Decks C/D. The Tweaker's layout assists in more easily controlling the remix decks, with its 32 button grid giving direct access to the 16 sample cells on each deck. The Tweaker's grid section also provides direct access to sample settings like Punch, Monitor, FX, and Keylock functions.
Additionally, the Tweaker?s pads allow the user to Mute sample slots, switch Trigger Type, as well as Play Mode (e.g. Loop or One-Shot). The mapping also allows the user to switch back and forth between Mixer Mode and Deck Mode. In Mixer Mode the knobs and faders act as EQs and Channel Faders. In Deck Mode, the knobs and faders are used to control the pitch, loops, sample pages, and more. This allows users to quickly switch between the mixer functions and deck functions.
The Remix Deck mapping can be used in a variety of situations. Two sample use cases include:
1 x Tweaker (Decks A/B), 1 x Tweaker (Decks C/D)
For users who want to make full use of Traktor?s Track Decks and Remix Decks, a two-Tweaker setup is the perfect fit. Performers can utilize the Tweaker?s native Track Deck mapping for Decks A/B and the newly released Remix Deck mapping for Decks C/D. Utilizing two Tweakers in this setup allows the user to perform entirely in Traktor?s internal mixing mode and thus take full advantage of Traktor?s FX, looping, and sampling features.
1 x MIDI Controller (Decks A/B), 1 x Tweaker (Remix Decks B/C)
For users looking for additional MIDI control over the remix decks, the Tweaker is the perfect addition to an existing digital DJ setup.Plug the Tweaker into an extra USB port and load the Remix Deck mapping. This effectively allows the user to continue using Decks A/B as usual, while expanding the user's ability to remix on the fly by adding samples via the Decks C/D (Remix Decks).
The carefully redesigned DJ performance controller for TRAKTOR PRO 2 is coming soon. http://www.native-instruments.com/x1
Witness the evolution of TRAKTOR KONTROL X1. A new multi-purpose touch strip lets you nudge, needle drop, or get creative with loops and effects – at the swipe of a finger. Touch-sensitive encoders provide smart, reactive TRAKTOR integration. Command your decks as RGB back-lit buttons provide constant feedback, even in the darkest clubs.
Power, precision, and portability under maximum control – you've never felt closer to the music.
Featured music:
Jack Dixon & Rick Grant – Muted (ManMakeMusic / MMAKEM002)
George Fitzgerald – Hearts (ManMakeMusic / MMAKEM001)
October – Singularity Jump (Tanstaafl / TANS002)
Music Radar demos NI's latest DJ controller, which works for both Traktor Pro 2 and Traktor DJ for iOS
It features mixer controls for two channels – each with faders and controls for gain, three-band EQ and a rotary which can be switched between controlling either Traktor's filter or one of the software's effects.

The Z1 also features a built-in audio interface, and allows tracks to be cued via an independent headphone output with its own volume and blend controls.
Traktor Kontrol Z1 is coming soon – the ultra-compact, pro-grade 2-channel mixer, controller, and soundcard for Traktor DJ and Traktor Pro 2. Pre-order now. http://www.native-instruments.com/tra…
Hook it up to your iPad or iPhone for a fully-functional Traktor DJ rig, complete with track headphone cueing, super-intuitive control, and premium, club-ready sound. Or combine it with Traktor Kontrol X1 or F1 controllers for the ultimate mobile Traktor Pro 2 setup.
More on Traktor DJ:
http://www.native-instruments.com/tra…
The track in this video is 'Dilated' by XLII. Visit XLII on Facebook:
https://www.facebook.com/XLIImusic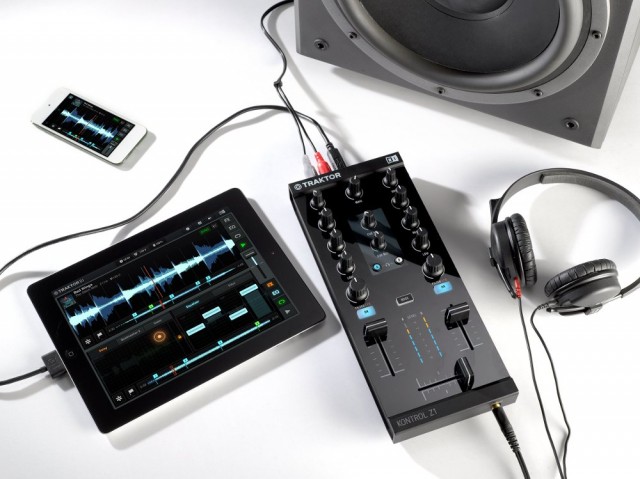 TRAKTOR KONTROL Z1 is the ultra-portable, professional DJ mixing controller forTRAKTOR DJ andTRAKTOR PRO 2. Its cue section lets you monitor and mix tracks with pro precision. Dedicated controls for two channels give you intuitive, tactile control over volume, EQ, filters, and effects. And the built-in audio interface delivers powerful, club-ready sound. Get total control and professional sound in a go-anywhere package – it's pro on the go.
Want to deliver floor-shaking DJ sets with TRAKTOR DJ? Connect your iPad or iPhone to the Z1 and get a complete two-deck DJ setup with ultimate tactile control. Cue up the next track in your headphones while the current track still plays for the crowd. Mix and EQ with pro-grade faders, knobs, and buttons. Apply filters and effects with the ultra-intuitive one sweep knob. The Z1 even charges your iOS device while you play, so you never have to worry about battery life when your set hits its peak.
TRAKTOR KONTROL Z1 works perfectly with TRAKTOR PRO 2 – plug in and instantly start mixing with hands-on control and premium, club-ready sound. You can also expand your mobile rig with additional creative possibilities: Add TRAKTOR KONTROL X1 to control effects, loops and transport functions like play and sync, and TRAKTOR KONTROL F1 for creative Remix Deck™ magic. Whatever your style, build your setup around TRAKTOR KONTROL Z1 and rock the club or the after-party with the most compact, portable TRAKTOR system ever.
Back to basics! Ean goes through the basics of great cue point placement and usage in Traktor Pro. Read the full article here: http://bit.ly/10KXgIu
With 300 to 500 songs (minimum) in a digital DJ's regular rotation, it's nearly impossible to remember every song's structure, but knowing your music remains one of the most important requirements for all DJs. Upon loading a new track, the most important things to know instantly about a song are:

Where is the first beat?
Where is the best place to start mixing?
When does the vocal, bass line, or main part of the song begin?
Stated differently, where should I be done with the mix?
Where are the most natural mix out points in the song?

Fortunately most DJ software has a variety of cue points that can be used as flags to remind you of the critical places in a track. Traktor has a set of cue points which are different colors and serve different purposes, so these are best suited for flagging a track.
Phil Morse of Digital DJ Tips gives a ten-minute talkthrough of all the main features of Traktor DJ for iPhone from Native Instruments, a groundbreaking DJ app for iPhone. Full review at: http://www.digitaldjtips.com/2013/05/…
The Verge's Trent Wolbe is joined by Jim Mazur to show off the new Traktor DJ app for iPhone. Previously only available on the iPad, Traktor DJ allows you to mix music using an easy touchscreen interface.
TRAKTOR DJ, the pro DJ app for iOS, is now available for iPhone and iPod Touch. More info and videos: http://www.native-instruments.com/tra…
Deliver devastating DJ sets using familiar iPhone gestures, with beautiful waveforms at your fingertips. Set up beat grids, cue points and BPM tags on your iPhone to sync with your TRAKTOR PRO setup. Perfectly adapted to the iPhone's compact screen estate, TRAKTOR DJ for iPhone puts professional DJing in the palm of your hand.
TRAKTOR DJ for iPhone is available now at the iTunes App Store for only $4.99 / 4.49 €.
http://ow.ly/kzEzo
The iPad version is available for only $19.99 / 17.99 €.
http://ow.ly/kzEGz
Tracks by Modeselektor – Pretentious Friends (Instrumental version), Berlin (Instrumental version)
DJ Shiftee hits the streets of Berlin to showcase his mind-blowing mastery of Traktor DJ. http://www.native-instruments.com/tra…
TRAKTOR DJ brings the leading pro DJ software to iOS with an intuitive app for instant, high-impact DJ sets. Create mixes in seconds — put your hands directly on beautiful waveforms and manipulate them using gestures you already know.
[Please note: Traktor DJ is being used as two additional decks in the club scene. It is patched into the mixer through a Traktor Audio 6 interface. It is not being used to control Traktor Pro 2.]
More DJ Shiftee:
http://facebook.com/djshiftee
http://twitter.com/djshiftee
TRAKTOR DJ in action. Richie Hawtin prepares tracks on the beach, then tears up the club – all on his first day with TRAKTOR DJ. More at: http://www.native-instruments.com/tra…
TRAKTOR DJ is available at the iTunes App Store for $19.99 / 17,99 €
TRAKTOR DJ brings the leading pro DJ software to iOS with an intuitive app for instant, high-impact DJ sets. Create mixes in seconds — put your hands directly on beautiful waveforms and manipulate them using gestures you already know.
Auto tempo detection makes track syncing effortless while iTunes integration turns your library into a virtual crate to dig through — TRAKTOR PRO's acclaimed sync engine keeps tracks locked together so mixes hit hard. TRAKTOR DJ also syncs effortlessly toTRAKTOR PRO 2, allowing you to share essential track data — beat grids, BPM counts, and cue points.
Track heard: Hobo – Incise (coming soon on Minus)
FM open up the brand new NI Traktor DJ iPad app and take a look at it in action. We get some first impressions and check out the features and usability of the touch-screen iOS DJ app.