On this month's cover CD of Mixmag the magazine ditched the normal mix format for one issue and teamed up Felix Da Housecat who is releasing his brand new LP on the cover of Mixmag. "Son Of Analogue" features 14 originaltracks and is available exclusively on the front cover of the magazine.
Get it here, subscription page >>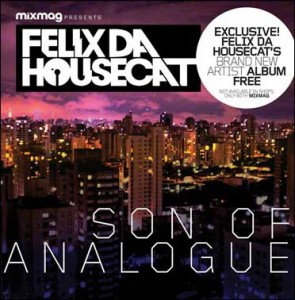 Hi all
Time to sum up the past ten years and list the 20 best / most important electronic, electro, EBM and synth albums that has been released. This is of course a tricky quest and will most likely create some debate. Numerous of good albums has been released and I have certainly not listened to all of them, but still someone needs to make a statement

. The albums are listed in order of importance, but may not be absolute, in the sense that – if they are rated as number 6, they could easily be argued to have place number 7 instead etc, but still…
Number 1:
Kraftwerk – Tour de france soundtrack
Number 2:
The Knife – Silent Shout
Number 3:
Goldfrapp – Black Cherry
Number 4:
Covenant – Skyshaper
Number 5:
Colder – Again
Number 7:
Daft Punk – Discovery
Number 8:
Felix! – Kittenz and thee glitz
Number 9:
Welle: Erdball – Die wunderwelt der technik
Number 10:
Suicide – American supreme
Number 11:
DAF – Fünfzehn neue D.A.F-Lieder
Number 12:
VNV Nation – Futureperfect
Number 13:
Röyksopp – Melody A.M.
Number 14:
Rammstein – Mutter
Number 15:
Vive la fete – Republique populaire
Number 16:
And One – Agressor
Number 17:
Jeans Team – Musik von oben
Number 18:
Recloose – Cardiology
Number 19:
Melotron – Sternenstaub
Number 20/21:
Télépopmusik – Genetic world
System – Self organizing
…and a big thanks to karmaloop who gave me the opportunity to show it here

Due to WordPress policy this movie will re-direct to a different site

, but make sure to come back when you are done watching the interview
And for toki doki fans like me and for those into urban clothing check out Karmaloop's site
Cheers