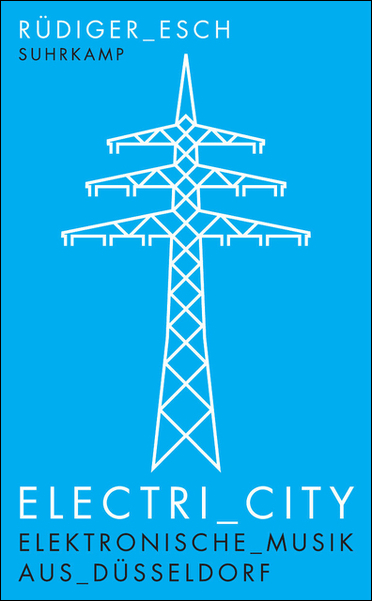 "Electri_City – Elektronische Musik aus Duesseldorf" is a brand new book that is being prepped for release on the 10th of March 2014 via Suhrkamp Verlag. Described by the publisher as 'Das definitive Buch zu Kraftwerk, Neu!, La Düsseldorf, DAF, Die Krupps, Der Plan, Liaisons Dangereuses, Rheingold, Propaganda' you can expect a detailed background on the Düsseldorf scene. That scene has since the 70s and 80s been considered as the electronic popmusic Mekka (let's hope Allah and co won't kill us for using this description).
The book is written by Düsseldorf resident and Die Krupps member Rüdiger Esch. In the book he covers the period from 1970 bis till the end of the 'analog phase' in 1986. Expect feedback in the book from Wolfgang Flür (Kraftwerk), Bodo Staiger (Rheingold), Gabi Delgado (DAF), Jürgen Engler (Die Krupps), Ralf Dörper (Propaganda), plus remarks from Giorgio Moroder, Ryuichi Sakamoto, Andy McCluskey (OMD), Martyn Ware (The Human League), Glenn Gregory (Heaven 17) and so on.
Still according to the publisher the book will also talk about reality versus myth regarding the scene.
You can order the book right here on Amazon: http://www.amazon.de/ElectriCity-Elektronische-D%C3%BCsseldorf-suhrkamp-taschenbuch/dp/3518464647/ref=sr_1_1?s=books&ie=UTF8&qid=1374060902&sr=1-1
Just a small attempt to create a sequence in the style of D.A.F (Deutsch-Amerikanische Freundschaft) recorded with the camera microphone.
Gear used:
Korg MS20 and MS50 with Sherman filterbank to add some distortion.
Korg SQ10
Doepfer quantizer
Korg MS02 to go from the SQ to the Quantizer and back to the MS synths.
Out via Bureau B on May 11th is the reissue of the 1979 debut by D.A.F. aka Deutsch Amerikanischen Freundschaft. The band then consisted of Rober Görl, Wolfgang Spelmans, Kurt Dahlke (Pyrolator) and Michael Kemner. D.A.F. connoisseurs of course know about the early phase of the Dusseldorf-Wuppertal band but for most fans of the later work by the duo this debut will sound rather shocking. Expect purely instrumental, unstructured noise rock.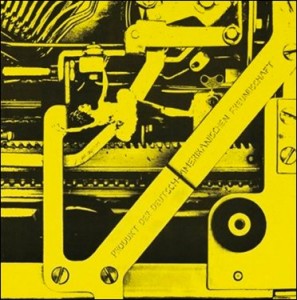 "A product of German-American friendship" first was released in 1979 on Warning Records, later Ata Tak. The reissue in digipak contains liner notes by Carsten Friedrich (Super Punk) plus rare photos and memorabilia. The LP is on 180 gram vinyl.
Via SL
Nice interview with synth pioneers DAF:
D.A.F. interview with Neuwelt Music, featuring live footage from the show. Shot and cut by Duncan Catterall (http://www.clockworkamoeba.com) and interviewed by Jon the Goth and produced by Dani Kammler (http://www.neuweltmusic.com).
More from D.A.F. at: http://www.deutschamerikanischefreundschaft.de/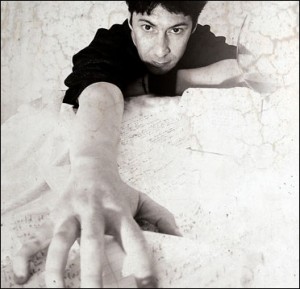 Following the release of "Re-Membering Dwayne" Psyche digs into the vaults again to celebrate 25 Years of "Insomnia Theatre". Expect a re-release of the original Canadian Edition of "Insomnia Theatre" as a remastered, repackaged double LP on VOD Records.
Also, the band will also support DAF on their German tour dates in March 2011 next to a few other dates; these "Nostalgia" dates are available below. And how could we miss this: Psyche has remixed Plastikmann on his upcoming "Arkives" compilation!
The "Nostalgia" Tour:
10. March – K17 – Berlin, Germany + DAF
11. March – MUSIKZENTRUM – Hannover, Germany + DAF
12. March – PARADOX – Ludwigsburg, Germany + DAF
17. – 18. June – SGA Festival – Stockholm, Sweden + DE/VISION and more…
26. – 28. August – PRAY SILENCE FESTIVAL – Lisbon, Portugal + CLAN OF XYMOX and more..
What do you get if you mix DAF with Einstürzende Neubauten? You get Liaisons Dangereuses.
Liaisons Dangereuses was founded by Beate Bartel (Mania D, Einstürzende Neubauten) and Chrislo Haas (Deutsch Amerikanische Freundschaft) together with vocalist Krishna Goineau in 1981. Their only album was recorded in 1981 was mixed at Conny Plank's studio in Köln. As a part of the Neue Deutsche Welle scene (especially electropunk) in Germany they pioneered Electronic body music. I read once an interview with the DAF guys that they wanted to cross the beats of disco with the energy of punk rock. Looking at this video clip it's a pretty accurate description.
BIMFEST 2010 welcomes Laibach and DAF
For its 9th edition of the BIMFEST (taking place on December 18), BodyBeats Productions finally got hold of Laibach who canceled the last time, and of DAF, who returned with one of the most expensive songs in history of electronic music. As far as Laibach is concerned, the band will be bringing a 'best of' set.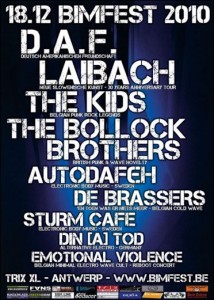 Also invited to this usually very family friendly festival are the Belgian punk legends 'There will be no next time' The Kids, cold-wavers De Brassers and the rebooted minimal electro heads Emotional Violence. Next to them, you may expect the British punkrock/new-wave band The Bollock Brothers, Swedish old school EBM acts Autodafeh and Sturm Café and the Berliner electro-rockers Din[a]tod.
Tickets are €30 (before October 1st) / € 35 (from October 1st on) or €40 at the doors. Tickets and more info can be found at www.bimfest.be .

Deutsch-Amerikanische Freundschaft (DAF) will release a self produced one-track-single on September 1st. The track and the titel of the single will be simply "Du Bist DAF". Strangely enough the single will be limited to 2010 copies and the band will not make it available via digital format. The single is yours for 10 EURO plus shipping. For 1 track that is.
Order at deutschamerikanischefreundschaft.de if you can spare the money, no other retailer will carry this product.
Here's a short snippet:
On 26th June 2010 the most stunning electro festival of the year is going to conquer the German Capital Berlin. The E-tropolis Festival comprises a wide range of different electronic styles in a unique, electrifying event, featuring classic EBM, harsh Industrial- & Cyberelectro, Synth-Pop- and alternative dance acts in one pulsating stream of synthetic music.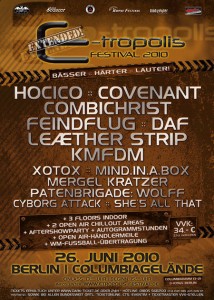 Tickets for the E-tropolis Festival 2010 are on pre-sale now! Original tickets, as well as the most popular 5+1 group tickets are exclusively available at the Amphi Ticketshop under: https://ssl.webpack.de/synotec-newmedia.de/amphishop/welcome.html . You can also buy festival tickets online on www.dark-ticket.de, by phone on +49 (0)1805- 568200 (0,14 /min. from German fixed network), and at all nationwide CTS/EVENTIM, Kartenhaus and Ticket-Online box offices.