Einsturzende Neubauten – Sand
No video, just the song.
Originally by Lee Hazelwood and Nancy Sinatra.
vom album: 'fuenf auf der nach oben offenen richterskala'
aus privatsammlung, alle rechte bei den artisten
Taken from Einstürzende Neubauten 's Haus der Lüge
Haus der Lüge is the fifth full length studio release from the German band, released in 1989.
Out via Bureau B by early November is the soundtrack for Fatih Akin's new film "The Cut". Out on vinyl (including a CD withextra tracks) the release is the third and last part of famous German director Fatih Akin's triology "Liebe, Tod und Teufel".
The score for the film was produced by Einstuerzende Neubauten's Alexander Hacke. Since 1992 Hacke has been composing film music, including the score for Fatih Akins "Gegen die Wand" and countless other movies.
You can order this vinyl gem right here.
Alexander Hacke (Einstuerzende Neubauten) has released a sound-set for Urs Heckmanns virtual synthesizer-software Zebra which is called "New York City". The set consists of 150 sounds ranging from weird one shot effects to slow evolving cinematic soundscapes and complete multi layered backing tracks.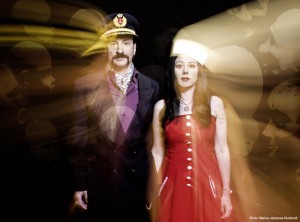 The sound set is a 100% copyright free collection of individually programmed artistic patches which can used for film-scores, industrial music , electro dance beats and general experimentation. Caution, you must own the software synthesizer in order to work with the sound set. More info at http://www.u-he.com/cms/zebra .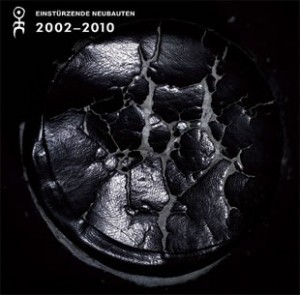 A new, fourth "Strategies Against Architecture" Einstürzende Neubauten compilation is out this week. It features the band's output from 2002-2010 including the "Musterhaus" series finalised in 2007, "The Jewels" from 2008 and much more. With this release, material previously only available for subscribers is made available for everyone.
What do you get if you mix DAF with Einstürzende Neubauten? You get Liaisons Dangereuses.
Liaisons Dangereuses was founded by Beate Bartel (Mania D, Einstürzende Neubauten) and Chrislo Haas (Deutsch Amerikanische Freundschaft) together with vocalist Krishna Goineau in 1981. Their only album was recorded in 1981 was mixed at Conny Plank's studio in Köln. As a part of the Neue Deutsche Welle scene (especially electropunk) in Germany they pioneered Electronic body music. I read once an interview with the DAF guys that they wanted to cross the beats of disco with the energy of punk rock. Looking at this video clip it's a pretty accurate description.
An Einstürzende Neubauten tribute double-CD will be out on October 12. But it's not from Germany, not even from Europe – it's Argentinian, from the label Tacuara. "Einstürzende Neubauten Iberoamerikanisches Tribut" includes artists from both South America and Europe: Die Perlen, Heroina, J7 and many more.
Came across this little nice news update about our Neubauten friends…
After nigh on 30 years, the entity, nay the beast, known as Einstürzende Neubauten has evolved into an independent being without need for any conscious effort from the five multi-talented genial dilettantes that make up its core.
Release finds bassist and musical jack-of-all-trades Alexander Hacke in a fine mood, speaking about love and magic, and a band at its ultimate productive peak.
Joining the cult
In the name of objective journalism, let's state the facts openly before we move on. It took me a while to sign up for Einstürzende Neubauten's supporter project. The breaking point was in 2004, when I learned that the supporters of the second phase of this subscription service were invited to a special concert in the Palast der Republik, the bronze mirrored former East German Parliament building slated for demolition. I never got over that, and for the next phase, I jumped on the chance.
– That concert was a lot of fun, Alexander Hacke remembers. I'm sad to report that the Palast is almost gone now, there is just a steel skeleton left of it and they're wasting millions and millions of euros to break it down.