Making of a new sound library for HISSandaROAR
http://hissandaroar.com/sd023-swish-two
Floppydisk Pirates have created 128 beautiful patches for the Analog Keys and Four.
http://www.floppydiskpirates.com/
Download from http://www.elektron.se/support-and-do…
Get the Future House SoundPack from: http://www.elektron.se/content/future…
Listen more at: https://soundcloud.com/elektron/sets/…
Sample Pack by: https://www.biomedigital.com
Analog Rytm, the Future House Sound Pack.
Biome Digital has created a set of envelope pushing samples specifically tuned for deep, enchanting and pioneering beats. A treat for the sound systems of the world.
The Sound pack is specifically made for the Analog Rytm. Included is an Analog Rytm project featuring 16 patterns and 16 kits. The kits also feature performances and scenes, great for live tweaking the patterns.
Features:
Sound pack size: 11.7 MB. 16 bit/48 kHz/mono WAV samples.
1 project. 16 patterns. 16 kits.
Scene and performance macros for each kit.
9 kicks. 1 snare. 1 crash sample. 1 ride sample. 1 closed hithat . 1 open hihat . 1 tambourine. 1 percussion sample. 1 shaker. 6 claps. 16 synth samples. 9 bass samples . 5 vox samples. 3 piano samples. 2 orch hits samples. 6 FX samples.
The Future House Sound Pack is available now for US $15.

Humanoid Sound Systems has announced the release of Evolve, a soundset feauturing 70 ambient/cinematic patches for the Virus TI synthesizer from Access Music.
Talented Efrain Becerra takes the Virus TI to a new dimension with "Evolve".

The sound bank comprises of 70 amazing ambient and cinematic sounds and texture, with smooth pads, sound effects and dark atmospheres, all of which evolve in interesting ways. (Hence the name Evolve! See what we did there?)

Let Evolve inspire you and bring new life to your Virus TI.
The soundset is available for purchase for $19.99 USD. More info here >>
Biologik has created 150 highly inspirational and 100% royalty free Sounds for Analog Four/Keys.
Download from http://www.elektron.se/support-and-do…
Biopads consists of 150 harrowing, beautiful, alien, and lush pad oriented sounds for the Analog Four/Keys. All Sounds are 100% royalty free.
Ever want to jam out on a midi controller with classic video game sound FX, or secretly add a few of those FX to your production? This is the Walkthrough of our massive 64 sample/ 4 bank Retro Video Game soundpack for Ableton Live. There are also an additional 2.5 banks before and after the 4 main banks of additional samples we liked, but didn't use in the core pack. This brings it to a whopping 104 total, retro 8/16/32-Bit video game samples to take you back to the 80's and 90's. Enjoy!
FREE DOWNLOAD: https://maps.djtechtools.com/mappings…
Nord has released a new sound bank for the Nord Drum 2 by Swedish electronica legend Andreas Tilliander, which they say concentrates on bring out the electronic soul of the machine in 25 amazing kits.

Andreas Tilliander is a man of many aliases such as his most recent creation TM404, but perhaps you also have heard of Svaag, Skitus, Mokira, Lowfour or Rechord? TM404 made it's live debut at Berghain, Berlin during the CTM Festival in January 2013. Since then there's been sweaty gigs in lots of countries and places. Tokyo, Nagano, Taipei, Shanghai, New York City, Bern, Venice have all witnessed TM404 and his analog hardware live sets. Richie Hawtin is a fan and has invited the man behind TM404 twice to his Enter experience at Space, Ibiza. Andreas Tilliander is releasing three new records autumn 2014 as TM404, Mokira and Svaag. 

Pricing and Availability:
Free download (requires Nord Drum 2 OS v3.00 or later)
http://www.elektron.se
Listen more at: https://soundcloud.com/elektron/sets/…
Details:
Allow us to pay the legendary old-school techno box our respects in the form of an Analog Rytm Sound pack. Thanks to Goldbaby, this collection of tape saturated 909 samples contains the stuff drum machine dreams are made of.
The sound pack is specifically made for the Analog Rytm. Included is an Analog Rytm project featuring 16 patterns and 16 kits. The kits also feature performances and scenes, great for live tweaking the patterns.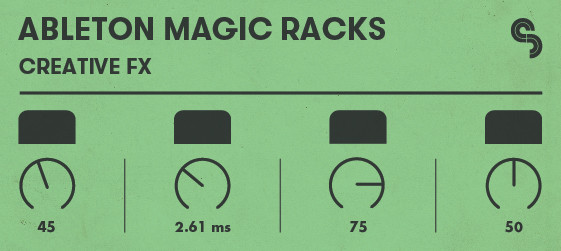 The Ableton Magic Racks: Creative FX pack features 5 powerful Ableton racks for complex FX processing and creation.
Take your FX creation and manipulation to the next level with the third instalment of our best-selling Ableton Magic Racks series.

Creative FX serves up five unique racks designed for intricate FX processing with the most intuitive of macro controls.
The Creative FX pack is available for purchase for £9.90 GBP.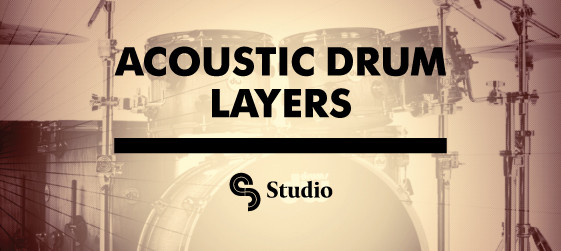 Acoustic Drum Layers features a collection of live drum layers, grooves, textures, fills and more.
Drums sounding flat? Rhythms lacking groove? Acoustic Drum Layers is here to save the day with 175 superlative live drum layers, rhythms, textures and fills primed to inject a humanistic feel and acoustic timbres into the most tired of programmed beats.
The Acoustic Drum Layers sample pack costs £14.90 GBP.
Steamworx,  a sound library for Alchemy by Camel Audio, has been adapted and optimised for Alchemy Mobile.
Steamworx's 50-preset library of "cinematic netherworld" features keyboard instruments made from clocks, drum kits built with "steam-powered machines, fog-shrouded soundscapes and gothic" choirs. Created by game soundtrack designer, Steamworx sounds are suited to soundtrack, delicate ambient, sci-fi, industrial and, says Camel Audio, the "supernatural."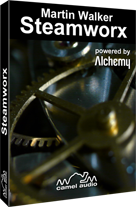 Pricing and availability. Camel Audio's Steamworx for Alchemy Mobile is available now, as an in-app purchase for 4.99 USD / 3.99 EUR / 2.99 GBP. Also included are three demo projects, to remix or use as the basis for new songs.