Nord has released a new sound bank for the Nord Drum 2 by Swedish electronica legend Andreas Tilliander, which they say concentrates on bring out the electronic soul of the machine in 25 amazing kits.

Andreas Tilliander is a man of many aliases such as his most recent creation TM404, but perhaps you also have heard of Svaag, Skitus, Mokira, Lowfour or Rechord? TM404 made it's live debut at Berghain, Berlin during the CTM Festival in January 2013. Since then there's been sweaty gigs in lots of countries and places. Tokyo, Nagano, Taipei, Shanghai, New York City, Bern, Venice have all witnessed TM404 and his analog hardware live sets. Richie Hawtin is a fan and has invited the man behind TM404 twice to his Enter experience at Space, Ibiza. Andreas Tilliander is releasing three new records autumn 2014 as TM404, Mokira and Svaag. 

Pricing and Availability:
Free download (requires Nord Drum 2 OS v3.00 or later)
http://www.elektron.se
Listen more at: https://soundcloud.com/elektron/sets/…
Details:
Allow us to pay the legendary old-school techno box our respects in the form of an Analog Rytm Sound pack. Thanks to Goldbaby, this collection of tape saturated 909 samples contains the stuff drum machine dreams are made of.
The sound pack is specifically made for the Analog Rytm. Included is an Analog Rytm project featuring 16 patterns and 16 kits. The kits also feature performances and scenes, great for live tweaking the patterns.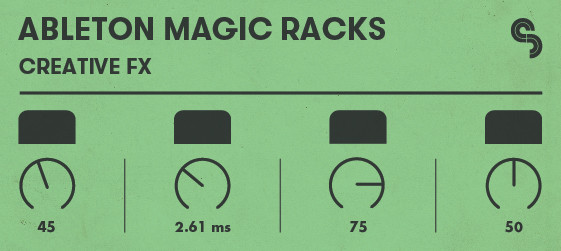 The Ableton Magic Racks: Creative FX pack features 5 powerful Ableton racks for complex FX processing and creation.
Take your FX creation and manipulation to the next level with the third instalment of our best-selling Ableton Magic Racks series.

Creative FX serves up five unique racks designed for intricate FX processing with the most intuitive of macro controls.
The Creative FX pack is available for purchase for £9.90 GBP.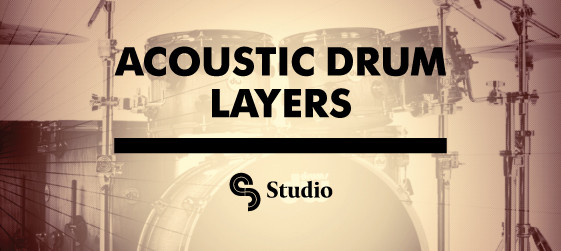 Acoustic Drum Layers features a collection of live drum layers, grooves, textures, fills and more.
Drums sounding flat? Rhythms lacking groove? Acoustic Drum Layers is here to save the day with 175 superlative live drum layers, rhythms, textures and fills primed to inject a humanistic feel and acoustic timbres into the most tired of programmed beats.
The Acoustic Drum Layers sample pack costs £14.90 GBP.
Steamworx,  a sound library for Alchemy by Camel Audio, has been adapted and optimised for Alchemy Mobile.
Steamworx's 50-preset library of "cinematic netherworld" features keyboard instruments made from clocks, drum kits built with "steam-powered machines, fog-shrouded soundscapes and gothic" choirs. Created by game soundtrack designer, Steamworx sounds are suited to soundtrack, delicate ambient, sci-fi, industrial and, says Camel Audio, the "supernatural."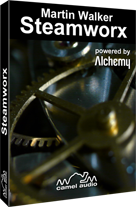 Pricing and availability. Camel Audio's Steamworx for Alchemy Mobile is available now, as an in-app purchase for 4.99 USD / 3.99 EUR / 2.99 GBP. Also included are three demo projects, to remix or use as the basis for new songs.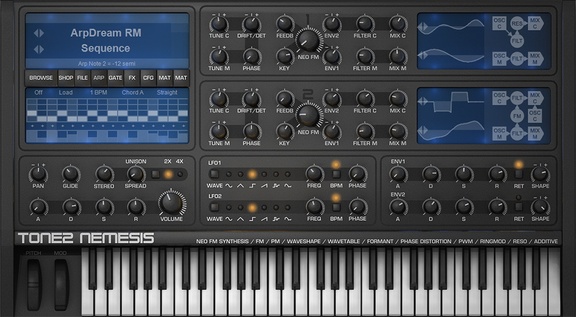 Tone2 has announced the release of NeoFM, a soundset for the Nemesis synthesizer instrument for Windows and Mac.
The NeoFM expansion has a clear focus on the best that FM synthesis has to offer. Tapping into the depths of Nemesis' powerful neoFM synthesis, it offers unique sounds that are impossible to get with other synthesizers.

Featuring 200 exclusive neoFM presets, it is the ideal library to expand your Nemesis with. Imagine the sweetest FM keys and semireal sounds, evocative pads, cut-through synths and organic atmospheric sounds, all the way up to the dirtiest basses & warped arpeggios.

The NeoFM expansion also contains an inspiring collection of 152 new waveforms that you can use to create your own sounds, or edit existing presets with. 3 fresh new skins are included to change the way your Nemesis synth looks.

This expansion is packed with rich sounds ready to be used in any production and covers the complete range of styles, whether you're interested in that classic FM sound or looking for nasty FM vibes, NeoFM is there to provide!
The soundset is available for purchase for 49 EUR.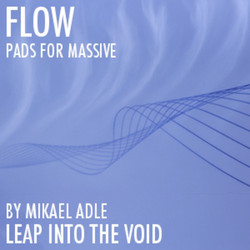 Leap Into The Void has announced the release of Flow, a soundset featuring 64 pads for Native Instruments Massive.
There are mellow pads, deep pads, lush pads, rich pads, soft pads, detuned pads, organ pads and more, all sharing one purpose. If you want you could call them, "basic pads with a touch of Leap Into The Void".

Leap Into The Void have named them "Flow".

All sounds can easily be found in Massive's browser and they all contain a coherent mapping of the eight macro knobs.
Flow features
64 pads for NI Massive.
Coherent mapping of the eight macro knobs.
Velocity and mod wheel assignments for character coloring (mod wheel macro knob 1).
Detailed patch list PDF with descriptions of the sound. Descriptions are also included in Massive's attributes.
Massive 1.4 required.
The soundset is available for purchase for 17.95 EUR. It is on sale for 12.57 EUR through July, 2014.
Camel Audio has announced Artificial Intelligence, the 30th Sound Library for their sample manipulation synthesizer, Alchemy. They tell us that Artificial Intelligence draws inspiration from the futuristic, glitch-driven side of electronic music and is packed full of twisted, abstract soundscapes, intricately detailed sound effects, stuttering digital rhythms and warped synths and basses. They say that, with eight carefully designed remix variations for every preset, it's easy to tweak the sounds to fit your music, and with a full set of tags, finding the right sound is just a click away.

The desktop version of Artificial Intelligence contains 150 presets and works with both Alchemy and Alchemy Player. Artificial Intelligence for Alchemy Mobile contains 50 presets.

Pricing and Availability:
The desktop version of Artificial Intelligence is available now from the Camel Audio shop for 59 USD / 49 EUR / 39 GBP. It's also included in Alchemy Complete which comprises Alchemy and 30 Sound Libraries at a discount of over 50%.

Artificial Intelligence for Alchemy Mobile is available as an in-app purchase for 3.99 GBP / 4,49 EUR / 4.99 USD.
Trance Techno Soundbanks has announced the release of DIVA U-HE Classic Electronica, a soundset for the DIVA synthesizer instrument from u-he.
This is special soundbank created only for Classic Electronic Dance Music styles like: Electro, Deep House, Classic Trance, Classic Techno. Soundbank is inspired by:Westbam traxxes ala Beatbox Rocker, Hard Times, – Members of Mayday-10 in 01 or Save the Robots,- classic trance traxxes from Frankfurt city scene and some Berlin MFS influences. Plus lot of oldschool classic house and classic techno.

There are only quality sounds for good price!!! Pack have full construction kits (Midi),automation screens for every DAW and flp files for Fl Studio. Kick Hi Hat and Clap generally are just for addition-They are not in the pack.
DIVA U-HE Classic Electronica features
100 hi-quality presets for DIVA.
Includes 1 acid, 15 arp, 16 bass, 8 fx, 7 gate, 23 lead, 13 pad, 14 percussion, 3 pluck.
13 demo kits in MIDI and 13 FLP files (FL Studio) format and 13 Automation screens JPG's for every demo.
The soundset is available for purchase for 12 EUR.
Trance Techno Soundbanks has also launched two promotions.
Customers who purchase DIVA U-HE Classic Electronica get a 50% discount coupon for any other product in the TTS shop.
Buy a bundled "ALL PACK" and get a free single soundbank as a bonus (ALL PACKS excluded).
These offers are valid through June, 2014.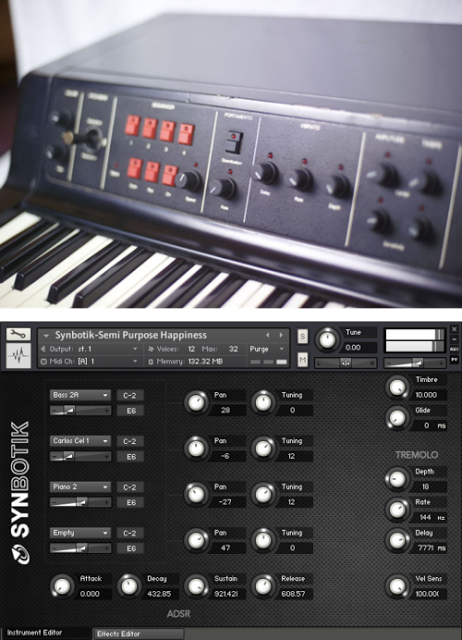 Puremagnetik has released Synbotik – A library of DK Synergy sounds for Ableton Live, Kontakt and Logic.
Synbotik brings the famous old-school, early digital flavor of the DK Synergy into this decade. With only an estimated 100 units still functioning in the world, this is a rare piece of synthesizer history that has now been reprogrammed for Ableton Live, Kontakt and Logic. It even includes the legendary program cartridges inspired by Wendy Carlos.
Synbotik Features
• Raw "cartridge" programs based on the original Synergy sounds.
• Expertly crafted Ableton Live Racks with easy edit Macros.
• A selection of Ableton "Push Ready" Racked presets for sound design inspiration.
• A custom Kontakt KSP GUI that puts the original instrument's functionality at your fingertips.
• Raw "cartridge" waveforms and "multi" programs for Apple Logic's EXS sampler.
System Requirements
• Requires Ableton Live 9.1 and higher, Logic 10 and higher, or Kontakt 5 and higher
• 700 Megabytes (MB) of free hard disk space
Synbotik is available for USD $15 athttp://tmblr.co/ZChkUy1Cet1Yy
For more information, visit http://www.puremagnetik.com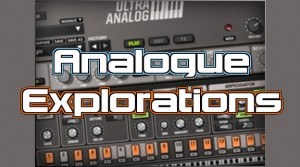 Twolegs Toneworks has released Analogue Explorations, a collection of 64 carefully programmed analogue type sounds for Applied Acoustics Systems Ultra Analog VA-2 synth.
The soundset is not aimed at any particular style or genre, but provides a sound-palette easily adapted in any type of electronic music – spanning the spectre from deep dub-techno, D'n'B, IDM, chip to funky house.

This pack contains a broad variety of analogue type sounds programmed with small amounts of drift and plenty of analog grit – of which this synth has plenty. You'll find basses ranging from funky synth basses to bombastic sub-basses – and pads ranging from soft baby tissue to sweeping textured wonders. There's also a range of lead-synths well suited for the odd melody-line or a full solo-riff. Ultra Analog VA-2 doesn't allow too much action to be applied through the mod-wheel, but there's added vibrato for most sounds.

The true bonus in this soundset is the percussive sounds and the instant atmosphere creating sound effects, which in some cases can make up the basis of an entire dub techno track.
Te soundset is available to purchase for the introductory price of $9.95 USD until March 31st, 2014 (regular $14.95 USD).
Twolegs Toneworks is also offering a 50% discount on its other soundsets in its Spring Sale, which lasts until March 31st, 2014.