Get the sample pack from http://www.elektron.se/accessories/
Listen more examples at https://soundcloud.com/elektron/sets/…
Sample pack by http://www.legowelt.com/
The Legowelt Studio Sound Pack contains a selection of samples, optimized for use on the Analog Rytm. The bundle also includes a custom Analog Rytm project featuring patterns, kits and live-friendly scene and performance macros.
All content has been created by Legowelt and Elektron.
The Sound Pack samples will of course also work on the Machinedrum UW and Octatrack, but the Project, Kits, Patterns and macros will only work on the Analog Rytm.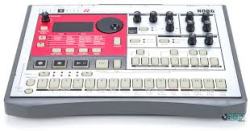 Legowelt has released a free sample library, featuring the 90's-tastic virtual analog sounds of the Korg ER-1 drum machine.
The free sample library includes 150 .wav samples made with the Korg ER-1, including 'Earthshaking Bass drums, crispy snares, audacious claps, sizzling hi hats, warbly FX + lots more!'
"When I was in Japan last month I made a samplepack from my Korg ER1 drumsynthesizer in my hotelroom
The Korg ER1 is a "digital virtual analogue" drumsynthesizer from 1999. This is basically a drum machine with a special synthesizer to make your own drums ounds.
It has a XOX style sequencer and the classic cool late 90s Korg pweieieieieuuuu delay effect."
Legowelt explains why he loves his Roland JV2080
The JV-2080, released in 1997, uses a sample + synthesis synth architecture.
The JV-2080 is everything you could expect from a modern sound module, but more! A massive 64 voice multitimbral performance module that strives to offer the best all-around features for creating new and vintage sounds for any musical style. Excellent acoustic sounds of all instruments both common and ethnic. A massive amount of techno sounds complete with pulses, blips, sweeps, and the ever popular LFO, VCF and VCA type controls for patch editing and real-time editing. The 2080 is extremely expandable with room for 8 sound cartridges from the JV-80 series, as well as a data card slot. The 2080 has 5 excellent effects processors too, including the new EFX processors. Verb, delay, panning effects, chorus, flange, etc
Key Features:
Accommodates up to 8 user-installable sound expansion boards, allowing access to approximately 2,900 patches when fully expanded
768 internal patches; 16MB of wave data expandable to 144MB (16-bit linear format)
320 x 80 dot graphic backlit LCD
Patch Finder function groups similar patches from internal banks, expansion boards and memory data cards together
Phrase Preview function allows users to hear patches within the context of a musical phrase by pressing volume knob; no keyboard needed
3 onboard EFX sets with 40 effects each
FM head to The Hague in The Netherlands to visit the two synth-packed studios of Legowelt.
CREDITS
Producer: Chris Barker
Editor: Keir Doherty
Videographer: Will Seelig
Videographer: keir Doherty