Roland Gaia features:
Huge sound with three virtual analog engines onboard, each with a dedicated oscillator, filter, amplifier, envelope, and LFO
Layer up to five simultaneous effects, including distortion, flanger, delay, reverb, low boost, and more
64-voice polyphony for massive sounds without note drop-out
Fun, hands-on control panel that's great for instant gratification, and for learning synthesis
Lightweight, compact body with 37 full-size keys
Runs on AC or battery power for portable convenience
D Beam, arpeggiator, and Phrase Recorder onboard
USB ports for saving user patches to USB flash drives, and for audio/MIDI connection to computers
One more tour of the recently launched AIRA modular
The new effects modules are unique in that they are standalone, table-top and Eurorack compatible effects. The modules include distortion, crusher, delay and scatter.
This line of digital effects Euro modules can be used as audio interfaces and can even be customized via a desktop app.
Googlish:
This video demonstrates Menno Beijer Roland JD-Xi B. This little powerhouse Roland is a complete synthesizer, focusing on the modern approach. Create your own music using grooves and make yourself at this challenging instrument.
For more information on this synthesizer, please refer to our website. https: //www.oostendorp-muziek.nl/synt …
This video was produced in-house.
The demonstrator is Menno Beijer.
https://www.oostendorp-muziek.nl/synt…
In deze video demonstreert Menno Beijer de Roland JD-Xi B. Deze kleine krachtpatser van Roland is een complete synthesizer, speciaal gericht op de moderne invalshoek. Creëer je eigen muziek door grooves te gebruiken en zelf te maken op dit uitdagende instrument.
Voor meer informatie over deze synthesizer verwijzen wij u graag naar onze website. https://www.oostendorp-muziek.nl/synt…
Deze video is geproduceerd in eigen beheer.
De demonstrateur is Menno Beijer.
—————————————-­———
Oostendorp Music is a music store in The Netherlands that sells musical instruments and equipment. It is possible to order throughout Europe from the online store. Please contact verkoop@oostendorp-muziek.nl for more information and shipping costs.
Roland Aira System-1m, new Aira effects modules and analogue System 500 modules.
For those with short attention spans, audio starts at 3.46.
This video demonstrates the sounds of the JD-Xi's digital oscillator section. This is Part 1 of 2.

Roland has announced the JD-XA Analog/Digital Crossover Synthesizer, an advanced new keyboard that offers a unique and powerful approach to synthesis.
Equipped with fully featured analog and digital sound engines that can be used independently or interactively, the JD-XA brings together analog warmth and digital versatility in one super-creative, no-compromise instrument.

With its distinctive crossover design, the JD-XA is truly two synths in one, providing keyboardists and sound designers an incredibly flexible platform for creating any sound they can imagine. The analog and digital engines can be used side by side, or layered together for monstrous hybrid sounds. Additionally, the two engines are able to interact in many creative ways, such as routing digital sounds through the analog filters or using them as modulation sources for the Cross Mod and Ring Mod functions in the analog section.

The JD-XA's analog side features a discrete, four-part engine with true analog filters and a direct dry output. Each part has two oscillators, along with filter and amp sections and four envelopes with incredibly fast attack and response times. There are also two LFOs with super-smooth coverage from ultra-slow to ultra-fast. After building an analog sound, users can route it directly to the dry output, or send it to the onboard digital effects to shape the sound further.

On the digital side, the JD-XA is equipped with a four-part, 64-voice sound engine powered by Roland's acclaimed SuperNATURAL synthesizer technology, providing some of the most expressive and natural sounds available anywhere. The engine is compatible with the synth engine from the INTEGRA-7 sound module, a favorite of top producers, composers, and sound designers. This allows users to take advantage of the large library of custom INTEGRA-7 sounds available for free at Roland's Axial website.

The JD-XA offers an enormous amount of effects horsepower for shaping sounds. Each analog and digital part is equipped with an MFX processor that offers 67 different effect types, including high-impact processing options like Bit Crusher. The essentials are also covered via the five system effects processors, which provide reverb, delay, and master EQ plus two TFX processors with 29 effect types each.

With its comprehensive 16-track pattern sequencer, users can build songs and beats directly inside the JD-XA. There are 8 tracks for internal parts and 8 tracks for external sources, plus real-time and step recording modes for capturing parts in the method that best suits the user's style and music.

Friendly and intuitive, the JD-XA's interface is built around harnessing the potential of its remarkable sound engines. The velocity-sensitive keyboard supports aftertouch, and there are plenty of backlit sliders, knobs, and wheel controllers for direct hands-on control while creating and performing.

JD-XA owners can add an extra dimension to their sound via the synth's built-in mic input. A voice can be used as an additional modulation source, controlling filter cutoff, Cross Mod, or other parameters for unique effects. With the Vocoder, users are able to sing into the mic and control the tone and pitch via sounds played on the keyboard. The mic input can be used for normal singing as well, with a high-quality reverb available as a dedicated vocal effect.

Along with standard MIDI I/O, the JD-XA features a USB audio/MIDI interface for working seamlessly with computer music software. It's also equipped with two CV/GATE outputs, making it easy to interface with popular CV/GATE instruments.
The JD-XA will be available in Summer 2015, with an expected price of 2,099 EUR.
The Roland System 500, created in conjunction with Portland-based Malekko Heavy Industries, is a new line of Eurorack analog synthesizer modules, based on two of the most revered electronic instruments of all time—the SYSTEM-700 and SYSTEM-100m.
Now introducing the new Roland AIRA Digital Eurorack Modules!
Ein Messe-Highlight sind die neuen Module im Euro-Rack-Format.
Besonders geil sind die neuen alten Roland 100 Module und das System 1 Rack.
MESSE 2015: Roland System 100M Analog Modules Made in conjunction with Malekko
Rolands new Eurorack modules – System1M and four new digital programmable effects modules too
Today at the Musikmesse in Frankfurt I played around with the Roland System 1M – Plug out synthesizer. You can see it offers a lot of options and direct controls. I will update you with more detail information asap.
Roland is pleased to announce the development of the SYSTEM-500, an all-new, fully analog modular synthesizer based on two of the most revered electronic instruments of all time—the SYSTEM-700 and SYSTEM-100m. Designed exclusively for Eurorack, the SYSTEM-500 delivers classic Roland sound with all the advantages and reliability of a modern instrument.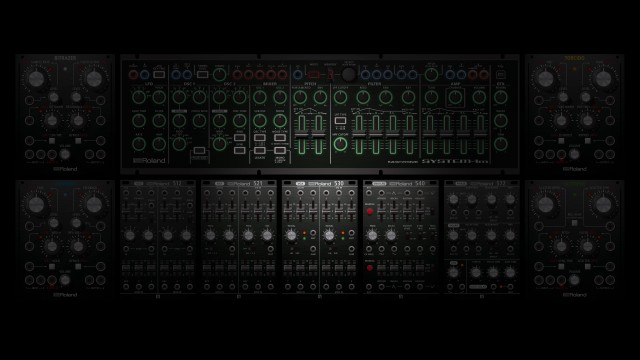 BITRAZER is a "bit and sample rate destruction" – a decimator effect.
http://www.roland.com/products/bitrazer/
DEMORA is a high-resolution delay, boasting a time range of 20 microseconds to 10 seconds, with delay time, feedback and width.
http://www.roland.com/products/demora/
SCOOPER is a "scatter" effect in a modular.
http://www.roland.com/products/scooper/
TORCIDO is a distortion.
http://www.roland.com/products/torcido/
Following last year's AIRA debut, Roland is launching a whole new range of Eurorack compatible modular gear.
The SYSTEM-1m is a semi-modular version of the SYSTEM-1 synth with extra features like CV/Gate connections, external input, and more comprehensive signal routing options.
Next there's a range of standalone, table-top and Eurorack compatible effects for next-level sound mangling and experimentation, with distortion, crusher, delay and scatter coming soon. Patch cables at the ready!
This demo shows the possibilities of the JD-Xi's digital oscillator section. A slap-bass sound is used as an example of the synth's sound design capabilities.
Roland AIRA TR-8 + TB-3 + FA-06
Impro with the AIRA and Roland FA