More cool stuff from Roland – A-01 Controller + Generator
Take control of your musical setup with the A-01 Controller and Generator. Connect your gear using standard MIDI, hook up to your computer-based DAW with USB MIDI or play music apps on tablets and smartphones via Bluetooth. You can also drive vintage synthesizers and modular synths via the CV/Gate outputs and step-sequencer. Along with the knob and ribbon controllers, the A-01 also includes an 8-bit monophonic synth engine for creating distinctive synth tones.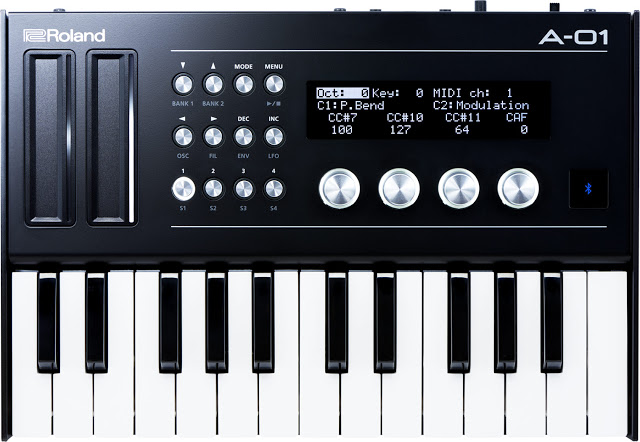 A controller is a vital part of any music production setup, but choosing the right one can be a dilemma. You want a unit with the flexibility to drive all your MIDI and CV/GATE-equipped analog gear. You need to connect to the huge range of music-making apps for tablets and smartphones. And as a modern musician moving from gig to gig, you need to be able to work on projects whenever inspiration strikes. The Roland A-01 ticks all of your boxes—whether you want to warm up backstage, control every element of an elaborate home studio setup, or create original music from scratch, this flexible controller and sound generator is your one-stop solution.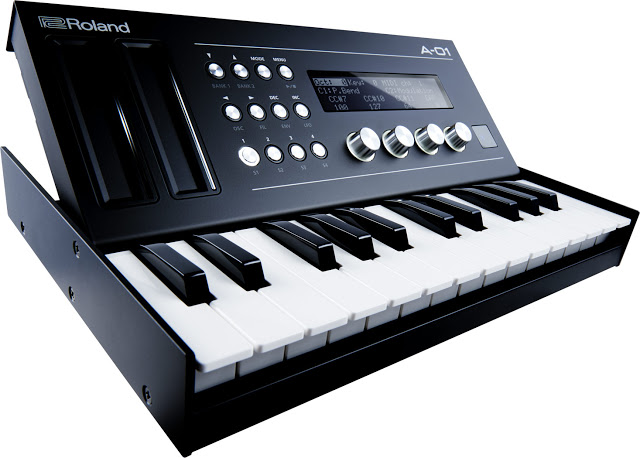 SPECIFICATIONS
Memory
Controller Mode: 16 patches (4 patches x 4 banks)
Synth Mode: 16 tones (8 tones x 2 banks)
Seq Mode: 16 patterns (8 patterns x 2banks)
Connectors
PHONES jack: Stereo miniature phone type
CV OUT jack: Stereo miniature phone type
GATE OUT jack: Stereo miniature phone type
MIDI (IN, OUT) connectors
USB port: MicroB type (MIDI)
Bluetooth
Bluetooth LE
Power Supply
Rechargeable Ni-MH battery (AA, HR6) x 4
Alkaline battery (AA, LR6) x 4
USB bus power
Current Draw
500 mA (USB bus power)
Expected battery life under continuous use:Rechargeable Ni-MH battery: Approx. 12 hours
* This can vary depending on the specifications of the batteries, capacity of the batteries, and the conditions of use.
Accessories
Owner's Manual
Leaflet "USING THE UNIT SAFELY"
Alkaline battery (AA, LR6) x 4
Options (sold separately)
Keyboard unit: K-25m
SIZE AND WEIGHT
Width300 mm
11-13/16 inchesDepth128 mm
5-1/16 inchesHeight46 mm
1-13/16 inchesWeight950 g
2 lbs 2 oz"
Comments