The 56 classic factory patches of the Roland Juno-60 (1982)
Vintage synthesizer demo featuring two Roland JUNOs
supported by UVI: http://bit.ly/retrosound-uvi
Roland Juno-60 (1982) vs. Roland Juno-106 (1984) Analog Synthesizer with identical sound programs.
This video shows the different sound character. The Juno-60 sounds more raw like the JP-8 and the chorus is deeper.
The Juno-106 sounds more like the JX-8P but with more bass fundament and the chorus is not so deep.
both are great synths and I love both a lot.
Analog Monsters: Roland Juno-106 does
ARP SOLINA or ARP OMNI String Synthesizer!
Analog Monsters Roland Juno-106 Jupiter-8 style
Blue LEDs, Bender & Polymeter!
100% No Talking! Just pure Analog Bliss!
The Polymeter is synced to the voice board, just like a DSI synthesizer,
when a key is struck each voice lights up on the Polymeter panel!
VERY Trippy in a dark studio!!
Perfect for collectors and acid trippers!! LOL!
The Roland JUNO-106 does (In my opinion)
a GREAT STRING SYNTHESIZER emulation!
I tried to do my best making a ARP SOLINA,
ARP OMNI or ARP QUADRA string patch.
The chorus is no phaser , but I like it better on the
Roland Juno-106 dry with no chorus.
The video starts off dry with no chorus then I add chorus I & then II.
After that I show off some drone atmospheres & space EFX.
With & without the internal chorus.
This synthesizer has been modified by Allen at The Synth Spa
Full restoration, Voice Chips, Blue LED's, Bender & Polymeter!
Custom Roland Jupiter-8 Color Style Buttons! Wood Sides!
100% Bad Ass!!!! Just priceless. No offers excepted.
This one stays in the studio forever!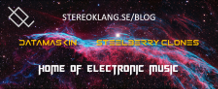 This video demonstrates the sound of the Roland Alpha-Juno 2 polyphonic analog synthesizer.
This is an upgraded version of the Alpha Juno 1. It adds an extended 61 note keyboard with velocity and aftertouch and an external memory cartridge slot. Other than that it has the same great sound and features as the Juno 1. Sliders and buttons were replaced by membrane buttons and the Alpha Dial which is used to edit and browse through the extensive selection of parameters: DCO digitally controlled oscillators, LFO, bend, ENV, pulse, waveforms, noise, PW/PWM, high pass filter, VCF (filter) with freq/env/res/lfo/kybd, VCA envelope, chorus, and more.
Adequate in the studio or on the stage, the Juno 2 has 64 presets and 64 user memory patches, a nice LCD display, an LFO capable of a very slow rate for some cool sweeping effects, and a great bass sound (especially nice for acid basslines) and noise effects! It also has chord memory which is perfect for rave & techno, portamento and keyboard transposing. The PG-300 Synthesizer Programmer gives you traditional slider control of each parameter for much easier and faster editing.
Synthesizer demo of the analog synthesizer Roland Alpha Juno(1) from 1985.
The Alpha Juno has a similar voice architecture to the earlier Junos – but on the Alpha some things were enhanced: backlit display, variable chorus speed, a more complex envelope, the envelope can be routed to the pitch, additional waveforms for DCO and sub oscillator, the PWM has its own dedicated LFO, key velocity and aftertouch (can be routed to filter or/and volume).
Vintage synthesizer demo track featuring the Juno-60
supported by UVI: http://bit.ly/retrosound-uvi
all synthesizer sounds: Roland Juno-60 Analog Synthesizer (1982)
drums: LinnDrum (1982)
strings: Logan String Melody II
recording: multi-tracking without midi
fx: reverb and delay
Demo of the classic Juno 60. No other instruments used. External delay and reverb added.
Vintage synthesizer demo track featuring the Juno 60
supported by UVI: http://www.uvi.net
synthesizer sounds: Roland Juno-60 Analog Synthesizer (1982)
drums: LinnDrum (1982)
bass: SCI Pro-One (1981)
recording: multi-tracking without midi
fx: a bit reverb and delay
Trying to emulate a Roland TB 303 with a Juno 106. It sounds pretty convincing (except the absence of slide and accent feature). The first part is clean and the second part is with overdrive (Danelectro Daddy-O).
Off course this is an emulation and with the absence of a decent sequencer, slide and accent feature it won't sound exactly like the real deal. Anyways it was fun trying.
Vintage synthesizer demo track featuring the Juno-106
all synthesizer sounds: Roland Juno-106 analog synthesizer (1984)
drums: Roland TR-707 (1985)
recording: multi-track
fx: a bit reverb and delay