Background video description:
I originally bought a Sony HR-MP5 multi-effect processor when it came out in the '90s. It broke irreparably in the early 2000s, and I've missed it since. Recently I had the opportunity to buy an HR-MP5 and HR-GP5 (the version for guitar) together as a combo deal, and was taken back in time by listening to the mesmerizing sound of the HR-MP5. Here are a few examples of the great FX of this small but cool machine.
Unlike its more costly cousins, the forgettably named (excuse me while I turn to the front page of the manual to remind me what it's called) HR-MP5 isn't a dedicated single-effect unit, but neither does it offer the degree of simultaneous effects processing we've come to expect from contemporary multi-effects processors. I like to think of it as the equivalent of two dedicated effects units in one box. The two units, or blocks, can be patched in any order, either in series or parallel, and the routing allows for the processing of two mono signals rather than one stereo or one mono signal, should this be deemed useful. The two individual effects blocks can be set to generate one effect at a time, and both offer a slightly different choice of effects, though 2-band EQ is always available in addition to whatever else the block has to offer. Some of the listed effects are actually combination effects, so the limitation of only two simultaneous effects blocks isn't as restricting as it might at first appear. For example, Reverse Shift combines something that sounds like reverse reverb with pitch shifting, yet counts as a single effects block.
The beauty of analog synthesizers.
"Messing about with a Roland Juno 6 and a Moog Clusterflux.
Juno 6 outputs in mono into the MF-Clusterflux – multitracked 4 times.
The Clusterflux lends a nice evolving texture to the Juno 6, but I think I got carried away and overdid it."
The Cluster Flux is an ultra-powerful and flexible, sound-sculpting tool for use live or in the studio. Expansive functionality combined with warm, analog sound come from the state-of-the-art all-analog audio signal path. Musical, flexible, playable, and durable, the Cluster Flux is capable of providing classic flanging, chorusing, and vibrato effects, but is also capable of a much wider range of modulated delay line effects than traditional stomp boxes in this class due to the wide range of the front panel controls, the multi-waveform LFO, as well as CV and MIDI Control.
The MF-108M Cluster Flux is more powerful than traditional chorus/flange effects offering musicians the  added modulation of multiple LFO waveforms: Sine, Triangle, Square, Saw, Ramp and Random, to create many kinds of new modulated BBD Delay effects. MIDI IN allows control of Delay Time, Range, Feedback, Output Level, LFO Waveform, LFO Rate, LFO Amount and Mix.
ChipBeat // Junomurder // (Trier, August 2013)
A slow piece with Sequential Circuits Drumtraks & Six-Trak, and Roland Juno-60.
Vintage synthesizer demo track by RetroSound
"Analog Days"
all synthesizer sounds: Roland Juno-106 Analog Synthesizer (1984)
drums: Roland TR-707
recording: multi-tracking without midi
fx: a bit reverb
more info: http://www.retrosound.de
Info about the synth:
The Juno-106 is a very common and widely used analog polysynth. It continues to be one of the most popular analog synths due to its great sound and easy programmability. It was the next major incarnation of the Juno-series, following the Juno-60. While it has virtually the same synth engine as the Juno-60, the 106 added extensive MIDI control making it one of Roland's first MIDI-equipped synthesizers. There was also increased patch memory storage, up to 128 patches instead of the 56 patches available in the Juno-60. However, the Juno-60 is often said to have a slight sonic edge over the more advanced 106. The 60 had the ability to modulate oscillator pulse from its envelope and has a "punchier" sound quality.
The Juno-106 is a six-voice polyphonic and programable analog synth with one digitally controlled oscillator (DCO) per voice. While classic monophonic synths used two or three oscillators to create a fatter sound, the Juno-106 uses built-in Chorus to fatten up its sound to dramatic effect. The nature of its DCO meant it was stable and always in perfect tune but still warm and analog. There is an excellent 24dB/oct analog lowpass filter with plenty of resonance and self-oscillating possibilities and a non-resonant highpass filter. The programable pitch/mod bender can be assigned to control the DCO pitch, VCF cutoff, and LFO amount all at once or individually.
The Juno-106 was the first MIDI equipped Juno and its implementation is quite good. There are 16 MIDI channels available and MIDI SysEx data can be transmitted/received from all the sliders and buttons for total remote control and sequencing capability. A switch on the back of the keyboard, next to the MIDI ports allows the user to switch between three types of MIDI modes: Keyboard and Hold data only; Keyboard, Hold, Bender, Patch selection data; or All data (including SysEx). Most users simply set it to MIDI Function mode 3 and forget it.
This synth is incredibly straightforward and very powerful. It's SH-series derived panel layout is easy to understand and very hands-on. Use it to generate lush pads, filter sweeps, and funky bass lines and leads. The Juno-106 is an awesome learning tool for anyone new to analog synthesis, as well as an electronic musician's dream for its warm analog sounds coupled with modern features like MIDI and memory – all at a very reasonable price. And still the Juno-106 has an even cheaper alter-ego in the form of the HS-60 – a hobbyist version with built-in speakers.
A quick live jam in the early '90s Tribal House style.
Background video description:
This is a two step sequence using the ef303.
I am using the doepfer quantizer, the clock sequencer and two envelopes on the filter (adsr and ar) to make it come allive.The ar generator is triggerd by the clocksequencer and the adsr is triggerd by the ef303.
And i also use some delay .
And i jam along on the rouge and juno.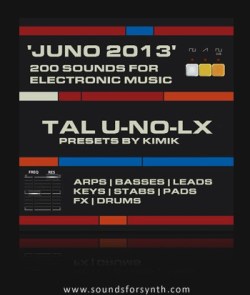 Sounds for Synth has release a new soundbank, Juno 2013, for TAL-U-NO-LX containing 200 presets.
The soundbank is made with all electronic music genres in mind, drawing its main inspiration from Boards of Canada and Ulrich Schnauss. It features drifting keys and arpeggios, hypnotic techno lines together with lush, atmospheric pads and big basses, plus retro sounding 16th and 8th note basslines.
Here are some audio demos from the patch library:
Download WAV : https://www.box.com/s/r7s4w491slkg81g…
Roland Juno 106 played through a Behringer Echo Machine EM 600 Delay Pedal.
"Just some Juno noodling, and rather extreme settings on the EM 600, but that's the way I like my delays

"