Background video description:
This is a two step sequence using the ef303.
I am using the doepfer quantizer, the clock sequencer and two envelopes on the filter (adsr and ar) to make it come allive.The ar generator is triggerd by the clocksequencer and the adsr is triggerd by the ef303.
And i also use some delay .
And i jam along on the rouge and juno.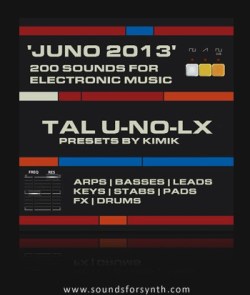 Sounds for Synth has release a new soundbank, Juno 2013, for TAL-U-NO-LX containing 200 presets.
The soundbank is made with all electronic music genres in mind, drawing its main inspiration from Boards of Canada and Ulrich Schnauss. It features drifting keys and arpeggios, hypnotic techno lines together with lush, atmospheric pads and big basses, plus retro sounding 16th and 8th note basslines.
Here are some audio demos from the patch library:
Download WAV : https://www.box.com/s/r7s4w491slkg81g…
Roland Juno 106 played through a Behringer Echo Machine EM 600 Delay Pedal.
"Just some Juno noodling, and rather extreme settings on the EM 600, but that's the way I like my delays

"
Synthesizer demo of the analog synthesizer Roland Juno-106 from 1984.
The Juno-106 is a very common and widely used analog polysynth. It continues to be one of the most popular analog synths due to its great sound and easy programmability. It was the next major incarnation of the Juno-series, following the Juno-60. While it has virtually the same synth engine as the Juno-60, the 106 added extensive MIDI control making it one of Roland's first MIDI-equipped synthesizers. There was also increased patch memory storage, up to 128 patches instead of the 56 patches available in the Juno-60. However, the Juno-60 is often said to have a slight sonic edge over the more advanced 106. The 60 had the ability to modulate oscillator pulse from its envelope and has a "punchier" sound quality.
The Juno-106 is a six-voice polyphonic and programable analog synth with one digitally controlled oscillator (DCO) per voice. While classic monophonic synths used two or three oscillators to create a fatter sound, the Juno-106 uses built-in Chorus to fatten up its sound to dramatic effect. The nature of its DCO meant it was stable and always in perfect tune but still warm and analog. There is an excellent 24dB/oct analog lowpass filter with plenty of resonance and self-oscillating possibilities and a non-resonant highpass filter. The programable pitch/mod bender can be assigned to control the DCO pitch, VCF cutoff, and LFO amount all at once or individually.
The Juno-106 was the first MIDI equipped Juno and its implementation is quite good. There are 16 MIDI channels available and MIDI SysEx data can be transmitted/received from all the sliders and buttons for total remote control and sequencing capability. A switch on the back of the keyboard, next to the MIDI ports allows the user to switch between three types of MIDI modes: Keyboard and Hold data only; Keyboard, Hold, Bender, Patch selection data; or All data (including SysEx). Most users simply set it to MIDI Function mode 3 and forget it.
This synth is incredibly straightforward and very powerful. It's SH-series derived panel layout is easy to understand and very hands-on. Use it to generate lush pads, filter sweeps, and funky bass lines and leads. The Juno-106 is an awesome learning tool for anyone new to analog synthesis, as well as an electronic musician's dream for its warm analog sounds coupled with modern features like MIDI and memory – all at a very reasonable price. And still the Juno-106 has an even cheaper alter-ego in the form of the HS-60 – a hobbyist version with built-in speakers.
Background video description:
In this movie I play some of my own sounds – on some sounds I used a small amount of digital delay from a Roland DEP-5 (my favourite unit for delays).
The Juno-106 is one of the most loved and used synthesizers by professionals and hobbyists alike! William Ørbit, Überzone, Norman Cook (Fatboy Slim), Autechre, BT, Vince Clarke, Moby, 808 State, Underworld, Leftfield, Fluke, Josh Wink, Todd Terry, Depeche Mode, Eat Static, Biosphere, The Prodigy, The Shamen, Bushflange, Cirrus, Astral Projection, Apollo 440, Faithless, Union Jack, Computer Controlled, Pet Shop Boys, Sneaker Pimps, Erasure, Freddy Fresh, Rabbit in the Moon, Kevin Saunderson, Jimmy Edgar, Laurent Garnier, Vangelis, Sigur Ros, and the Chemical Brothers have used this synth.
________________________________________
­_______
THE SOUND PROGRAMS IN THIS MOVIE:
Do you own a Roland Juno-106 and want to get those fantastic sounds for your synth?
The "ANALOGAUDIO1 JUNO-106 PATCH BANK" costs 12,99 Euros and includes 64 great patches – lush analog pads, great retro sounds, fat basses, sequencer sounds and funky leads (in one word: all you hear in the video and some more).
As an experienced synth player, programmer and composer I programmed these patches at a professional level for studio use. This patchbank gets the most out of your Roland Juno-106. Also included is a patch list (PDF), to find the right sounds quickly. The sounds are not available anywhere else.
The patchbank will only work with a Juno-106, but NOT with the Juno-60 or other synths.
After payment through PayPal you will get a sound file (wav) for the tape interface of your Juno-106 and a patchlist via email.
If you want to buy the "ANALOGAUDIO1 Juno-106 PATCHBANK", send me a message through YouTube (and check your spam folder, I answer quickly).
Here is a demonstration of the sound and functionality of the Roland Juno-6 voltage-controlled filter.
Here is the introduction to a series which depicts the sound and functionality of the Roland Juno-6.
Information about the synth:
The first in a series of amazingly affordable quality synthesizers from Roland's amazing Juno family! The Juno-6 is a six voice polyphonic analog synthesizer! It's a very stable synth thanks to its digitally controlled analog oscillators. The Juno-6 sounds great, however it lacks basic necessities like MIDI control and patch memory storage.
The next generation Juno-60 version added 56 patches of memory storage. Both of these synths sound virtually the same and are considered by many to sound better (punchier) than the popular follow up, the Juno-106. The Juno-6 and 60 are very rich sounding synthesizers and are great analog machines as long as you can overlook the absence of MIDI control. Of course nobody can deny that the wooden side panel look is a true sign of Vintage status!
Vintage synthesizer single sound demo by RetroSound
The Roland Juno-60 is a popular analogue 61-key polyphonic synthesizer introduced by Roland Corporation in 1982 and a successor to the slightly earlier Juno-6. Like its predecessor, the Juno-60 has some digital enhancements, used only for clocking the oscillators and for saving and loading patches. This instrument was succeeded by the Roland Juno-106 in 1984.
Roland was losing market share with the Juno-6 in competition against the Korg Polysix. Related in features and price-class, the Polysix featured external control and patch memory, which the Juno-6 lacked. These features were quickly added to the Juno-6's design, which sonically and architecturally did not change notably between the two versions, and then released as the Juno-60.
all sounds programmed by RetroSound
For me is the Juno-60 one of the best analog synthesizers ever. The bass and pad sounds are much better as from the big brother Jupiter-8. One of my Top 5 synths.
more info: http://www.retrosound.de and
http://www.facebook.com/pages/RetroSo…
Background video description:
Just picked up a pre-midi Juno 6 and wanted to clock the Arpeggiator. Had a thought about trying the Korg iElectribe on my iPad…didn't think it would work, but does. Audio from Juno 6 is direct in to Logic, but my Mic was from the crappy Camera.
Vintage synthesizer track by RetroSound
"Apperception"
lead and fx sounds: Oberheim OB-X Analog Synthesizer
bass sounds: Moog Taurus 1 bass pedal
pad sounds: Roland Juno-60 Analog Synthesizer
arp and sample sounds: Korg MicroX
recording: multi-tracking without midi
fx: reverb and delay
more info: http://www.retrosound.de and
http://www.facebook.com/pages/RetroSo…
And speaking of Roland, as in the previous post, here's a vintage version:
Vintage synthesizer demo track by RetroSound
"Monoton"
synthesizer sounds: Roland Juno-60 Analog Synthesizer from the year 1982
drums: Roland TR-707
recording: multi-track without midi
fx: a little bit delay and reverb
this track is including in the new vintage synth album:
http://www.youtube.com/watch?v=huM0t1…
The Juno-60 synthesizer is a six-voice polyphonic synthesizer. The single digitally controlled oscillator (or DCO for short) per voice gave the Juno-60 a high degree of stability in maintaining tune; most analogue voltage-controlled oscillators (VCOs) of the time would tend to drift in pitch and require re-tuning of the oscillator. The DCO provides sawtooth and square/pulse waveforms as a sound source, in addition to white noise and a square-wave suboscillator pitched one octave beneath the key played. Both of these additional sources can be mixed in with dedicated sliders.
The filters and envelope on the Juno-60 rely on control voltages sent by depressing the keys on the keyboard and were thus analogue. The Juno-60 features a rather distinctive-sounding 24 dB/octave lowpass filter with resonance. Unlike other VCF's of the day, the Juno-60's is capable of self-oscillation and thus could be used to some degree as a tone generator in and of itself. The filter section also features controls for envelope amount and polarity, LFO modulation, and keyboard tracking. In addition, a three-position non-resonant highpass filter is provided to thin out lower frequencies.
The signal is then sent through a voltage-controlled amplifier (or VCA) and a simple four-stage ADSR filter envelope.
The Juno-60 provides limited options for modulating the audio signal. A single triangle-wave variable-rate LFO is provided as a modulation source; this can be mixed into the DCO to create vibrato or into the lowpass filter to generate a tremolo effect. The LFO can either be triggered manually by the left hand using a large button above the pitch bend lever or set to engage automatically whenever a key was pressed.