New video from Jordan featuring the TR808 and a JUNO 60, description below:
Here is a quick demo of my Roland TR-808 and Roland Juno-60. No effects were used. They were both mixed on my mixing board and sent straight to my soundcard (Native Instruments Kore). The 808 is doing it's thing and sending a pulse to the Juno's Arp In jack. This video was done mostly to demo the Juno-60′s sound while in this mode (Youtube has a suspicious lack of videos demonstrating this). I consider this to be one of the best features of the Juno. It's incredibly fast to build basslines and song structures this way. From start to about 3:40 I am kind of tweaking the 808 to get a drum pattern that feels right. From 3:40 on it is mostly improv lines on the Juno while the 808 rolls along.
Gear used is jupiter-8, juno-106, juno-60, Poly 6, td-30 V-drums. Recorded and mixed in Sonar X1. EFX from Sonar.
The Roland Alpha Juno 2 is a classic analog synth that has been sampled inside and out for Ableton Live. This Ableton Pack features 64 instruments, 72 Ableton Instrument Racks, 9 Ableton Live Sets, and 1.5 GB of samples. Truly massive!
Get it here: http://afrodjmac.spinshop.com/details/157931
About the synth:
This is an upgraded version of the Alpha Juno 1. It adds an extended 61 note keyboard with velocity and aftertouch and an external memory cartridge slot. Other than that it has the same great sound and features as the Juno 1. Sliders and buttons were replaced by membrane buttons and the Alpha Dial which is used to edit and browse through the extensive selection of parameters: DCO digitally controlled oscillators, LFO, bend, ENV, pulse, waveforms, noise, PW/PWM, high pass filter, VCF (filter) with freq/env/res/lfo/kybd, VCA envelope, chorus, and more.
Adequate in the studio or on the stage, the Juno 2 has 64 presets and 64 user memory patches, a nice LCD display, an LFO capable of a very slow rate for some cool sweeping effects, and a great bass sound (especially nice for acid basslines) and noise effects! It also has chord memory which is perfect for rave & techno, portamento and keyboard transposing. The PG-300 Synthesizer Programmer gives you traditional slider control of each parameter for much easier and faster editing.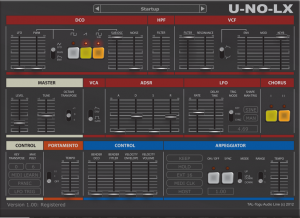 TAL-U-NO-LX is a fully rewritten emulation of the popular hardware with a new engine and GUI. Up to date zero feedback delay filters and carefully calibrated controls make this synth a good replacement for the analog device with all the advantages software plugins have. As an addition, the TAL_U-NO-LX also supports portamento and different filter LFO waveforms and some more useful features. An arpeggiator with different sync modes and hold function is also included. A very fast envelope with a smooth roll-off and emulated inaccuracy gives this synth the typical sound. The synth was calibrated after a hardware device that's property of TAL.
Special Features:
Self resonating zero feedback delay filter (24dB LP).
Filter range up to ~40kHz (depends on the sample rate).
Calibrated and tuned after TAL's hardware device.
Midi learn / automation for all controlls.
Improved alias free oscillators for an authentic sound also @ 44'100Hz sampling rate.
Arpeggiator with different sync modes (host, midi clock, not on).
Portamento and mono mode.
LFO manual trigger button.
Sustain pedal support.
Up to 12 voices.
New file based preset system for transparent preset management.
More than 300 factory presets by different sound designers (FMR, Particular – Sound, TAL).
Original hardware "Factory Bank A" included.
Demo / Full Version:
It's not possible to save presets in demo mode.
Price USD 35.00 70.00 – 50% introductory price for a limited time!
BRUNO ENDER LEE – "Roland Juno-60″ – recorded February 2007, every sound is made with Roland Juno-60, on three stereo-tracks, just added some delay & chorus, taken from the CD "Analogue_Syn"
Among the first in Roland's amazing Juno family! Six analog voices of polyphony and patch memory storage!! The Juno-60 sounds great, however, like the Juno-6 it lacks MIDI control. The Juno-60 includes 56 patches of memory storage. The Juno-60 is still popular due in part to opinions that it sounds better (punchier) than the Juno-106. The Juno-6 and 60 are very rich sounding synthesizers and are great analog machines as long as you can withstand the absence of MIDI control. The JSQ-60 sequencer is an external sequencer controller for the Juno-60 and is usually worth acquiring. Of course nobody can deny that the wooden side panel look is a true sign of Vintage status!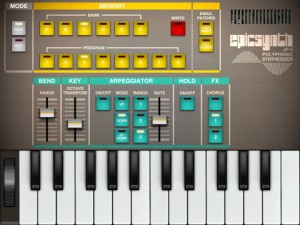 Epic Synth is a polyphonic synthesizer inspired by classic synths of the 1980s. Its beautiful and straightforward interface lets you focus on the essential: the pleasure of creating new sounds! The goal is to explore sound, not interface pages.
Epic Synth's simple and effective sound architecture stood the test of time. It's simple enough for beginners to learn about synthesis yet powerful enough to satisfy experienced sound modellers. Epic Synth's sound engine provides tons of room to create great sounds, from classic leads to juicy acid basses, from 8-bit-like effects to complex evolving sonic textures.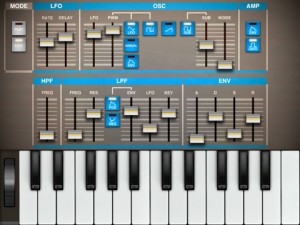 FEATURES INCLUDE
Universal all: works on iPhone, iPod and iPad
Takes advantage of the gorgeous Retina display on iPad and iPhone/iPod
Classic time-tested sound architecture
Five voices of polyphony (Six on the iPad)
Arpeggiator with key hold
Patch memory stores 6 banks of 8 programs
Single patch sharing via email
Full memory backup via email
Pitch bend on iPad and via MIDI
Time for a new trip with the time machine. A voyage into the heart of the Roland Juno-106 from the year 1984.
Exploration by Marko Ettlich
1 Osc per Voice + Sub osc
6 Voice Polyphonic
LFO – 1 LFO
Filter – analog lowpass with ADSR envelope
Chorus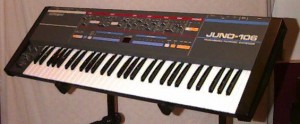 The Juno-106 is a very common and widely used analog polysynth. It continues to be one of the most popular analog synths due to its great sound and easy programmability. It was the next major incarnation of the Juno-series, following the Juno-60. While it has virtually the same synth engine as the Juno-60, the 106 added extensive MIDI control making it one of Roland's first MIDI-equipped synthesizers. There was also increased patch memory storage, up to 128 patches instead of the 56 patches available in the Juno-60. However, the Juno-60 is often said to have a slight sonic edge over the more advanced 106. The 60 had the ability to modulate oscillator pulse from its envelope and has a "punchier" sound quality.
The Juno-106 is a six-voice polyphonic and programable analog synth with one digitally controlled oscillator (DCO) per voice. While classic monophonic synths used two or three oscillators to create a fatter sound, the Juno-106 uses built-in Chorus to fatten up its sound to dramatic effect. The nature of its DCO meant it was stable and always in perfect tune but still warm and analog. There is an excellent 24dB/oct analog lowpass filter with plenty of resonance and self-oscillating possibilities and a non-resonant highpass filter. The programable pitch/mod bender can be assigned to control the DCO pitch, VCF cutoff, and LFO amount all at once or individually.
The Juno-106 was the first MIDI equipped Juno and its implementation is quite good. There are 16 MIDI channels available and MIDI SysEx data can be transmitted/received from all the sliders and buttons for total remote control and sequencing capability. A switch on the back of the keyboard, next to the MIDI ports allows the user to switch between three types of MIDI modes: Keyboard and Hold data only; Keyboard, Hold, Bender, Patch selection data; or All data (including SysEx). Most users simply set it to MIDI Function mode 3 and forget it.
This synth is incredibly straightforward and very powerful. It's SH-series derived panel layout is easy to understand and very hands-on. Use it to generate lush pads, filter sweeps, and funky bass lines and leads. The Juno-106 is an awesome learning tool for anyone new to analog synthesis, as well as an electronic musician's dream for its warm analog sounds coupled with modern features like MIDI and memory – all at a very reasonable price. And still the Juno-106 has an even cheaper alter-ego in the form of the HS-60 – a hobbyist version with built-in speakers.
Demo of a custom device build around Arduino in order to control the Roland Alpha Juno 2 via Wifi.
The Arduino connects the Juno2 to the Wifi network of the iPad via an Airport router, an Arduino Ethernet shield and a midi shield.
I used Touch OSC to design the controller.
Touch OSC sends OSC messages (e.g /jun/DCO_Range 2.000) which are translated by the Arduino into Midi SysEx messages.
But the Arduino also translates Midi sysex messages from the Juno 2 into OSC messages (sort of loopback) so that when you change the patch on the Juno2, faders automatically move to the right position !
The code and detailled instructions will soon be published on http://4colors.free.fr
The control design mimics Roland PG300, but better !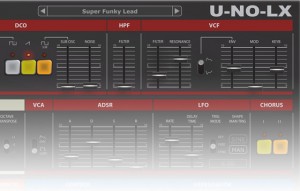 Togu Audio Line has announced the TAL-U-NO-LX, a new Juno-60 emulation with a fully rewritten new engine and GUI.
Up to date zero feedback delay filters and carefully calibrated controls make this synth a good replacement for the analog device with all the advantages software plugins have. It's even possible to recreate old Juno patches from an existing patch sheet. As an addition, the TAL_U-NO-LX also supports portamento and different LFO waveforms and some more useful features. An arpeggiator with different sync modes and hold function is also included.

This new version will also be available as 64bit OSX AU and VST plugin. It was hard to calibrate a synth that has different envelope times on every voice, but we even copied this to some degree
TAL-U-NO-LX will be available to purchase within a few weeks. People who donated $17 USD or more (up to June 11th, 2012) will get a free license.