Synth veteran Richard Geere demos the Sequential Circuits "Prelude" 4-in-1 keyboard. Note: the on-board flanger and filter rez are pretty powerful! Apologies for some audio clipping here and there.
Vintage synthesizer demo featuring the Pro-One
supported by UVI: http://bit.ly/retrosound-uvi
all synthesizer sounds: Sequential Circuits Pro-One Analog Synthesizer (1981)
vocoder voice: Roland VP-330 Vocoder Plus (1979)
drums: LinnDrum (1982)
recording: multi-tracking without midi
fx: reverb and delay
The weird and wonderful world of the beautiful Prophet 6. Arpeggiated patch at very slow intervals and bpm with the occasional knob-twiddle for good measure. Recorded live in 1 take and the only effects are a touch of built-in chorus and BBD. Video shot separately just after the audio had been recorded, then spliced together.
In this short video Bob Gomez shows some of the sound characteristics of Factory Preset 605 on the Prophet-6 Synthesizer. Most adjustments occur in the LFO section, with some attention to the Amp Env & Filter Env sections. Recorded direct to the Zoom Q3HD.
8-25-15.
This monster synth from 1980 , the Sequential Circuits Prophet 10 is used for all sounds in this Firechild track , This Is A Prophet. The Prophet 10 is simply two glorious Prophet 5 Rev3´s stacked together with some additional bonus features !
All synthesizer sounds: Sequential Circuits Prophet-600 Analog Synthesizer from the year 1982
The Prophet-600 was the first synthesizer with a MIDI interface.
no multitracking.
drums: Roland TR-808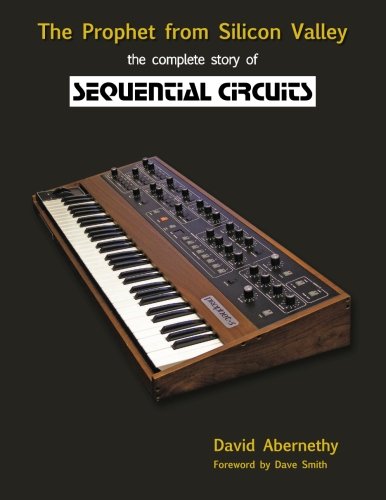 The story of Sequential Circuits, the leading synthesizer manufacturer of the 1980s. One of the great American synthesizer companies, founded and led by San Francisco electronics and computer graduate, Dave Smith, Sequential Circuits Inc. paved the way for music of the future. Smith brought easy, affordable and powerful polyphonic synthesis to all levels of music production in the form of the ground-breaking Prophet-5 synthesizer. Released in 1978, the Prophet led the new wave movement into the next decade, creating a sonically exciting soundtrack to eighties culture. It expanded the palette of all music genres and was embraced by professionals and amateurs alike. Sequential Circuits went on to create further innovative concepts and products such as programmable effects, MIDI, multitimbrality, high-quality sampling, workstation and MPC systems and many more. Today the Prophet-5 is very much sought-after as one of those truly iconic classic musical instruments. The book features many exclusive and highly entertaining and informative stories from ex-Sequential staff, music industry moguls, and famous keyboard players. Includes over 240 photos and illustrations (paperback)"
by David Abernethy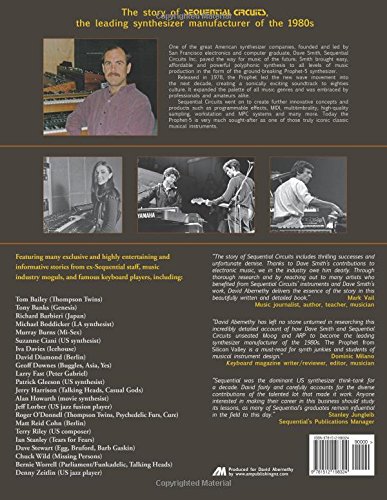 Reviews:
Mark Vail, Music journalist, author, teacher, musician: 'The story of Sequential Circuits includes thrilling successes and unfortunate demise. Thanks to Dave Smith's contributions to electronic music, we in the industry owe him dearly. Through thorough research and by reaching out to many artists who benefited from Sequential Circuits' instruments and Dave Smith's work, David Abernethy delivers the essence of the story in this beautifully written and detailed book.'
Dominic Milano, Keyboard magazine writer/reviewer, editor: 'David Abernethy has left no stone unturned in researching this incredibly detailed account of how Dave Smith and Sequential Circuits unseated Moog and ARP to become the leading synthesizer manufacturer of the 1980s. The Prophet from Silicon Valley is a must-read for synth junkies and students of musical instrument design.'
Stanley Jungleib, Sequential's Publications Manager, Seer Systems founder: 'Sequential was the dominant US synthesizer think-tank for a decade. David Abernethy fairly and carefully accounts for the diverse contributions of the talented lot that made it work. Anyone interested in making their career in this business should study its lessons, as many of Sequential's graduates remain influential in the field to this day.'
About the Author
David Abernethy is a musician, writer and electrical engineer from Auckland, New Zealand.
Product Details
Paperback: 274 pages
Publisher: CreateSpace Independent Publishing Platform; 1 edition (June 10, 2015)
Language: English
ISBN-10: 1512198323
ISBN-13: 978-1512198324
Product Dimensions: 8.5 x 0.6 x 11 inches
Shipping Weight: 1.8 pounds
This video series demonstrates the factory patches and sound of the Sequential Prophet 6 analog synthesizer. More demos coming soon, including patch creation and sequencing!
The Prophet 6 is Dave Smith's tribute to the poly synth Sequential Prophet-5. The Prophet-6 takes the best qualities of the original Prophet-5—true voltage-controlled oscillators, filters, and amplifiers—and adds enhancements such as studio-quality effects, a polyphonic step sequencer, an arpeggiator, and more. The result is 'pure, unadulterated analog tone', with the stability and reliability of a state-of-the-art modern synth.
Background video description:
Rate! Subscribe! Comment! (if you're polite and cool). Sonic tour of the not-yet-released Dave Smith Instruments Prophet 6! This was sent to me to do some factory patches and I got the official Okay to create a video. So here it is – enjoy! This is one really SWEET sounding analog synthesizer.
Background video information:
http://peterdyer.net
Thanks to the wonderful folks at DSI, I got to spend some time with the new Prophet 6, coming out June 2015. Here's some monophonic sounds I dialed in. You're hearing just the Prophet 6, recorded direct, played live or using the built-in sequencer/arpeggiator.
I wanted to share my take on what the Prophet 6 can do. This thing is a blast to play and a breeze to create on.
To hear some sounds with more vintage influence, check out pal Matia from INHALT's fantastic sound demo here:https://www.youtube.com/watch?v=9Q8Qg…
Soundcloud: https://soundcloud.com/peterkeys88
Twitter: https://twitter.com/peterkeys88
Instagram: https://instagram.com/peterkeys88/