Vintage synthesizer demo featuring the Pro-One
supported by UVI: http://bit.ly/retrosound-uvi
all synthesizer sounds: Sequential Circuits Pro-One Analog Synthesizer (1981)
vocoder voice: Roland VP-330 Vocoder Plus (1979)
drums: LinnDrum (1982)
recording: multi-tracking without midi
fx: reverb and delay
Yazoo's Only You, recreated on the Sequential Circuits Pro One synthesizer., details below:
Some friends needed the backing track of this song for their wedding, so I took the opportunity to geek out with it. The original is well-known by synth nerds as having been produced by Vince Clarke using only a Sequential Circuits Pro-One monophonic analog synthesizer. So, since I have a Pro-One, and there are scans of an old music magazine article online which show the settings for some of the sounds Vince used on this track (https://www.flickr.com/photos/8478882…), I figured I'd have a go at re-creating it.
First I transcribed the music (sequenced with Cubase), using soft-synth sounds as temporary stand-ins for the Pro-One. Then I had to dial in all the Pro-One sounds one-by-one and record each part via a Kenton MIDI-CV interface. I found that all of the patches from the article needed adjusting to get them in the ballpark, plus I had to create the other sounds from scratch (I've credited each patch accordingly). Having done so, I'm not convinced that every single sound on the original is actually a Pro-One. The "Tinkle" sound, for instance, sounds more bell-like on the original, so it could possibly have been something like a PPG. I don't think Vince had his Fairlight yet, otherwise I'd say it was that. Also, the string line toward the end of the song sounds like it might have been played on a polysynth, ie maybe the Jupiter 4 which Vince used alot at the time. Of course, there's also the snare, which was an 808.
In any event, I think I got pretty close with my rendition. Of course the effects and mix are going to be different, and some of the sounds are closer than others, but whatever.
I had a limited amount of time to work on this, and am already hearing at least one minor omission and also some slight patch refinements I'd make, so if you want to give it a shot yourself, you can download the MIDI file and the patch sheets here (be sure to let me know if you make your own version, and give me a shout out if you post it online!): https://www.dropbox.com/s/lfn3vb1pxwq…
One tip: the cutoff of the "Wobble" sound varies a bit, getting slightly brighter during the chorus, etc. The only way to do this is manually while recording. I tried to use automation for this via the Pro-One's filter CV input, but doing so cancels out the Keyboard Amount setting, which is crucial for this sound, so I simply adjusted the knob in real-time.
If you liked this re-creation, check out my other videos for four "Speak & Spell" tracks that I re-created using only a Yamaha CS01-II synth.
Thanks to FrankPerri.com for the blank patch sheets!
Here's the Medic Modules EKG 8-step sequencer paired with 3 classic synthesizers: the RSF Kobol, the SCI Pro One, and the ARP 2600.
The EKG is a very unique step sequencer with some unusual features.
Each step also has a unique Function control. Each step can be turned off, skipped, repeated or set as a reset point.
Modes; Off (rest), x1, x2, x3, x4, Skip, Reverse, Rest
http://www.medicmodules.com (the modules)
http://www.soundofscience.org (the music)
Background video description:
Why use samples or drum machines if you already have the necessary equipment to create drum sounds. Making your own drum sounds is both fun and more personal.
In this video I've used a Korg MS-20 for snare drum. The MS-20 is perfect for making snare, clap sounds thanks to the resonant hi-pass filter. The kick is programmed on a Sequential Circuits Pro~One by Jonas Sjöström. The Pro~One is great for kicks and can do Speak&Spell (Vince Clarke) kicks and all the way up to 909.
Hi-hats are made by a Yamaha CS-30, the CS synths hi-pass/band-pass filter is perfect for making hi-hats. The best CS synth for making hi-hats is the CS-10… hard to find snappier envelopes. I don't own a CS-10 anymore so I had to use a CS-30. The trigg to the CS-30 seems to be messed up, the hi-hat some times starts and stops…
Since the MS-20 was occupied making snare-sounds I had to use a Synthesizer.com to make the hand-clap. Not as easy as making a hand clap on a MS-20 but I think it sounds pretty ok. I will record another video when I create a hand clap on a .com.
Effects used in the video is a Klark Teknik DN-780 and a Sony MU-R201
Background video description:
A walk through of our store front in Austin, TX to allow you (the viewer) to quickly glance at some of our inventory.
This week your hearing an improv recording of the Korg PS-3100 and SCI Pro-One.
The Pro-One is providing the sequence and the PS-3100 is providing the pads and leads. Both are running through a Roland RE-201 Space Echo (tape delay). Enjoy!
If you see anything you would like to know more about please feel free to e-mail us at:
switchedonaustin@gmail.com
or Call us: (512) 782-8806 Noon-6pm (Central Standard Time)
Switched On buys, sells, repairs and restores all manners of musical electronics…new, used, and vintage.
Shop with us online:
http://www.switchedonaustin.com
Keep updated on events and new inventory:
@SwitchedOnTX
*and*
http://www.facebook.com/switchedonaustin
Always up for a good fight

This video features John Keston and Lucas Melchior improvising on two synched up Korg Monotribes. The Korg NanoKontrol is being used to apply swing to the sync signal as well as control delays and filters. The two electronic musicians are teaching a class, titled "Drum Machines," starting January 17, 2013 at the Ableton certified training center Slam Academy in Minneapolis. Learn how to make music by synchronizing your musical devices, old and new. Featuring Ableton Live, Dave Smith Instruments Tempest, Expert Sleepers, Korg Monotribe, Sequential Circuits Pro-One, and more!
Sign up for the class here:
http://slamacademy.com/2012/11/09/drum-machines
Slam Academy:
http://slamacademy.com
John Keston:
http://audiocookbook.org
http://soundcloud.com/ostraka
Lucas Melchior:
http://mkr.northerntelcom.com
"A fellow VSE'r was needing helping syncing his Pro One to his LinnDrum, so I thought I make a quick tutorial video. Remember to enter the LAST note of your sequence into the ProOne's sequencer FIRST (thanks Howard Jones for that tip)."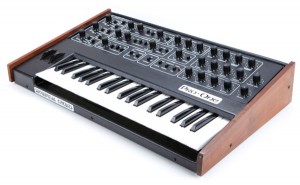 The Sequential Pro One is a wicked little monosynth! It comes from the same period and genre as the Roland SH-101 and Moog Prodigy. The Pro One was basically Sequential's attempt at taking their legendary Prophet 5 poly-synth and packing it into a compact, inexpensive, monophonic analog synth! It has two VCOs, a great 4-pole lowpass filter, two ADSR envelopes (one for filter), and a compact three-octave keyboard. With a Pro-One, you can easily create punchy analog bass-lines and leads or quirky analog synth effects.
The Pro One is an extremely flexible synth with lots of modulation possibilities (ie: the filter, VCO B and LFO can modulate VCO A or B frequencies or pulse widths, or the VCF). There's also an onboard sequencer, something common on many Sequential synths but not often found on other monosynths of the time. It is very basic, however, storing only two patterns and up to 40 notes max. Also, only pitch info is recorded (and in step time only); you can not assign a note duration to any notes. So it's basically a short melodic sketch-pad…but useful. Also onboard is an arpeggiator which has UP and UP/DOWN patterns.
"A voyage into the heart of the SCI Pro-One from the year 1981. Exploration by Marko Ettlich
monophonic analog synthesis
2 Osc I Saw, Pulse, Square, Sync, Noise
Filter – 24dB lowpass
Crossmodulation, FM
step sequencer, arpeggiator
It has been used by Prodigy, Depeche Mode, Vince Clarke, New Order, Soft Cell, Sigue Sigue Sputnik and many more."
New track by "harlemnightsmusic" in early 80s disco synth style
Synths: SCI Pro One, Sequential Prophet VS, Korg Polysix, Minikorg 700S
Drums: Korg Electribe SX (with Oberheim DMX sounds)
Original Studio 54 clips compiled by crap1453
Featured hardware:
The MiniKorg 700s is an old and simple monophonic analog keyboard from Korg. It is a dual-oscillator synth related to Korg's first monosynth, the single oscillator MiniKorg 700. Most of the controls are located in an odd place beneath the keyboard so as to make room above the keyboard for a sheet-music stand. Some controls have bizarre names like Bender, Traveler and Expand for the auto-bend, filter and envelope, respectively.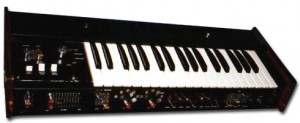 It has three ring modulators for some strange sounds and noises. Sometimes a decent bass sound for techno music can be achieved using the MiniKorg's hi-pass and low-pass filters. The two oscillators can be de-tuned and they offer triangle, sawtooth and square waveforms. There are some strange analog effects built-in as well such as portamento, a rudimentary repeat-delay, auto-bend (bender), vibrato and Chorus and Noise waveforms.
New track, this time in the style of Bobby Orlando (the producer of early 80s disco tracks from Divine, the Flirts, Bobby O)
Drums: Korg Electribe SX (TR-808), Rhythm-55
Bass: Sequential Pro One, Korg Minikorg 700S
Strings: Crumar Performer
Brass, additional strings: Sequential Prophet VS
Lead: Korg Minikorg 700S
Stabs: Korg Polysix
Timbales: Kurzweil ME1
Shared by harlemnightsmusic