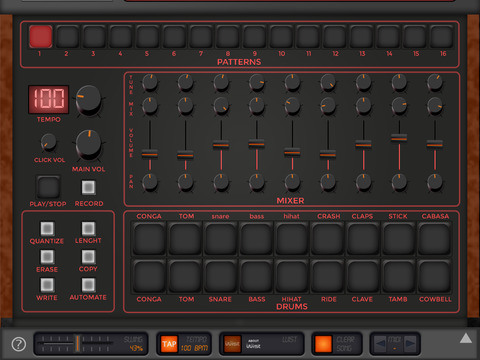 Elliott Garage has introduced EGLM1 – a software drum machine for iPad, inspired by the classic Roger Linn LinnDrum drum machine.
Features:
16 programmable rhythm patterns with variable length
Save the pattern you've created and play songs
Automation of Drumkit parameters (pan, volume and mix)
Song Mode page (swipe to left to open it) with loop option
Swing and tap tempo
Core MIDI & clock MIDI (network session, external controller, inter app midi)
Audiobus
Interapp Instrument
Record and export your performance with iTunes, eMail or Audio Copy
Korg Wist sync
Official audio/video demos are to come.
EGLM1 is available for US $2.99 in the App Store.
Roger Linn shared another sneak preview of his newLinnStrument in action – doing 'blues slide guitar'. 
The demo highlights the malleability of notes on the LinnStrument. Linn stretches and slides individual notes around the instrument, articulating the sounds expressively in ways more familiar to string musicians than keyboardists.
The LinnStrument is currently under development. Release date and pricing is still to be announced.
http://youtu.be/odk98v588rg
In this video, Beethoven's "Für Elise" is playing in Logic Pro X as a MIDI file.
The LinnStrument is connected over USB and receives the MIDI notes in real-time. MIDI channel 1 is shown in the left split and channel 2 in the right split. Each note highlights all the possible cells that can be played to perform the same piece.
The LinnStrument automatically takes the layout, octave and transposition settings into account.
This feature provides an excellent teaching aid since it works with any existing MIDI file. By varying the speed at which the MIDI notes are sent to the LinnStrument, the piece can start slow at first and be gradually sped up.
Obviously, this can also be used for cool light effects, it's not necessary to make the MIDI notes play sound. A separate method using MIDI CC messages is also available to directly control cell colors by coordinates without them being related to MIDI notes
Roger Linn hasreleased a couple of videos that demo the LinnStrument – a new multitouch musical instrument. Both demos highlight the instruments ability to let you independently articulate each individual note.
The LinnStrument is currently in development. Pricing and availability are to be announced.
Background video description:
In this video I am using the Arturia Spark Vintage drum machine along with the Sonic Projects OP-X PRO-II. This is part of one of my original compositions that is still in the making. Thanks for taking the time to check it out!
Roger dropped by the office to give us a sneak peek of his great LinnStrument prototype. The LinnStrument is triggering our Prophet 12 Module prototype as the sound source. This is not the final design or form factor of the LinnStrument, but it was fun to see it in action and play around with it. It is extremely intuitive and expressive. Can't wait for the production model!
More info here: http://www.rogerlinndesign.com/previe…

The heart of LinnStrument is a pressure-sensitive multi-touch surface scanned at high speed and resolution. Each touch is sensed in three dimensions with loudness controlled by pressure, pitch controlled by left-right movement and timbre controlled by forward-backward movement. We call this 3D Note Expression. It's also polyphonic, with these three dimensions captured independently and simultaneously for all fingers. With this level of subtle control, you'll find little use for envelope generators or LFOs because your finger movements do a better job of controlling a note's envelope, vibrato, pitch slides, tremolo, bends and other musical gestures, just like on acoustic instruments. And because these three dimensions are sensed for each finger simultaneously, you can do things like performing a string quartet with four fingers.
A live "dreamy" improvisation on Minimoog, Memorymoog, and LinnDrum.
Minimoog: synth bass
Memorymoog: synth
LinnDrum: drum machine
"Another, more "hypnotic" and laidback live jam on Minimoog, Memorymoog and Linndrum. My silly camera decided to stop recording the video after 10 seconds, so I placed a photo of the gear. Listen to this one in low lights ;-)"
An '80s-style ditty showcasing a few classic sounds of three of the most iconic instruments of that era: Emulator II, DX7, and LinnDrum.
Emulator II: Marcato Strings, Choir, Strings Plus
DX7: Bass, Tubular Bells, Marimba
LinnDrum: drum & percussion patterns
"UNFORTUNATELY I inadvertently left an aux open on the mixer and the LinnDrum spilled on the tracks, causing the flanging effect

but it's still listenable. I will re-upload a better version when I have a chance."
Vintage gear demo by RetroSound
LinnDrum drummachine from the year 1982
12 sampled 8bit sounds: bass, snare, rimshot, hihat, 3 toms, crash, ride, cabasa, tambourine, high and low congas, cowbell, claps
15 individual outs
trigger out; tape sync and clock
the 80s hit drummachine 😉
more info: http://www.retrosound.de
Ean Golden sat down with electronic music technology pioneers Dave Smith and Roger Linn for a special in depth interview focused on analog hardware and its uses for making compelling electronic music.
This interview was shot in January – Dave Smith has since been awarded with a Grammy, and MIDI turned thirty! Read more here: http://www.djtechtools.com/2013/01/09…
The LinnDrum was the second machine from Linn Electronics. It's basically an upgraded version of the original LM-1 with added crash and ride cymbals to the kit. The LinnDrum uses samples of acoustic drum sounds. At the time, they sounded great and much more realistic and they were a fresh alternative to the analog drum sounds of the '80's drum machines. The LinnDrum also had a handy upgrade option, a well designed layout and interface, and live drum trigger inputs.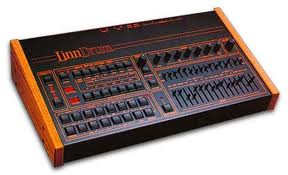 The LinnDrum had beefed up the sampled sounds from 28 to a 35kHz sample rate. It features 15 sounds including bass, snare, rimshot, hihat, crash, ride, three toms, cabasa, tambourine, high and low congas, cowbell, and clap. Up to 12 sounds are available simultaneously. Individual controls are available to tune, pan, and mix each drum sound via dedicated knobs and sliders. An Accent is available for the kick, snare and hats. The handy upgrade options involve inserting new chips containing new sets of sampled drum sounds created by many session drummers of the time.
The sequencer had some innovative features (for the time) such as swing, quantizing and memory storage! Two-bar patterns can be recorded in real or step time, with or without quantizing. There are 56 user patterns for storing your drum patterns. There are also 42 preset drum patterns. Patterns can be arranged into Songs for which there are 49 memory locations. Old songs and patterns can be off-loaded to cassette tape for storage. Designed for the studio, there are 15 individual outputs for each sound around the back as well as external sync and trigger but no MIDI (unless modified by a 3rd party). The LinnDrum's features made it the most professional drum machine of its time.