A live improv performance featuring Prophet 12, Pigtronix Infinity Looper, Strymon Bigsky, and Eventide Modfactor.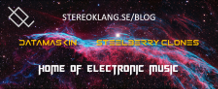 This is Stereospread's first video demonstrating sound design concepts on the Prophet 12. Sorry the screen did not turn out clear, but the patch parameters are pasted below for your convenience. We will work on improving the video clarity for the next video. We will be releasing a series of free sound banks for the Prophet 12, Pro 2, and Sub37 in the coming months.
www.stereospread.com
—-
DSI Prophet 12 – "Chariot Swell" patch by Stererospread
Oscillator 1 – sine wave (synced)
Pitch E3
Slop 6
Oscillator 2 – sine wave
C2
Slop 7
Oscillator 3 – oooooh wave
C3
Slop 9
VCA
Vol 100
A0
D98
S127
R107
Amt 127
LPF – 70
Resonance 22
A127
D93
S56
R80
Amt 127
HPF – 38
Rez 29
Key 40
Envelope 3 –
Destination – high pass filter cutoff
A100
D109
S127
R81
Amt – neg 98
After touch – lpf Rez 22
Distortion ~23 and drive ~15
Air 64
Feedback amt 23
Fdbk tune 12
Delay 1
Dly time 68
Amt 43
Fdbk48
Spread 23
Copy layer a to layer b and stack them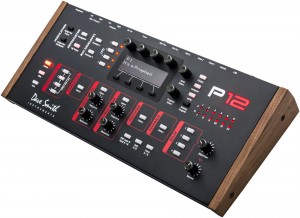 Dave Smith Instruments has announced that its Prophet 12 Module is now shipping.
"We have had many requests from professional musicians for a small, easily portable version of the Prophet 12 keyboard, with all the same features and incredible sound," says Smith. "The new Prophet 12 module is just that: it has all the power of the Prophet 12 keyboard – in fact, it has the exact same voice board – and it fits into a backpack."
"People like small these days," adds Smith. "Many musicians also have more than enough keyboards, or simply don't use keyboards. The Prophet 12 module offers a sleek design that still gives you easy and incredibly fast and intuitive control over all parameters."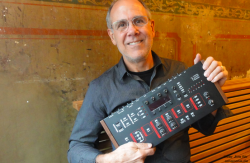 Lke its keyboard counterpart, the twelve-voice hybrid digital/analog Prophet 12 module not only boasts the greatest number of voices of any instrument from the distinguished designer to date, but each of those voices features four oscillators, capable of generating classic and complex waveforms, a sub-oscillator (Sub Octave), resonant low-pass filter and high-pass filter, and analog VCA.
Additional features include a tuned FEEDBACK path, a four-tap stereo DELAY per voice, expanded ARPEGGIATOR functionality, deep MODULATION capabilities, bi-timbral operation, and much more besides.
The CHARACTER section adds a variety of out of the ordinary wave-shaping and sound-sculpting options, like:
Girth (low shelf filtering that boosts low frequencies, with some extra harmonic modification at higher settings);
Air (high shelf filtering that boosts high frequencies, with some extra harmonic modification at higher settings);
Hack (reduces the bit depth of the mixed output from the oscillators);
Decimation (reduces the sample rate of the mixed output from the oscillators); and
Drive (emulates tape saturation).
The back panel I/O of the Prophet 12 module matches that of the Prophet 12 keyboard in almost all aspects – apart from featuring an external power supply in the interests of making it as compact and portable as possible. Headphones, Main/A Outputs, B Outputs, MIDI Thru, MIDI Out, MIDI In, Pedal 1, Pedal 2, Sustain, and USB connectivity are all available.
The Prophet 12 module has an MAP of US $2,199 and can be purchased from any authorized Dave Smith Instruments dealer. See the DSI site for more info.
At the NAMM 2014, wecaught up with pioneer synthesizer design and engineer Dave Smith of Dave Smith Instruments. He was generous enough to give us a rundown of his latest electronic music equipment, the Prophet 12 Module, a powerful desktop version of the Prophet 12. It's one of the best sounding synths we have heard in recent years.
Dave Smith demonstrates the new Prophet 12 desktop from Dave Smith Instruments at NAMM 2014.
Here's a presentation of the new Dave Smith Instruments P12 at the NAMM Show 2014.
Dave Smith P12 Module LIVE Performance Demo at NAMM 2014 on BBoyTechReport.com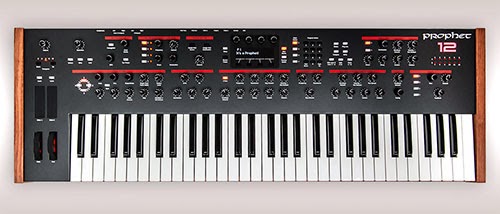 Francis Preve has released a free instrument for Ableton Live, based on Dave Smith's new Prophet 12 synthesizer.
Here's what Preve has to say about the free Live instrument:
Dave Smith's Prophet 12 is one of the most buzzworthy keyboards of 2013. It's arguably the deepest analog-hybrid polysynth ever released – and since all of my previous packs have used single note samples, I decided to create a pack entirely from chord stabs.
Soundtrack composed 100% with Prophet 12!
Introducing the Prophet 12 Module, the same great sound engine of the Prophet 12 keyboard with enough portability to fit in a backpack! At twelve voices, the Prophet 12 boasts the greatest polyphony of any instrument designed by Dave Smith. Each voice features four oscillators capable of generating classic and complex waveforms, a sub-oscillator, resonant analog low-pass and high-pass filters, and analog VCAs. The new Character section adds a variety of wave shaping and sound sculpting options, like Drive, Hack, Decimation, Girth, and Air. Additional features include a tuned feedback path, a four-tap stereo delay per voice, expanded arpeggiator functionality, deep modulation capabilities, and bi-timbral operation. The LFOs, delay, and arpeggiator can all be synced, either to the internal clock or an external MIDI clock.
Roger dropped by the office to give us a sneak peek of his great LinnStrument prototype. The LinnStrument is triggering our Prophet 12 Module prototype as the sound source. This is not the final design or form factor of the LinnStrument, but it was fun to see it in action and play around with it. It is extremely intuitive and expressive. Can't wait for the production model!
More info here: http://www.rogerlinndesign.com/previe…

The heart of LinnStrument is a pressure-sensitive multi-touch surface scanned at high speed and resolution. Each touch is sensed in three dimensions with loudness controlled by pressure, pitch controlled by left-right movement and timbre controlled by forward-backward movement. We call this 3D Note Expression. It's also polyphonic, with these three dimensions captured independently and simultaneously for all fingers. With this level of subtle control, you'll find little use for envelope generators or LFOs because your finger movements do a better job of controlling a note's envelope, vibrato, pitch slides, tremolo, bends and other musical gestures, just like on acoustic instruments. And because these three dimensions are sensed for each finger simultaneously, you can do things like performing a string quartet with four fingers.
Background video description:
I tried to make poly moog sound that YMO prof. Sakamoto used to use it.
Prophet 12 has a lot of special functions.
Especially the oscillator sound is good for vintage strings!
If you are not satisfied with your virtual analog synth to make vintage strings sound, I recommend to use Prophet 12 to you!!
That's really great and maniac sound.
I really LOVE this machine.
坂本教授が使ってたPolymoogのサウンドに挑戦しました。
Prophet12は、特殊な機能が沢山あり、特にオシレータがヴィンテージ系のスト
­リングスサウンドにもってこい!
もしヴィンテージ系のストリングスサウンドを作るのに手持ちのヴァーチャルアナログシ­ンセで満足できなかったら、Prophet12をお勧めしまする!!
まじですごいマニアなサウンドですよん、ぼくはこのマシンLoveです。
nicolai maruhama