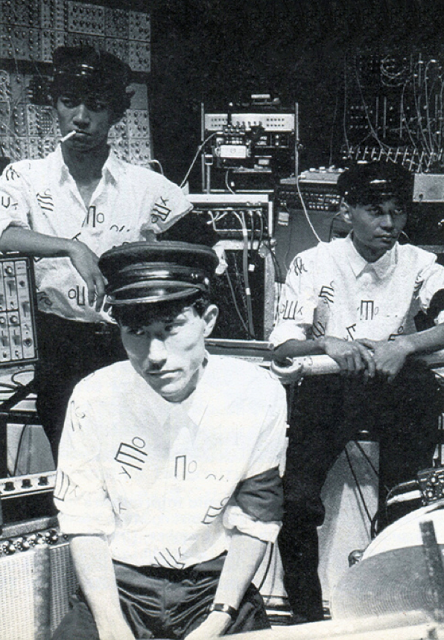 Look how excited Yellow Magic Orchestra is for Bob Moog Day tomorrow (what would've been Bob's 79th Birthday)….
Celebrate with us by watching the Moog Movie streaming on our website tomorrow… your boss won't notice.
Love, Your Friends at Moog.
Ryuichi Sakamoto leaning on an Ultimate Sound DS-4 Promuzer on the left.
September, 1979. Live at Nakano Sunplaza in Tokyo.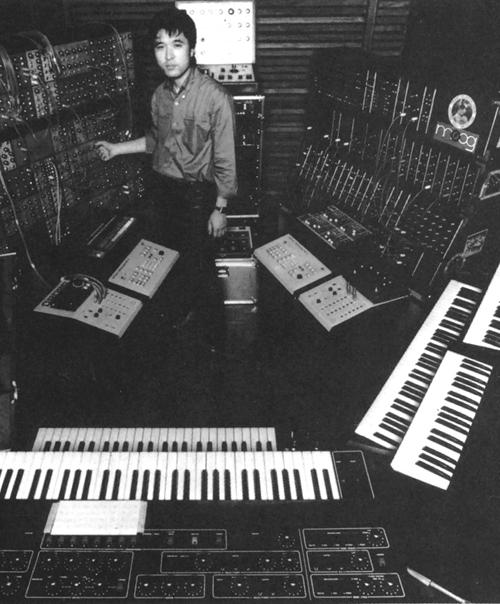 Logic System is the musical project of Hideki Matsutake who was the sequencer and synth programmer for Yellow Magic Orchestra between 1978-1982, often referred to as their fourth member. Before this he was the apprentice and later assistant to electronic 'space music' composer Isao Tomita.
Inspired by Wendy Carlos' album Switched On Bach, Matsutake started out in the industry arranging and programming for albums of Moog-ified popular songs (including a Beatles album), which were gaining popularity during the 70′s. He was involved in the production of various releases from pop/new wave artists in Japan (and for each member of YMO's solo careers) throughout the 80′s, and he somehow found the time to begin to record his own output in 1981 under the name Logic System.
Full article including tracks listening can be found here >>
Released last week, here´s the first demo of the new iOS synth
Description: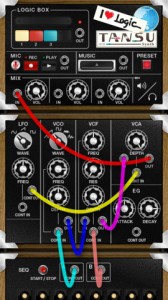 The iOS application – which is named "TANSU (dresser)", is a miniature
version of a Modular Analog Synthesizer. This synthesizer is the same as the
one used and mastered by Hideki Matsutake of LOGIC SYSTEM.
The sounds that were sampled and used for the VCO (Voltage Controlled
Oscillator) come directly from the actual "TANSU" owned by Hideki Matsutake
himself.
In addition, it also contains many original LOGIC SYSTEM recordings. The
application condenses the fun, experience and sound of an actual modular
synthesizer onto the small screen of an iPhone!!
What will the sound be like when using the application? This application is
focused on providing the user with the feeling and excitement of using the
actual synthesizer for which it is based.
Not only for a techno fan, but for any music lover!! Feel what it is like to
create your own music!!
Try this application to experience the "the birth of sound and music."
Developer Music Airport has released a new virtual analog modular synthesizer for iOS, TANSU.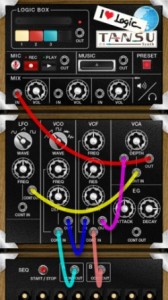 The sounds that were sampled and used for the VCO (Voltage Controlled
Oscillator) come from the actual "TANSU" owned by Hideki Matsutake (Yellow Magic Orchestra, Logic System).
Primary Functions:
LOGIC BOX - Sound effects such as Shepard Tone and rhythms from music by LOGIC SYSTEM
have been made directly into the sound source.
MUSIC - You can use your iPhones own music library as a sound source. (However,
certain tracks which are covered under DRM may not be used).
Microphone function - You can use sounds which have been recorded with microphone.
Preset function - You can explore the potential of the TANSU Synth from various demo patterns. Moreover, it can be utilized as a tutorial for beginners.
VCO (Voltage Controlled Oscillator), VCF (Voltage Controlled Filter), VCA
(Voltage Controlled Amplifier), LFO (Low Frequency Oscillator), EG (Envelope
Generator)
Enhance the basic functionality of an analog synthesizer. (Various sound
processing is possible.)
2 channel 8 step analog sequencer!
Connect patch cord to create original sounds
Three sound sources can be mixed by a three-channel mixer
Note: TANSU has a major downside because of it used of sampled material. The developer notes "Commercial use of the works created by using this application is subject to the copyright clearance from right holders."
http://youtu.be/HXHUyo63nBc
シンセサイザー:松武秀樹・相沢舞・飯野賢治
【ニコ生】松武秀樹・相沢舞の『テクノスクール』
http://www.music-airport.com/techno-school/
Mai Aizawa, Kenji Iino, Hideki Matsutake: synthesizer
"Techno School" of Mai Aizawa, Hideki Matsutake Nico [raw]
We can also see Ryuichi Sakamoto's daughter Miu do the singing

Here's a nice new video featuring one of my favorite synth acts – Yellow Magic Orchestra
This strange message was accompanying the video, if anyone knows what it means, please let us know

"Previously I UP, UP was again!" (Googlish japanese)
Weekend performance

Enjoy

YMO will be live at 31th July on Fuji Rock Festival!!!
http://dwww-news.sblo.jp/article/43730247.html
Ryuichi Sakamoto performed an experimental set with piano and electronics. Recorded at The Stone in New York City on February 26th, 2011.
YMO has a new official homepage on Facebook: