TANSU Synth DEMO
Released last week, here´s the first demo of the new iOS synth
Description: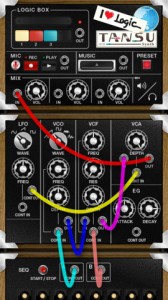 The iOS application – which is named "TANSU (dresser)", is a miniature
version of a Modular Analog Synthesizer. This synthesizer is the same as the
one used and mastered by Hideki Matsutake of LOGIC SYSTEM.
The sounds that were sampled and used for the VCO (Voltage Controlled
Oscillator) come directly from the actual "TANSU" owned by Hideki Matsutake
himself.
In addition, it also contains many original LOGIC SYSTEM recordings. The
application condenses the fun, experience and sound of an actual modular
synthesizer onto the small screen of an iPhone!!
What will the sound be like when using the application? This application is
focused on providing the user with the feeling and excitement of using the
actual synthesizer for which it is based.
Not only for a techno fan, but for any music lover!! Feel what it is like to
create your own music!!
Try this application to experience the "the birth of sound and music."
Comments