In this video I review and get you started with Gadget by KORG. This is a great app that I am really enjoying, big thanks to KORG for sending this to me. In the video I show you how to get started making a song from scratch. I talk about all the really great features the app has, only downsides seem to be the lack of audio recording, no effects in the mixer, and that you can't use IAA within the app. all in all it's a really good app that any type of musician can get use out of. Highly recommend picking it up if you haven't already.
You can download Gadget from the appstore by follwing this link: https://geo.itunes.apple.com/ca/app/k…
For more info and other videos like this, please visit www.iosmars.com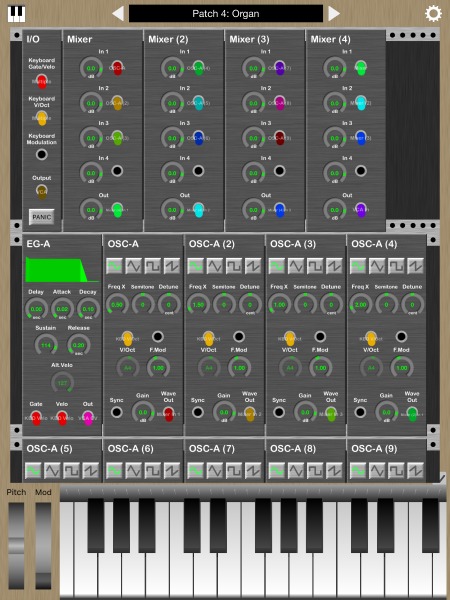 Ryouta Kira has released the  KQ MiniSynth, a polyphonic modular synthesizer for iOS. It supports External MIDI and Inter-App Audio.
Ryouta tells us, "The maximum number of modules you can set is 100… Of course it depends on your device's ability. You can install 10 Oscillators, make 10 series FM Modulators, and so on as you want."
The app implements the follow modules.
Oscillator
Oscillator Type A (Frequency Modulation)
Oscillator Type B (Pulse Width Modulation)
Super Saw Oscillator
Low Frequency Oscillator
White Noise Generator
Mixer/Amplifier
4 Channel Mixer
Voltage-Controlled Amplifier
Sample-and-Hold Amplifier
Booster
Envelope/Logic
Envelope Generator Type A
Envelope Generator Type B
Inverting Circuit
Logical And (Series Switch)
Logical Or (Parallel Switch)
Maximum/Minimum Selector
Modulator
V/Oct Vibrator
Keyboard Level Scaling
Ring Modulator
Filter/Effector
Voltage-Controlled Filter (LPF/HPF/BPF/BEF)
Delay Effector
Reverb Filter
Compressor
Pricing and Availability:
$3.99 at the app store.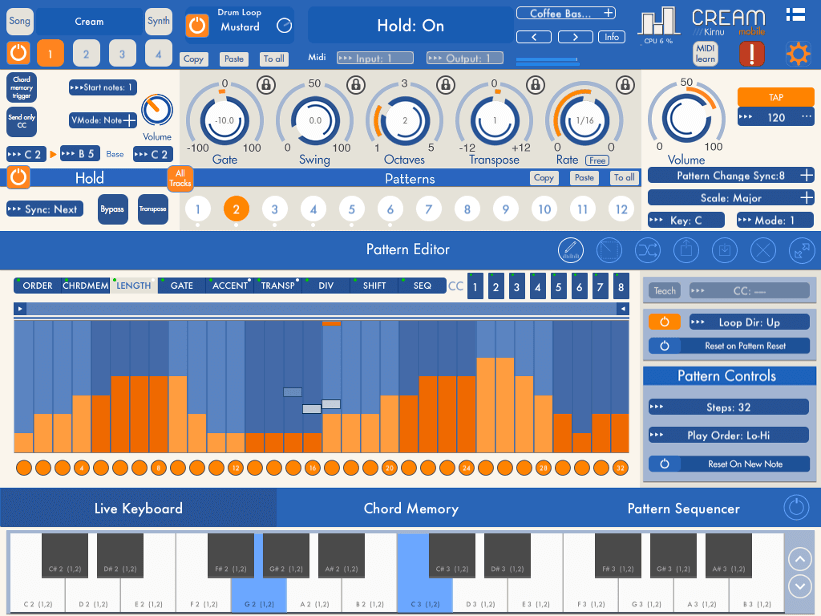 Kirnu Interactive has announced the release of Cream Mobile, a MIDI arpeggiator/phraser application for Apple iPad mobile devices.
Cream Mobile is a MIDI performer music application. This version is almost identical to the plug-in version except the mobile version includes an internal synthesizer and a single drum track.

Cream Mobile also has only one arpeggiator track by default. If needed, three more tracks can be purchased separately with in-app-purchase option.

This version can open plug-in version presets and vice versa.
Cream Mobile features
4 Independent tracks (One track available by default. Other can be added via IAP).
12 Patterns per track.
Internal 2 OSC synthesizer for every four tracks.
Two different views: Classic and quick edit view.
Live Keyboard, Chord Memory and Pattern Sequencer sections.
Sample accurate MIDI engine.
Easy to use note hold mode with transpose and bypass functionality.
Presets are compatible with the plugin version.
Powerful Pattern Step Data Section.
Tool section enables easy data editing.
All data sections are independent from each other.
Data sections can be looped with several different loop modes.
Chord memory section enables different chords to be used in every step.
Sequencer section enables sequencing the notes.
Accent, order, gate, accent, transposition, note divide, note shift.
8 CC controls in each pattern.
MIDI learn for all knob controls.
Control Zone for changing most important parameters via external keyboard or MIDI events.
Audiobus (generator) support.
MIDI sync with host and slave mode.
The app is available for purchase for $9.99 USD and the in-app purchase for all tracks is $4.99 USD.
Sensational new game for music making, a first of its kind!
Synchronizing to an array of dance music rhythms, enjoy the challenge of completing powerful dynamic beats using one of the most famous and unique composition tools of today's dance music.
Start the game with a simple rhythm. After you master the basics, step it up by moving onto the next level. The rhythms for each level will be progressively more complex and sure to entertain both beginners and the most experienced of music makers in Dance Music.
TR-REC is a free download in the App Store.
▼Quick to start
Just complete a rhythm by following the "GUIDE"
▼Watch your time, it's the key to winning the game
Complete each rhythm within the target time.
The faster you finish, the higher your score!
▼Win Medals (Coins)
Hit a high score and win medals
▼ Rich library of Dance Music
Enjoy a variety of dance music genres on each stage.
TR-REC is free of charge
Note**
* Monetize in applications (Restore Life, Expand Life, Release Stage etc.)
* Functions to upload to SNS
KORG Module is a high-quality mobile sound module app that's ideal both for performance and for music production, and features a pro-level high-quality sound library. In addition to the iPad version, it's now available for iPhone as well. Your iPhone, together with a MIDI keyboard such as the new microKEY, is all you need to easily perform unsurpassed grand piano and studio-quality keyboard sounds anywhere and anytime.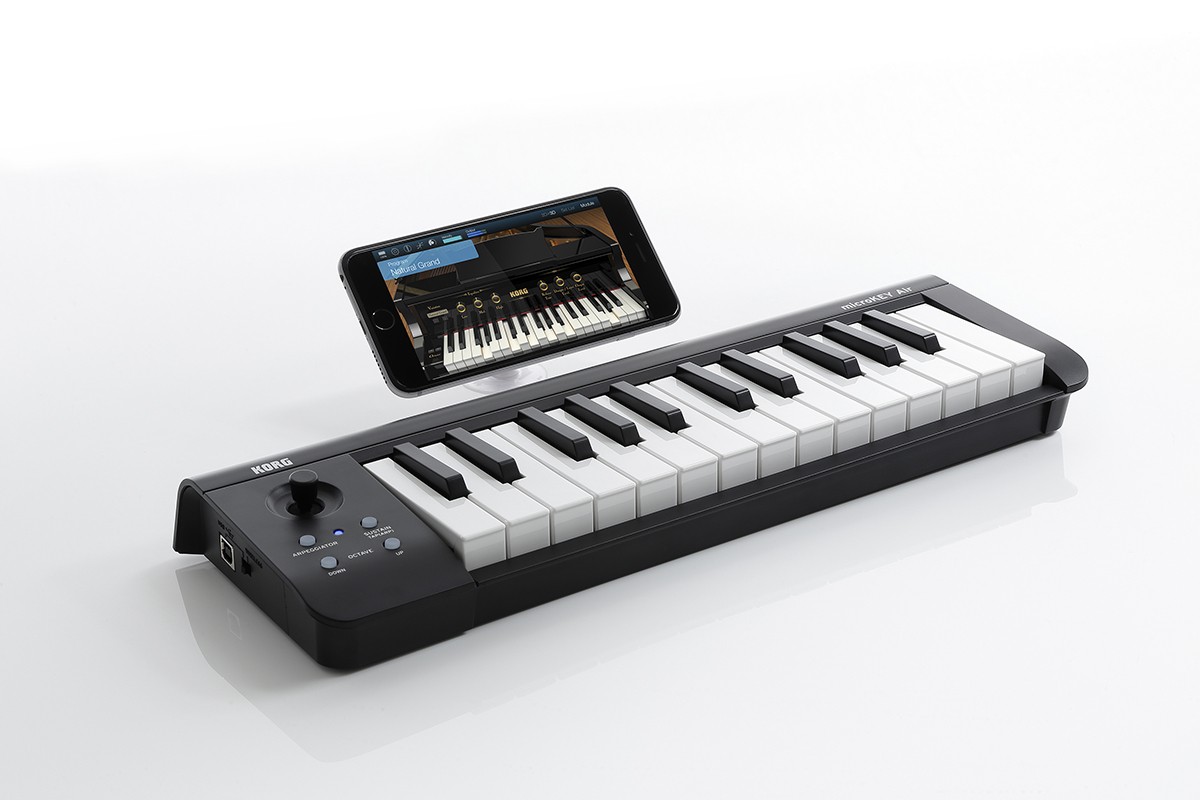 More Details:
http://www.korg.com/korg_module_for_i…
http://www.korg.com/korg_module_for_i…
http://www.korg.com/microkey2_air/
http://www.korg.com/microkey2/
A quick preview of our new app for iPad, iPhone and iPod touch, Ferrite Recording Studio. Record and edit audio on the go!
http://www.wooji-juice.com/products/f…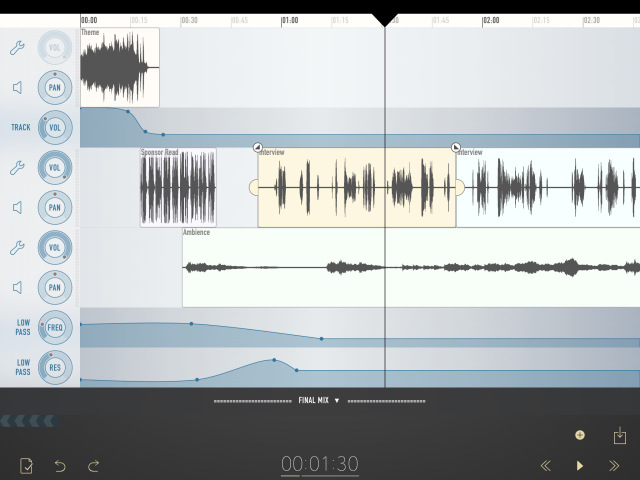 Wooji Juice has announced Ferrite Recording Studio for iOS – a new mobile multitrack recording app.
The developers say that Ferrite Recording Studio "makes it fast and easy to record and edit audio on-the-go — while making powerful features like effects and automation available when you need them."
Ferrite focuses on workflow, with features to speed you up and a clean UI designed to get out of your way.
It works just like a voice memo app, with immediate access to recording. But there's also a full editing suite to assemble your recordings — and imported clips — into polished final audio.
Radio journalism, podcasts, lecture recordings, audio presentations and more: all made easier with Ferrite Recording Studio tools such as bookmarking, automatic ducking, and silence removal. Enhance your audio with extras like dynamic compression or filtering. And if you really want to get in and sweat the details, Ferrite has a powerful automation system, which can continuously adjust the sound of individual tracks or the final mix.
When you're done, you can add cover art, show notes or lyrics, and share your projects as standard AAC files — the same high-quality audio format used by the iTunes Store. Send your finished work via popular messaging or file storage services such as email, iCloud or Dropbox — Ferrite supports iOS Sharing Extensions, to make the widest range of services available.
Details on pricing and availability are to be announced.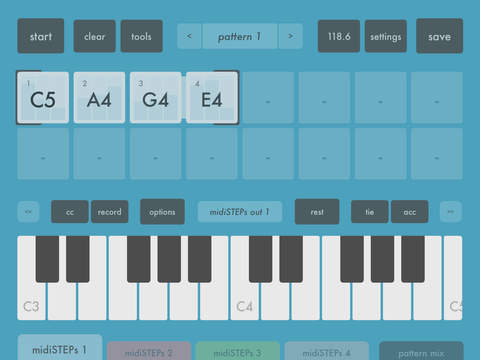 midiSTEPs is a powerful but fun MIDI step sequencer app that sends MIDI note and CC messages to other music apps and external synthesizers. It was designed to be super easy to use in a way that's similar to the SH-101 sequencer, where you can just quickly enter a few keyboard notes and you're ready to hit play. At the same time, it also incorporates many ideas from other classic and modern sequencers, allowing you to set control values per step, mute and skip existing steps, switch between multiple patterns and parts, sync and link patterns in various ways, and modify your sequences.
midiSTEPs was designed from the ground up as a touch-based iPad sequencer app, so it's super easy and intuitive to enter, edit and play sequences.
midiSTEPs features:
64 step sequencer based on the classic SH-101 sequencer
Set note, chord or rest per step
Set accent and tie per step
Set CC, velocity, length parameters per step
Mute and skip individual steps
Set start and end points within sequence
Edit individual steps
Transpose, loop or one shot, start and pattern sync options
Four independent sequencer parts with 16 patterns each per set
Parts can have different speeds, lengths, sync and trigger options
Pattern Mix page with clip-launcher style pattern triggering
External MIDI clock sync with clock shift adjustments and swing
Easy to set up CoreMIDI configuration and MIDI mapping
Easy to use touch interface designed specifically for iPad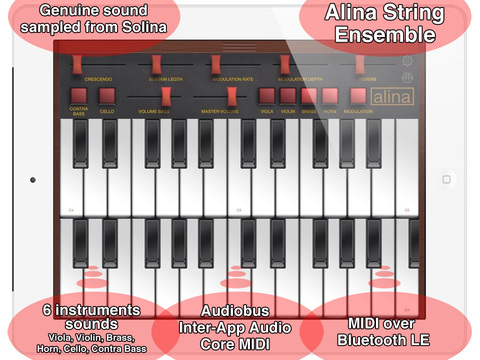 Alina String Ensemble is a musical keyboard application for iPhone/iPad/iPod touch that simulates the Solina String Ensemble. The sound is in reference to Solina String Ensemble (Serial number "SERIES 22, No.0093158") manufactured by N.V. EMINENT BODEGRAVEN HOLLAND in the 70's. You are sure to be surprised at the real sound generated from this App.
Features:
– Pre-loaded with 6 instruments including Viola, Violin, Brass, Horn, Cello, Contra Bass
– 49key, 4-octave Keyboards with scrollable
– iOS7/8 compatible
– Optimized appearance on iPhone 6/6 Plus
– Core MIDI and MIDI over Bluetooth LE compatible
– Supports Audiobus and Inter-App Audio (requires iOS 7 or later)
– Scrollable Keyboard & dual Keyboards(Only iPad)
– BASS tone(Cello, Contra Bass) is assigned on lowest 20 keys
– Built-in Reverb that simulates a spring reverb
– Vibrato that can adjust the rate and depth
Special thanks: Jun Kawabata courtesy of AIRPLANE LABEL & Studio Peach Blue Peach"
Learn about Patterning's advanced loop settings.
https://itunes.apple.com/app/apple-st…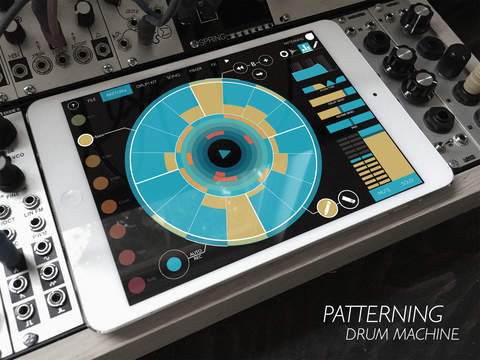 As beautiful as it is powerful, Patterning is a deep and flexible drum machine unlike any you've encountered before. With its elegant circular interface, Patterning transforms the iPad into a seriously inspiring tool for making beats.
Create dynamic drum patterns with the swipe of a finger. Make evolving, poly-metric rhythms, four-on-the-floor dance party jams, or laid back R&B grooves. Use Patterning's independent loop settings to explore untapped rhythmic possibilities. Automate parameters to create intricate & complex beats. Arrange patterns on the timeline to construct songs. Use the built-in effects–delay, reverb, distortion, and 3-band EQ–to add atmosphere, shimmer and noise. Connect to other apps with Audiobus, Inter-App Audio, and MIDI.
Patterning comes loaded with classic drum machine samples as well as exclusive drum kits created and curated by contemporary producers and musicians. For the independent producer, it's easy to create custom kits with your own samples.
With an extensive and uncommon feature set, Patterning redefines what an iOS drum machine can be.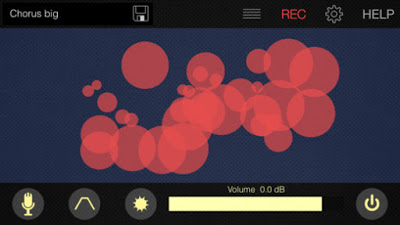 Realistic Choir simulator ranging from simple Chorus emulation to full ensemble Choir with 128 members.
Emo Chorus is a modulation effect used used to create a richer, thicker sound and add subtle movement. The effect roughly simulates the slight variations in pitch and timing that occur when multiple performers sing or play the same part. In contrast to most traditional chorus effect units Emo Chorus allows for astonishingly realistic big choirs with up to 128 voices !
Use live input from any source – Microphone, Guitar, Audiobus and Inter App Audio – or take a song from your iTunes library for processing.

Features:
128 voices chorus engine
20 factory chorus and flanger presets
Unlimited user presets.
Delay time up to 180ms.
MIDI controllable parameter.
Audiobus 2 compatible with state saving
IAA compatible ( Auria, Cubasis, Garageband ).
Integrated iTunes player.
Emo Chorus costs $1.99 on the app store (this is a 60% off discount)