A quick preview of our new app for iPad, iPhone and iPod touch, Ferrite Recording Studio. Record and edit audio on the go!
http://www.wooji-juice.com/products/f…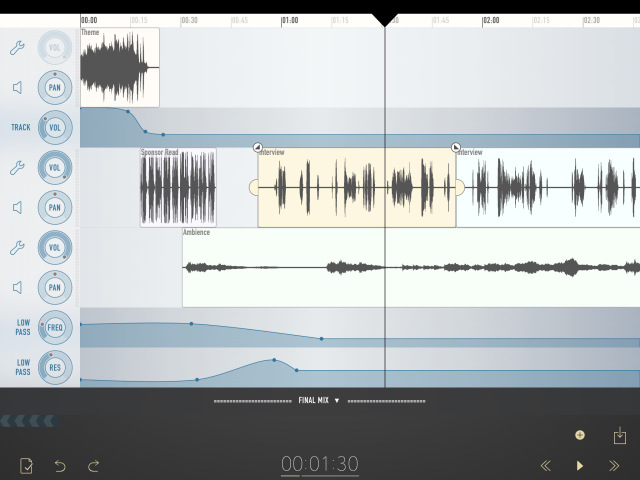 Wooji Juice has announced Ferrite Recording Studio for iOS – a new mobile multitrack recording app.
The developers say that Ferrite Recording Studio "makes it fast and easy to record and edit audio on-the-go — while making powerful features like effects and automation available when you need them."
Ferrite focuses on workflow, with features to speed you up and a clean UI designed to get out of your way.
It works just like a voice memo app, with immediate access to recording. But there's also a full editing suite to assemble your recordings — and imported clips — into polished final audio.
Radio journalism, podcasts, lecture recordings, audio presentations and more: all made easier with Ferrite Recording Studio tools such as bookmarking, automatic ducking, and silence removal. Enhance your audio with extras like dynamic compression or filtering. And if you really want to get in and sweat the details, Ferrite has a powerful automation system, which can continuously adjust the sound of individual tracks or the final mix.
When you're done, you can add cover art, show notes or lyrics, and share your projects as standard AAC files — the same high-quality audio format used by the iTunes Store. Send your finished work via popular messaging or file storage services such as email, iCloud or Dropbox — Ferrite supports iOS Sharing Extensions, to make the widest range of services available.
Details on pricing and availability are to be announced.
Acoustica presents Mixcraft 7 and Mixcraft Pro Studio 7 – super easy-to-use, feature-packed digital audio workstation software. Check out all the new features in this video!
New features include:
*Thousands of new loops, for a total of 7000 loops, sound effects and samples
*Full 64- and 32-bit compatibility
*Performance Panel for live performance mode
*Automation Recording with multiple lanes and other automation enhancements.
*Integrated Alpha and Omni Samplers.
*Control Surface Support (Launchpad & Mackie protocols)
*Audio warping, auto-warping and audio quantization
*Step editor for rapid pattern based rhythmic and musical phrase construction
*Tons of new virtual instruments and effects
*Workflow enhancements
*Good lookin' new interface
*Did we say 'much more'? Yeah…that too. (=
KDJ-ONE Official Website: http://www.kdj-one.com/
The features and abilities of KDJ-ONE – Portable Music Studio will be demonstrated in this video.
KORG fully enters the realms of iOS with this powerful app, details below:
For every situation that creative minded people face, KORG's answer is "KORG Gadget."
KORG released the iELECTRIBE simultaneously with the appearance of the first-generation iPad in 2010, and ever since has maintained its position at the forefront of mobile music apps. And now we've brought you the ultimate all-in-one studio app for serious mobile music production.
KORG Gadget provides a collection of 15 different synthesizers and drum machines called "Gadgets", which can be freely combined to produce powerful electronic music. Users can take advantage of the simple and intuitive sequencer, and experience track-making in an environment that's been perfectly optimized for mobile use, while retaining professional quality in everything from the effects to the mixer. Also, songs created using KORG Gadget can be shared on "GadgetCloud," a music sharing site for KORG Gadget users worldwide.
There's a roadmap for future updates that will add new gadgets and support audio tracks, further perfecting the system as a mobile music production studio. KORG Gadget will continue to evolve in support of serious mobile music-making.
—————————————-
­—————
KORG Gadget is available on the App Store:
World: https://itunes.apple.com/app/korg-gad…
Japan: https://itunes.apple.com/jp/app/korg-…
—————————————-­—————
Learn more about Gadget at http://www.korg.com.
Music & Video produced and performed by Mee Zanook
– The ultimate mobile synth collection on your iPad –
KORG Gadget – the all-in-one music production studio
Background video description:
Here's a quick tour of my studio, including the Synclavier, Radio Baton and the Kyma system. This video was made for the Swedish magazine "Studio". Sorry, no English, only Swedish and the language of gear =)
This beta video highlights several of Bitwig Studio's features for working with instrument clips. Switch between clip- or track-based note editing, bring more life into your composition using note expressions and and per-note micro-pitch control, or use the histogram-based inspector function on several notes at once to randomize or spread parameter variances, changing the feel of your instrument clips.
For more information visit: www.bitwig.com
BFD3 is the third generation of FXpansion's flagship software acoustic drum studio: new levels of realism and ground-breaking features in an intuitive redesigned engine, here's what they have to say about it:
With stunning new kits with mix-ready presets and modelling technology for tom resonance and cymbal swells, BFD3's audio engine delivers uncompromising detail while using lossless compression for efficiency. The revamped interface has a new mixer and sound browser for the easiest BFD experience yet.
BFD3's kits were recorded at two world-class studios with varied recording chains and room ambience making a huge amount of sounds possible. The library includes expressive articulations, a brushed kit and processed drum presets for fast custom kit-building. BFD3 also contains a powerful built-in environment for pattern creation and editing, complete with a range of performances by legendary drummers for effortless production of drum tracks indistinguishable from the real thing.
Availability & Pricing
BFD3 is available on a USB 2.0 flash drive or as a download product from the FXpansion web shop as well as through our international dealer partners.
Pricing is USD $349.00, EUR €269.00, GBP £229.00.
BFD3 Upgrade is available for all registered BFD2 owners for USD $199.00, EUR €155.00, GBP £129.00 for the USB flash drive version and USD $149, EUR €115, GBP £99 for the download version.
All prices are inclusive of VAT where applicable.
Another shot of Brian Fedirko's Moog and Doepfer setup at the studio.
Livid shows off the Bitwig Studio, details below:
We've been working hard integrating the Base (and our other controllers) into the upcoming Bitwig Studio. We're pretty excited that with the latest beta, we were able to get an easy-to-use step sequecer up and running with their JavaScript API. This will ship natively in future Bitwig releases. This video shows how some of this stuff works along with some of the other bells and whistles that you've come to expect!
If his music isn't in your collection, there's a good chance his sounds are in that synth you own, a videogame you just played or the TV ad you just watched. Watch and let Richard take you on a tour of his North Carolina studio