It looks like a teaser video – but so far we've seen nothing official from Behringer on it
The Synthino XM is completely new polyphonic synthesizer with unique features running on a powerful hardware platform. It is compact, well-constructed, open source, and absolutely beautiful. Most importantly, it is really fun to play whether you are a musician or you just want to make some noise.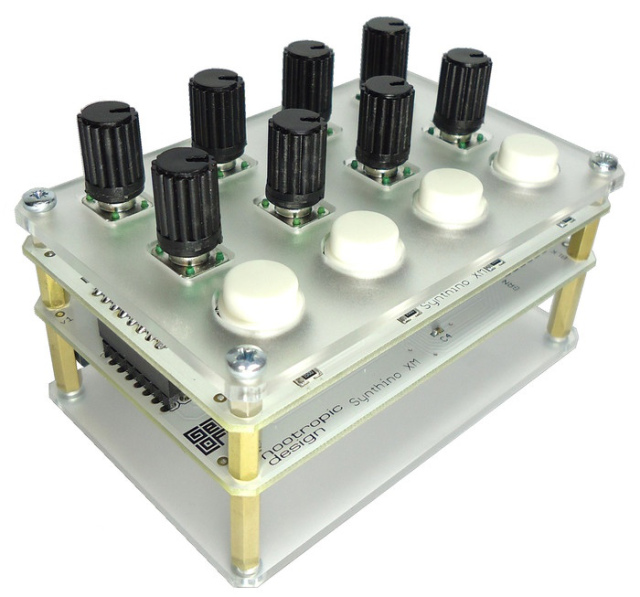 Synthino XM is a polyphonic, multitimbral synthesizer with many features:
5-note polyphony for superb playability
12 waveforms, 4 drum samples
12-bit audio at 25KHz output rate
4 MIDI channels, each with separate waveform and ADSR envelope
low pass filter with cutoff frequency and resonance controls
2 independent low frequency oscillators (LFOs): pitch and filter
selectable waveform for LFOs
1V p-p audio output voltage with enough current to drive headphones
arpeggiator mode, up to 16 notes
4 arpeggiator patterns: up, down, up-down, random
4 built-in arpeggiator chords or use MIDI to specify up to 16 notes
arpeggiator pitch transposition control
tempo control with MIDI clock input
16-step live performance "groovebox" sequencer
pitch fine-tuning adjustment
programmable/upgradable over USB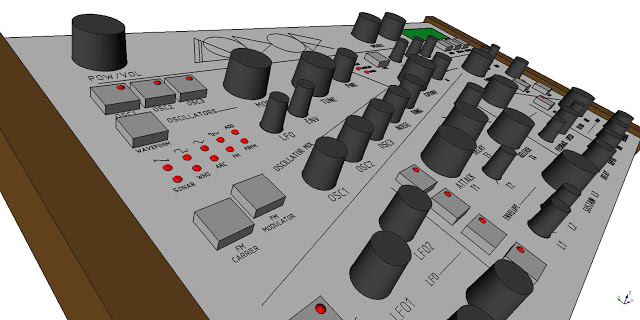 The Modor NF-1 synth is a digital DSP synth very comparable to the classic Virtual Analog synths, but Modor is moving further on from this point. We use the classic structure of VA-synths, with oscillators, filters and effects, with parameters that can be modulated using LFO's and envelopes. But every element has been retought and reinvented. In a digital way. The NF-1 has a classic 12dB/oct resonant filter, but we are also giving it a versatile formant filter, never seen in hardware before! It does make classic sawtooth waves, but we're also including a lot of other brand new modulatable noisy waveforms! It has a classic delay effect, but we make every parameter editable to give way to special unexpected effect types! And so on …
Yes, it's digital and we're proud of it! We are making a very hands-on, laborious new synth having plenty of knobs and switches right on top of it to shape any sound parameter thats in it. Nothing to look up in menus!"
Demos at Modor Music
Specs for the archives:
Memory
256 patches, all factory presets overwritable
Connections
9V, 600mA adapter connection, positive voltage on center pin
MIDI IN/THRU/OUT connections, 3x 5-pin DIN connection
Audio Left and Right outputs, 6.35mm mono jack
Sustain switch, 6.35mm mono jack
Volume/modulation pedal, 6.35mm stereo jack
Front panel controls
42 rotary knobs
20 switches
1 rotary encoder control
1 Power switch/volume knob
Display
16×2 green backlit LCD display
Osc section
3 identical fully independant oscillators
10 waveforms:
SAW: pulse width modulation sawtooth wave
SQU: pulse width modulation square/pulse wave
TRI: pulse width modulation triangle wave
SYNC: sounding like a oscillator-synced wave
ADD: additive harmonics
SONAR: resonant bandpass filtered noise
WIND: wind instrument noise
ARC: arcade game style noise
FM: sinus FM pair
FBFM: feedback sinus FM pair
Filter section
12dB/oct resonant filter switchable as lowpass, hipass, bandpass or bandstop (notch)
Formant filter with 3 morphing vowels, 10 vowel presets and user controllable formant frequencies
Effects section
"Comb filter" effect section to create chorus, flanger, … effects
Delay effect section to create echo effects
Modulation section
4 3-stage envelopes, 3 level settings and 4 time settings
2 switchable LFO's with TRI/SAW/SQU/SIN waveforms, 1 TRI-LFO connected to modwheel, 1 random S&H with lowpass option
7 user-defineable modulation lines, 16 source signals, 59 destination parameters
MIDI
Full realtime MIDI control of all sound parameters
Pitch Bend, Modwheel (CTRL#1), Expression pedal (CTRL#7), Velocity and Aftertouch can be used as modulation sources
Measurements
Width: 440mm without rack ears, 480mm with rack ears (19″)
Height: 267mm (10.5″/ 6U)
Depth: 40mm (front) – 80mm (back)
Rackmountable
Height: 6 rackunits
Rack mounting ears included
Recessed backside connections to ease rack mounting (no lost rackspace above)
Accesoires
Manual
230V AC power adapter
Wooden side panels
Rack mounting ears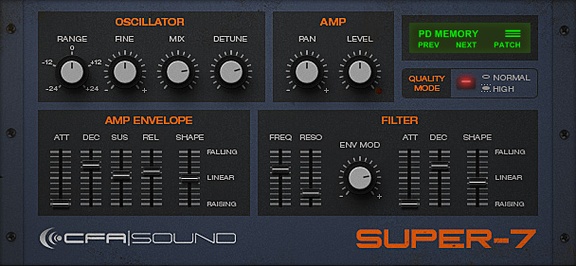 CFA-Sound is celebrating its 7th anniversary with the release of SUPER-7, a free supersaw synthesizer plug-in for Windows.
Everyone who produces electronic music knows the infamous Supersaw of the Roland JP8000/8080, and even it`s a relatively old synthesizer this specific waveform or better sayed oscillator mode is still heavy in use and wanted. Also for myself, but more in terms of discovering how it works and how to emulate it.

During the last year, i worked on a small emulation of it as little side project for fun & learning primary, and well here it is, the final result. Surely in some specific areas not 100% like original but very close based on the comparision to the real one and the specs. All packed into a slim synthesizer shell with an easy-to-use interface, decent on CPU usage and most of all – it`s for free.
SUPER-7 features
Polyphonic virtual-analog modelled synthesizer.
32 voices polyphony.
One emulated supersaw oscillator.
4-pole lowpass filter.
Shape-able envelopes.
20 presets included.
The plug-in is available to download for Windows (VST).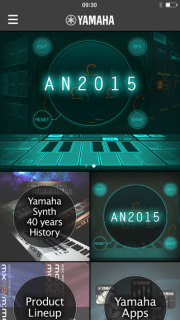 This app features a complete history of Yamaha Synthesizers, an integrated virtual analog soft synth, and serves as a portal to Yamaha's online synth communities.
The app is being released as part of Yamaha's celebration of its 40 year history of makin
The history features detailed, "behind the scenes" information about the 40-year design and development history of Yamaha synthesizers. It covers the technological breakthroughs behind key Yamaha synthesizers, from teh CS-80 to the DX-7, and some fantastic vintage synth rarities, too.
The app also includes a software synthesizer. .
AN2015 features virtual analog modeling like the AN1x. It also features a drum part that you can use for backing.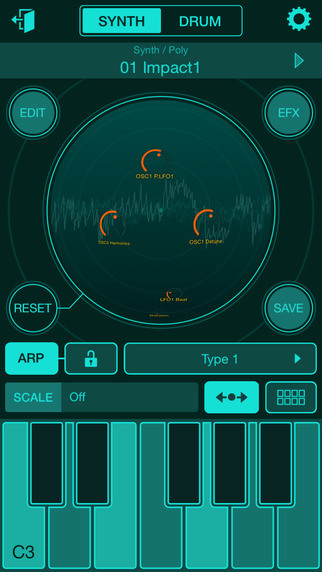 Yamaha highlights two ways to use the synth:
As standalone iOS app – There are 2 modes available, SYNTH mode and Drum mode that work at the same time, e.g. when drum phrase is playing, Analog sound can be selectable and playable with the drum phrase, and vice versa without stopping ongoing music
Use it with a MOXF as an external tone generator – When connected to the Yamaha MOXF Music Production Synthesizer (OS version 1.10) using the Lightning to USB Camera Adapter by Apple, the MOXF becomes the MIDI/Audio interface for the iOS app creating a very powerful music production system.
Specifications
'Analogue' Synth

Tone Generator: Virtual Analogue Modelling
Polyphony: 8
Preset voice: 64
Arpeggiator: 1-Scale: 1
Polyphonic Pad

Drum Part

Tone Generator: Audio (Drum loop and time stretch function included)
Part: 1
Polyphony: 1
Drum Pad: 16
Drum Pad Set: 5
Other features include a portal to Yamaha's social media forums and a catalog of the company's current synth lineup.
Yamaha Synth Book is a free download from the App Store.
Here's a presentation of Tom Oberheim's Two Voice Pro synthesizer at the NAMM Show 2015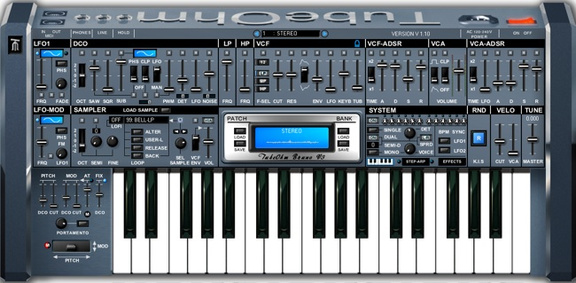 TubeOhm has announced the release of Super Bruno-III, a synthesizer instrument plug-in for Windows.
Bruno III is the update of Bruno-RP, now with a sampler, a new sequencer and a new ARP. The GUI and the DSP have been completely revised. Bruno III comes with 2 sound banks (2×128 new sounds).
Super Bruno-III features
Sampling.
Stepper.
Arp.
Random functions for sound design.
Multi mode filter.
Comp filter, stereo delay, chorus.
Micro tuning.
256 sounds.
External MIDI out to control other Synths with the stepper/ARP.
Easy to use interface.
The plug-in is available for Windows (VST) for 49 EUR. Owners of Bruno-RP can upgrade for 29 EUR.
Demo of the Roland JV-1080 in performance mode.
"I have the Techno (SR-JV80-11) and Dance (SR-JV80-06) cards installed."
The Roland JV-1080 was one of the hottest and most popular digital synthesizers ever to come from Roland. Incredible sound quality capable of emulating any instrument imaginable plus totally fat analog synth type sounds and loads of percussion! It has 64 voices of polyphony and 16 part multitimbral, it's no wonder this is part of almost every Film Score Composers set-up as well as many more artists and hobbyists!
It has 8MB of sounds and it also offers a lot of expandability with 4 expansion slots and 2 data card memory slots. You can get up to 42MB of sounds by adding any of the popular JV-80 expansion cards suited for Techno, World Instruments, Orchestral or Synthesizers. The 1080 has a large LCD screen, lots of effects and filters for creative flexibility, motion control and extensive MIDI implementation. Editing is intense but enhanced and simplified by external editors like MOTU's Unisyn.
At the App Store: http://bit.ly/p84yt
Phase84 is a next generation phase distortion synthesizer. It fuses gritty digital sounds with traditional analog punch.
Phase84 is an extremely capable synthesizer and features over 110 presets, containing all sorts of basses, leads, pads, bell tones, sweeps, atmospheric sounds, pseudo-realistic tones, and more. While you don't need to know much about synthesizers to get a lot out of Phase84, experienced synth tweakers will be thrilled at the sheer variety of unique sounds that can be produced with this incredibly versatile synth.
*All synth sounds (bassline, chords, lead) were created with Phase84 with no external effects or post manipulation.
This video also features Wej — rugged performance base and wireless MIDI bridge: preorder.retronyms.com
Follow Retronyms
http://www.facebook.com/retronyms
http://twitter.com/retronyms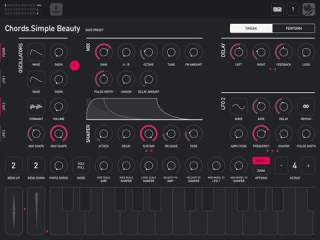 Retronyms has released Phase84 – described as 'a next generation phase distortion synthesizer', inspired by the classic phase distortion synthesis sounds of the Casio CZ line of synths.
Phase distortion synthesis is a form of waveshaping synthesis that has its roots in Casio's CZ line of digital synthesizers from the 80s. It is designed to have the warmth of a subtractive (analog) synthesizer, yet be capable of the squelchy tones and sharp attacks of an FM synth.
Phase84 is an extremely capable synthesizer and features over 110 presets, containing all sorts of basses, leads, pads, bell tones, sweeps, atmospheric sounds, pseudo-realistic tones, and more. While you don't need to know much about synthesizers to get a lot out of Phase84, experienced synth tweakers will be thrilled at the sheer variety of unique sounds that can be produced with this incredibly versatile synth.
Features:
More than 100 presets.
MIDI support.
inter-App Audio support.
Advanced Keyboard section.
Expressive Perform Mode with Groove Gate.
Tabletop Ready App.
Precision Knob mode.
Phat, naturalistic unison feature for super thick pads and sweeps.
Oscillator Section: 9 Params, 2 General-Purpose Oscillators, 1 Formant Oscillator.
Mix Section: 8 Params including Delay Amount and Pulse Width.
Envelope Section: Amplitude and Shaper Envelopes. Fully visualized and interactive
ADSR plus special Fade Param.
Delay/Filter Section: Stereo delay with loss modeling and a punchy overdriven analog-style filter.
3 LFOs: More flexible than your average LFO, this has 4 waveforms, optional delay and repeat count, and can go into the audible frequency range.